Happy Feet: An Interview with Viktor Tell and Mikael Soderlindh of Happy Socks
Happy Socks was created with the simplest of intentions — to inspire happiness in the lives of its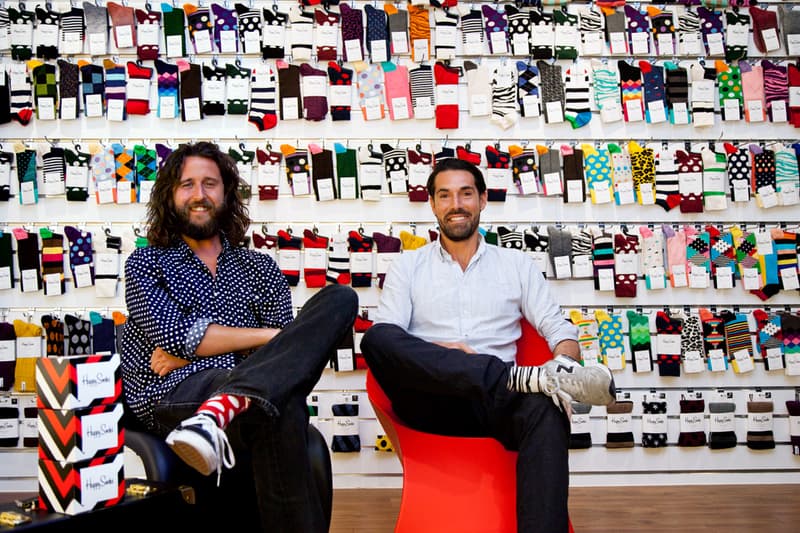 1 of 6
2 of 6
3 of 6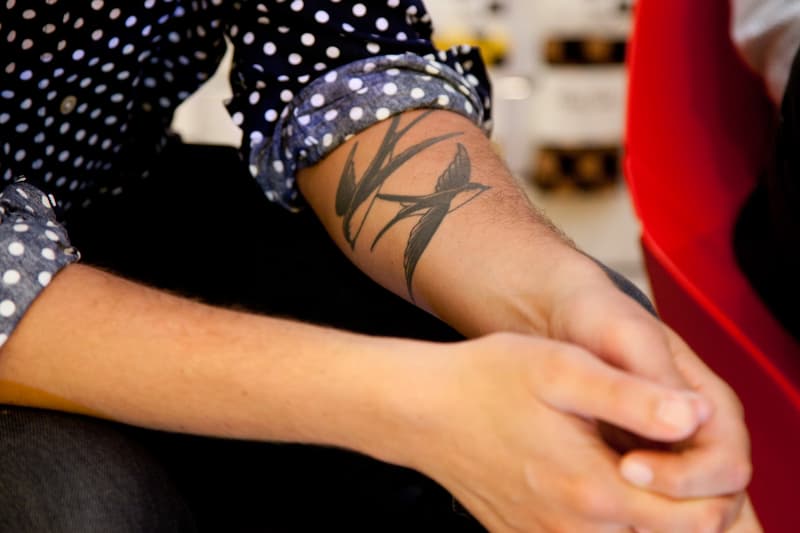 4 of 6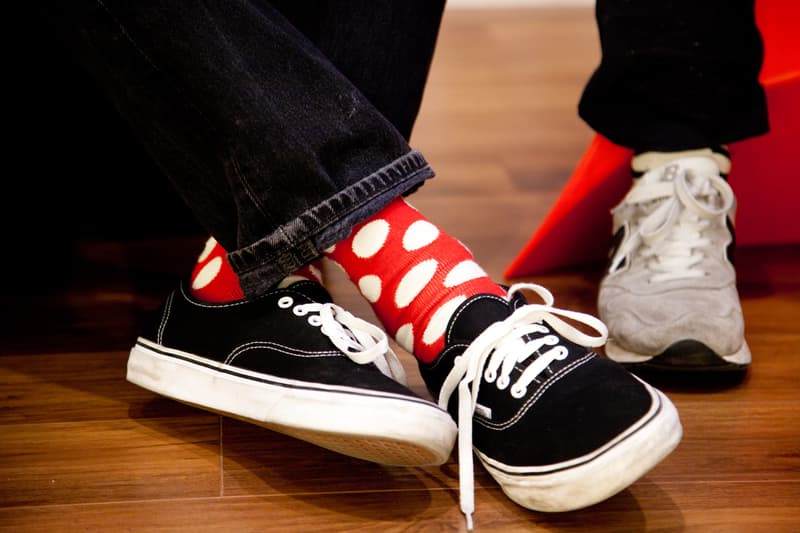 5 of 6
6 of 6
Happy Socks was created with the simplest of intentions — to inspire happiness in the lives of its founders and those around them. Hailing from Sweden — a country known for its stark designs and even starker weather — the label was a breath of fresh air upon its inception four years ago, filling a void in the market for affordable, colorful socks. With an "everything and nothing" design philosophy and "all play, no work" mindset, the happy-go-lucky duo of Viktor Tell and Mikael Soderlindh recently sat down with us at Hong Kong's DSTRT offices to discuss all things socks — the importance of hosiery, patterns and eclectic collaborations.
Read the interview below and check out the Happy Socks' Fall/Winter 2012 collection at our online store and at Happy Socks.
---
The Happy Socks creators, on how the business started, why socks in particular and
the importance of socks…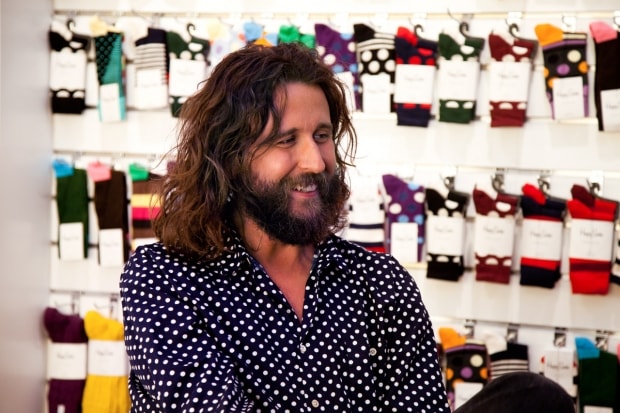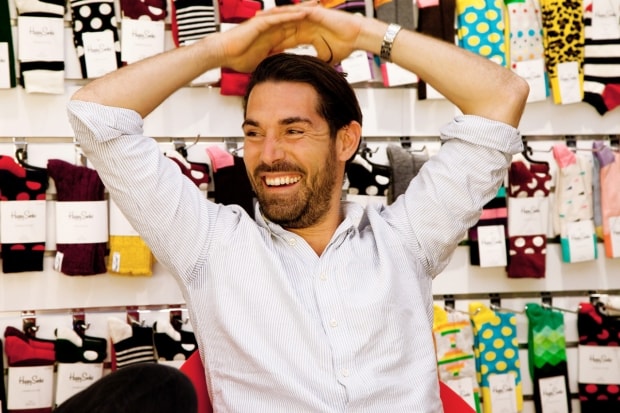 Top image – Viktor Tell / Bottom image – Mikael Soderlindh
Can you briefly introduce yourselves to our readers?
M: My name is Michael and I try to run the business of Happy Socks. We started the company four years ago and Victor and I are old friends.
V: I'm Victor and I'm the creative director of Happy Socks, or I try to be.
What was your intent behind the creation of Happy Socks? How did the business come about?
M: It came about quite simply. Victor had the idea to create a brand named Happy Socks and make nicely-designed socks.
V: It also came about because we wanted to do something happier with our lives to be honest. We were tired of what we were doing and wanted to do something else and we put everything into this. Now we're doing what we want to do.
M: What it's been about from Day 1 is to spread happiness. To do things we like and to make everybody else happy.
V: It's cheesy but it's true.
Why socks in particular?
M: Both Victor and I have a fetish for socks (laughs). Liking colorful socks — it's a boring, everyday essential that was forgotten and that nobody really did anything with when we started.
V: It was an open canvas to just do something better with.
M: When we entered the sock business, there were black socks but there were no colorful designs that were affordable in the stores that we bought things in. That's how the idea came up.
What do you think about the importance of socks in one's wardrobe?
V: It's getting more and more important with accessories, I think, than before. Whether it's socks or something else. I don't know, it's just like a small part that can boost your outfit. Especially for people who tend to go to work in a business suit or something, they can add a little bit of color and just feel their personality sticking out.
M: It also brings a small smile to people's faces. If I'm on a bus or the subway, traveling somewhere, or going through the airport and someone sees my socks, they're going to look at them, like, "What's up with that guy over there?"
V: We get lots of comments at airports.
M: Also, in the morning when you stand up to put your socks on, you have lots of different colors and patterns and you can ask yourself, "What mood am I in today?" (points to Victor) Today, he's red with dots and I'm zebra. It goes along with your emotions and how you feel.
---
How patterns are selected, inspirations and are patterns and prints a fleeting trend…
You guys are known for the patterns and colors of your socks. How do you go about selecting them?
M: I go to the creative over here (points to Victor).
V: It's not a big process. I start doodling things and then it goes into the computer — patterns and patterns — and then I put them into the CAD drawings to see what fits, and then I show it to the sales team and production team and they go killing my darlings. Just joking. But seriously, we don't want to be so niche, we want to be broad, so we want to make the collection in the end that will work for as many as possible.
M: We still do what we like. We don't follow that much and that's been our thing from the beginning. We had nobody to follow in the sock world and today we want to continue doing what we like the most. We believe that if we like the socks, then the people around us will like the socks. That's how easy it is. We don't have to follow anybody else.
Where do your inspirations come from?
"Every day, I just carry my iPhone around and take snaps of any building, the contrast between a car, and the wall behind it, anything really. I just see a lot of things that are shapes and colors and they stick."
V: We're very lucky because we get to travel the world. Every day, I just carry my iPhone around and take snaps of any building, the contrast between a car, and the wall behind it, anything really. I just see a lot of things that are shapes and colors and they stick. So it's not really following any trends or anything. It's more of what you see in front of you than anything else. So in the fall, it's a bit more fall-like and in the summer, it's more like summer. But other than that…
M: We just started working with seasons, actually. Previously, we did yearly collections and now we have to follow the fashion world, with its two seasons.
In the last few years, prints and patterns have been coming back. Do you think that it's here to stay, or is it just a fleeting trend? Will people eventually go back to just wearing black or grey socks?
M: I think that when we started four years ago, we were the first on the market to do colorfully-designed socks. Now the interest has grown quite drastically — there are a lot of brands doing it now. I do think that the awareness of and interest in socks have increased a lot, and that's going to keep on going.
V: It's going to take new shapes and forms, but people aren't going to stop wearing colorful socks.
M: It's a new way for people to express their personality and style. It was a segment that did not exist previously and now it exists.
---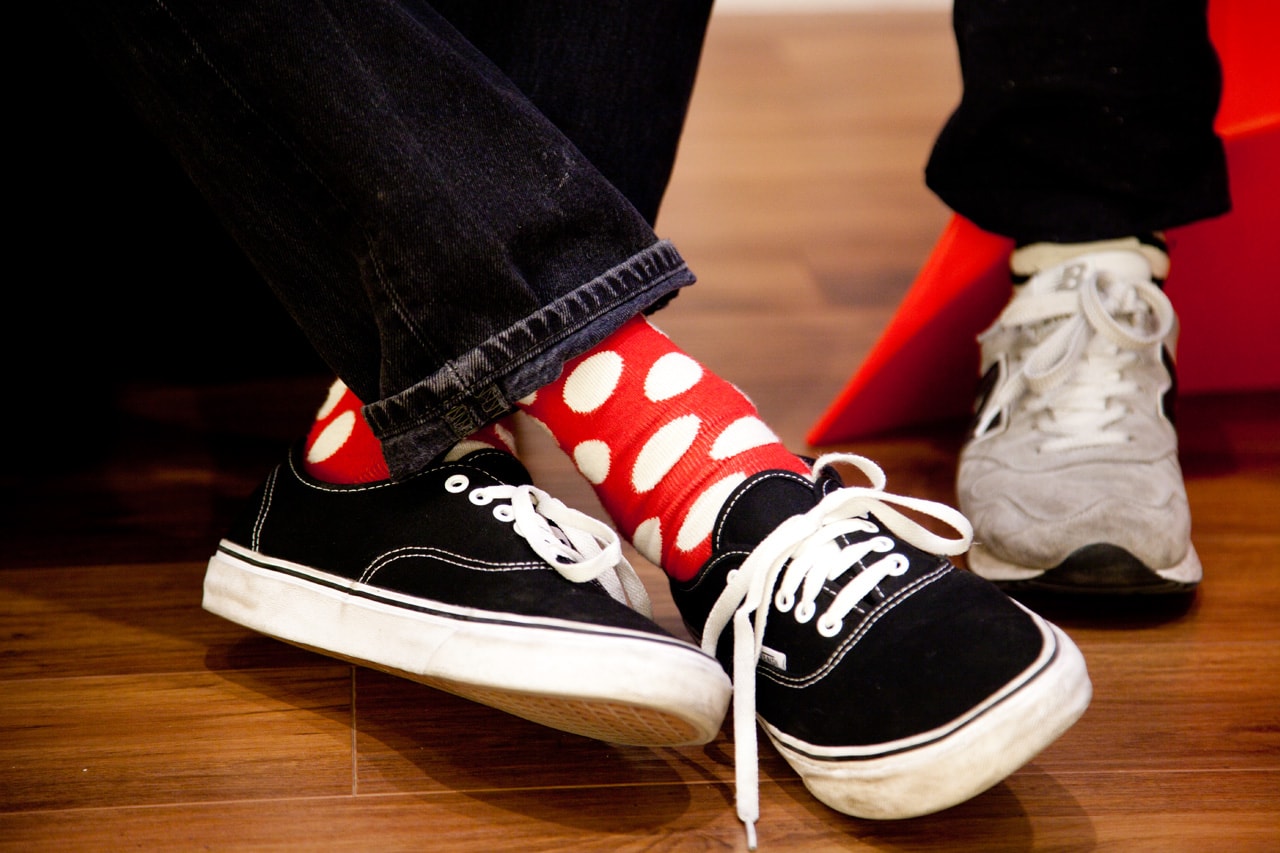 Personal favourites, does it reflect their personalities, who decides what goes out on the market and how their visions stay strong…
Do you have any personal favorites among the patterns you've created?
M: It's funny because we just discussed this earlier. I'm not too much for dots. I'm more into squares.
V: I'm into a more is more kind of thing, most crazy patterns are fun for me. But dots — if you go through my sock drawer you will find more dots.
Do you think that reflects your personalities?
V: Definitely. We're different all the time.
M: We never really wear the same socks.
V: When we made the new collection, it's not like we decided on the same patterns or socks as the top seller. I pick this one and he picks that one.
How do you guys go about doing that? Do you have an equal say in what goes out on the market?
M: No, Victor has the creative decision for what goes and what doesn't, but I'll always have the right to refuse something. I really think it's about a mutual understanding of each other.
V: It's mutual, of course it is. We had dots since the beginning and we've had stripes since the beginning and they will always stick around. If people buy it we won't take it away. But it's always a discussion. It is fun, though, when I'm locked up for a couple weeks just working and no one knows what's coming out except me. I kind of like that.
You mentioned that you now feel compelled to create seasonal collections. Is there a personal favorite that you have for this particular season?
M: I like the faded diamonds, the squares that fade into different colors.
V: If it's spring/summer, I like the multi-patterned ones. If it's fall/winter, I like the dots and stripes together. I like the ones where you mix patterns a bit.
Happy Socks is currently sold in about 50 countries. How do you make sure your vision stays strong?
"It's up to us to give them our vision. We try to invite people to our office and meet with as many people as possible. But it's really quite basic, what we do, it's not hard to understand what our brand and company is about."
M: That's the hard part. That's exactly why we travel and visit all of our markets and distributors. It's to make sure they all have the same perception of the brand as we do. That's why you step into a room like this, you're very happy and you feel like you're in good hands and your ideas are going to be communicated correctly by the people you work with. If it doesn't happen, we work on it and try to find out why it didn't work. It's up to us to give them our vision. We try to invite people to our office and meet with as many people as possible. But it's really quite basic, what we do, it's not hard to understand what our brand and company is about.
V: Quite early on, we understood that we would have to work with local partners. We didn't handle the sales in the local market ourselves. In Hong Kong, we have people who help us in Hong Kong, people that we know. Even in Sweden, we have someone else selling the socks for us. PR agencies around the world as well.
M: We're good at creating and packaging it together but we leave the rest to the ones who know.
---
On Collaborations, expansion, socklessness in summer and one pair of socks everyone should have…
Happy Socks has collaborated with quite a few different partners over the past few years. How do you select the labels or individuals that you work with?
M: We don't select them, really. Actually, it goes both ways. Either they come to us or we go to them. It's usually through someone who knows the other party mutually. For example, if somebody knows Terry Richardson, or someone has a contact with adidas. It's something that's developed through personal contacts. We then start discussing it and if we figure it's a good story, that we can create something to talk about and create a good product, and they're interested in doing it, then we move forward with it. It's always fun and expressive for us.
V: It needs to be a mutual thing, if both parties think it's fun.
M: It has to be something that's not so expected either. Something that's a little bit different. It's something that's very natural when we do it, but it's not the first thing you would think about.
V: I think the diversity of the collaborations we've done has been really fun. Now with Manish Arora, the big Indian designer, that's coming out in December. Super fun, a lot of colors.
M: He's not very well known outside of the fashion crowd but he's huge in India and he's made stuff for Lady Gaga and Madonna. He's still a little anonymous though, but he's does really cool things with colors and it's a great match for us. We just did a collaboration with Keds, with Be@rbrick — you know, it's quite different.
V: We did Minecraft – that was totally different. It's this online game that had about 13 million users in a year or something. It's a build your own world kind of thing. But that's it, it's fun for us with the socks to do collaborations with anything and anyone. There are no limitations to which way we're going to go.
Following your collaborations with Keds and adidas, are there any plans to expand into footwear or other related areas anytime soon? Or are you content with socks at the moment?
V: We're content with the socks. You pick one thing and you make that thing great.
M: If we do decide to do something else, we'd really need to know what we're doing.
Any thoughts on socklessness in the summer?
V: It's up to them. Anybody can do what they want. We don't want to say what's wrong and what's right. If it makes them happy — but you should definitely wear socks.
What is one pair of socks every guy should have in their wardrobe?
M: If I only had one pair then I would say stripes.
V: And I would say dots.
M: I would say multicolored stripes.
V: And I would say multicolored dots.