Michael Schumacher x Schuberth 20th Anniversary Gold F1 Helmet
On August 25th, 1991, little would anybody imagine that 22-year-old Michael Schumacher would become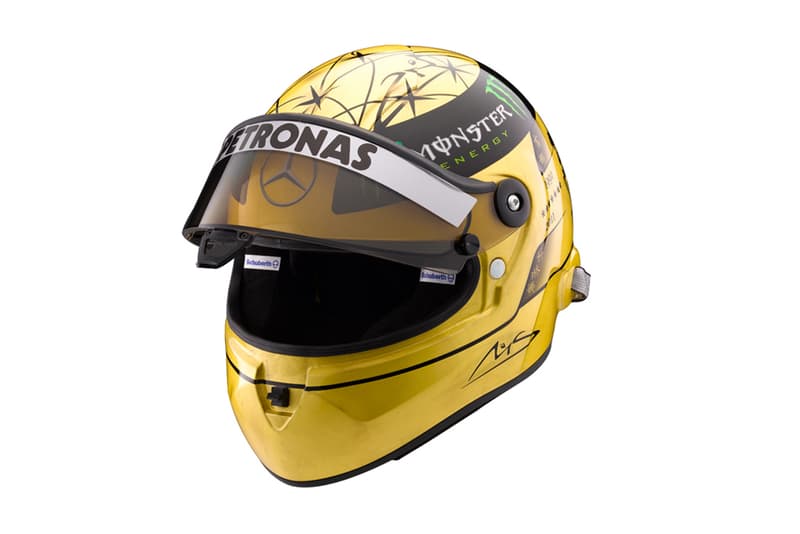 On August 25th, 1991, little would anybody imagine that 22-year-old Michael Schumacher would become the most decorated driver in Formula 1. Since the moment he took off, Schumacher has achieved a list of outstanding records that remain virtually untouchable including 91 Grand Prix victories and 7 World Champion titles. After 20 years behind the steering wheel, Schumacher is still an active driver today with Mercedes GP Petronas.
Since 2001, helmet manufacturer Schuberth GmbH and Schumacher have maintained an outstanding partnership and this year, Schuberth commemorated the special day in dazzling fashion that only an all-time great like Schumacher deserves. A 21-carat gold plating helmet was presented to embody the commitment and achievements of the world's greatest driver.
Automotive enthusiasts and fans of the Formula 1 legend alike will also be pleased to know that Schuberth will also be releasing a replica of this exclusive merchandise to compliment the original carbon fiber helmet – only that the replica will be constructed out of fiberglass. Only 20 pieces of this commemorative piece will be produced, each one highlighting Schumacher's years in Formula 1. On a performance level, this anticipated piece of memorabilia uses materials identical to an F1 racing helmet such as fire-resistant Nomex®, 4mm bulletproof thick polycarbonate and a Kevlar chinstrap. The helmet will be available in a carbon-look case along with a certificate of authenticity and an original autograph from Schumacher himself. The helmet is available here.