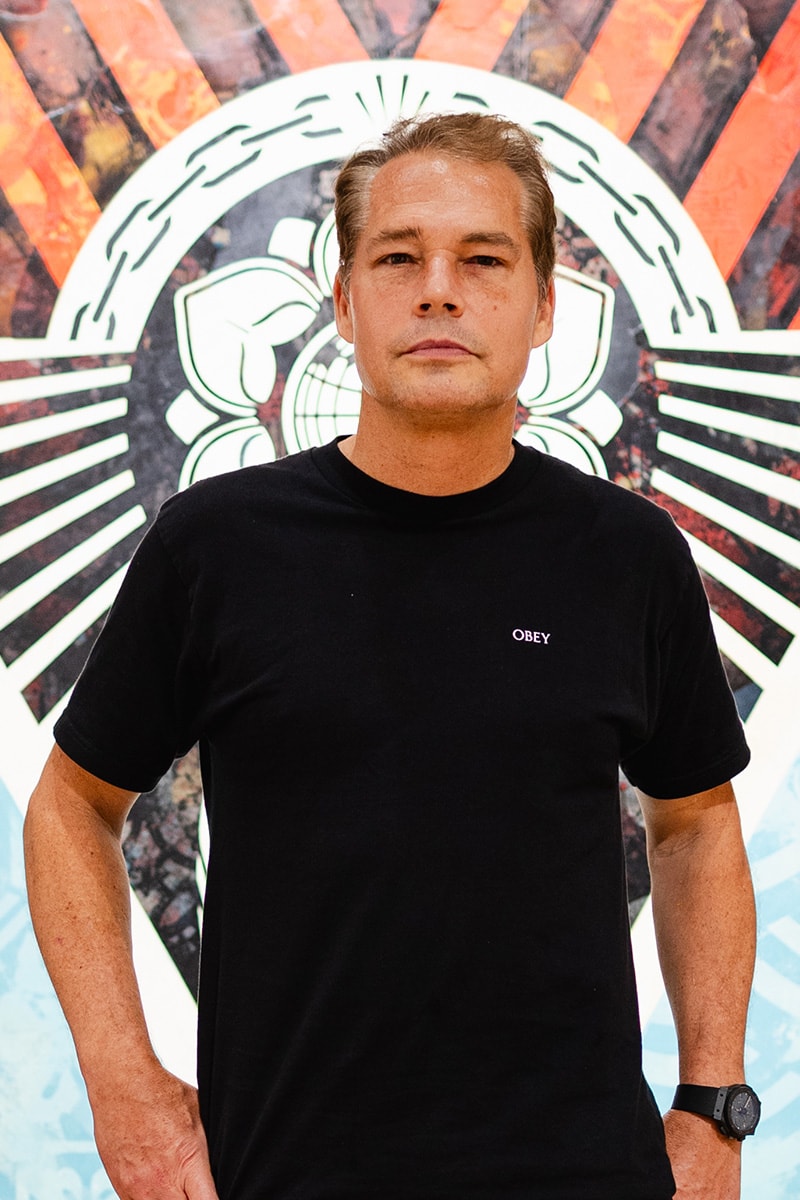 Shepard Fairey Explores Poignant Themes and Choices in "The Future Is Unwritten"
The multidisciplinary creative and founder of OBEY shares his creative process, ideologies, and what he wants to explore for the future.
Shepard Fairey Explores Poignant Themes and Choices in "The Future Is Unwritten"
The multidisciplinary creative and founder of OBEY shares his creative process, ideologies, and what he wants to explore for the future.
---
Earlier this month, Shepard Fairey, renowned street artist and founder of OBEY, unveiled his very first solo exhibition in Southeast Asia at the Opera Gallery. Entitled "The Future is Unwritten," the showcase highlights a fresh series, incorporating mixed-media paintings on canvas, original illustrations, and among other elements. Through the seamless fusion of various techniques and recurring themes, Shepard demonstrates his distinctive artistic approach, delivering a powerful visual message to the audience.
In addition to his indoor exhibition, the artist has also created his first mural in the region. This striking artwork graces the Tanjong Pagar Conservation Area in the city, a district steeped in history and culture, where the echoes of the past seamlessly blend with the rhythms of the present.
Bringing everything together is an OBEY pop-up at Wisma Atria CHAMBER, showcasing the label's Fall/Winter 2023 collection, alongside a specially designed Singapore T-shirt in commemoration of the event.
Before the momentous launch, Hypebeast sat down with the multidisciplinary creative to learn more about his creative process, his ideologies, and what he wants to explore for the future.
More than just a means for self expression, art, historically, has also been used as a way to signal change, both socially and politically. Can you talk about your formative years and the path that got you to where you are as an artist today?
I studied traditional art, and I come from South Carolina, which is not a progressive place. When I was little, I loved to draw and paint, but luckily I discovered skateboarding and punk rock as a teenager. In skateboarding and punk rock, there are a lot of DIY elements, like homemade T-shirts and stickers. That's how I learned how to cut stencils and to screenprint – I would screenprint my own T-shirt designs based on bands or skateboard brands I liked, but it always had my own twist to it.
One of the reasons was that South Carolina didn't have a lot of cool stuff, so I couldn't just go to the store and buy things. The way that stencils and screen printing works is very graphic, and I started to enjoy that aesthetic. Punk rock and skateboarding are both very rebellious, especially punk rock, which has a lot of social messages in the music. I started to associate that graphic aesthetic with ideas about challenging things that I didn't like in society, and that was sort of how my work started to evolve.
For this exhibition, why Singapore and why now?
Well, I've been invited to Singapore before, but not for things that worked with my schedule or for the "right" event. I knew that Opera Gallery would do a great presentation of my work – my clothing line is distributed here and I'd love to connect with people as well as the local culture. Streetwear has all its different mutations and I'm always excited to see what twists and turns it takes in different parts of the world. But to be able to do an art show in a space like this at this scale, and also a big public mural just feels like it's the right time and opportunity.
It made sense to do an OBEY clothing pop-up to bring all of these together because it's my philosophy to use my art to connect with people in as many different areas of culture as possible. Clothing has always been very important to me because it's very democratic, it's very accessible, but murals and street art exist where people live their lives. People can stumble upon it on the streets, and see a unique art piece that I've spent a lot of time on. Each one of those areas is important to me, so it's pretty amazing to be able to combine it all at once.
"Clothing has always been very important to me because it's very democratic, it's very accessible, but murals and street art exist where people live their lives. "
Are there any motifs that specifically relate to Singapore and Southeast Asia as a whole?
I like it when my work is relatable to anyone globally, and I try to make sure that I'm using symbols and themes that people can relate to anywhere in the world. I did include lots of images of lotuses, which are something that's very prevalent in Asia. Not just one Asian culture, but several Asian cultures see the lotus as something that's spiritual and symbolic.
I also incorporated some of my illustrations of Asian subjects here. My wife is part Japanese, so for me, it's not a huge departure from what I would show anywhere in the world. There are a few nods to Southeast Asia in the show as well, and I hope that everyone who's here in Singapore, visiting from Malaysia or wherever can understand and appreciate the work. A lot of the themes are global themes, like climate change, equality, income inequality, and more.
These themes affect people everywhere, and the unique thing about Singapore is that there isn't much street art since the rules are so strict here. But for me, finding ways to make sure that my work gets out to people in any way is important. I do feel bad for any young, up-and-coming artists who don't have the same connections I have. You know, I spent many years doing illegal work, getting arrested, and then people started to invite me to do legal things. But if you're trying to make that leap from just being a budding street artist to getting to do legal murals in Singapore, it's much more difficult – I sympathize with that. When things are so restrictive, people innovate even more, and I'm always excited to see how others work around constraints.
Take us through your design concept behind the mural.
It pushes themes that are very important to me: peace and harmony, and the idea of positive growth. In the mural, there's a woman holding a flower and there's also a dove holding a flower. But the flower the dove is holding is coming from barbed wire, which symbolizes overcoming oppression. There are also lots of patterns within it, since I love patterns and because every culture has them. I've got some patterns in the mural that are more Asian-inspired, which makes sense for this region. Some of the patterns within feel more Middle Eastern too, and there are also some patterns that are more European.
I love the idea that even though they might look a little different aesthetically, every culture loves the repetition of a pattern, which is something that we all have in common. The name of the mural is The Mosaic of Peace and Harmony; the way that things fit together is like a mosaic, which is also a concept that I think is important for all of my work – each piece fits into my entire philosophy and art history.
There are a number of poignant themes being explored within your latest show, can you explain the conceptual framework of your most recent works?
The exhibition here at Opera is called "The Future Is Unwritten," which is a quote by Joe Strummer from one of my favorite punk rock bands, The Clash. The idea that we're all responsible for shaping the future and having an opportunity to push it in the direction we want is very important to my work.
A lot of the works that are in the show are about choices we face for the future, and asking the viewer which direction they're going to take things. So the themes I'm dealing with are environmental destruction, abuse of power, inequality, and capitalism. The questions I'm presenting are, "Do we want things to be more just in the future or do we want the rich to get richer, the more powerful to get more powerful and everyone else to suffer? Or do we want the quality of the air and water and the livability of the planet to decline?" All of these things are being asked in my artwork, but it's not all presented in a way that's heavy and depressing. A lot of it is about the triumph of overcoming adversity, rising to these challenges with positive solutions, and thinking about how we can work collaboratively.
Are there any mediums or topics you hope to explore in which you haven't before?
Well, I haven't tried AI yet, and AI to me is going to be a tool for creative people to make their processes more efficient. I think genuine creatives will not stop with just what AI generates, they'll use that as a step to make something new. I'm always interested in new tools and new technology, but I just haven't had a chance to experiment with AI yet because I've had so many things that I'm doing and working with constantly. With the processes that I'm already comfortable with, I know it will give me the result that I want. I do think there's a lot of potential for visual art by not just letting the AI make the artwork, but using it as a part of the process.
The Modular Discourse series that I created for this show was partially inspired by a generative NFT project I did. I rearranged elements of my work through AI, and then curated the ones that worked well before refining the programming. It showed me that an unexpected positioning of pieces next to each other could actually inspire something really exciting and provide a new direction for me to work. So yeah, I'm always looking for new things.
Any things in store for the near future?
What I'm doing here right now is an evolution of what I've been doing for years. I'm always doing new things and there is a new series of works that I'm pretty excited to share. I'm not going to talk too much about it, but in early 2024, I'll be debuting a new body of work that uses techniques I've never done before, which I've been refining in my studio. A lot of my work evolves slowly because I'm building on techniques that I think have been successful in the past. Even with this new body of work, I'm employing a lot of the aesthetic principles.
The exhibition will be on display at Opera Gallery Singapore until October 15, whereas the mural can be viewed at 8 Craig Road.
Opera Gallery Singapore
2 Orchard Turn # 02-16 ION Orchard 238801