Spencer Badu Believes Slow and Steady Always Wins the Race
Hypebeast spoke with the uniform purveyor about his journey through the fashion industry and what's coming next.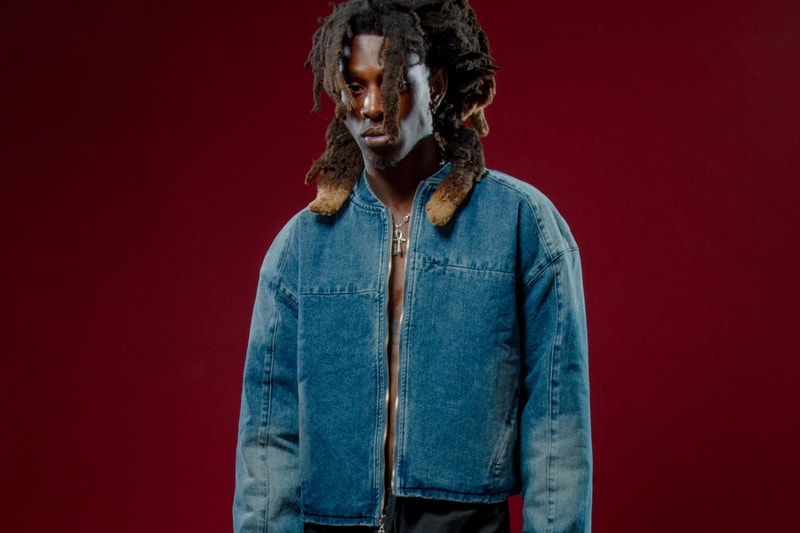 Toronto designer Spencer Badu's dedication to constructing his eponymous brand has been steadfast since its founding in 2015, but it hasn't come without strife. "It's really hard," he tells Hypebeast of his ascent in the industry, which he admits to viewing with rose-colored glasses upon entrance. Now, almost a decade in the game, Badu's creative brain is equal parts practical and fantastic: his mood boards are filled with big ideas, referencing historical uniforms, migrational patterns and his West African heritage, and he is enthralled by the idea of world-building through runway shows and retail outposts. Still, however, he views the past, present and future of his label with a pragmatic eye.
Badu's empirical mindset lends itself to his designs. In part galvanized by the utilitarianism rooted in Canadian style, each piece in his collections serves a viable purpose while still possessing the signature codes that make his design language recognizable. He's not interested in following the laid path to becoming a designer; in fact, he wants to do away with trends altogether. Instead, his design doctrine prioritizes longevity in personal style curation over the instant gratification of chasing a viral fashion moment. That doesn't mean his designs are shy (there's an abundance of statements scattered among his more pared-back silhouettes), but it does mean he's keeping originality at the forefront of his practice. So, it's no shock that Badu's designs have already landed on the likes of A$AP Rocky, Young Thug and Kendrick Lamar.
His latest collection, titled "012," sees this individuality (or this "YOUNIFORM," as Badu puts it) materialize. Reconstruction runs through its veins, with sweater vests featuring asymmetrical cuts, puffer jackets decorated with kaleidoscopic Ghanian glass beads, workwear trousers similarly adorned with his home country's keepsakes and elongated utilitarian pants with larger-than-life pockets. He takes what is known, and he turns it into something of his own. And now, more than ever, he's looking inward to find the sartorial sources that breed those silhouettes. This is Badu's universe, and he's only still getting started.
While Badu looks ahead at what's next, the designer sat down with Hypebeast to discuss his early design days, his cultural inspirations and what he hopes to offer to the world of fashion.
Who is Spencer Badu?
I'm a fashion designer. I'm the son of two immigrants from Ghana, West Africa, with a dream to create an impact in the world. Overall, I'm a really creative guy. I've been that way my whole life. Fashion is something that I naturally gravitated to as a kid. I started my brand in 2015, and its been a constant journey since then. A lot of my work is predicated on this idea of uniform, which you can probably see within my designs. Lately, I've been tapping deeper into my personal references, my culture and my experiences.
Was there a specific moment when you knew that you wanted to be a designer?
When I was younger, there was this renaissance moment in Toronto where there was a lot of creativity existing in the city, especially in the downtown area. I didn't live in Toronto. I lived in Brampton, which is just a little bit outside of Toronto, and I remember commuting two hours just to be downtown so that I could have a glance at what was going on. Those were very early days, even before Drake and The Weeknd were famous. People like that were just running around and doing their thing. I saw people who looked like me who were creative and who were making a living out of it.
That was the first time that it clicked in my head that you could make a living doing something creative and also that being a designer was "cool." It was an idea at first. But when I finally had the means, I started to create my own pieces. Before that, I was just admiring from afar.
"Fashion school really taught me how to do it on my own."
Did you go to fashion school?
Yeah, I went to fashion school in Calgary. My dad lived out there at the time. I went out to visit him and then I came across this school that was celebrating its 100th anniversary called Olds College. I decided to go there, and I majored in fashion. It was really a technical school, not a design school, so I learned the basics: how to sew, how to draft, how to design. Those were the tools I needed because, to this day, this brand is independent, and at the time, I obviously couldn't afford to hire a team for help. Fashion school really taught me how to do it on my own.
How would you describe your designs?
My design language is, in three words, minimal, directional and functional. These are the pillars that I tend to play around with from season to season. The work for me is based on this interest in historical, visual languages. I look at my West African heritage, but I also look at Western pop culture. I'm also really interested in many art practices, like the Bauhaus movement. I love the idea of modernism. That's something that I try to bring into my work from season to season. Ultimately, I'm trying to find the link between these different ideas while referencing moments in culture, music, and migration. With migration, it's not just the idea of the physical pursuit; it's what that looks like and what people wear while enduring it. I look at how migration led to where I am now, but I also look at migration in the context of how culture can be transported from one location to another.
How do you look to differentiate yourself from other rising designers?
For me, it's really about leaning into who I am instead of competing. In the fashion industry, there's always a cool new idea. There's always a cool new kid. I try not to lean on trends or to chase the hype. I stay in my own lane. Throughout the years, my brand has had many high moments, and it's really just about making the most out of those experiences.
What do you hope to offer to the fashion space as you countinue to grow your label?
I don't want to sound corny, but I really want to offer something different. I'm really interested in what a modern fashion brand looks like. I ask myself, "What does it mean for us to be a cultural brand instead of just a fashion brand? How do we engage with our community and the culture all at the same time?" We haven't done a traditional fashion show yet. Once we get there, we'll start to build our world. I'm curious what a store looks like for us. I'm curious what a fashion show looks like for us. Traditional fashion shows are a bit more exclusive, but we built the brand through a lot of local support. I would love for those people to be able to participate in those events as well. I have no desire to follow any sort of formulaic approach to being a designer. I'm excited by the challenge of what it means to be a modern brand.
"Toronto is always going to spur the pragmatic approach to what we do, but the inspiration can run wild after that."
You mentioned that you were initially inspired to enter this industry by your early years spent in downtown Toronto. How does the city impact your work today?
Canadians are very practical dressers. There, fashion is not for one-time special events. It's made to be useful, durable and functional. That's where this idea of uniform stems from for us. But the more I travel and see how people dress around the world, and as we grow the brand and look to appeal to more people, it's really about finding a middle ground where all sorts of individuals can find something for themselves — whether that person's style is more minimal or they are the expressive party animal. Toronto is always going to spur the pragmatic approach to what we do, but the inspiration can run wild after that.
Tell me about your latest collection, "012." What was the inspiration?
For this collection, we continued our exploration into the visual language of migration. We looked at that through a fall/winter context, and we revisited many silhouettes that have become staples for the brand over the years. I also looked back at designs from my early career that were never produced for the public. I wanted to explore and further develop those ideas.
We had a lot of references to my culture, too. In the knits, we reference adinkra, which is West African symbolism that represents different things like love, creativity and strength. We also referenced glass beads that have become a souvenir for people who travel to Ghana. But back in the day, there was a heavier historical and royal context to them. We used them to adorn winter jackets, diving again into this idea of migration and keeping certain parts of your culture with you as you travel.
Who is the Spencer Badu clientele?
They are similar to me. They are creative. They have multiple interests, and they live multiple lives. You could call them a polymath, and they don't necessarily follow the rules. They know what they want out of life. They are people who don't necessarily want to make a scene and stand out, but you definitely notice them when they walk by. It's these little subtle details that define them. Ultimately, we serve people who are not looking at trends and instead want to build their own wardrobes.
What's one lesson you've learned about becoming a fashion designer that you can share with those looking to follow in your footsteps?
It's really hard. Fashion is definitely glamorized. It's not only super competitive — it also comes with all sorts of turns. One thing I would say is that it really takes time. We're in this stage in the world where everyone wants instant gratification, and I understand that. But what I realized over the years is that you have to know who you are so that you're not swayed by other people's opinions.
You also can't expect the money to come right away. Unfortunately, fashion is one of those businesses where the money, for some people, never comes. And for others, it comes 10 years down the line. But you need to be able to take care of reality while you're chasing your dreams. It's the power of being patient and staying focused.
What can we expect to come in the near future from Spencer Badu?
There's a lot of momentum, and I'm really looking forward to what's coming. We have collaborations in product categories that we've never explored. We're also really focused on building the brand world. I'm very interested in what a physical space looks like for the brand, whether that's a pop-up or maybe one day a real store.
---
Shop Spencer Badu's designs on HBX now.