A 1976 Apple Check Signed by Steve Jobs and Steve Wozniak Is Up for Auction
Issued to the maker of computer circuit boards.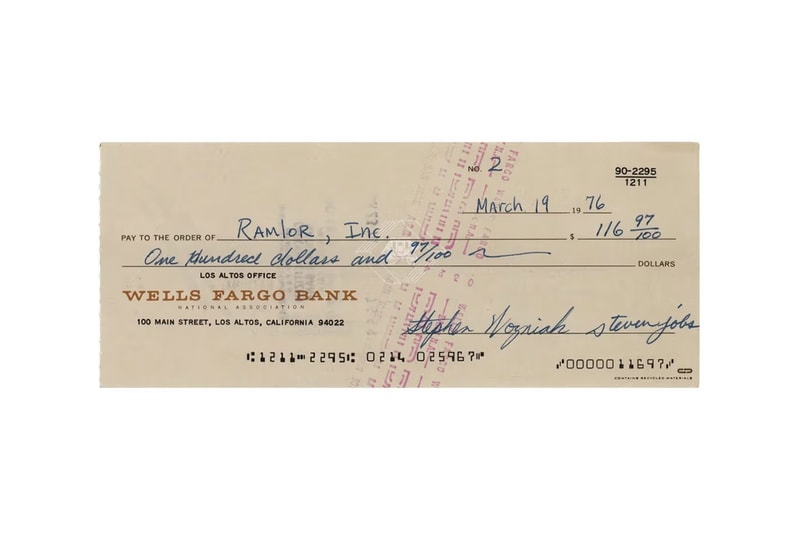 An Apple check signed by Steve Jobs and co-founder Steve Wozniak is heading to auction. Dated 1976, the check marks one of Apple's first-ever payments, with this one issued to a printed circuit board company that was likely responsible for the boards of the company's first computers.
The check was technically written prior to Apple's launch as a company. Apple Computer, Inc was officially registered thirteen days after the March 19 check. It also predates the company's address, which was included on later checks, as Jobs and Wozniak had yet to open their Palo Alto office out of Jobs' parents' garage.
The historic check "No. 2" will hit the auction block in an online event hosted by Boston's RR Auction. The auction is already open and the check will be up for bids until August 24.
"This temporary Apple check is one of the first documents ever signed by Steve Jobs and Steve Wozniak, predating the famous Apple agreement with Ron Wayne," Executive VP at RR Auction Bobby Livingston said. "The second Apple check ever written paid for the initial batch of Apple 1 circuit boards— The financial transaction that started the revolution."
In other tech news, Nintendo saw a record-breaking first-quarter profit.