A New Book Invites Fans to Remember the Mixtapes That Shaped Hip-Hop's Golden Era
Hip-hop historians Daniel Isenberg and Evan Auerbach discuss their new book, 'Do Remember!: The Golden Era of NYC Hip-Hop Mixtapes.'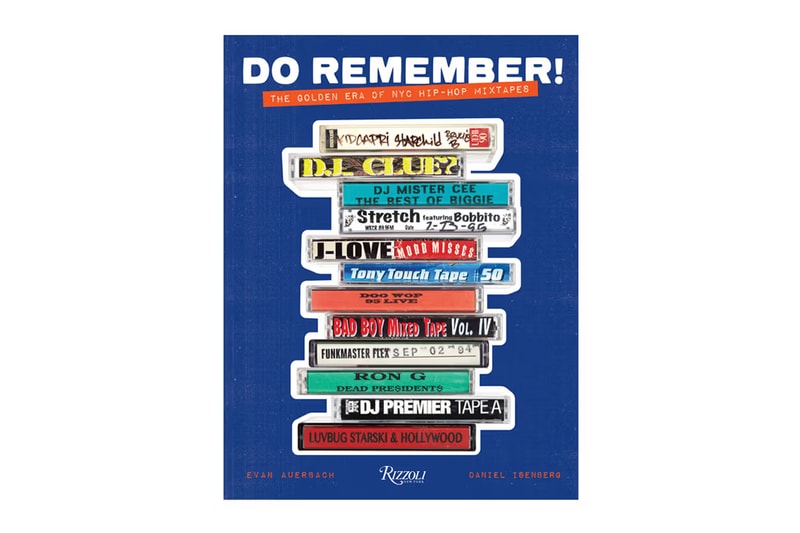 The past two decades of hip-hop music have been well-documented, thanks to social media and streaming platforms. Today, anyone with internet access can essentially tap into a database of their favorite rapper's discography, from leaked Young Thug demos passed around on the infamous KayneToThe forum to grainy videos of Odd Future's first-ever performances as a newly-formed ragtag rap collective. In short, contemporary artists' catalogs — even the most obscure corners — are subject to a ubiquitous immortalization that can only exist somewhere as boundless as the Internet.
Look back a decade or two further though, and hip-hop's history begins to get a little murkier. As we continuously upload and archive contemporary music in real-time, the early days of the genre are gradually fading from memory. Before Spotify or even the CD, the mixtape was the holy grail of hip-hop's heyday: a cheap, convenient means for artists to distribute their music with the hopes that it would make its way into the hands of a radio DJ or industry executive.
As we celebrate the 50th anniversary of hip-hop this year, a new book aims to pay homage to the role mixtapes played in the emergence of the genre and the lasting impression they've left on it. Do Remember!: The Golden Era of NYC Hip-Hop Mixtapes brings together a comprehensive survey of rare tapes from the genre's birthplace, along with never-before-seen images, tracklists and artist interviews. Slated to hit shelves in October, the book was compiled by two professionals with decades of experience in New York's hip-hop scene. Daniel Isenberg is a hip-hop writer who got his start reviewing live shows for XXL and writing features for NahRight and now holds a creative director role working across music, entertainment and sports. His co-author, Evan Auerbach, is a former record label employee turned music marketing executive. He also runs UpNorthTrips, an archive project cataloging old concert flyers, posters and other hip-hop ephemera.
Isenberg and Auerbach had worked together on a number of smaller projects over the past decade, but in more recent years decided it was time to take on something bigger that combined their mutual interests in hip-hop culture, archival work and preserving history. Eventually, those early conversations came to be formed around their "shared love and appreciation for classic mixtapes, mixtape DJs, and mixtape culture, particularly in New York," Auerbach tells Hypebeast in a recent interview.
"When we started with this project, we said to one another, 'How cool would it be to have a coffee table book filled with mixtape covers, stories, and lists?'" he continued. "As we started doing the work, we realized it deserved so much more, and it transformed into this super in-depth oral and visual history of one of the most impactful eras in hip-hop music. It really took on a life of its own."
The end product is a 240-page collection of the origin stories of mixtapes from hip-hop's greatest tastemakers, along with anecdotes from their time in the industry, collaborations with other artists and deals with industry veterans. Each spread pairs a given story with scans of concert flyers, film photos of artists and hand-written tracklists. For readers delving into mixtape culture for the first time, Do Remember! doubles as an almanac on the topic by introducing the various categories of tapes, from "radio tapes" of a DJ's on-air mix to recordings of live performances called "street tapes" that would go on to be sold around the artist's neighborhood.
After putting together a pitch for a mixtape-themed book, the duo got to work on the actual nitty gritty of curating the mixtapes they would include and delving into the artists and context behind each project. Auerbach focused mainly on outreach and sourcing images and interviews, while Isenberg directed his efforts towards background research and writing, and the two came together to make decisions about the book's creative direction. The opening pages of Do Remember! feature a forward penned by one of the pioneers of the street art movement, the artist and producer Fab 5 Freddy.
The authors were connected to Freddy by a mutual friend, who had told them the artist was a "big tape head." "When we finally interviewed him, it was filled with so much context about the era that preceded our book, and the era in the book itself, that it just felt right to transform it into the foreword," Auerbach says.
Freddy begins with a reflection on the first time he listened to Grandmaster Flash in 1979 after a friend lent him a rare recording of the DJ's set. Counter to the turntable's rise in popularity, he always preferred to carry around a boombox so he could record the live music around him.
"Cassette tapes were so crucial to the way hiphop spread from hood to hood in New York City in its infancy," he writes in the book's forward. "It wasn't on the radio all day everyday like now, or in record stores, or anywhere. Those tapes were cherished. They were prizes to me and the few who then [sic] knew."
A clear basis is established in Freddy's introduction, one that manifests in each story relayed in Do Remember!: the mixtape as a vehicle for artists to organically connect with audiences, starting with the neighbors living on their same block and gradually expanding to other boroughs.
Kid Capri, Brucie B, Mister Cee, Ron G, S&S, Doo Wop and Green Lantern are just a few of the prolific artists that Isenberg and Auerbach sat down with for exclusive interviews . One standout conversation, Isenberg recalls, was Mister Cee sharing an in-depth run through the making of his Best Of Biggie mixtape. For Auerbach, a highlight was FaceTiming with Kid Capri to see his personal tape collection, along with sitting down for one of the last-ever interviews with the late DJ Kay Slay, shortly before his passing in April 2022.
In charting out the timeline the book creates for its reader, Isenberg said they "wanted to lean into the time period where mixtapes and mixtape culture had the most impact in New York City, starting in the late '80s with the rise in popularity of live party tape recordings by guys like DJ Hollywood and Brucie B and finishing off with the switchover to CDs and the emergence of crews like G-Unit and The Diplomats in the early 2000s."
Auerbach refers to that 20 year period as a "particular time frame that represented the physicality of music, the pre-digital era." He lists off some of the key markers of the era: the tape covers, the tattered business cards and the old flyers with phone numbers written on them.
"Everything in the book is curated to authentically bring back the experience of what [hip-hop culture] was like back then," Auerbach says.
The duo describes the process of making the book as a "labor of love," one that required them to tap into the online mixtape collector community for their contributions and spend hours scouring eBay for memorabilia. While the work was exhaustive at times, Isenberg and Auerbach, collectors at heart, were resolute in their mission to preserve the rich history of hip-hop mixtape culture, especially in today's age of music streaming.
"The mixtapes themselves really represent a time that is long gone in today's culture," Auerbach says. "Mixtapes beckon a moment. Everyone can remember where they were when they heard that dope Ron G blend, or that exclusive off a Craig G tape, or a new Doo Wop freestyle."
By anthologizing mixtapes into a book, Isenberg and Auerbach remain optimistic that fans new and old can look back on the era and share some of their appreciation for the contributions of hip-hop's earliest pioneers.
"The memories of buying a Shirt Kings airbrushed tee and a tape at the Colosseum Mall or standing on 125th Street flipping through the mixtape binder, talking to Phil from Harlem Music Hut – we wanted to truly capture that; whether you lived it or you didn't," Auerbach says.
---
Do Remember!: The Golden Era of NYC Hip-Hop Mixtapes is available for pre-order via Rizzoli ahead of its release on October 17. Its MSRP is set at $45 USD.