Best New Tracks: Lily Rose-Depp, PinkPantheress, Maluma and More
Dive into the weekend with these music projects.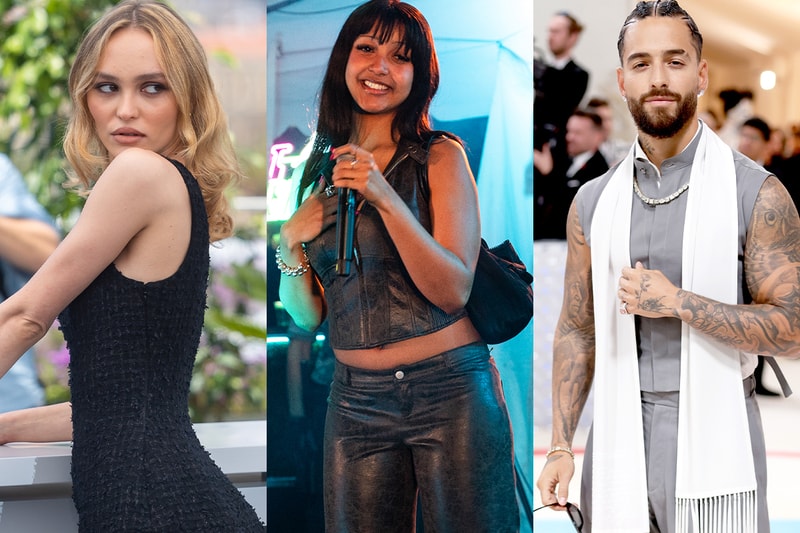 As the week in music comes to a close, Hypebeast has rounded up the best projects for the latest installment of Best New Tracks.
This week's lineup is led by Lily Rose-Depp, Pink Pantheress and Maluma, who each released "World Class Sinner / I'm A Freak" from the HBO series The Idol, the Barbie soundtrack cut "Angel" and "Coco Loco," respectively. Also joining this selection are offerings from Wallice, Shamir, Boldy James, Keshi, Ultra Q, Buju Banton, Freddie Gibbs and BJ the Chicago Kid and Michaël Brun with Saint Levant and Lolo Zouaï.
Lily Rose-Depp – "World Class Sinner / I'm A Freak"
The Weeknd drops off Lily Rose-Depp's The Idol cut, "World Class Sinner / I'm A Freak," which she performs at Jocelyn in the series. The track is produced by Asa Taccone, with more songs from The Idol season one dropping every week to coincide with each episode.
Listen: Spotify | Apple Music
PinkPantheress – "Angel"
As the release date of Greta Gerwig's Barbie looms closer, PinkPantheress released her soundtrack album contribution entitled "Angel." Produced by BloodPop, Count Baldor and PinkPantheress herself, the track follows the previously-released offerings "WATATI" from Karol G and Aldo Ranks and "Dance The Night" from Dua Lipa.
Listen: Spotify | Apple Music
Maluma – "Coco Loco"
Maluma kicks off his summer with his latest single, "Coco Loco." Produced by MadMusick, the cut also arrives with a steamy visual helmed by Jessy Terrero that sees Maluma as Don Juan "embodying urban flow and sensuality."
Listen: Spotify | Apple Music
BJ The Chicago Kid x Freddie Gibbs – "Liquor Store in the Sky"
BJ The Chicago Kid and Freddie Gibbs reunite for the former's newest single "Liquor in the Sky," produced by Yeti Beats. The emotional cut ends with BJ dedicating the song to his father, cousins, friends and Virgil Abloh.
Listen: Spotify | Apple Music
Shamir – "Oversized Sweater"
Shamir announces his ninth album Homo Anxietatem, translated from Latin to "anxious man," with the release of his "Oversized Sweater." Recorded and produced by Hoost in London, Shamir says, "The first quarter of 2020 before lockdown I felt a lot of anxiety. I was fresh out the psych ward and had quit smoking weed and cigarettes cold turkey. I spent the first couple months of 2020 knitting this huge baby blue sweater. It's basically a wearable security blanket that I used to channel all my anxiety into. I wear it all the time, but most notably in the video for my song 'Diet.'"
Listen: Spotify | Apple Music
Ultra Q - My Guardian Angel
Best Rising Artist honorees Ultra Q deliver their new album, My Guardian Angel, which can be described as a nostalgic, coming-of-age record that touches on growing up. "And that is the gift of My Guardian Angel, the implicit understanding that growth is merely a tool we use to better process the past slipping away from us," a press release states.
Listen: Spotify | Apple Music
Boldy James - Prisoner of Circumstance
Boldy James and Canadian producer Chan Hays drop off his newest EP Prisoner Of Circumstance, which arrives just prior to the announcement of the release dates of his upcoming projects with Harry Fraud and Jay Dee (Drug Dilla).
Listen: Spotify | Apple Music
Wallice – "Disappear"
Wallice preps to drop her upcoming EP Mr. Big Shot with the new single, "Disappear," which she wrote in London last year with Callaghan Kevany and David Marinelli. "It's about being overwhelmed, and the stress that comes with feeling indecisive- sometimes you just have to give in to going with the flow. At a certain point, it's the only way to live," she says in a statement.
Listen: Spotify | Apple Music
Keshi – "Understand"
Keshi revisits his debut album Gabriel with an accompanying music video for "Understand," helmed by Pennacky. "I realized that the trades that I made were permanent," he says says of co-writing and co-producing the project alongside Baltimore songwriter-producer Elie Rizk. "'Having your dreams come true, I had to ask myself, is it everything that I ever wanted? Success, fame, money, and other material things, those are nice, but they're not the things that make you happy at the end of the day."
Listen: Spotify | Apple Music
Buju Banton – "Coconut Wata (Sip)"
Buju Banton follows up his Snoop Dogg-assisted cut "High Life" with "Coconut Wata (Sip)." Featuring his distinctive dancehall style, the single is a reminder to his listeners to take a breather from the stress and enjoy the little things in life.
Listen: Spotify | Apple Music
Michaël Brun x Saint Levant x Lolo Zouaï – "Sak Pase"
Haiti's Michaël Brun teams up with Saint Levant and Lolo Zouaï for his latest single "Sak Pase," which translates to "what's going on/what's happening" in Haitian Creole. "I met Saint Levant earlier this year through a mutual friend and was really impressed by his artistry and passion for his people," Brun shares in a statement, "He's one of the few artists today that can seamlessly blend cultures and languages to create something brand new. We created "Sak Pase" with iPhone voice notes and built it up to be an intersection of Caribbean and Arab sounds. We connected with Lolo Zouaï a few months later to record her verse. I really admire the way she's incorporated so much of her French and Algerian heritage in her music. She's truly a multitalented creative mind and I'm grateful to have collaborated with her."
Listen: Spotify | Apple Music