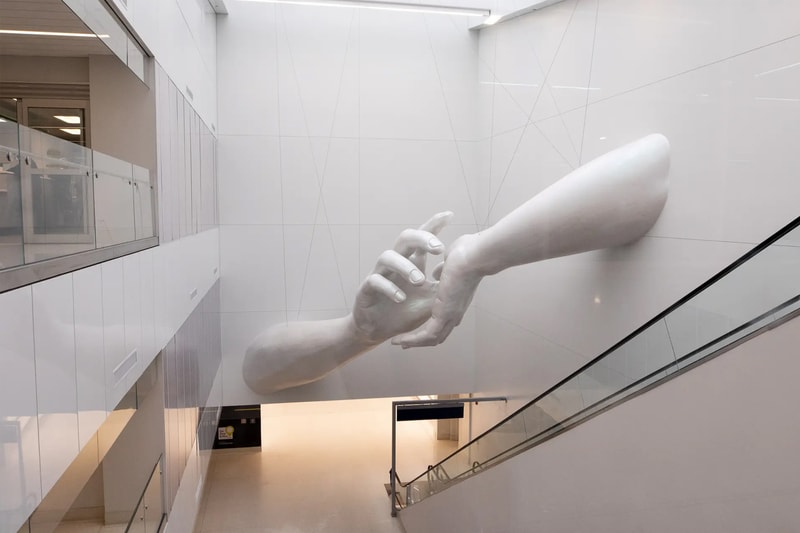 1 of 3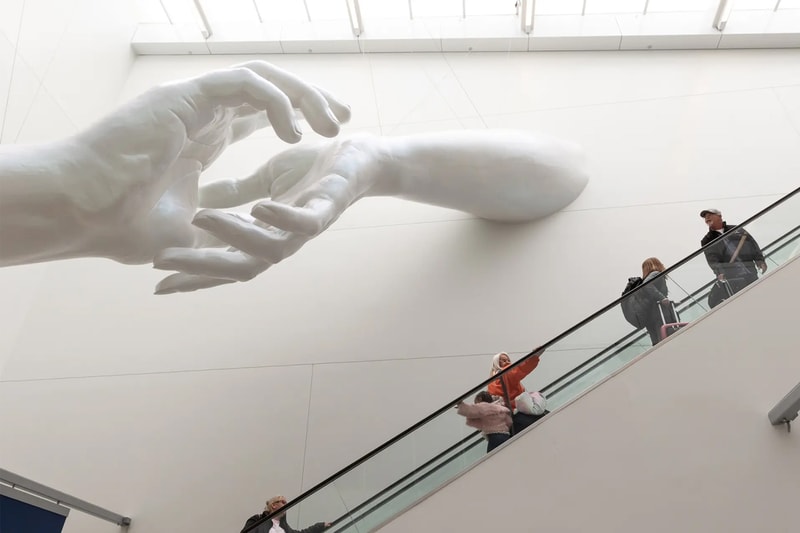 2 of 3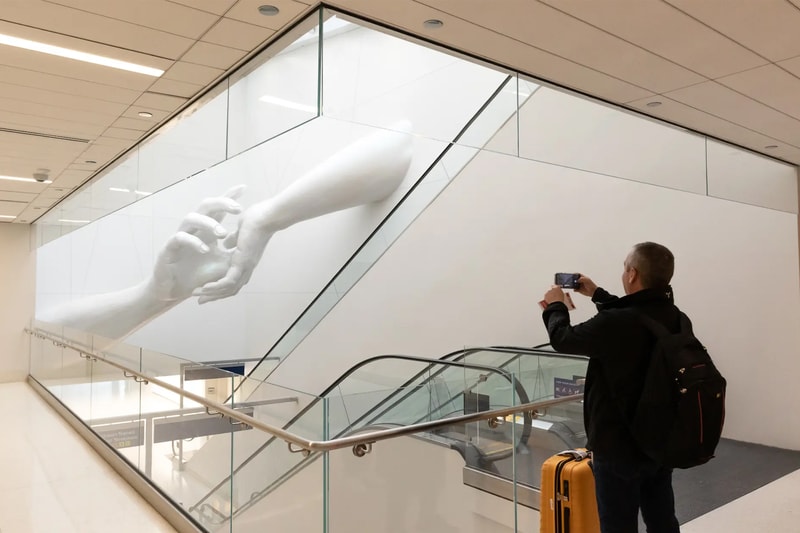 3 of 3
Large-Scale 'REACH' Sculpture Installed at O'Hare International Airport
By New York-based artists Hank Willis Thomas and Coby Kennedy.
---
A new large-scale installation by New York-based artists Hank Willis Thomas and Coby Kennedy has been set up above a set of escalators in the Multi-Modal Facility (MMF) of Chicago's O'Hare International Airport. Titled REACH, the art piece features two hand sculptures spanning 27 ft and 31 ft. Hanging in mid-air, the hands portray a reaching motion just fractions away from contact.
"As longtime collaborators we have had an incredible opportunity to create an artwork together and reframe a piece of public space, where most are in transit and passing through, for interconnectivity and togetherness," Thomas and Kennedy said in a joint statement. "REACH is a connection point and large-scale gesture that inspires us to come together."
The sculptural hands are part of a larger expansion and modernization of the airport's Terminal 5. $3.5 million USD has been dedicated to the project which will see  19 commissions featuring more than 20 artists throughout 2023.
"O'Hare is the first thing millions of visitors see upon arriving in our city every year, and I'm proud to be able to use that first impression to highlight the work of so many talented artists," said CDA Commissioner Jamie L. Rhee. "I look forward to the CDA's continued partnership with Cultural Affairs and Special Events (DCASE) as more art installations go up in the expanded and modernized Terminal 5 later this year."
Prior to REACH, other art installations that have gone up in recent years at and around the MMF include Palimpsest by Chicago's own Nick Cave, Horizon Light by New York-based James Carpenter Design Associates, and Field Lines by Los Angeles-based artist Rob Ley.
Now installed at the Multi-Modal Facility: REACH, a new sculpture from artists Hank Willis Thomas and Coby Kennedy. The two arms measure 27 feet and 31 feet in length, and are suspended above the North Escalator Hall of the building: https://t.co/IzkS0KM60b pic.twitter.com/8gzH2QMntm

— O'Hare Intl. Airport (@fly2ohare) April 27, 2023
In other news, teamLab heads to Sweden for Animal Kingdom group exhibition.