Best New Tracks: KAYTRAMINÉ, Post Malone and More
Enjoy the weekend with these 10 music projects.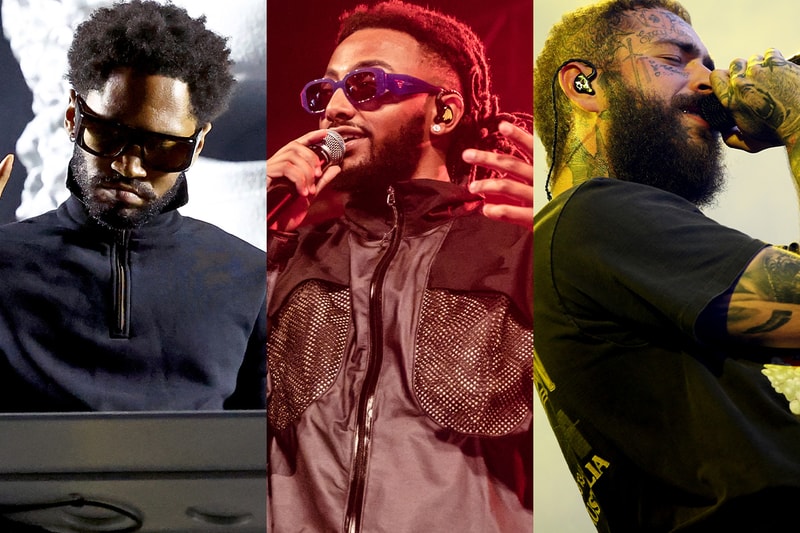 As the week in music comes to a close, Hypebeast has rounded up the best projects for the latest installment of Best New Tracks.
This week's lineup is led by KAYTRAMINÉ, KAYTRANADA and Aminé's duo, and Post Malone, who released the self-titled studio album and the single "Mourning," respectively. Also joining this week's selection are Summer Walker, Anderson .Paak and Knxwledge's NxWorries duo, Wallice, Queen Naija, Omah Lay with Ozuna, Wande Coal, Louis the Child with Zachary Knowles and Genesis Owusu.
KAYTRAMINÉ – KAYTRAMINÉ
KAYTRAMINÉ, the duo composed of KAYTRANADA and Amine, release their self-titled debut studio album with the help of Freddie Gibbs, Pharrell, Big Sean, Amaarae and Snoop Dogg. Their 11-track effort is a no-skip package that exhibits the best of both artist, all the while respecting each other's sonic spaces.
Listen: Spotify | Apple Music
Post Malone – "Mourning"
Post Malone preps the release of his upcoming album Austin with its second single, "Mourning." The emotional offering is a deep cut for Posty, as he becomes vulnerable and opens up about his personal struggles such as so-called "friends," the whirlwind of fame, a lack of genuine connections and being unable to speak to anybody about what he's going through.
Listen: Spotify | Apple Music
Summer Walker - CLEAR 2: SOFT LIFE EP
Summer Walker delivers her latest project, CLEAR 2: SOFT LIFE EP, with guest contributions from Childish Gambino, Solange, Steve Lacy and J. Cole. The R&B songstress also drops off an accompanying music video for "Pull Up," which co-stars BMF headliners Lil Meech and Myles Truitt and is helmed by Lacey Duke.
Listen: Spotify | Apple Music
NxWorries – "Daydreaming"
Anderson .Paak and Knxwledge return as NxWorries with their new single "Daydreaming," which features a guitar solo by Jairus "J.Mo" Mozee. It also arrives with an accompanying music video that marks Knxwledge's directorial debut, which is situated in the Grand Theft Auto V universe that the producer crated with editing tools.
Listen: Spotify | Apple Music
Queen Naija – "Words of Affirmation"
Queen Naija follows up her "Let's Talk About It" cut with "Words of Affirmation," a positive and uplifting track that harnesses the love language of communication. The artist is hopefully gearing up to drop something big in the coming months, following her previous collabs with Babyface and touring Stint with Mary J. Blige.
Listen: Spotify | Apple Music
Omah Lay x Ozuna – "soso (Remix)"
Ozuna joins Omah Lay for a remix of the latter's hit single "soso." The original cut, which appeared in the Nigerian artist's Boy Alone album, has amassed over 240 million global streams since its release.
Listen: Spotify | Apple Music
Wallice – "Loser at Best"
Hypebeast Best Rising Artist honoree Wallice shares her new single "Loser at Best," which is set to appear on her upcoming EP Mr Big Shot. "I started this song last May while on a writing trip in London. I would say this song is a bit of a love song to my boyfriend. We have been together for 8 years, but I was missing him at the time he was home and I was gone for a bit, and we started off as friends back in high school. This song is about wanted to feel needed and being intoxicated by love," she said in a statement.
Listen: Spotify | Apple Music
Wande Coal - Legend Or No Legend
Wande Coal enlists Wizkid, T-Pain, Olamide and Fireboy DML for his newest album, Legend Or No Legend, which hears the Afrobeats star dive into themes of love, loss and the challenges of fame. "This album is a reflection of my growth as an artist and as a person, and I can't wait for my fans to connect with it," he said in a statement.
Listen: Spotify | Apple Music
Louis The Child x Zachary Knowles – "Daybreak"
Louis The Child and Zachary Knowles join forces for the former's newest single, "Daybreak." The cut hears the rising popstar crave for a romantic partner he feels safe with, crooning over a punch production from Louis The Child.
Listen: Spotify | Apple Music
Genesis Owusu – "Leaving the Light"
Genesis Owusu announces his sophomore studio effort STRUGGLER, which drops August 18, with his newest single "Leaving the Light." He says of his upcoming record, "THE STRUGGLER RUNS THROUGH AN ABSURD WORLD WITH NO 'WHERE' OR 'WHY' AT HAND. JUST AN INSTINCTUAL INNER RHYTHM, YELLING AT THEM TO SURVIVE THE PESTILENCE AND LIGHTING BOLTS COMING FROM ABOVE. A ROACH JUST KEEPS ROACHING."
Listen: Spotify | Apple Music