How American Fashion Met Global Motorsports: The Story of Tommy Hilfiger and Formula 1
In conversation with Tommy Hilfiger himself, Hypebeast unearths TH's track-changing history with Formula 1.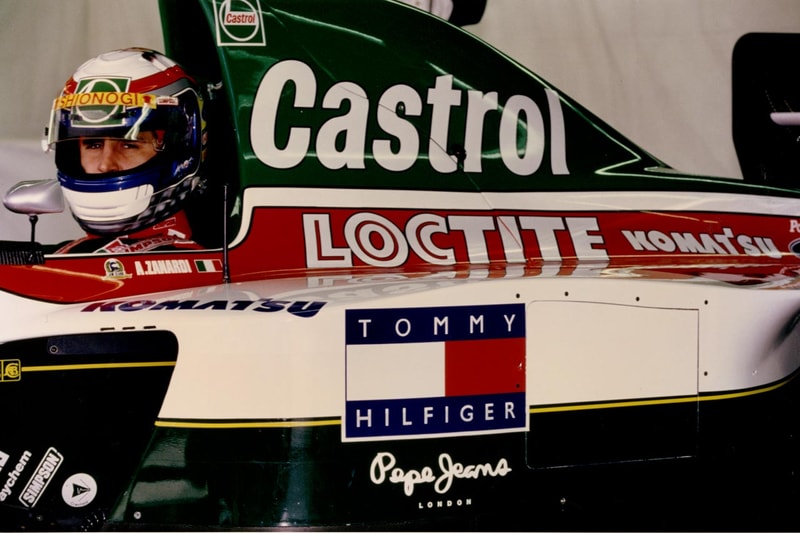 In the '60s and early '70s, an adolescent Tommy Hilfiger fell in love with motorsports. "I was obsessed with cars and racing in my teen years," he tells Hypebeast. Luckily, growing up in Elmira, a small town in upstate New York, the future American fashion purveyor was situated only 30 minutes away from Watkins Glen Grand Prix Race Course. "I used to go and watch the Formula 1 races at that racetrack," he adds. "I found that really exciting because it was all about the energy at the races."
At the same time that Hilfiger's racing stripes began to form, his fashion infatuation was beginning to boil. The then-budding 18-year-old designer had a passion for music — and, more specifically, the wardrobes of rock stars. He sought to emulate their looks in his own closet, but there wasn't a store that carried their styles in his hometown. So he took matters into his own hands, driving to New York City with $150 USD to purchase 20 pairs of bell-bottom jeans, which he then sold out of his Volkswagen Beetle back home. Shortly after, he cut the ribbon on his first storefront, People's Place, a full-fledged suburbian emporium for those city-centric styles he loved so much.
A mere 10 years later, Hilfiger moved to New York City to pursue a career in fashion, and in 1985, he launched his first collection: a line of youthful button-down shirts, chinos and other distinctive silhouettes that have now become House classics. Throughout the following several years, the emerging designer situated his brand at the corner of fashion and celebrity — thanks to a series of iconic pop cultural campaigns, tour sponsorships and editorial shoots. It was then that he established one of his eponymous label's most crucial pillars: F.A.M.E.S., "a philosophy that revolves around pop culture including fashion, art, music, entertainment and sports." And under this ideology, Hilfiger came full circle to merge his passion for racing with his love for fashion.
Pure Adrenaline
"Formula 1 is at the core of what pop culture stands for," he says.
But, how did Hilfiger turn his love for motorsport into a lucrative business endeavor? That's where an early partnership with Canadian billionaire and present-day Aston Martin Formula 1 team owner Lawrence Stroll proved transformational. "Lawrence has always been a car enthusiast," says Hilfiger. "He's a collector of rare Ferraris and used to own a racetrack in Canada that was used to test his cars, so we'd go up to the track and drive cars ourselves. It was exhilarating."
Through his direct involvement with the business of Formula 1, Stroll was able to identify a valuable, long-distance opportunity for Hilfiger's brand, one that would not only introduce the designer's label to new international markets but also forge new paths for both the sport and the fashion industry at large.
"Lawrence had vision and saw the opportunities Formula 1 could bring early on," Hilfiger says. "He believed that we could grow the business and gain global exposure for the brand, specifically in Europe where it was most popular at the time."
"He was right."
With Stroll's lead, Hilfiger established his first Formula 1 sponsorship with Team Lotus in 1991. During this time, the team's drivers included Mika Häkkinen, Johnny Herbert and Alex Zanardi, each of whom donned bespoke team uniforms in colors that merged those of Team Lotus — green, white and yellow — with those of the American Tommy brand — red, white and blue.
"It was inspiring to see how team colors were incorporated into all elements of Formula 1, from the cars to the uniforms to the garage," Hilfiger says. "It set off light bulbs for us and I wanted to be a part of it. I became obsessed with the sport's visual style, its surplus of logos and branding moments. Those racing aesthetics inspired many collections and designs for the brand over the seasons."
Tommy Hilfiger remained a sponsor of Team Lotus for three years, but before concluding its stint with the team in 1994, the brand also produced a summer advertising campaign and capsule collection inspired by motorsport, incorporating Hilfiger's love for Monaco with the joint colors of the racing team and his own label. It was the first time he was able to transfer his passion for racing into a profitable entity that the world could see and buy, opening an entirely new sector for the business.
"We realized that many of the fans, as well as the drivers, were interested in fashion and cared what the uniforms looked like," Hilfiger explains. "We knew we were on to something when the shirts and jackets we were making for the teams were selling in the after-market. They become real iconic pieces because there were limited quantities."
Only Those Who Dare, Truly Live
Following his Team Lotus sponsorship, Hilfiger's business was booming across all categories by the mid-'90s. In 1996, Snoop Dogg appeared on Saturday Night Live wearing one of his sweatshirts, boosting his brand's popularity among hip-hop fans. Soon after, he signed a contract with Estée Lauder to create an entire toiletries line, which included fragrances and grooming products; his signature sweater landed a major placement on Jeff Bridges in the classic film The Big Lebowski, and he formed a partnership with the NFL to craft a sportswear collection for all 30 teams. All the while, his unwavering love for motorsports still pulled him back to the racetrack.
In 1998, Stroll approached Hilfiger with the opportunity to sign on as Ferrari's official clothing sponsor. "We couldn't say no," says Hilfiger. "Not only did they have very strong records, but they also had the longest history with the sport."
Over his four years as the Ferrari sponsor, Hilfiger took his involvement in Formula 1 several steps further. He designed Ferrari's official kits and driver uniforms, taking inspiration from their cars' characteristics. In them, fabrications resembled carbon fiber materials, silver piping nodded to chrome wheels, and performance remained at the fore, with temperature-controling, moisture-wicking and waterproof textiles. Two collections for fans were sold globally as well, donning iconographic Tommy Hilfiger emblems and signature Ferrari branding. Hilfiger even crafted custom clothing and specially-painted race cars for Ferrari owners participating in the Ferrari Challenge Series, a top-level sprint race on the world's best tracks.
Ferrari's professional drivers were performing at the highest level, too. Michael Schumacher took home the World Driver's Championship for three consecutive years, in 2000, 2001 and 2002. Formula 1 saw a boom in popularity as well, with several new races entering the calendar in countries like Japan and Malaysia. As the sport expanded, fans became more invested in the lives of each individual racer, and Hilfiger saw an opportunity to connect with audiences more directly through personal partnerships. Schumacher appeared in a Tommy Hilfiger sportswear campaign alongside Eddie Irvine, and both of them scored individual sponsorship deals with Hilfiger's brand.
"I think the personalities of the drivers are just as interesting as the cars because you're dealing with real people with real ambition," says Hilfiger. "Here, you have Michael, who was maybe more demure, a little bit more reserved and quiet, and then Eddie, who gets out there and hosts big parties. They're world-class pro athletes, and they all have their own personalities."
Co-signed by some of the sport's most impressive racers at the time, Hilfiger's brand became massively associated with Formula 1 and motorsport culture. And to top it all off, Ferrari was named Formula 1's Constructor's Champion, a title bestowed upon the most successful constructor over the course of the season, for all four years of his sponsorship.
After his Ferrari sponsorship concluded in 2002, Hilfiger took some time away from Formula 1 as he waited for the right opportunity to reenter the field. But his brand profile continued to expand across the sports domain. In 2005, he became the official sponsor of the Volvo Extreme 40 sailing series, during which "Hilfiger Sailing" was led by former America's Cup winner Randy Smith. In 2006, footballer Thierry Henry was named a brand ambassador, followed by golfers Keegan Bradley and Melissa Reid for the brand's golf line in 2011. In Fall 2015, tennis player Rafael Nadal joined the Tommy team, dropping an underwear campaign, followed by the THFLEX Rafael Nadal Edition tailored collection. In 2018, however, Hilfiger made a glorious return to the racetrack with a Mercedes-AMG F1 sponsorship, thanks to his close friend and collaborator, Lewis Hamilton.
The Lewis Hamilton Effect
Hamilton, the first (and to-date only) Black driver to compete in Formula 1, is motorsports' best driver of all time. He holds the joint record for seven World Drivers' Championship titles,  as well as the records for most wins, pole positions and podium finishes, among several others.
"The brand's involvement in F1 began anew because of Lewis," says Hilfiger. He's the number one driver in the world. He has a fashion sense that is way beyond any other F1 driver's fashion sense. He's not only a driver. He's multi-talented."
Hilfiger named Hamilton a global brand ambassador for his men's division, and the two have since collaborated on five, "Tommy X Lewis" collections: Fall 2018, Spring 2019, Fall 2019, Spring 2020 and Fall 2020. Rife with sporty influences, those capsules expertly blended Hamilton's fashion-forwardness with Hilfiger's classic American DNA. Across the seasons, they housed a range of heritage pieces and oversized silhouettes, crafted from sustainable materials including organic cotton.
"Lewis is a clothing designer," says Hilfiger. "He designed and co-designed the 'Tommy X Lewis' capsule collections with us, and those were amazingly successful due to Lewis's direction. He really wanted to push it into becoming something unusual."
When Hilfiger signed his detail with Mercedes-AMG, Hamilton and Valtteri Bottas were leading the team to unequivocal success under the watchful eye and deep wallet of CEO and Team Principle Toto Wolff. And today, the team is even more powerful with George Russell and Michael Schumacher's son, Mick Schumacher, joining the roster.
"I'm so proud when Mercedes wins," Hilfiger says. "It's like winning the Super Bowl because we know how hard everyone works and how serious everyone is."
Hilfiger is responsible for Mercedes-AMG's current kit, as well as various programs that see business partners, wholesale partners, influencers and celebrities attend the races in hoards. He's also crafted four capsule collections for TOMMY HILFIGER TAILORED with Mercedes-Benz, merging his quintessential design codes with premium, race-inspired materials over the Spring 2019, Fall 2019, Spring 2020 and Fall 2020 seasons.
Beyond the Racetrack
Where Tommy's involvement in Formula 1 reached new heights, so did the world's. So much so, in fact, that he staged an entire TOMMYNOW "DRIVE" show on Milan Fashion Week's stage for Spring 2018. There, he delivered a full-blown runway inspired by Formula 1 racing, with Mercedes-AMG F1 cars and simulators integrated into the set. The collection itself nodded to pit crew styles, with heritage-inspired workwear, a heavy emphasis on denim and a bevy of streetwear looks featuring staple iconography and streamlined racing graphics. Rounding out the range, Hilfiger debuted a collaboration with Gigi Hadid, titled "Tommy x Gigi," which hosted a signature Gigi racing print and embroidered speed logos.
The show was indicative of how heavily Formula 1 — and Hilfiger's involvement in it — has permeated the many genres of pop culture.
"Formula 1 is a global sport like no other," Martijn Hagman, Chief Executive Officer of Tommy Hilfiger Global and PVH Europe, tells Hypebeast. "It gives us the opportunity to connect with an exciting community of sports fans and engage new consumers at the intersection of fashion, motorsports and lifestyle."
"Today, Formula 1 races in the U.S. are crazy. They're like rock concerts."
"Today, Formula 1 races in the U.S. are crazy," he says. "They're like rock concerts. Miami is around the corner, and last year, it was packed with people from the sports world, influencers, fashion people, and Hollywood people. It was a real mix of pop culture icons, as well as major fans."
This year, it's safe to expect the same to occur, at an even larger scale. "I really believe that Formula 1 is one of the fastest-growing professional sports in the world," he adds. "The sport has brought wide recognition and respect to our brand globally." Men between the ages of 15 and 50 across the world are particularly responsive to the brand's involvement in Formula, Hilfiger notes. "It's part of our core DNA. It's allowed us to present technical product on a global scale – like how we would at a fashion show – but with Formula 1, the product is on display in a very real way," he says.
When Hilfiger first entered the Formula 1 arena as Team Lotus' official sponsor, he was blazing a new trailer for fashion in motorsports. Today, he's set the standard for what that can look like. As a global sport, Formula 1 offers a massive, global platform for fashion brands to broadcast their designs, and the crossover appeal among fashion lovers and race enthusiasts, a market that, as Hilfiger discovered in his early days, is uncanny.
Between his bountiful collaborations and his penchant for innovation, Hilfiger's brand has become synonymous with motorsports in the highest echelons — and he's only continuing to delve deeper into the track. "There are some exciting collaborations connected to Formula 1 coming very soon," confirmed. In hindsight, the teenage Tommy seated at Watkins Glen Grand Prix Race Course was simply studying up for his turn in the big leagues.