Initial Reactions to 'John Wick: Chapter 4' Call it "One of the Greatest Action Movies Ever Made"
Other adjectives critics use to describe them include, "badass," "bloody" and "spectacular."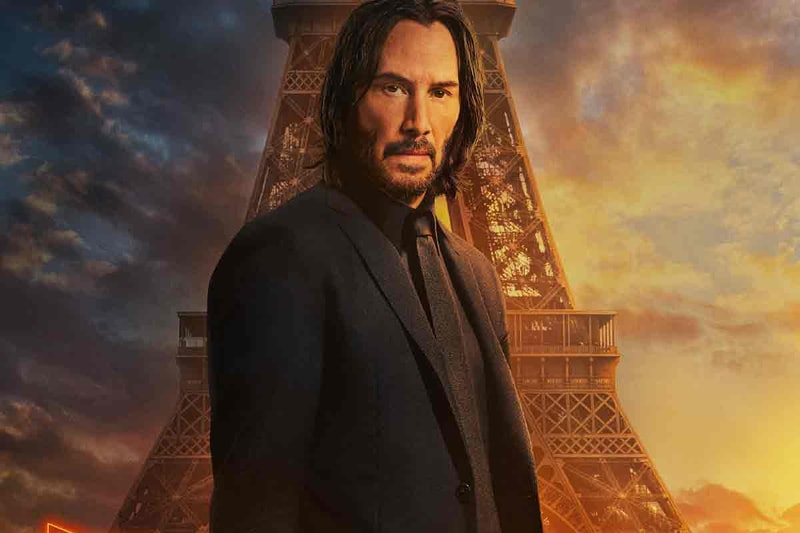 The initial reviews for John Wick: Chapter 4 are officially in and it's nothing but rave reviews. Critics who had a chance to have an early preview of the highly-anticipated fourth installment of the John Wick series were pleasantly surprised with the action-packed film.
The fourth film follows the return of Keanu Reeves as the titular assassin as he travels to various exotic locations to fight some of his toughest enemies yet. Taking on the High Table once again, and more specifically, a high-ranking member of the criminal council, Reeves stars opposite antagonist Bill Skarsgard who places Marquis de Gramont. Other stars include Lawrence Fishburne, Lance Reddick, and Ian McShane who return to the series with new faces like Scott Adkins, Donnie Yen, Clancy Brown and Marko Zaror.
Chad Stahelski helmed John Wick: Chapter 4 once again, having done the previous three films in the franchise. Shay Hatten co-wrote the script with Michael Finch. Stahelski also serves as a director on the project with Erica Lee and Basil Iwanyk through production houses Summit Entertainment and Thunder Road Pictures. Ample of positive reviews have made their way on Twitter, teasing the action-packed, "bloody, kill-fest" that fans can expect to see. Calling it a pure adrenaline rush, other critics confirm it is both "bold & badass," and would even go as far as calling it "one of the finest action movies ever."
John Wick: Chapter 4 arrives in theaters on March 24. Take a look a the initial reviews below.
#JohnWick4 absolutely rocks, start to finish. Keanu Reeves finds new ways to impress with stunning action and surrounds himself by incredible franchise newcomers.

Chapters 1-3 world-built and Chapter 4 could run with all of it.

An epic big screen blast. CINEMA! pic.twitter.com/KUo69tIQys

— The Brandalorian (@BrandonDavisBD) March 6, 2023
Brawny, bold & badass, #JohnWick4 brilliantly balances vested stakes with an absolutely spectacular, high octane thrill ride. A soaring, searing, scorching chapter in the saga. The wildest time you'll have at the movies this year. A pure adrenaline rush. pic.twitter.com/eUmJRfnwJw

— Courtney Howard (@Lulamaybelle) March 6, 2023
#JohnWick4 continues with the visceral and brutal action. We finally get the conclusion to the story, and the film brings the action to a higher level with armored ninja, fiery weapons, epic one-shot scenes, and more. Donnie Yen is definitely icing on the cake. pic.twitter.com/7N0utxj772

— John Nguyen (@JohnSpartan300) March 6, 2023
John Wick: Chapter 4 is one of the finest action movies ever. My jaw hit the floor at least six times. One section involving a Dragon's Breath shotgun is just action-movie goodness at its best. Donnie Yen steals the show. Easily the best in the series #JohnWick4 #JohnWickChapter4 pic.twitter.com/VBsZxC6bhu

— Hunter Bolding (@HunterBVideo) March 6, 2023
#JohnWickChapter4 is f*cking awesome. Literally had to pick my jaw off the ground from some of the insane and inventive set pieces.

You are not prepared for what Keanu does with the dragon's breath shotgun.

Also @DonnieYenCT brought his A game.

Can't wait to see it again. pic.twitter.com/gf6sm5Ijal

— Steven Weintraub (@colliderfrosty) March 7, 2023
#JohnWick4 is an action-packed, bloody, kill-fest, and that's what makes it good! I normally don't love so much action in my movies but Stahelski makes every frame count. Yes, it's ridiculous. Yes, it's video game logic. Yes, it's extra as hell. Yes, I will be watching again! pic.twitter.com/D56ODsTTcq

— therese lacson • 宋蕾蕾 (@bamfpire) March 6, 2023
One of the greatest action movies ever made, #JohnWick4 tops all 3 of its predecessors in storytelling, scope & stakes, countless astonishing set pieces, hard to fathom it's all contained within one film, Bill Skarsgård slays, a hellaciously thrilling franchise finish (?) 9.5/10 pic.twitter.com/2jDwXle21J

— Erick ??? Weber (@ErickWeber) March 6, 2023
#JohnWick4's three-hour runtime makes so much sense when you're going *that* hard. The third act alone… just glorious. pic.twitter.com/TDCs74aGV7

— Liz Shannon Miller (@lizlet) March 6, 2023
I had reservations about John Wick: Chapter 4's nearly three hour runtime, but the movie earns it. It's an epic with smart pacing that never lets the action feel exhausting, and the set pieces are phenomenal. Great cast of series newcomers, but Donnie Yen is the MVP. #JohnWick4 pic.twitter.com/xyMbLXmXUM

— Eric Eisenberg (@eeisenberg) March 6, 2023
JOHN WICK: CHAPTER 4 was as badass & as awesome as I hoped it would be.
I didn't mind the lengthy runtime cause the Arc de Triomphe relentless action alone was worth it.
And the gun-fu of Keanu Reeves VS. Donnie Yen lived up to the hype.#JohnWick4 #JW4 #KeanuReeves #DonnieYen pic.twitter.com/v6E7wAB70Q

— Rama's Screen (@RamasScreen) March 6, 2023
#JohnWick4 is a bloody good time. Great action and fight sequences. Donnie Yen is an INCREDIBLE addition to the franchise. He's a highlight of the film. Lots of surprises in this one that's going to deliver a divisive ending. See this one in IMAX. pic.twitter.com/MMCW54KydQ

— Kirsten (@KirstenAcuna) March 6, 2023
At times, #JohnWick4 feels like a video game come to life. (And I mean that as a compliment.) So many of Keanu Reeves' fight sequences felt like boss battles. I get a kick out of how the franchise continues to find creative ways to turn mundane objects into deadly weapons. pic.twitter.com/JA1K5kTG3n

— Kirsten (@KirstenAcuna) March 6, 2023
It's the most gorgeous of the franchise with some terrific cinematography. Donnie Yen, Hiroyuki Sanada, Rina Sawayama, and Bill Skarsgaard are incredible additions to the cast! But the action is the star, and the film features some of the best gun fights in the series! -Mike M.

— The Nerds of Color (@TheNerdsofColor) March 6, 2023
In other entertainment news, Martin Scorsese's The Devil in the White City is no longer moving forward at Hulu.