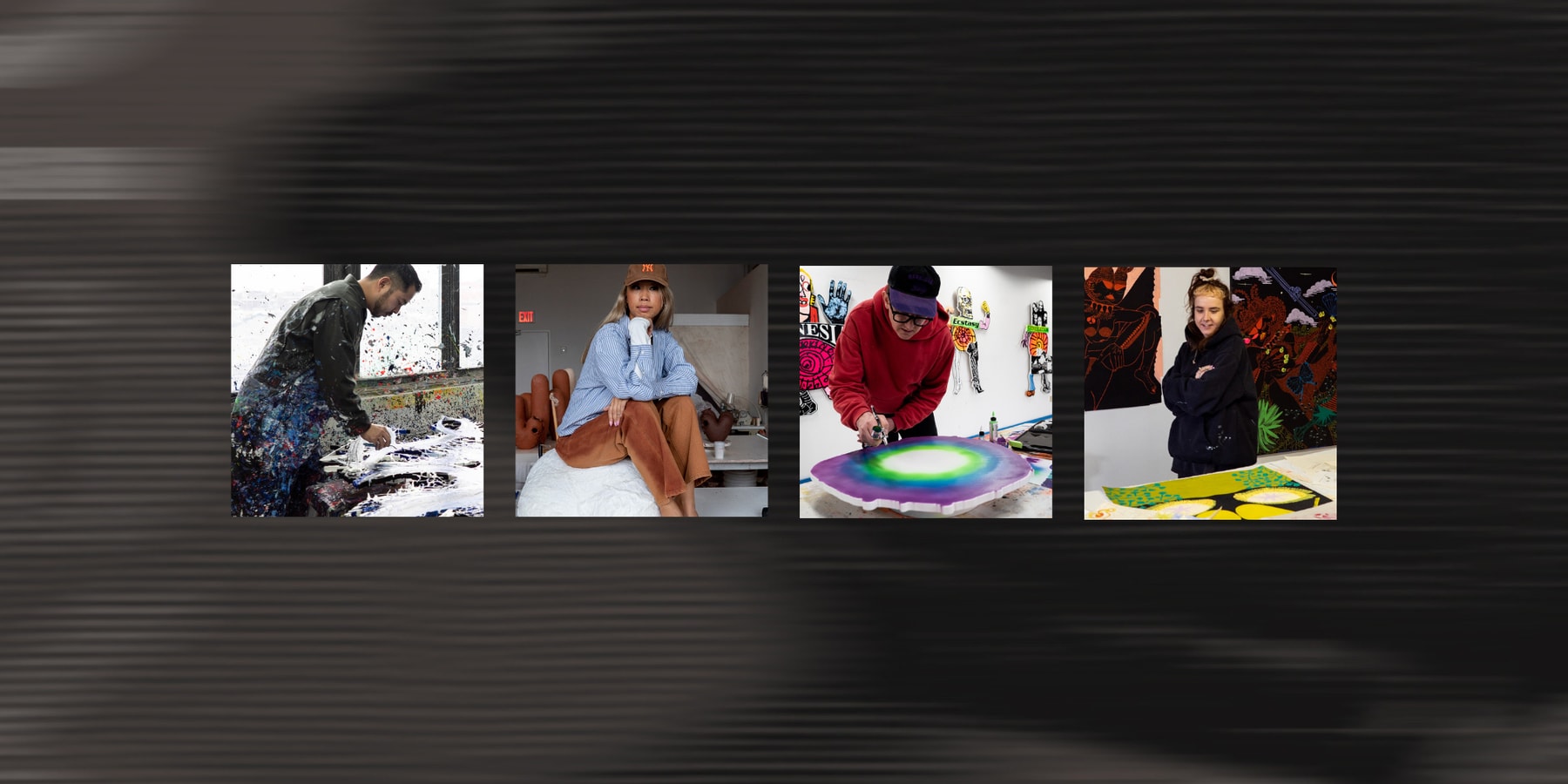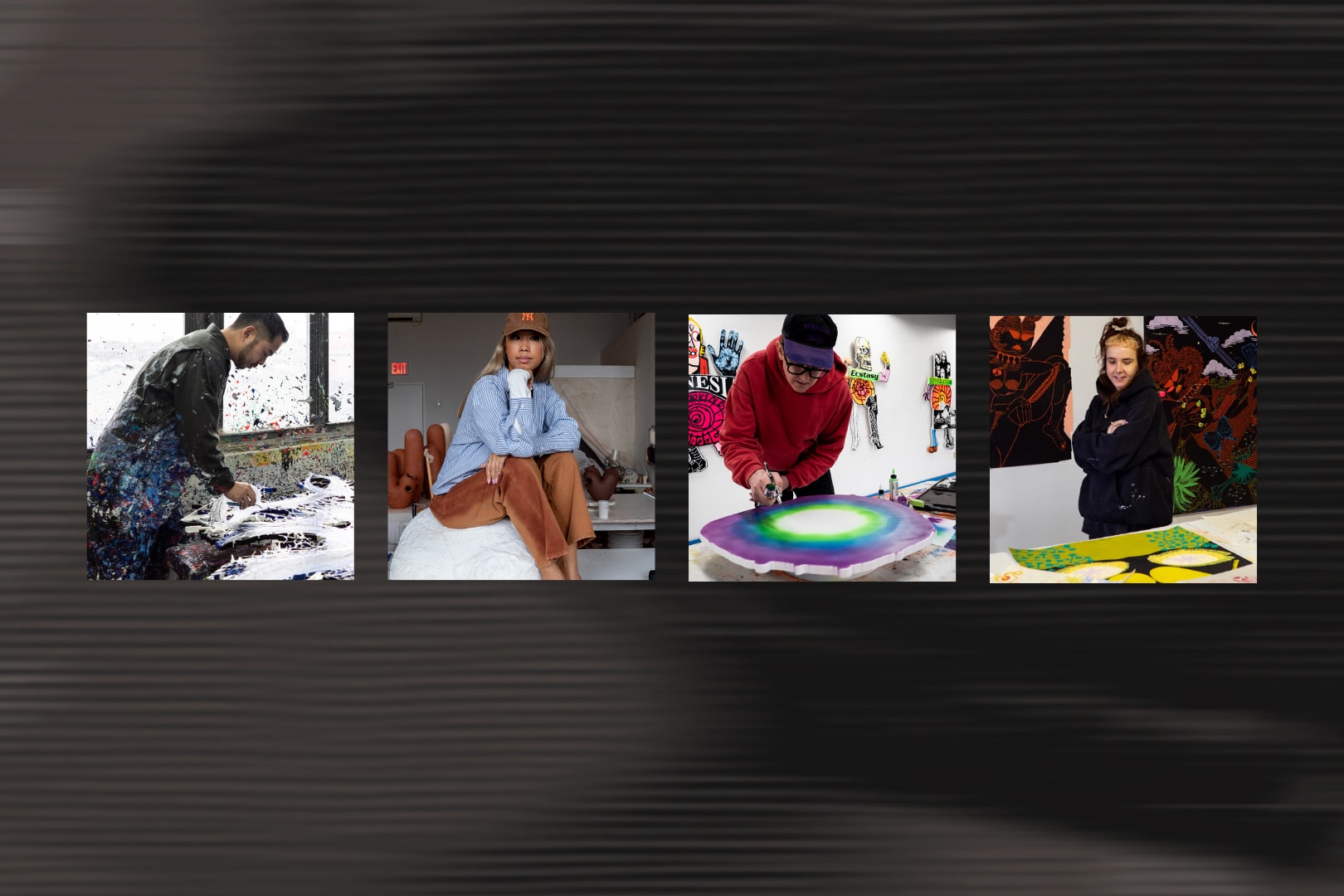 Meet the Artists of Hypeart's 'NOISY REALITY' Group Exhibition
Meguru Yamaguchi, Heather Benjamin, Eny Lee Parker, and B. Thom Stevenson delve into the intricacies of their captivating artworks.
Hypeart's upcoming NOISY REALITY exhibition features the work of four diverse and talented artists who translate the ever-evolving landscape of New York City through various mediums such as painting, sculpture, mixed media, and furniture design. Meguru Yamaguchi, Heather Benjamin, Eny Lee Parker, and B. Thom Stevenson each offer their unique perspective on the city's essence and energy while imbuing their own artistic concepts and themes to present a dynamic curation.
Brooklyn-based artist Meguru Yamaguchi draws from the philosophy of Basho Matsuo to create sculptures that capture the fleeting nature of trends in modern society. His series titled "Awakenings" features angular brushstrokes that give way to fluid lines, representing the need to adapt and change in a world that is constantly evolving. Through his work, Yamaguchi highlights the importance of perceiving the subtle nuances of our environment and adapting to them in order to stay relevant and connected.
Heather Benjamin's art is a reflection of the emotional and psychological landscape of New York City, often featuring female figures in unconventional shapes. Her works convey a sense of duality, representing the complex emotions and experiences that come with living in a city that can be both inspiring and challenging. Benjamin's pieces are inspired by the exaggerated feminine imagery of Sailor Moon, which includes sexualized body parts and surrealistic abstractions. Her honest and vulnerable depictions resonate with viewers and invite them to explore their own emotions.
The 'NOISY REALITY' exhibition showcases the city's diverse cultures and fast-paced lifestyle through abstract and diaristic pieces.
Eny Lee Parker's furniture design is a celebration of the diversity and richness of New York City's culture, with natural landscapes and Frankish patterns as inspiration. Her use of materials such as glass, wood, and mixed fabrics, and her incorporation of ancient craft methods into her practice, demonstrate a deep respect for the city's history and heritage. Parker's miniature clay figurines serve as models for her life-sized objects, showcasing her meticulous attention to detail and her dedication to creating functional works of art.
B. Thom Stevenson's mixed media pieces in the "SCARECROW" series take the form of humanoid figures with diverse assemblages, inspired by the scarecrows he saw in his hometown of Sutton, Massachusetts. These pieces are a reflection of the kaleidoscopic identity of New York City, with their form, text play, and visual orientation imbued with the city's vibrancy and energy. Stevenson's works initiate an introspective dialogue that explores the visual aspect of language as a means of communication and the role of language in the gaps of sub-culture.
The NOISY REALITY exhibition showcases the city's diverse cultures and fast-paced lifestyle through abstract and diaristic pieces. However, it also provides a respite from the sensory overload of the city through the vibrant colors, textures, and shapes of the artwork. Read our exclusive interview with the artists below and stay tuned for more.
1 of 6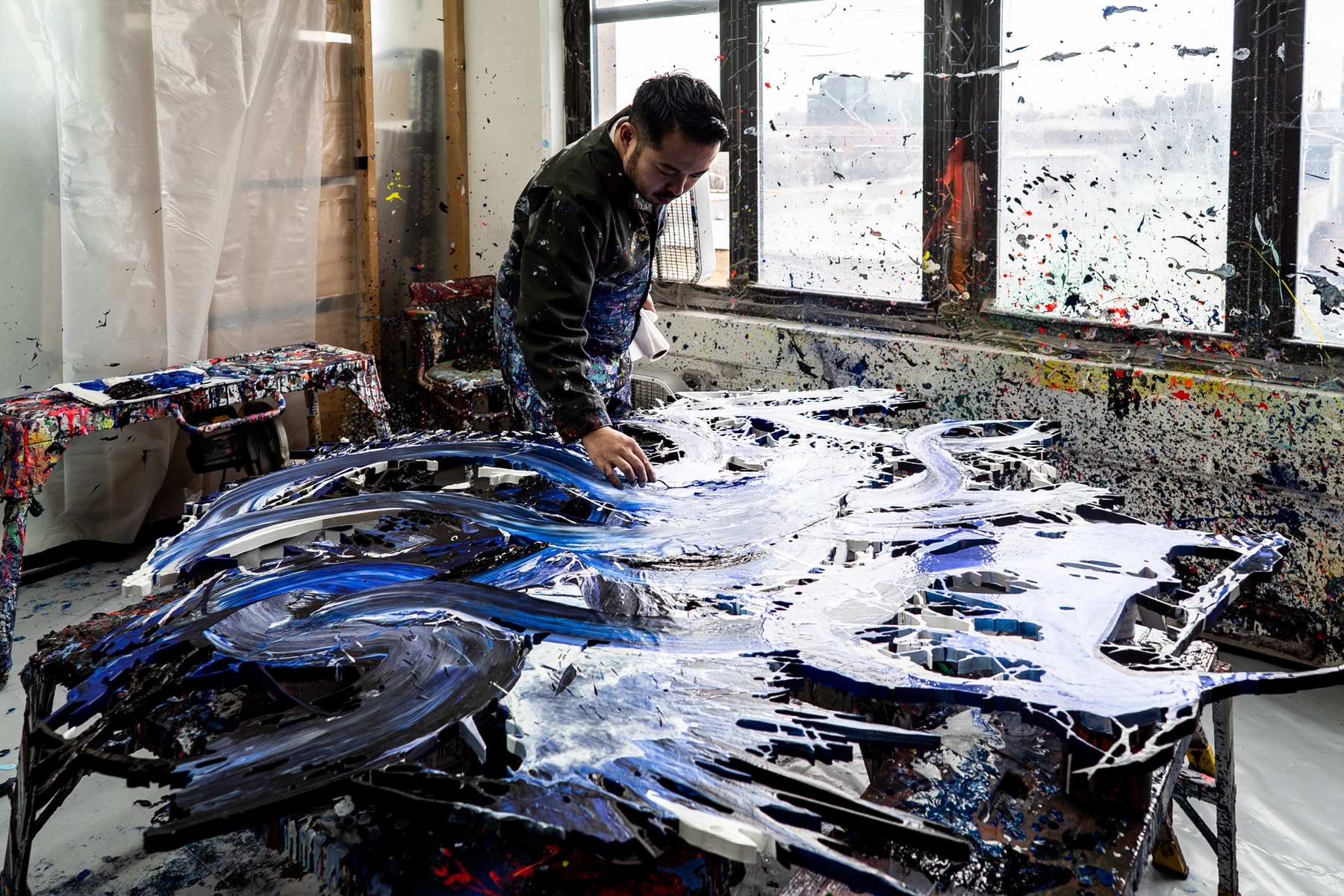 2 of 6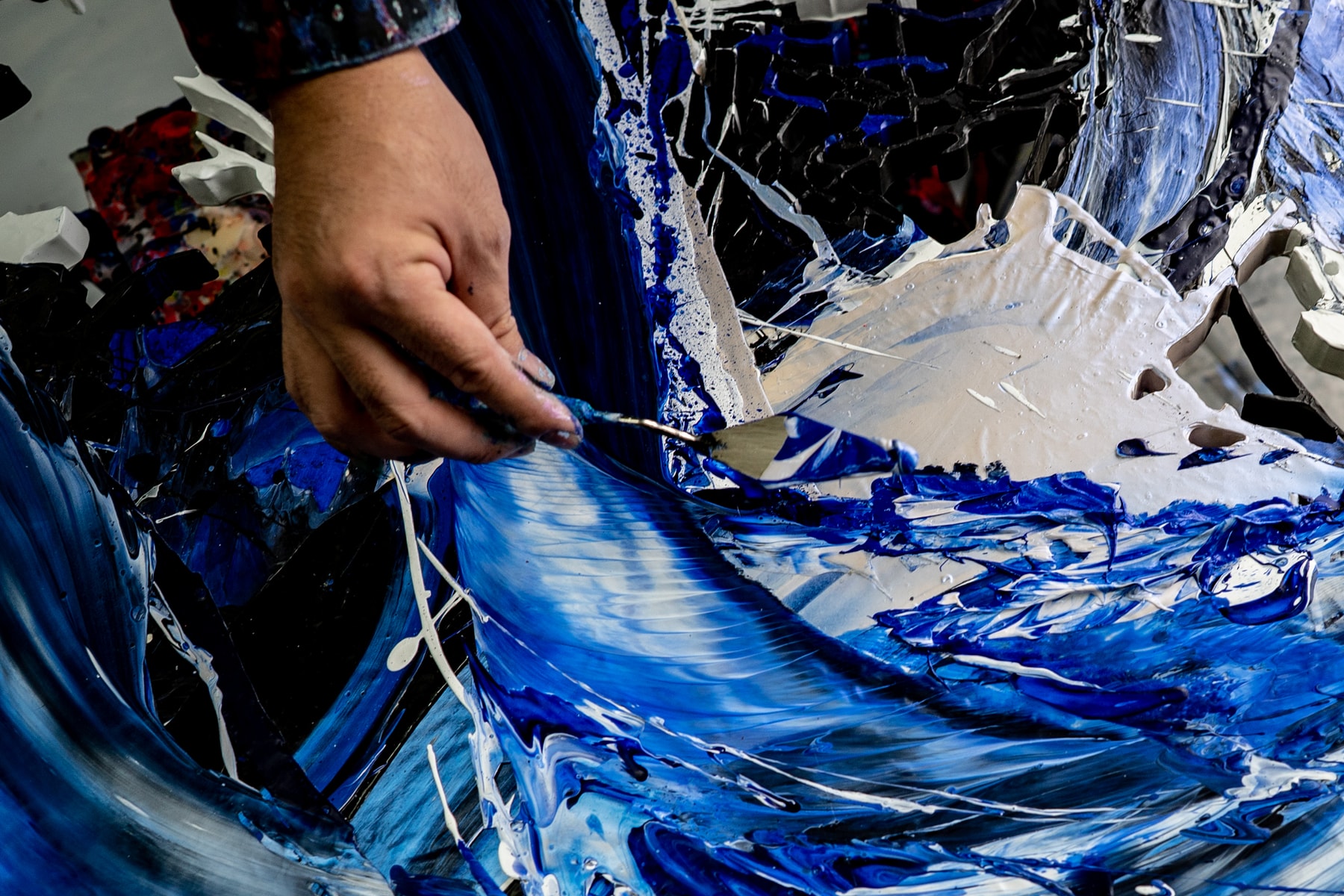 3 of 6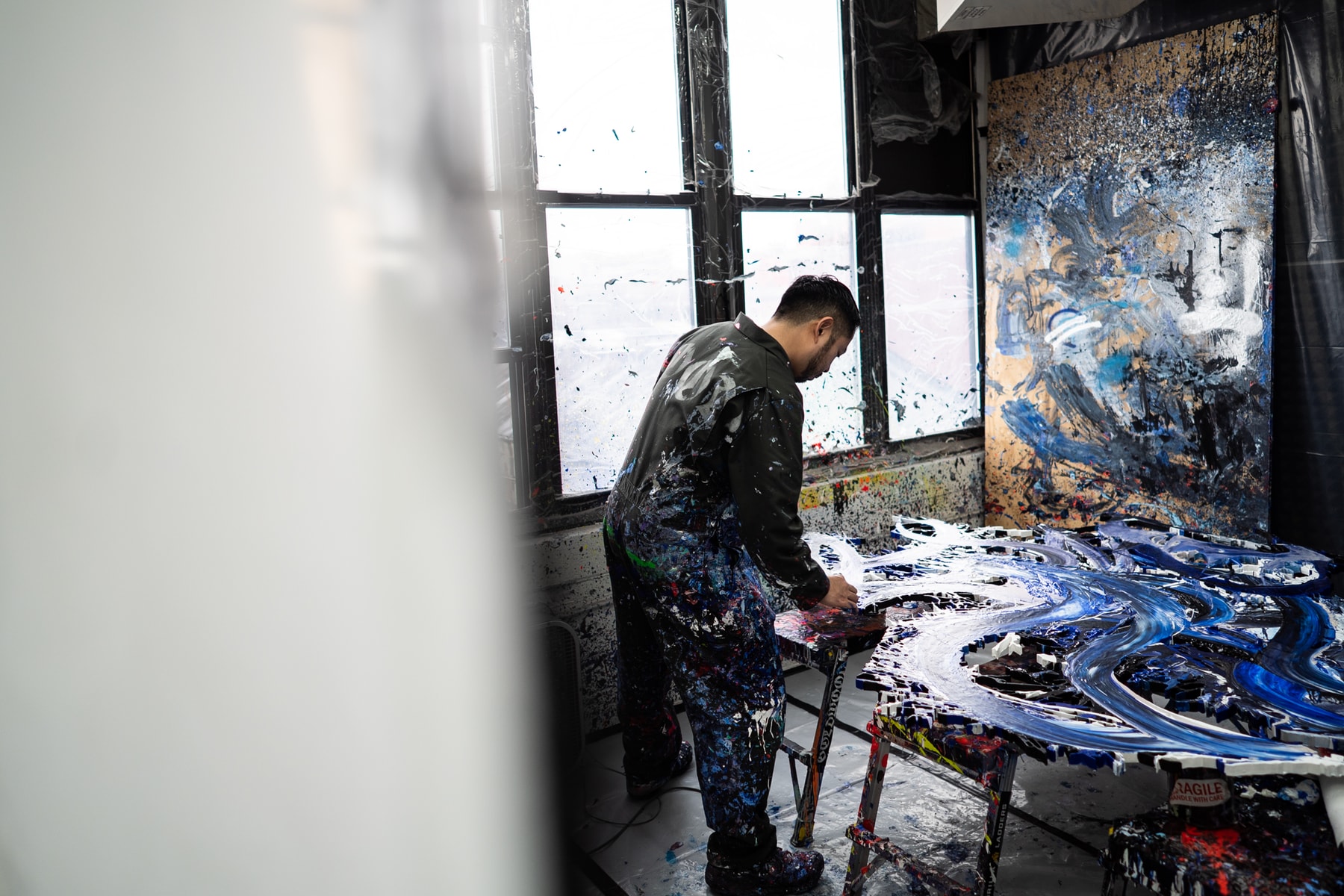 4 of 6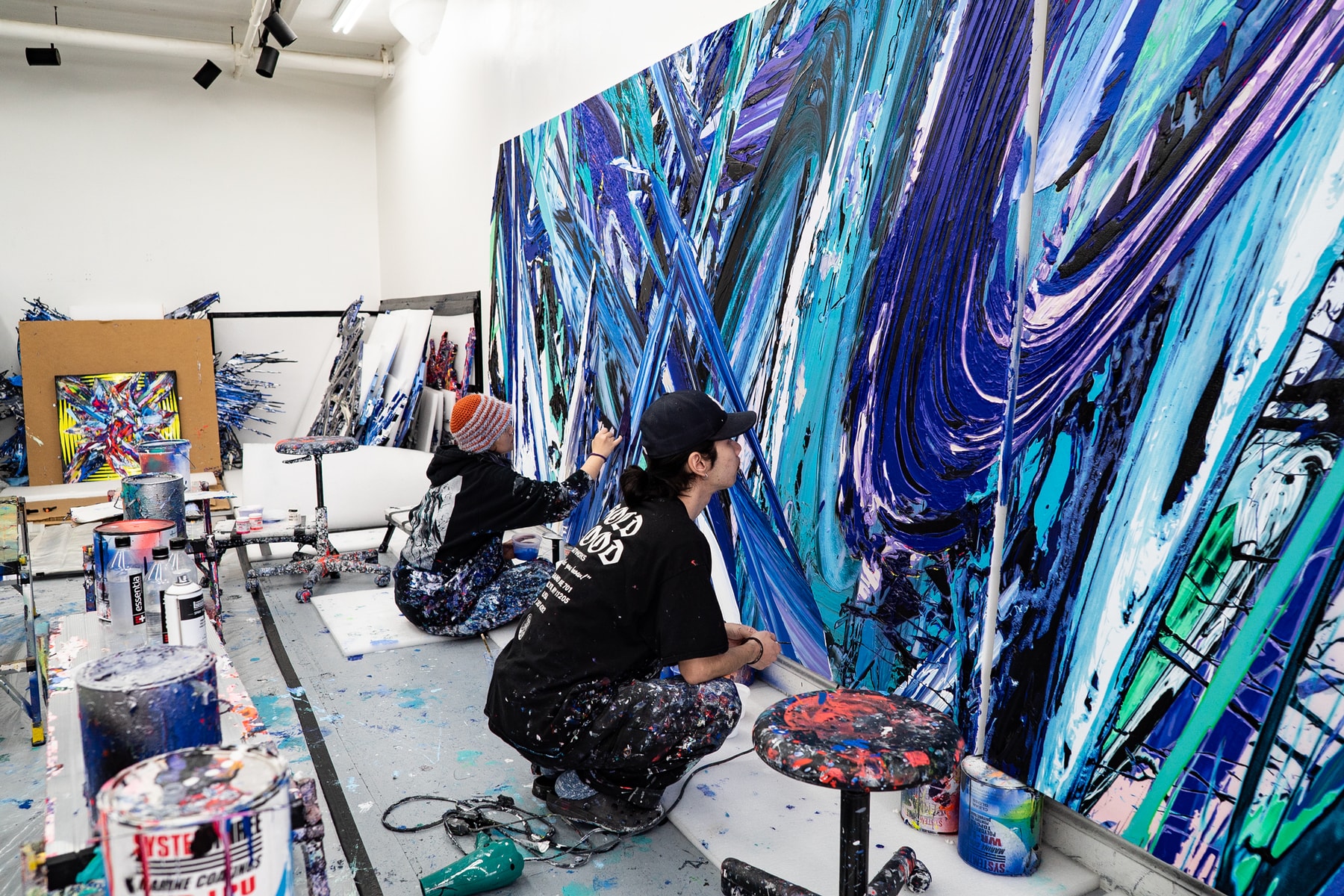 5 of 6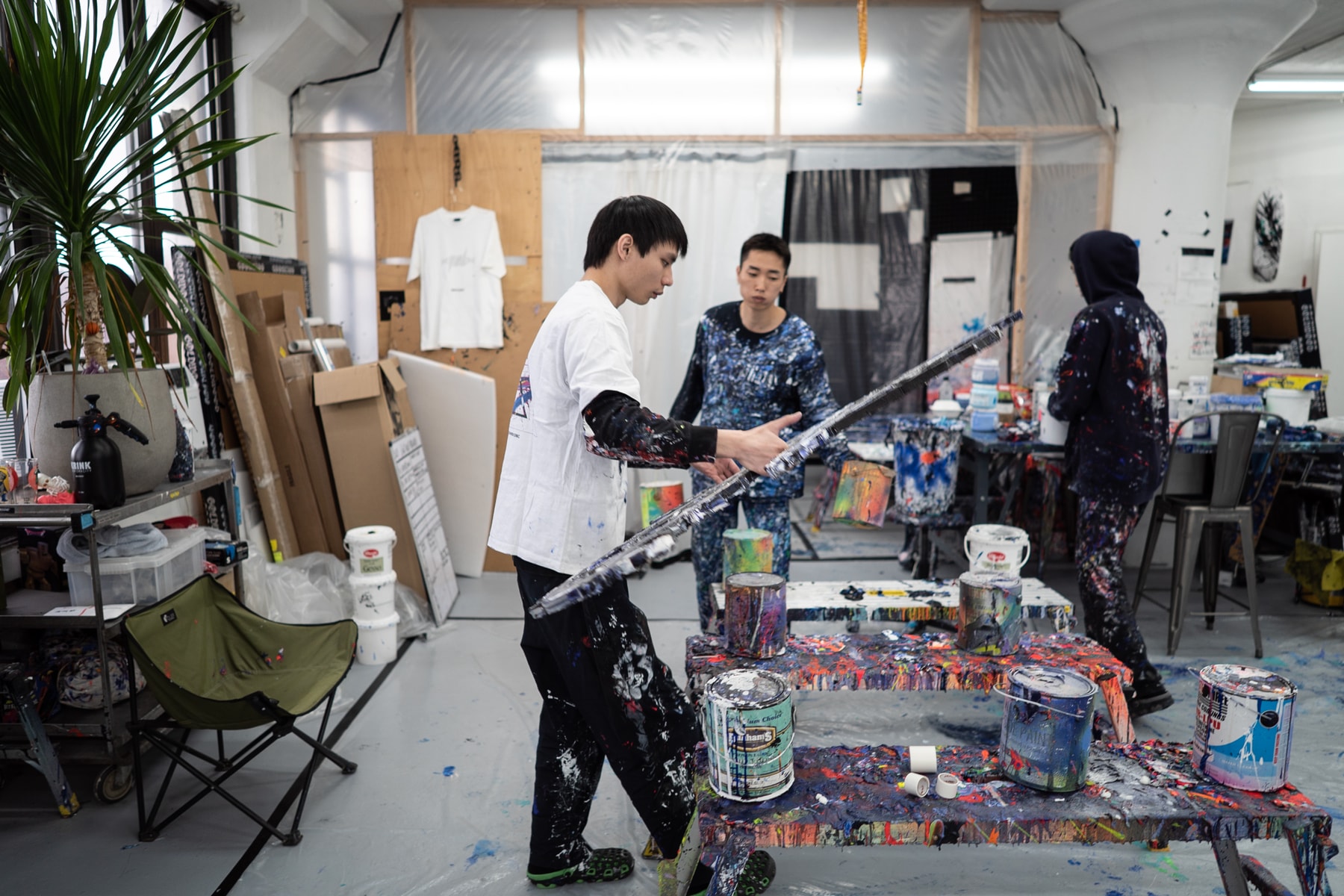 6 of 6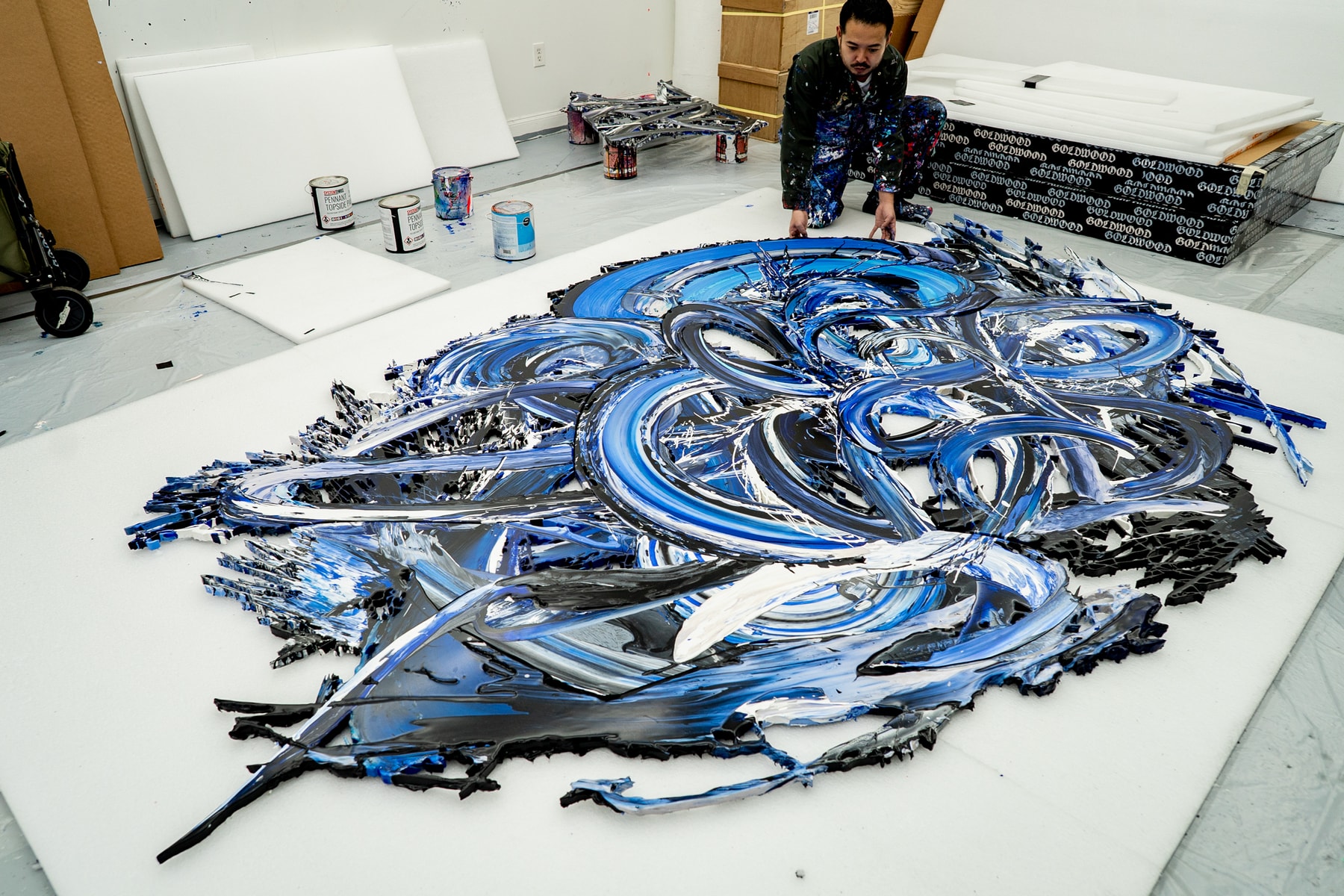 "I'm fascinated by organic movements such as the natural flow of water, the motion of smoke, and the shape of lightning" – Meguru Yamaguchi
Tell us about your personal history with these works for 'NOISY REALITY.'
Meguru Yamaguchi: Since 2016, I have been creating works that transcend the boundaries of the canvas, and this time I created a series called "Awakenings." I expressed movement by changing the angular brush strokes into smooth strokes.  It feels like once you look at what you've been doing out of habit from a different perspective, a little difference can change the whole thing. Especially in this era of great change, in the 'NOISY REALITY,' we must instantly perceive the subtleties of the world and make changes toward it. It seems to be unthinkable from the generation just a little while ago. The movement of the world has become like a timeline, and it is overflowing with similar images.
Describe your creative process and style that went to making these works.
Meguru Yamaguchi: I started this style after being inspired by one of the artist from the Gutai Art Association, Kazuo Shiraga. The name "Gutai" of the Gutai Art Association, means "concrete proof that our minds are free." The "mind" is unique to each individual, but it also constitutes one great whole. Looking back on my own experiences, there was a time when I suddenly hated painting on canvas. This style was born from the idea that the handwriting dances more freely from there, freeing itself from the framework, rather than expressing within a regulated environment. Recently, however, one of my favorite artists, Koji Nakazono said, "To paint is to create a framework." Hearing those words, I thought I was going to break the frame freely, but I realized that I was just making a frame instead. In short, it expresses the world that I wanted to see. So in the last few years I have started to create works in canvas style as well.

It's also about being true and honest to your image. It is based on the idea of what would happen if techniques such as dripping and splashing, which are seen in American abstract expressionism and action painting, were made three-dimensional. I'm fascinated by organic movements such as the natural flow of water, the motion of smoke, and the shape of lightning. For "Prominence No.2-2" this time, I used sun flares and lava movement as a reference to create a shape that blended with handwriting.


How do you interpret 'NOISY REALITY'?

Meguru Yamaguchi: I interpreted 'NOISY REALITY' as a word that expresses the reality of the modern age where trends are consumed instantly. One of the philosophies cherished by the Japanese poet Basho Matsuo is the word "mutability and fashion." The meaning of the word is to incorporate new and ever-changing things while not forgetting the essential things that never change. In addition, the essence of immutability is the fashionability that seeks newness and changes repeatedly.  The point is that there is essence in the world of fashion. For the viewers who see this exhibition, I would be happy and honored if the work captures the essence of 'NOISY REALITY.' 

1 of 6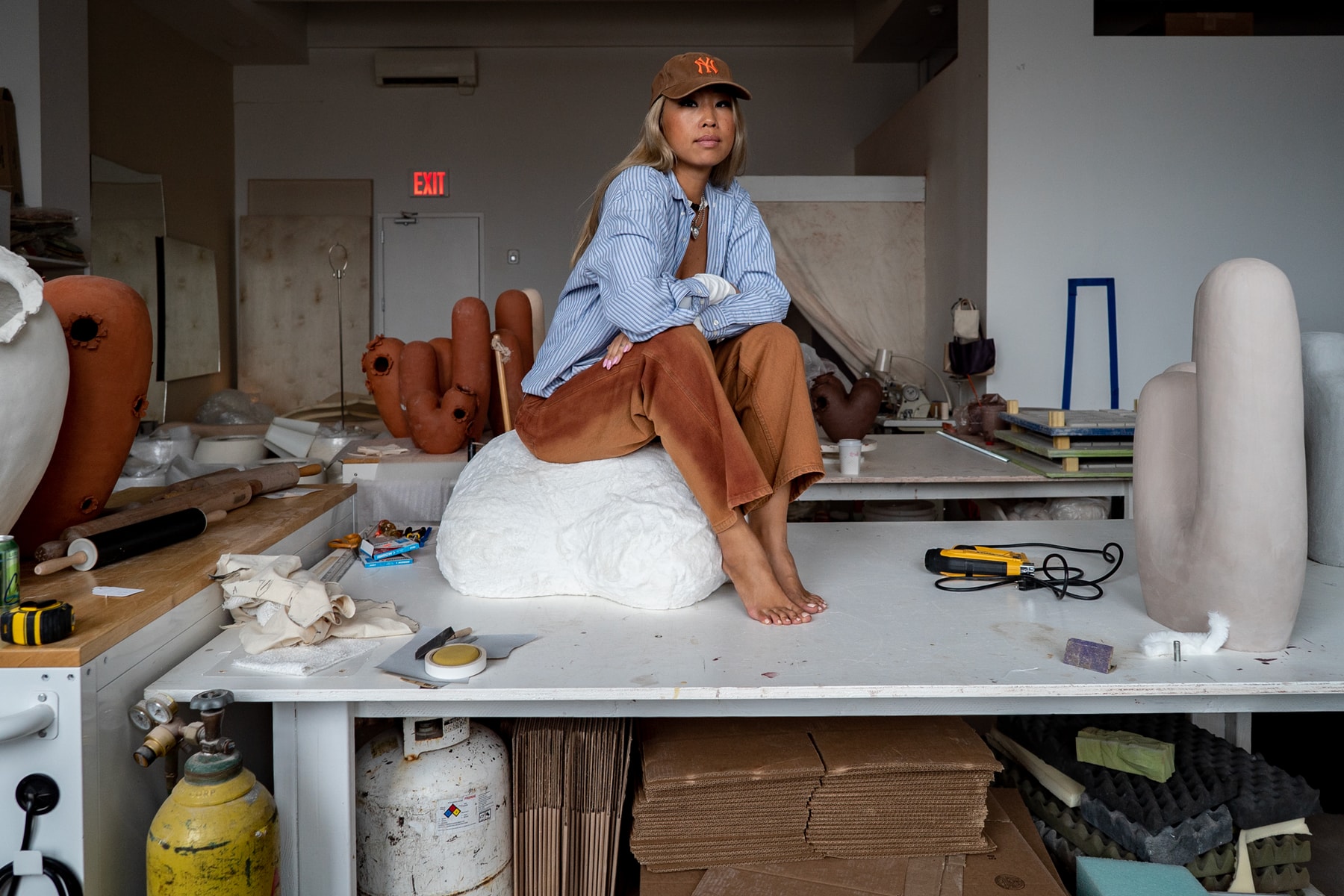 2 of 6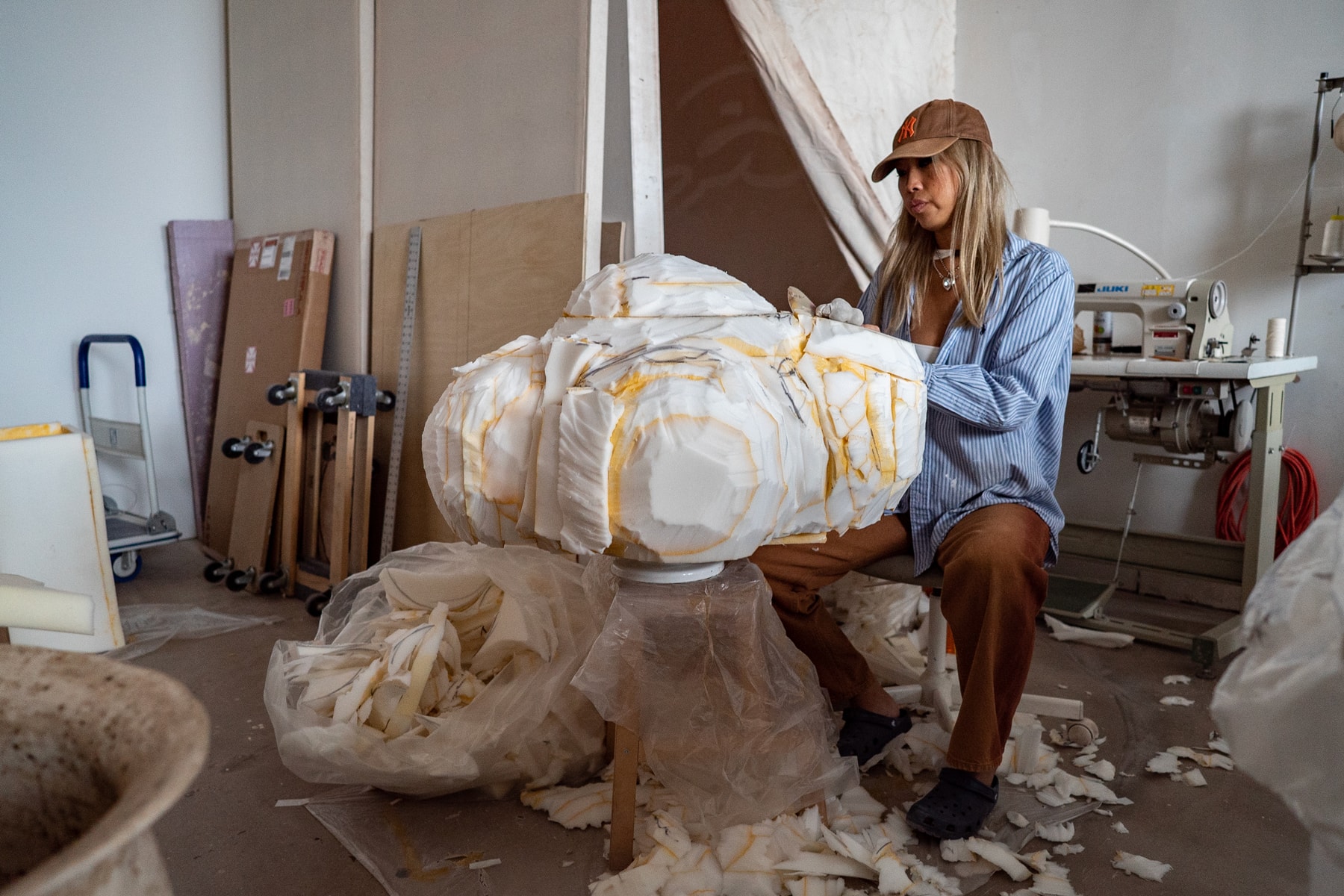 3 of 6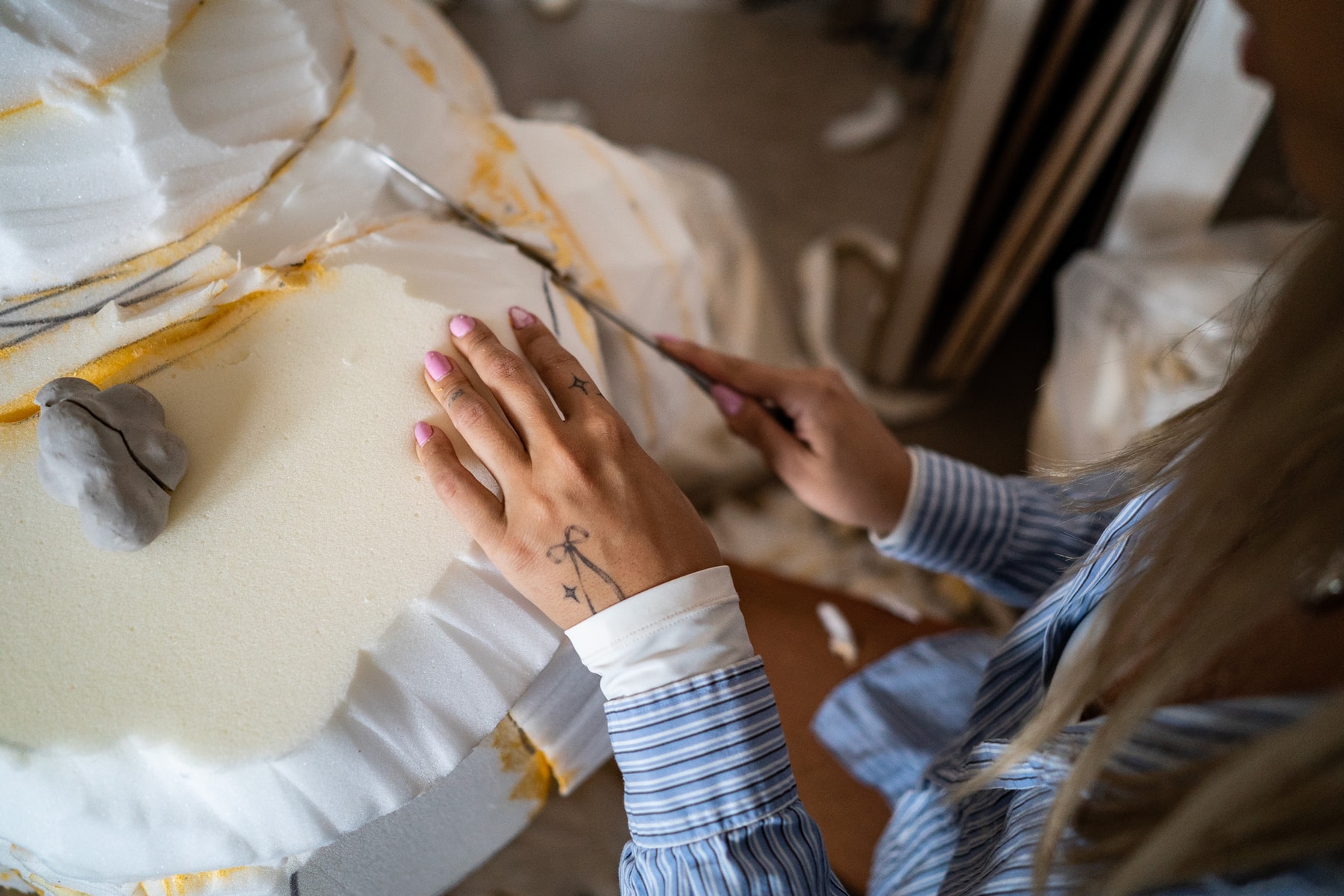 4 of 6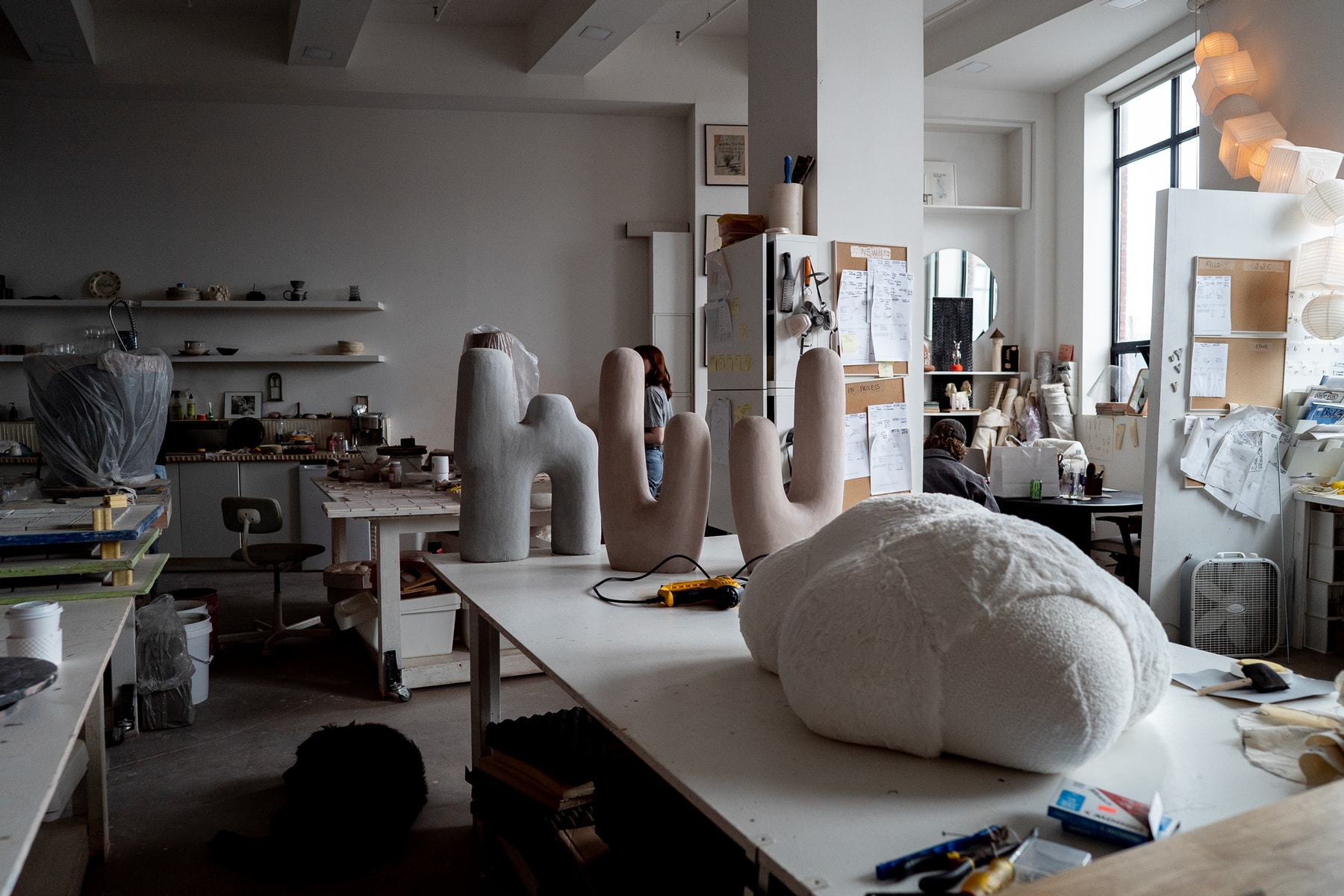 5 of 6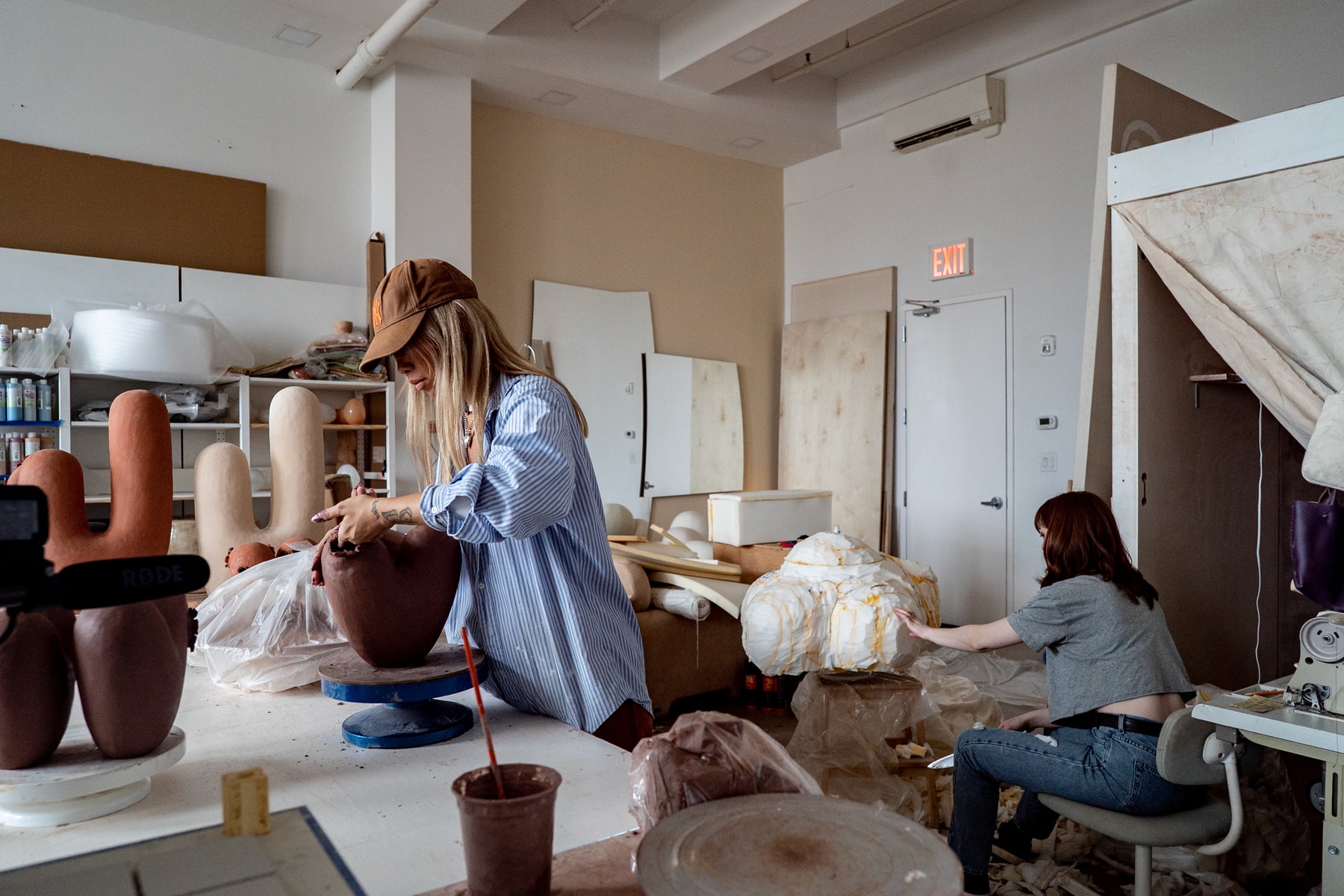 6 of 6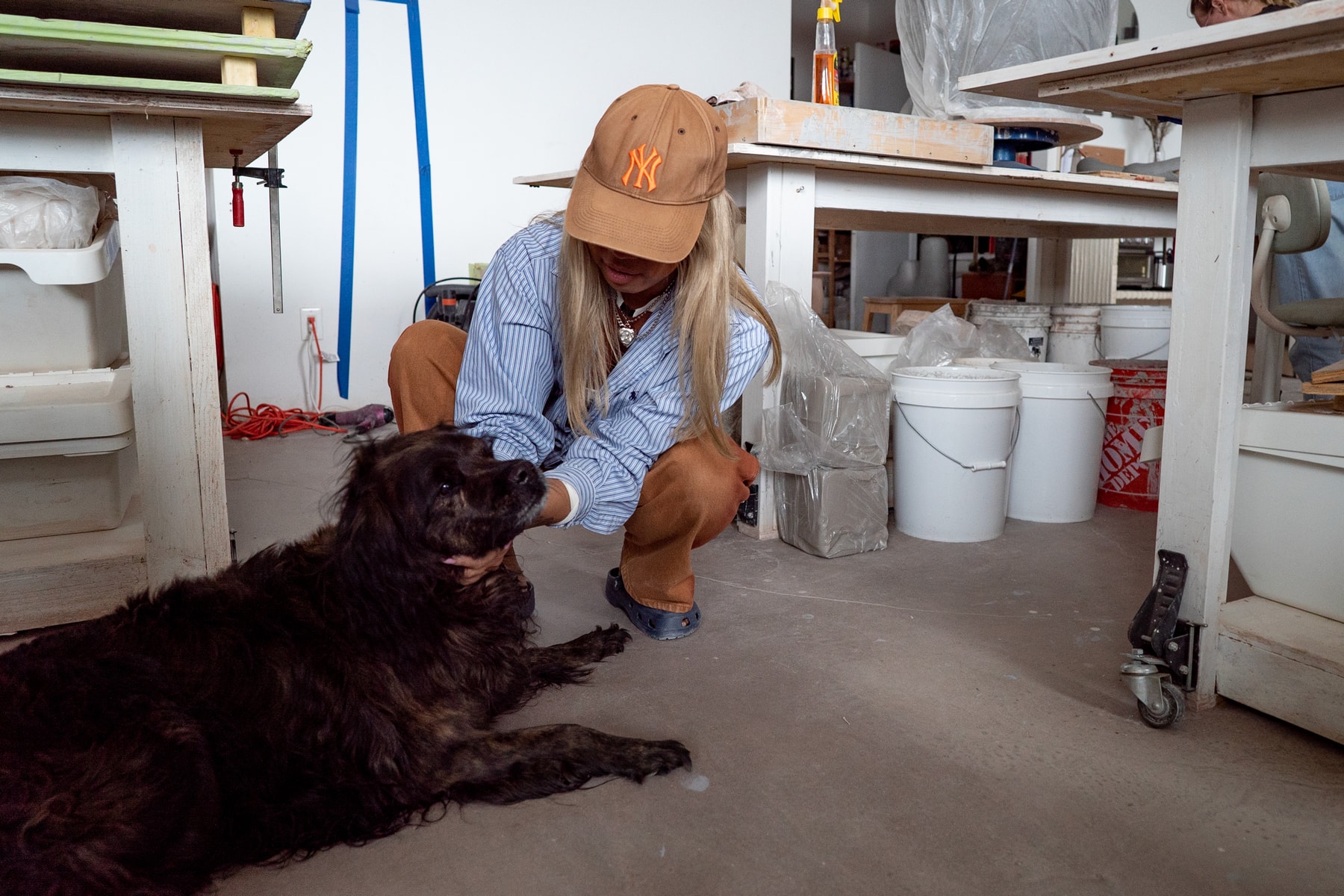 "I aim to convey a sense of comfort, sensitivity, and playfulness in my work" – Eny Lee Parker
Could you tell us about the inspiration behind your creation of the statement lighting piece and Lakitu Cloud stools?
Eny Lee Parker: I've been drawn to the softness and natural shapes of clouds, and wanted to create something that could capture that feeling in a functional piece of art. The Light piece has a monument-like quality to it, while the hand-blown glass shades resemble the soft curves and organic shapes of clouds in the sky.In that way, both stools and the lighting piece complement each other in concept, while using very different materials.
Can you describe the creative process you followed while developing these pieces?
Eny Lee Parker: For me, the creative process is less about planning and more about doing. In my studio, we spend more time prototyping and problem-solving along the way. With the Lakitu Cloud stools, I made small ceramic models to experiment with different shapes and sizes. I worked with my team to figure out how to upholster them. It took a few tries to find the right fabric, and we went through several options before finding the ones. The lighting piece started with a sketch, and I wanted to incorporate hand-blown glass shades that I had in collaboration with a glass blower from Atlanta. I then, 3D modeled the light, and for the details, we made over 30 ceramic knobs before finding the right grouping. It's a collaborative process, and I rely heavily on my team's input and expertise to bring these pieces to life.
What guiding principles do you adhere to when designing furniture?
Eny Lee Parker: When it comes to designing furniture, I consider the people who will be involved in the process. I believe that every new piece is an opportunity to learn about fabrication, materials, and the techniques involved in bringing it to life. In terms of aesthetics, I don't put too much of my identity into a design, and I don't get attached to any one idea. Instead, I aim to convey a sense of comfort, sensitivity, and playfulness in my work. I want the furniture to be approachable, inviting, and visually appealing.
What is your definition of 'NOISY REALITY,' and how do you think your pieces showcased in the exhibition capture the lively spirit of New York City?
Eny Lee Parker: To me, 'NOISY REALITY' represents the constant hustle and bustle of urban life, the sensory overload that can be overwhelming at times. However, I also believe that this noise and chaos is what attracts people to New York City in the first place, as they come with dreams and aspirations. The cloud stools and light sculpture are a visual representation of the balance between the sensory overload of the city and the softness of daydreaming. It's a privilege to live in the clouds of New York City.
1 of 6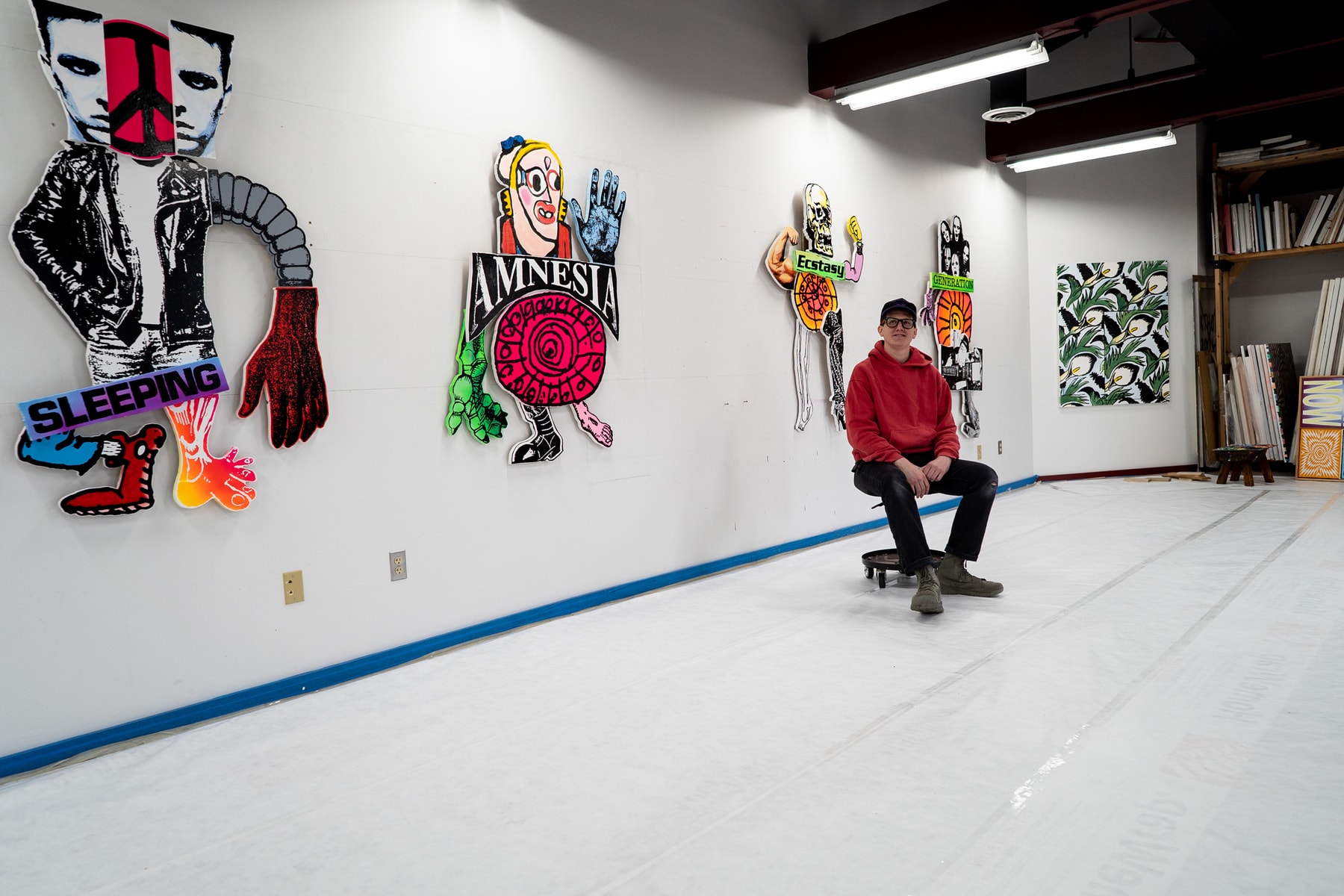 2 of 6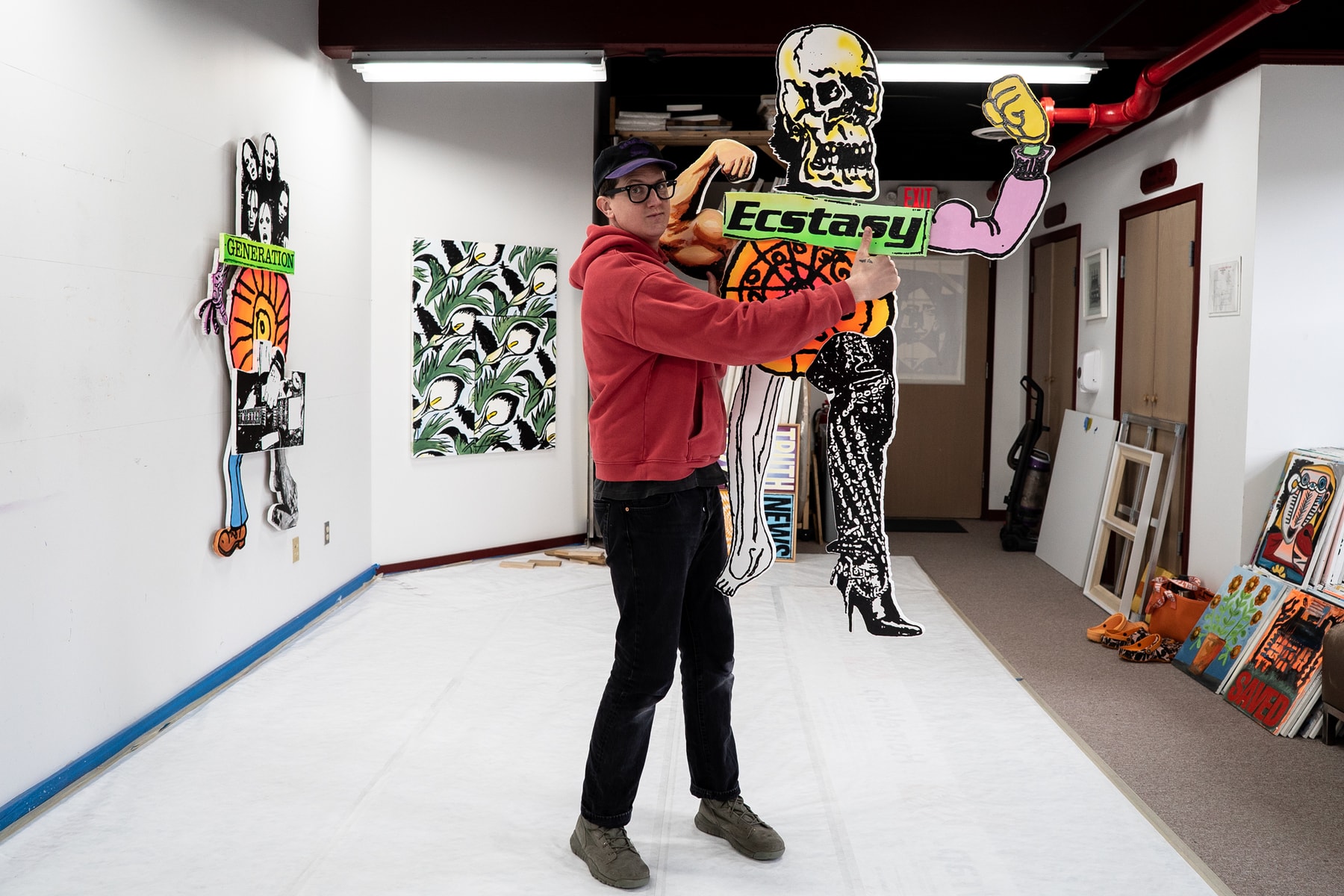 3 of 6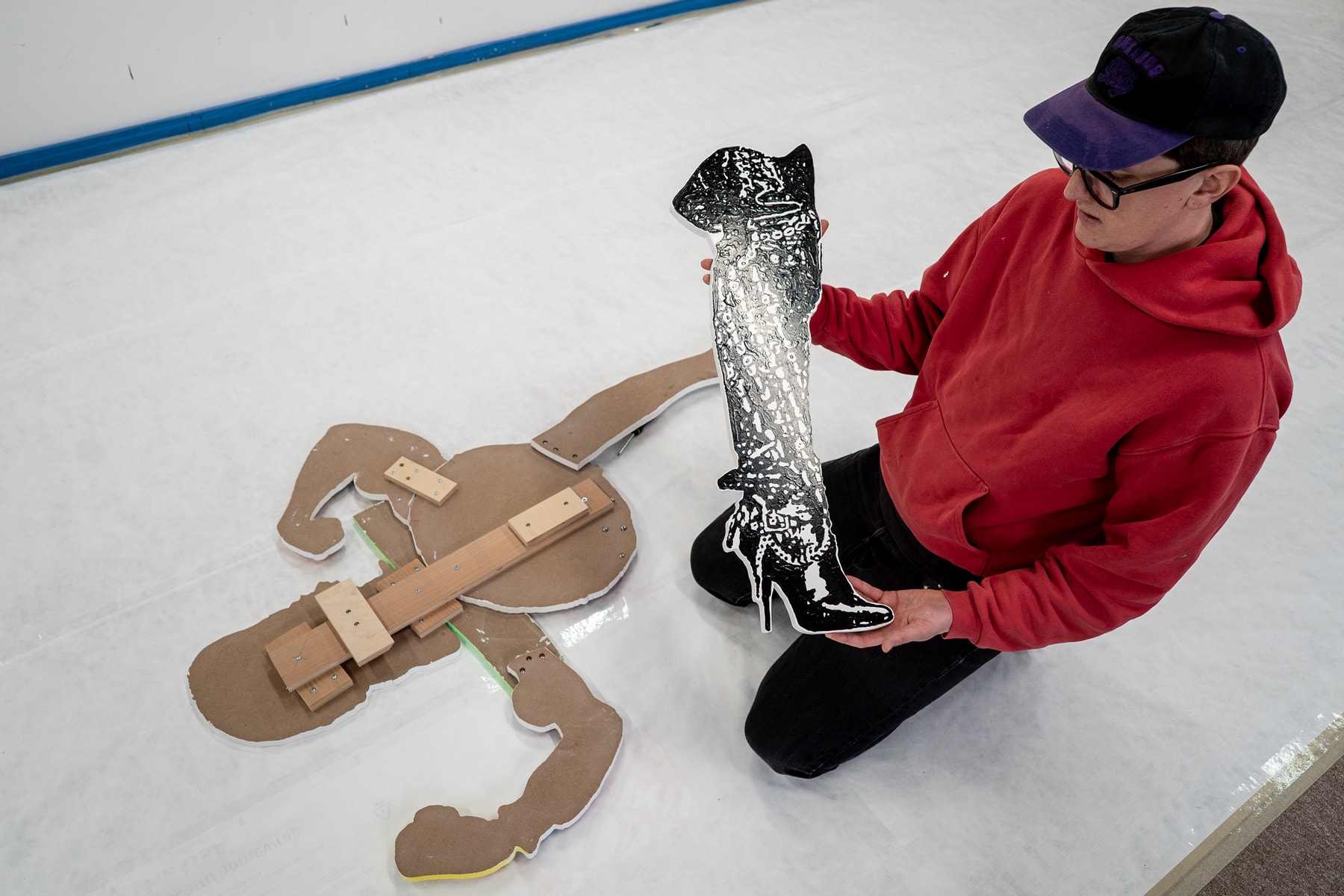 4 of 6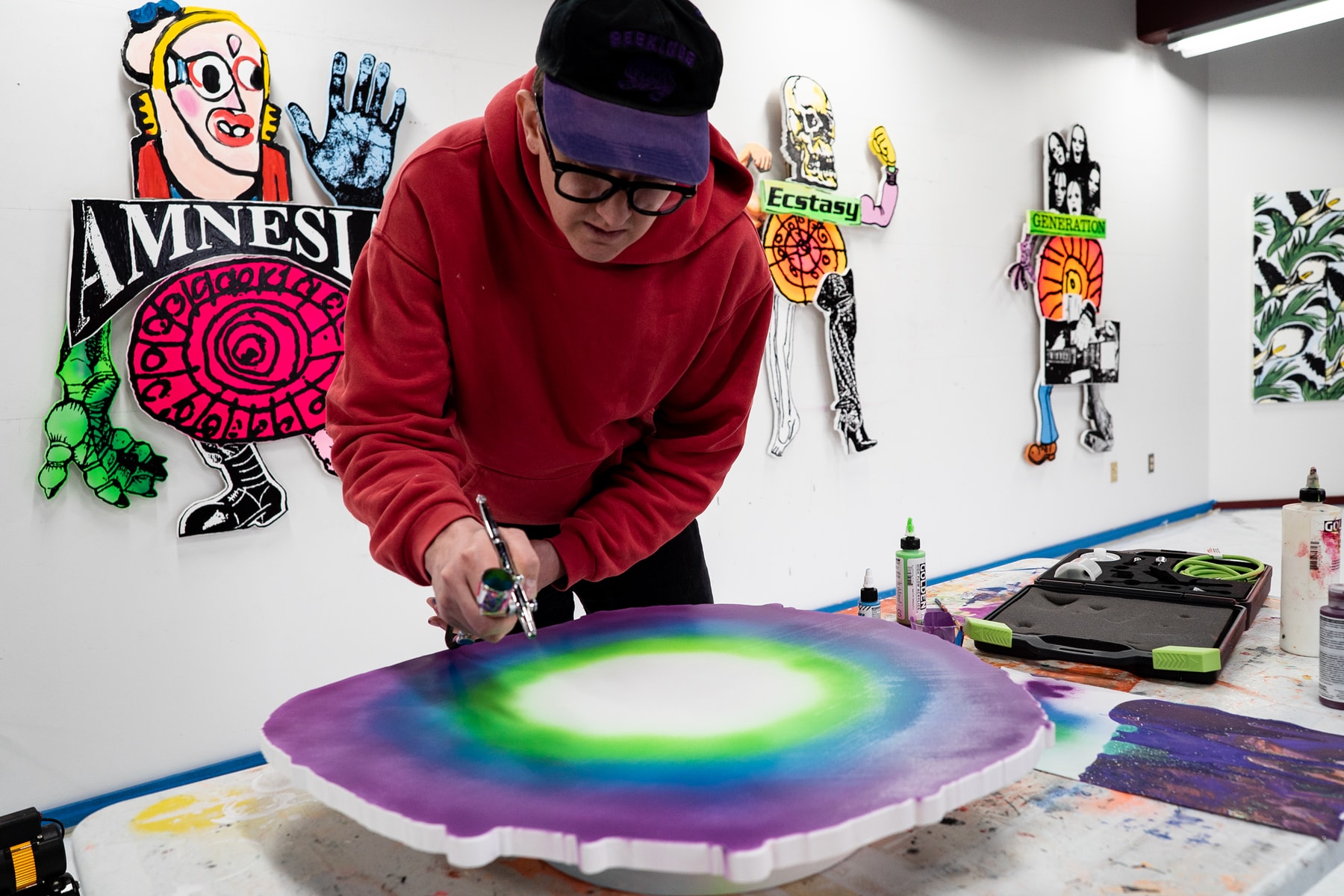 5 of 6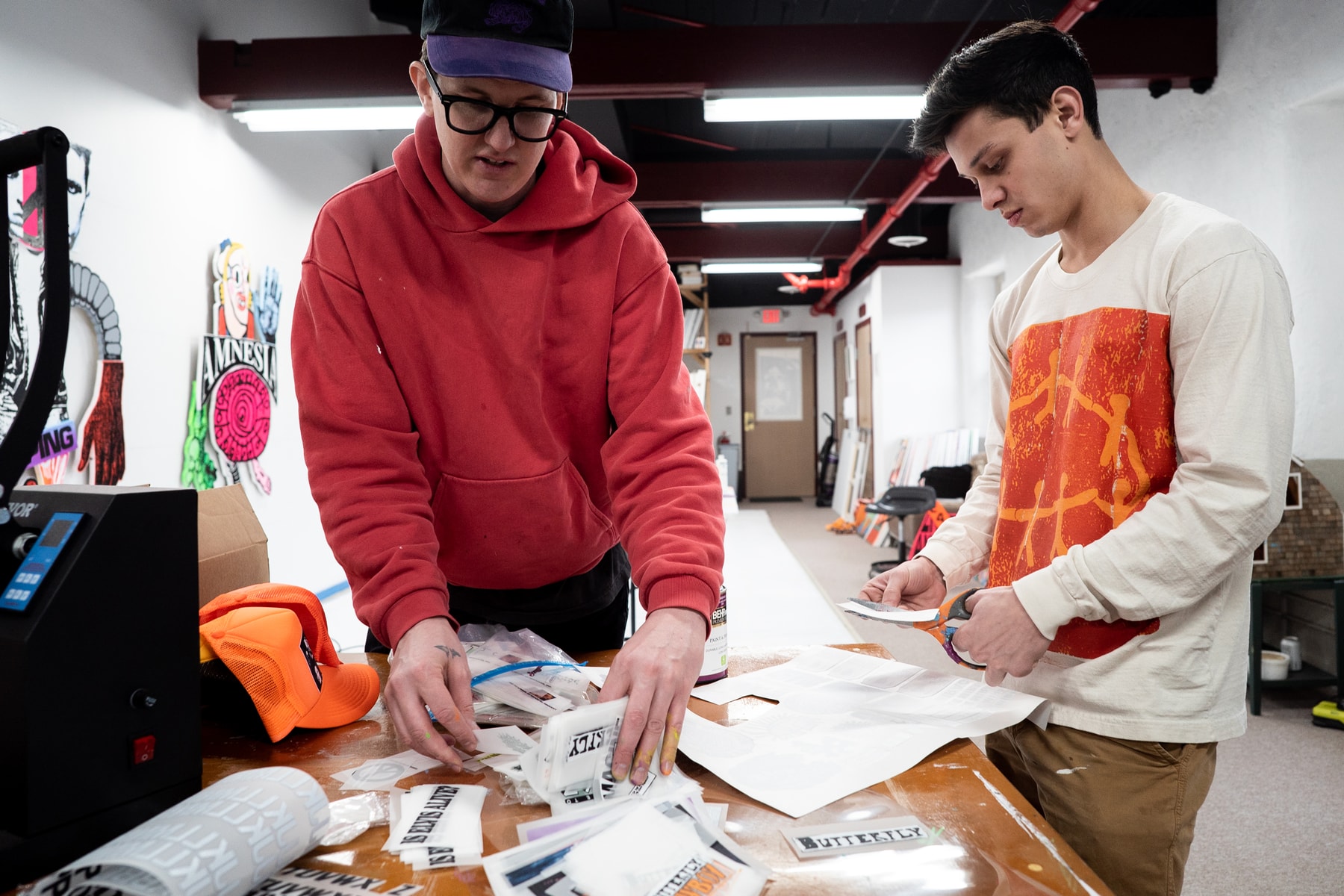 6 of 6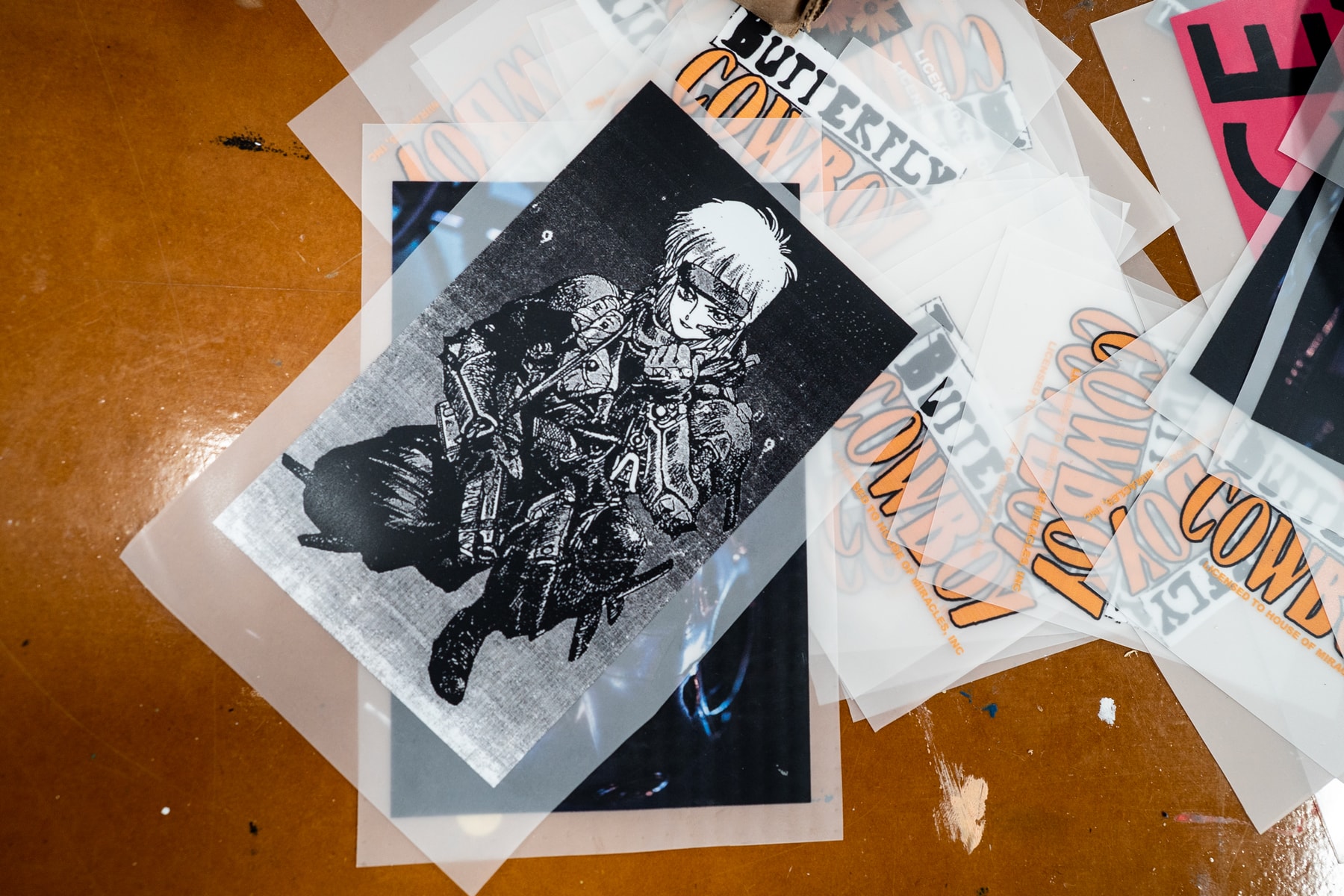 "I try to be as wide reaching with my references as possible" – B. Thom Stevenson
Please tell us about what motivated your "SCARECROW" painting series.
B. Thom Stevenson: I was coming out of the "Quilt" series of work that consumed much of 2022. I was a little tired of the rectangle and it's inescapable dialogue with art history. I still interested with painting and image making, but I am increasing interested in how painting relates to sculpture. How it comes off the wall and EXIST, not just as an idea but a physical thing. The rectangle is where ideas EXIST, outside the rectangle is where they LIVE and breath and interact with the world. I wanted to continue the idea of stitching disparate imagery and themes together to create a cohesive picture or image. Post NYC now living in rural Massachusetts, I have been surrounded by art as craft and functional assemblage. People have yards and gardens and fields of crops. It isn't unusual to see a scarecrow or a snow man wearing a thrashed t-shirt with a bucket for a head and sticks for arms. Or an old shed pieced together with grain bags and street signs. To this my kids, ages 1 and 3, have been playing with LEGOs and playing dress up. Their attitudes and perspectives don't adhere to same stringent rules as the adult world does. Watching them mix and match combinations bricks and costume pieces in ways that don't make the most "logical" sense has been energizing. All of these elements and more have added up to spit out the current body of work I am calling "SCARECROWS."
Could you describe your approach to the creative process for this particular type of work, given that it's your first time doing so?
B. Thom Stevenson: I go back and forth from physical to digital. Drawing to canvas to printer to exact-o knife to scanner to photoshop to illustrator to printer. This instinctive loop of processes and techniques. Through these often meditative actions, conscious and subconscious themes start to float to the top. For this particular body of work I had consciously decided to take a leap to a new type of visual language without a plan from the beginning. Once I knew how I wanted the forms to look on the wall I had to figure out how to make them. It turns out my friend and physician Dr. Kevin Anderson @heirloomevolution has a CNC and cut out the pieces for me. I then sanded and painted each piece individually. From there my friend Charles Cowan @failtewoodworks helped me figure out how to get them on the wall.
In what way do you deal with the convergences of subcultures in your work? Can you provide some instances?
B. Thom Stevenson: I try to be as wide reaching with my references as possible. I grew up in the 90s at the tail end of the rave/club scene and in the middle of the post-punk and hardcore movement in Massachusetts. There's a lot of that in my work. There's also a major folk craft influence from my grandmother who was an Irish Catholic and a quilter. There is also a good bit of sci-fi and fantasy influence that has become more prevalent as my son's interest there has grown.
What is your interpretation of "NOISY REALITY" and how do you think your artworks showcased in the exhibition reflect the theme of capturing the dynamic energy of New York City?
B. Thom Stevenson: I have two little kids, a painting practice, a seltzer company (Miracle Seltzer) and a myriad of freelance projects at and given time. My life is a 'NOISY REALITY' LOL. That said I spent a decade in NYC living the most noisy reality imaginable. When I had my first kid, my wife and I were living illegally in my painting studio. My stove was a hotplate that I also used to heat up my encaustics. I had custom built a shower to look like a spray booth and kept an old silkscreen in it for when my landlord came to inspect. I had a day job designing store experiences, pop-ups, and windows for Marc Jacobs and would come home and pick up my paint brush as soon as I walked through the door. There being little to no lines between artist practice and artist life, I believe, is necessary for a fulfilling life as a creative. That and a very patient partner. Thank you Sarah!
1 of 6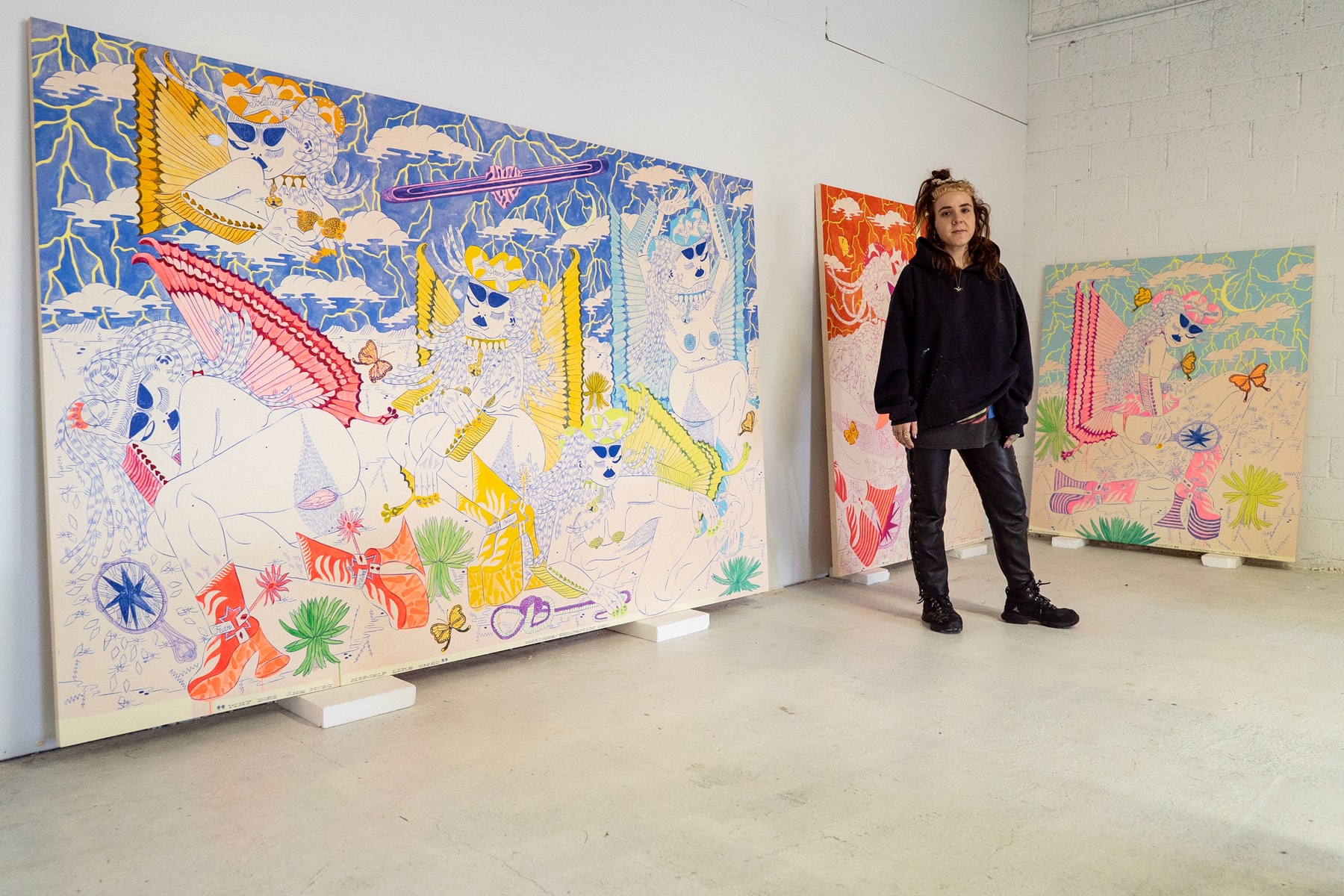 2 of 6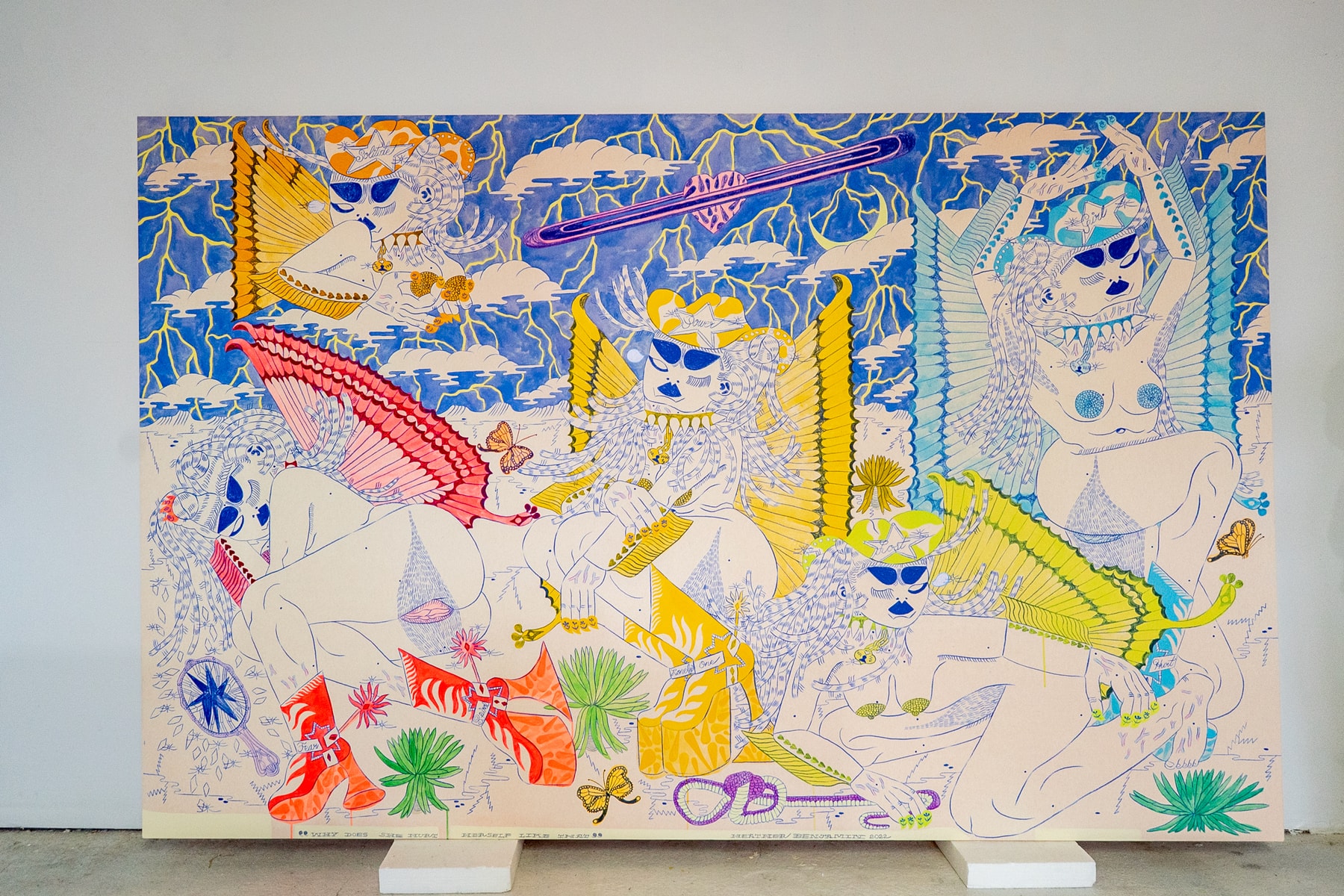 3 of 6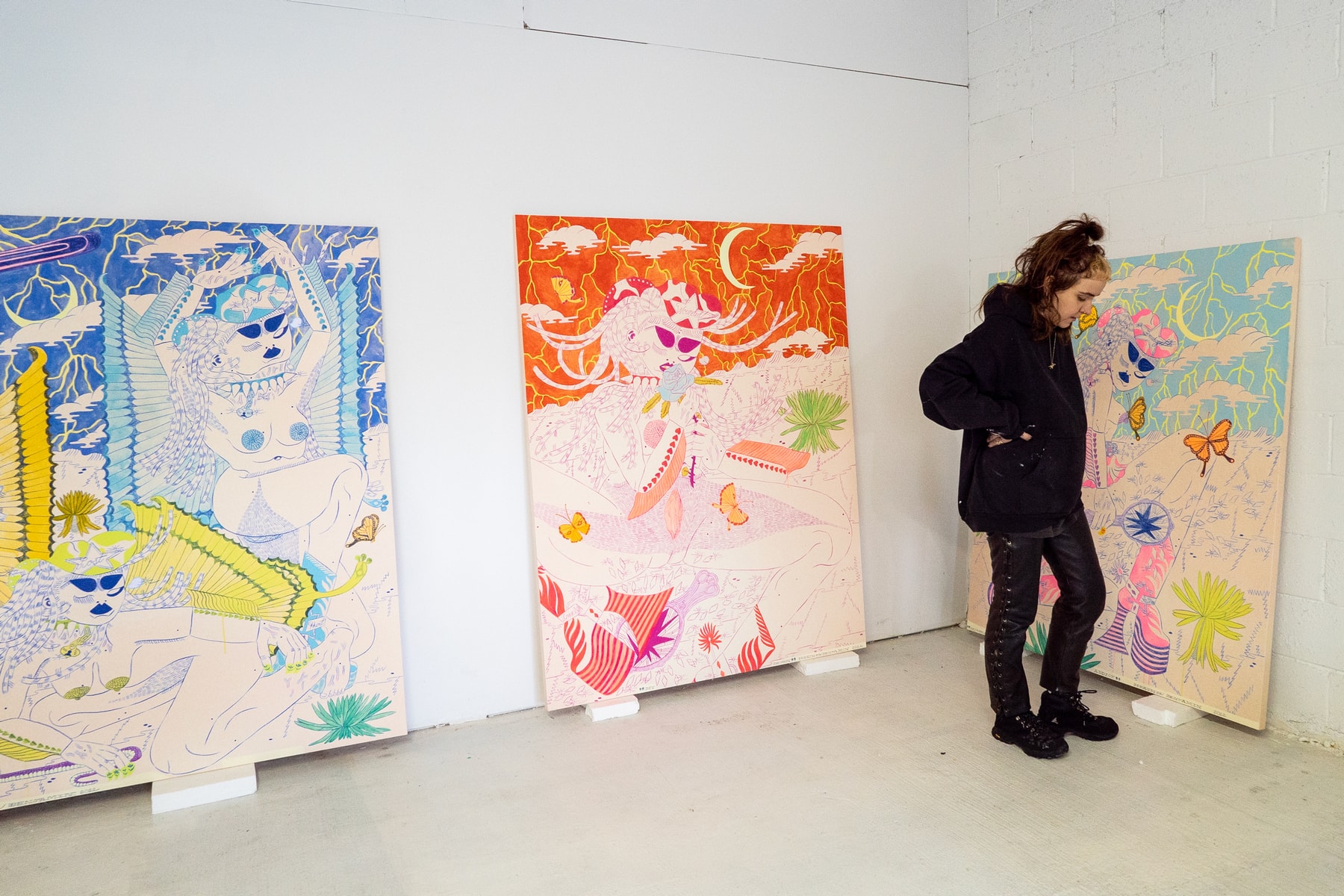 4 of 6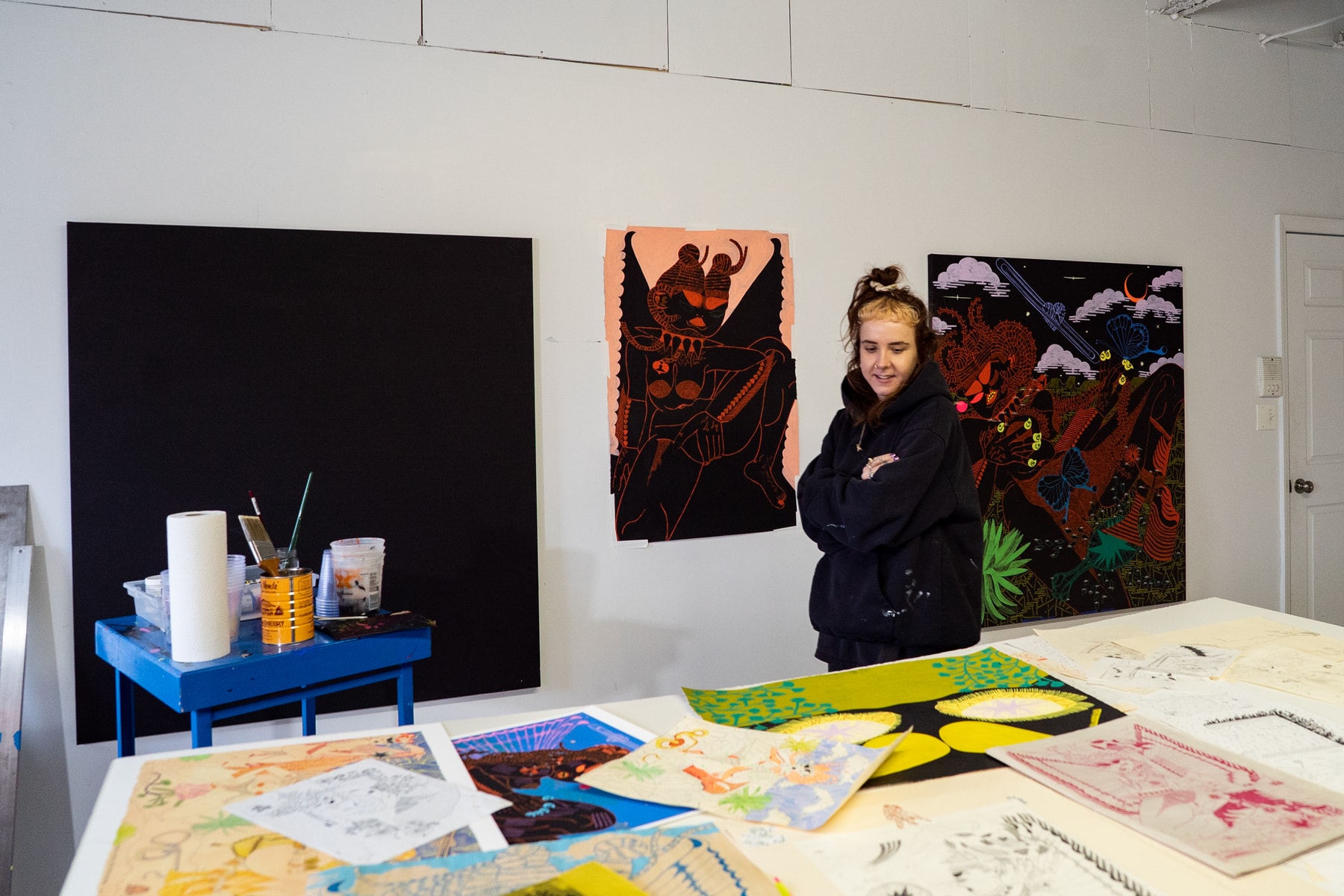 5 of 6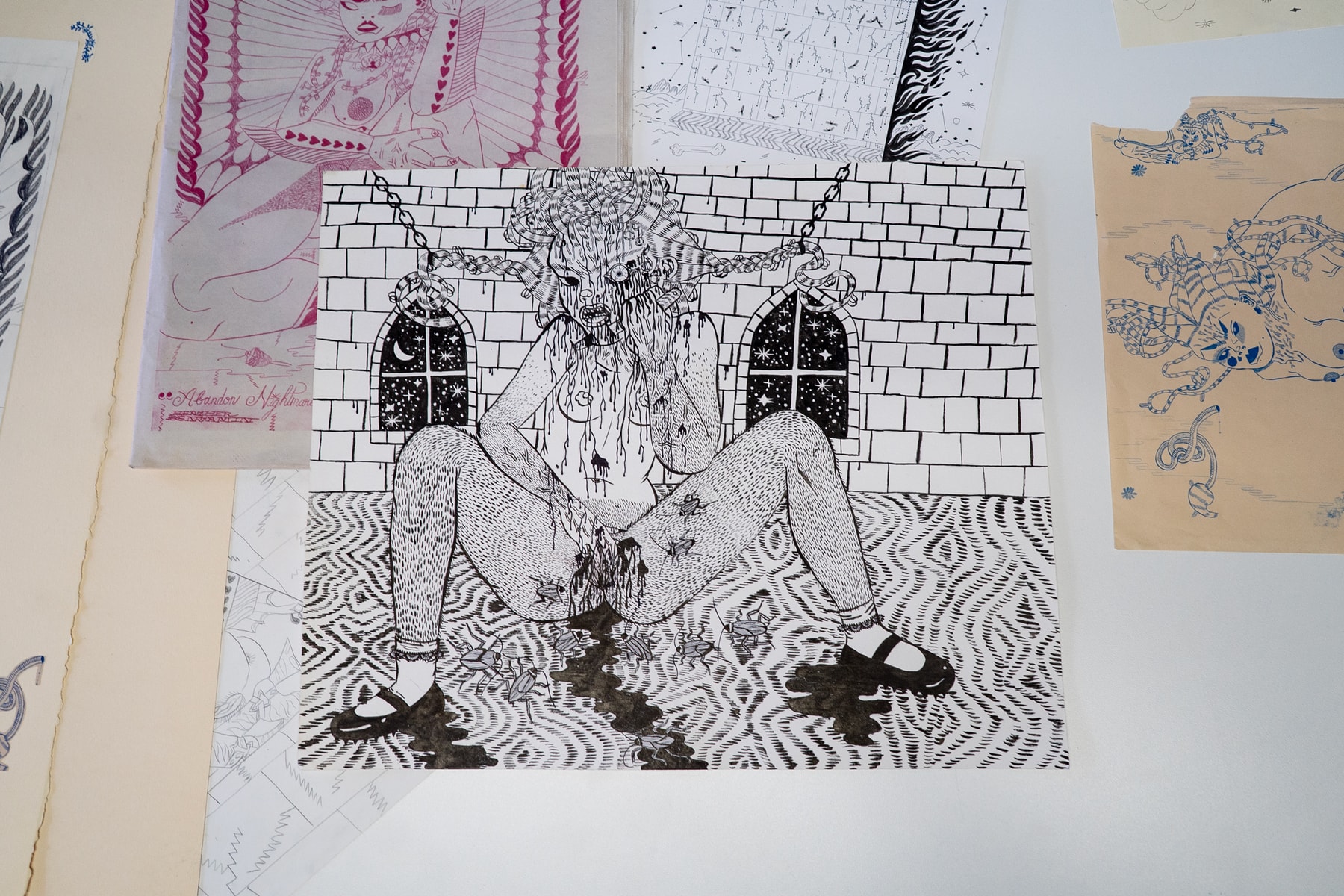 6 of 6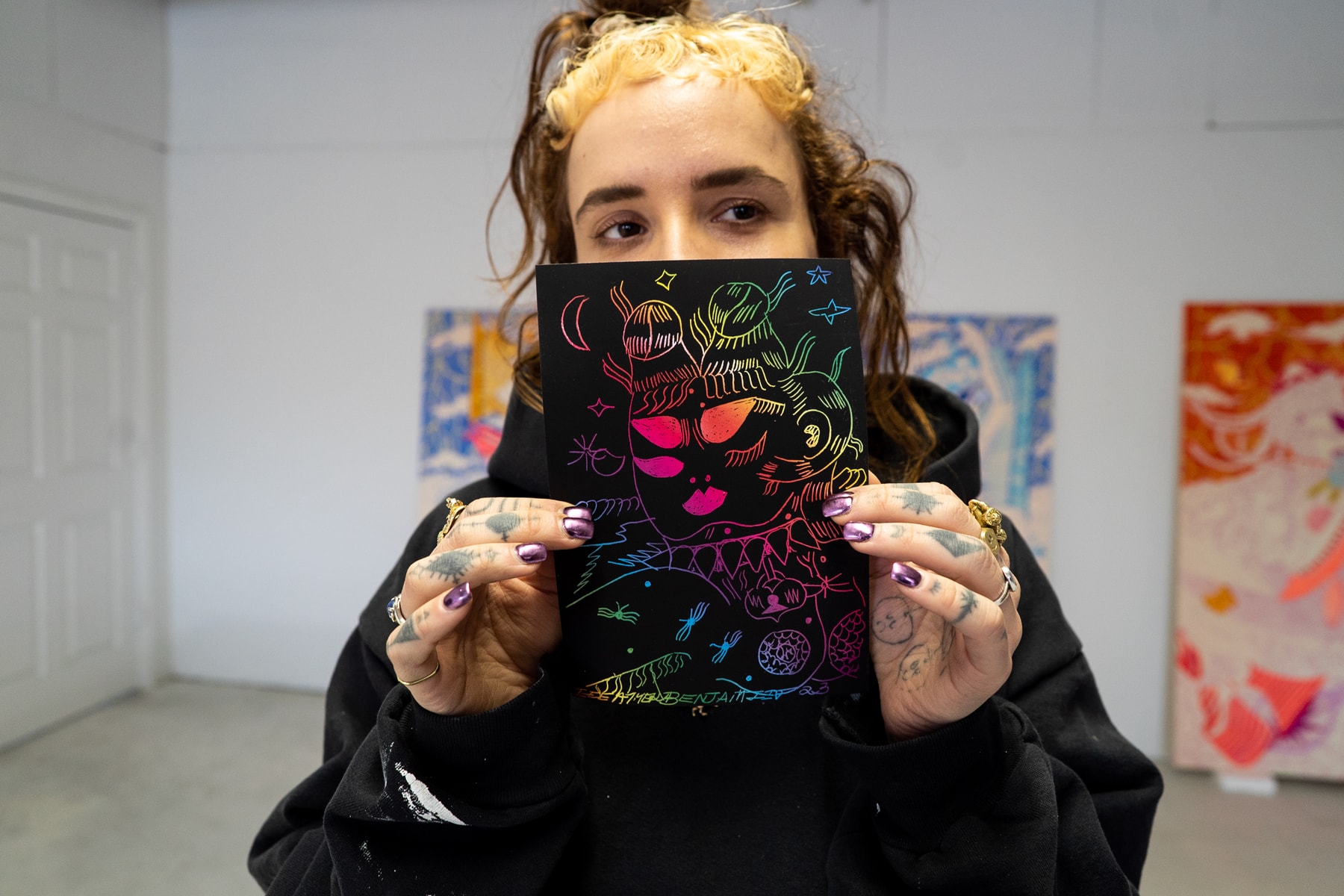 " I see all my work as abstracted self-portraiture" – Heather Benjamin
What storylines or themes are you examining in your artworks for the 'NOISY REALITY' exhibition?
Heather Benjamin: These paintings are a continuation of the world I've been building in my larger body of work for the last few years, which is an otherworldly desolate zone populated by my creatures. I'm obsessed with the desert, and oddly have been since before I ever actually visited one, I was already drawing them before that. Especially more so now that I spend as much time as I can in them. The desert is this very mystical, epic, spooky place. The vastness of space and the insane silence, both of which really mess with your perception of reality – from your literal depth perception to the way you perceive your own thoughts – creates this perfect like, mindfuck-y blank slate for me to work on and with. I've been populating my version of that zone in my work with my creatures which I use as avatars to represent and explore different ideas about my experience of womanhood. In these paintings, I'm bringing those characters to life size proportions for the first time, which I hope lends them even more goddess-like stature and magnitude, as well as making them even more confrontational.
Can you describe your creative process in crafting these pieces?
Heather Benjamin: These are the biggest paintings I've ever made. I always start with a smaller study on paper with pencil and then scale it up. The source material for my original drawings that turn into bigger paintings is pulled from a lot of different source material – lately usually some combination of vintage porn, pre-Raphaelite paintings, and reference photos I take of myself.I try to have a lot of these smaller drawings on hand, which aren't so much sketches as fully finished compositions, and then when I want to make larger works I choose from those drawings to reference and scale up, sometimes combining them.
Could you elaborate on the autobiographical aspects of your art?
Heather Benjamin: I see all my work as abstracted self-portraiture. Sometimes my women are all different characters, sometimes I see them as all facets of the same one, but all of my women are always me in some sense. Sometimes that means she's more of a literal representation of a feeling or experience that I have, sometimes that means she's a representation of a woman I aspire to be. In my work with multiple figures, sometimes I look at them as all different characters or facets of myself interacting, sometimes I see it as a representation of one characters moving through time. Most of the time these things are all true at the same time. My work is my diary, and I use it to work through my own trauma as well as try to visualize and manifest new versions of myself, usually simultaneously.
How do you interpret 'NOISY REALITY,' and in what way do you think your artworks in the exhibition encapsulate the lively spirit of New York City?
>Growing up around New York City, it's always been my blueprint for what a city is, ever since I can remember. I remember the first time I visited another major city as a kid and how much quieter and less lively it seemed. Looking back on that makes me realize how much I internalized from a young age the noise level, the visual stimulation, the being up in everyone's business and everyone being up in yours, the grime, the drama, the hodgepodge of so many things existing at their highest energy level simultaneously. I think my being drawn to environments like the desert as I got older are a direct result of that, needing some yin to the yang I have lived in or around my whole life, but I think that internalized high energy sensibility comes through in my work regardless, if not necessarily in the environment that I'm rendering, then in the hyperactive emotion of my women and the density of my visual fields, and by virtue of my work being autobiographical. Internalizing New York as I grew up meant becoming intertwined with the emotional landscape of this city, and I think that will always come through in my work.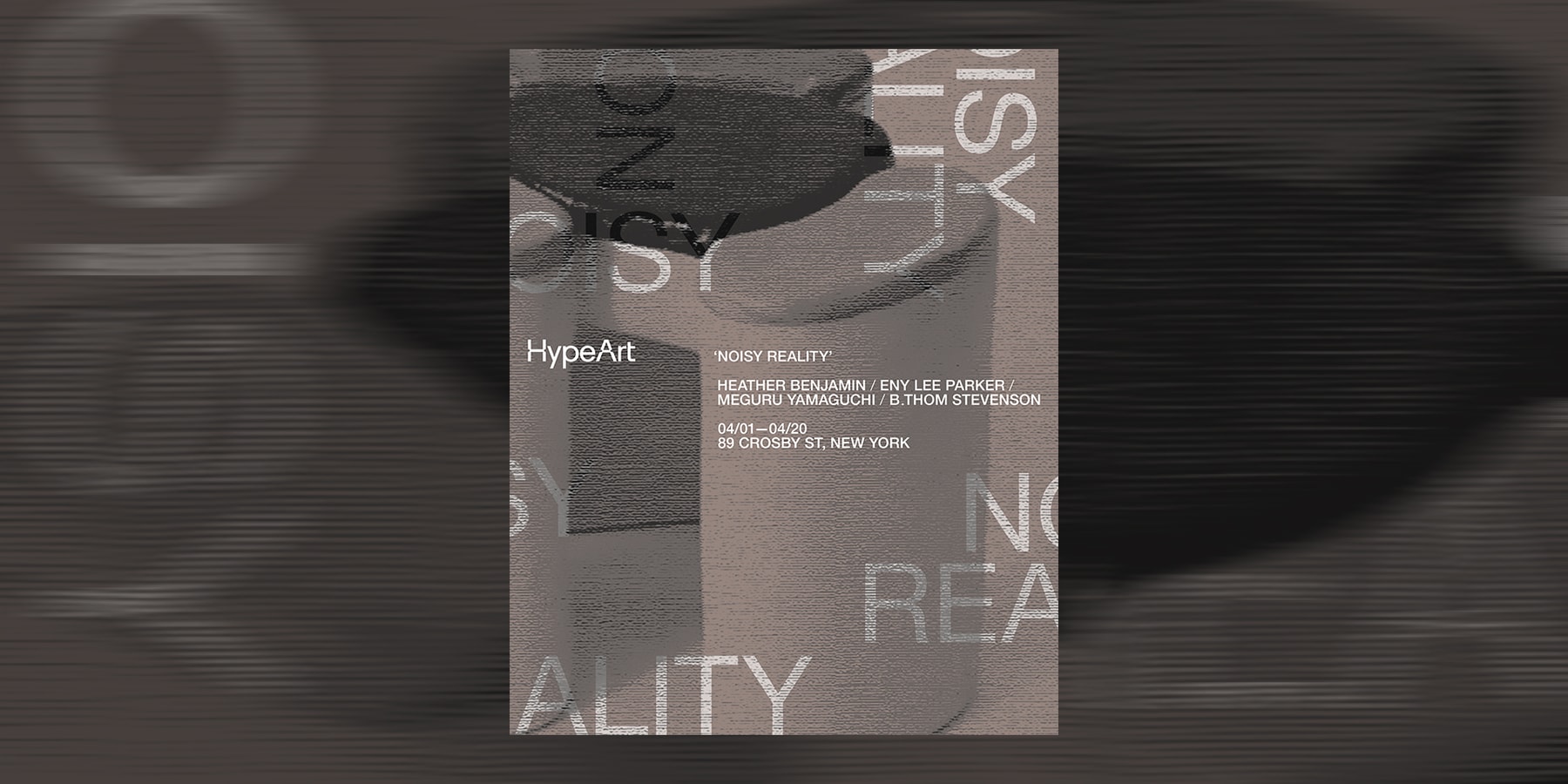 The private opening reception will take place on March 31, 2023, at 89 Crosby in NYC with drinks provided by Bisquit & Dubouche, and the exhibition will be on view until April 20, 2023.
All photography has been credited to Keith Estiler from Hypeart.
---