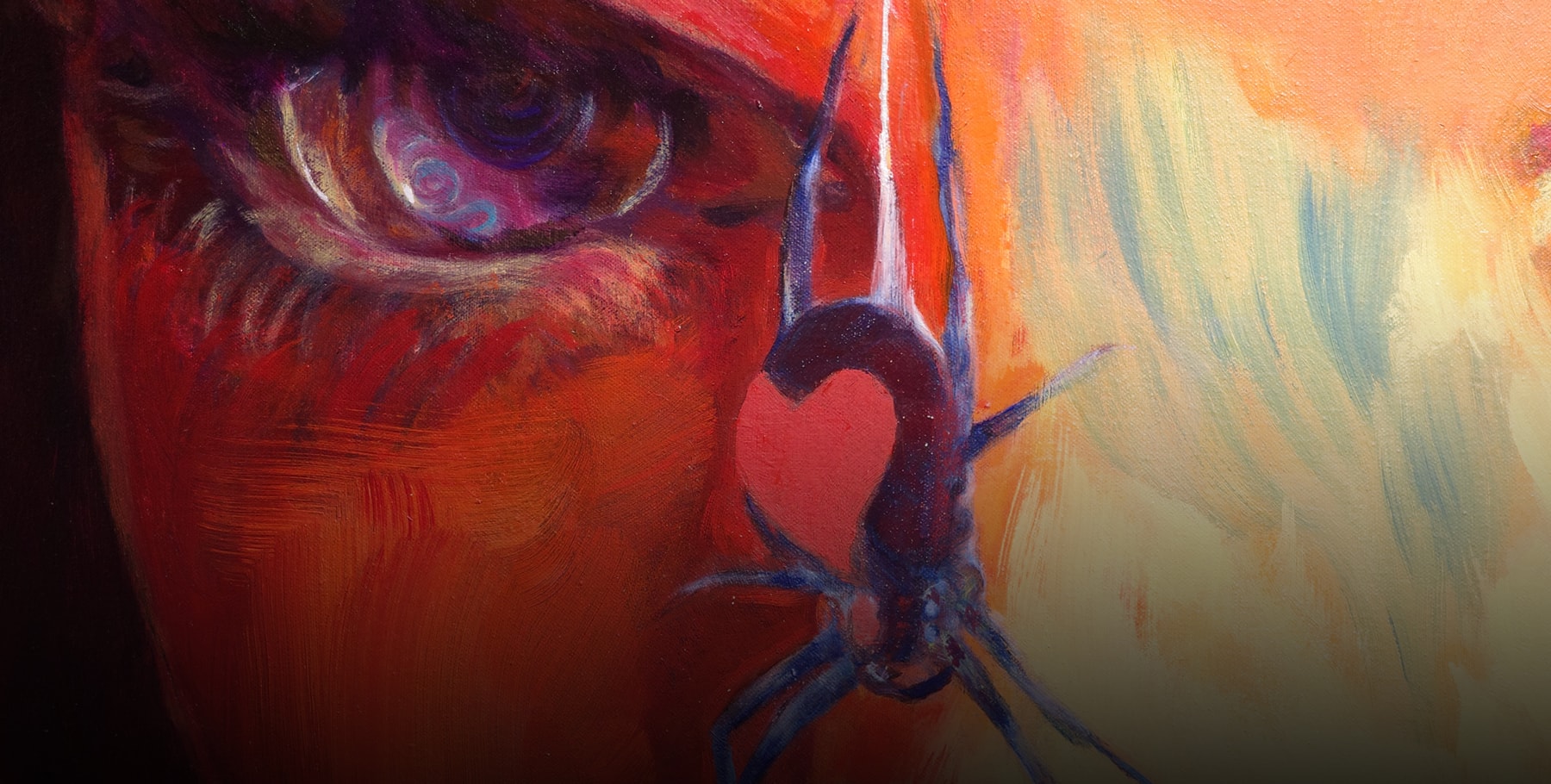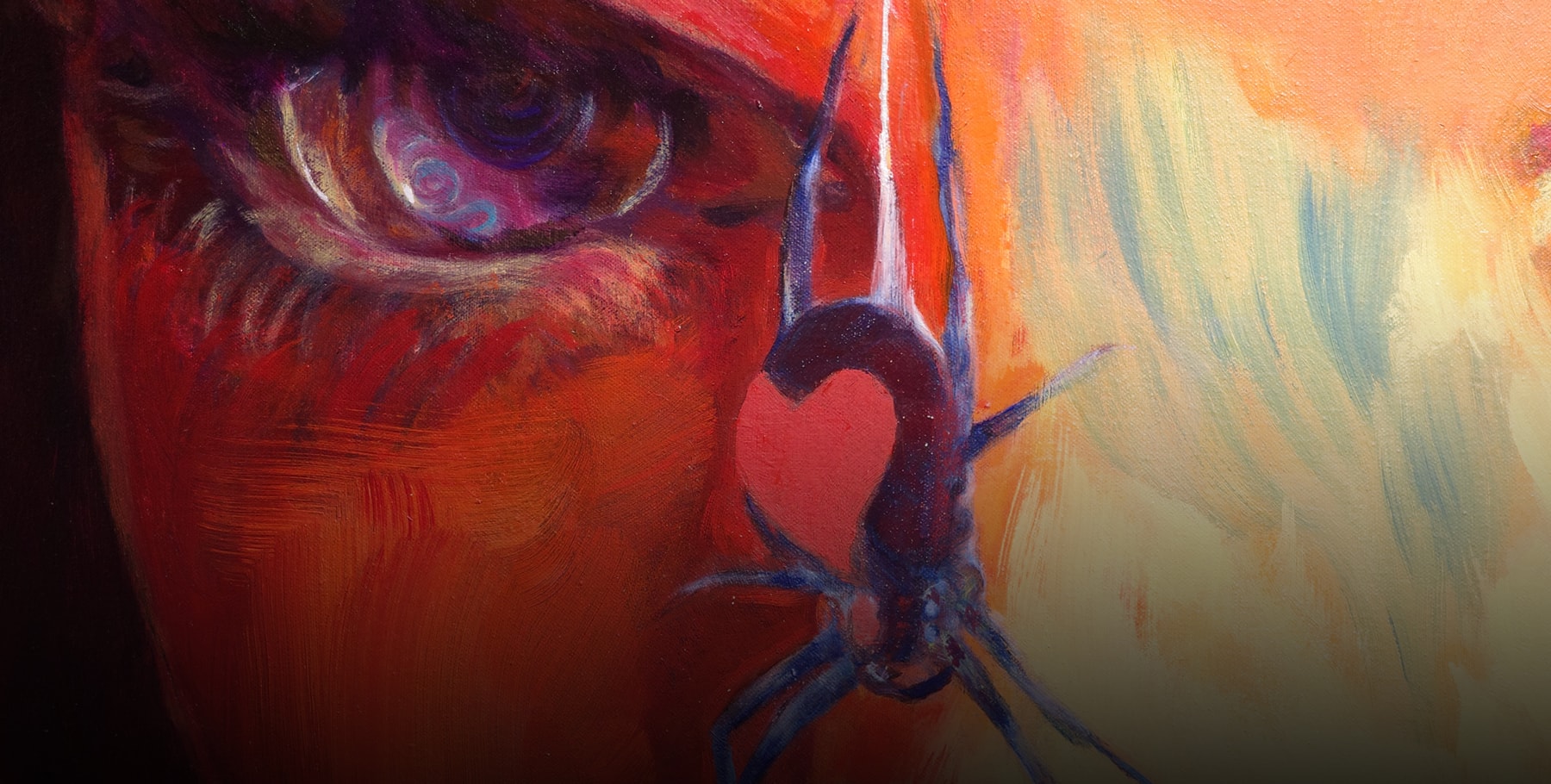 'Collectors' journeys into the homes of fledgling and seasoned art buyers from across the globe. The ongoing series offers an intimate spotlight on a range of personal collections from hobbyist ephemera to blue-chip artworks — all the while dissecting an individual's specific taste, at-home curation and purchase trajectory.
Jack Siebert is an art collector, but he can equally be called a storyteller. Instead of words, he relies on curation to drive his narrative. Having studied art history at New York University (NYU), the young 26-year-old has built a career by connecting with the artists he most admires and creating unique dialogues through the presentation of their work.
"Collecting is all about relationships," Siebert told HypeArt, "understanding people and getting to know people better than just the commercial aspect of looking at work in a gallery, museum or auction house. It's about meeting them, understanding how they work and what's going on in their mind."
The son of Gersh senior managing partner, Leslie Siebert, and Lighthouse Entertainment owner, Steven Siebert, Jack is no stranger to the world of celebrity, but he remains faithful to discovering the creatives on the periphery.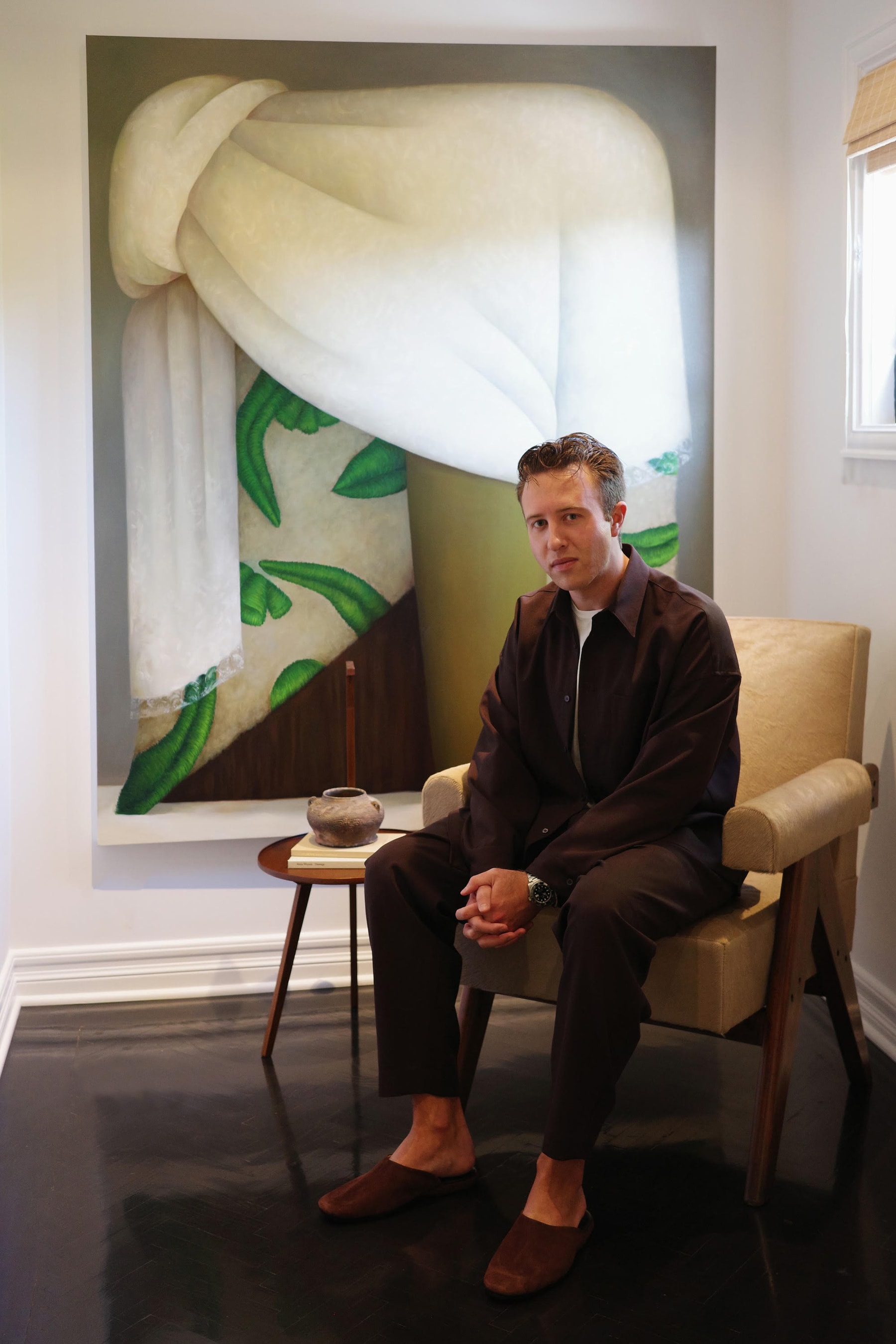 While the family has no history in art collecting, Jack noted how a trip to Art Basel Miami Beach in 2015 knocked the first domino over. The exhibition in particular was a female-led show at the Rubell Museum entitled NO MAN'S LAND, which featured works by Jennifer Guidi and Mary Weatherford, both of which he acquired for their home in Los Angeles. Since then, female artists have been a constant within the Siebert's collection — from works by Lauren Quin and Ruby Neri, Chloe Wise and Jenna Gribbon, the list goes on. This theme of female empowerment parallels Leslie's lifelong achievements within the entertainment industry, and one that Jack aims to carry on in the world of contemporary art.
Thus far, Siebert has worked on a number of projects, such as a group exhibition entitled High Humanity, which went on view last year in Paris, along with another female-led show dubbed I Do My Own Stunts, co-curated with Cy Twobly's grandson, Caio.
"I just love bringing people together. That's how I look at these shows and telling an interesting story of people that I want to be able to have a conversation with and then have conversations with each other," Siebert added.
In anticipation of his latest curatorial exhibition, Immersed, HypeArt caught up with Siebert at the family home to discuss his collectors journey.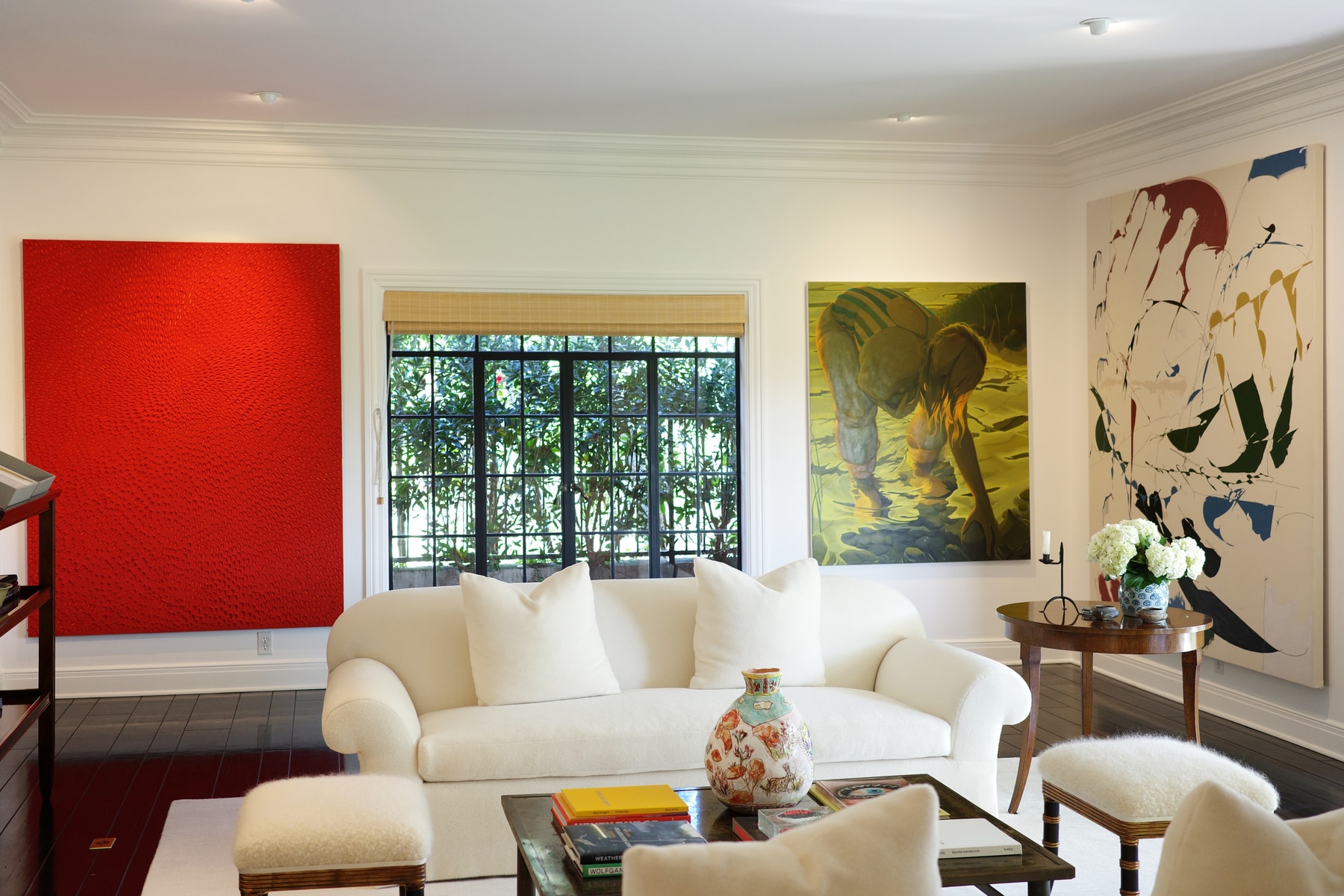 "It's all about building relationships."
Before art, what were your interests as a child?
Growing up, I was always into arts and crafts, even as a five-year-old. My room was an eclectic mess — I always had an eye for creating things or putting things together. Then I got more into photography and really enjoyed film, because I liked the process of creating something, developing the negative, printing it, scanning it — this whole creative process.
It was a mix of that and fashion. I wanted to start my own brand and build that kind of empire, but then, in doing that and working in fashion for a bit, the less creative part of it wasn't fulfilling or what I was interested in. I've always been interested in the more creative aspect of the art world — from choosing artists and meeting artists, to understanding their process and how you can build a vision with all that in mind.
Are there similarities in what you were doing in fashion back in the day to what you are doing now?
Yeah, in art I do so many different things. First and foremost, I got started as a collector and am still a collector — building collections for myself, my family and more recently helping friends build collections of fine art that they really love. That's what I was doing in fashion too, but with clothing. I was working on the buying side, building out selections from the brands that I liked and figuring out what I think people would like to wear. It's a similar idea in the art world of discovering what could be interesting or 'what's commercial, what's not commercial?'
Which artists and movements spoke to you growing up?
At that time, I liked the big beautiful abstract names, like Rothko. I was obsessed with Rothko as a kid and dyed t-shirts that look like a Rothko. Things that were bold, abstract and make you think — you don't fully understand it. In terms of collecting and finding artists now, for me, it's all about building relationships, meeting the artists and understanding their process. But also meeting the artists who are around my age and from my generation as we develop our eyes together is exciting.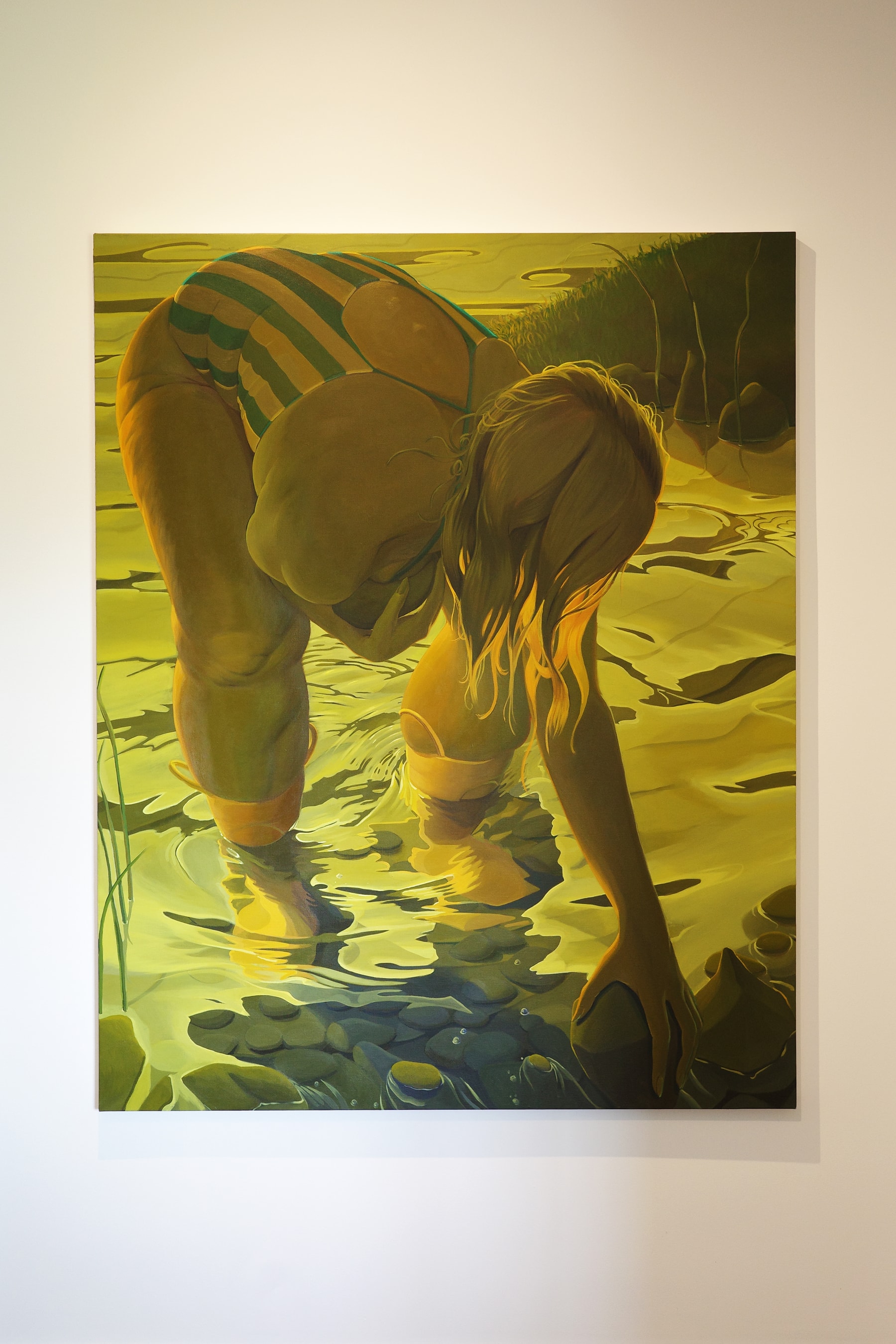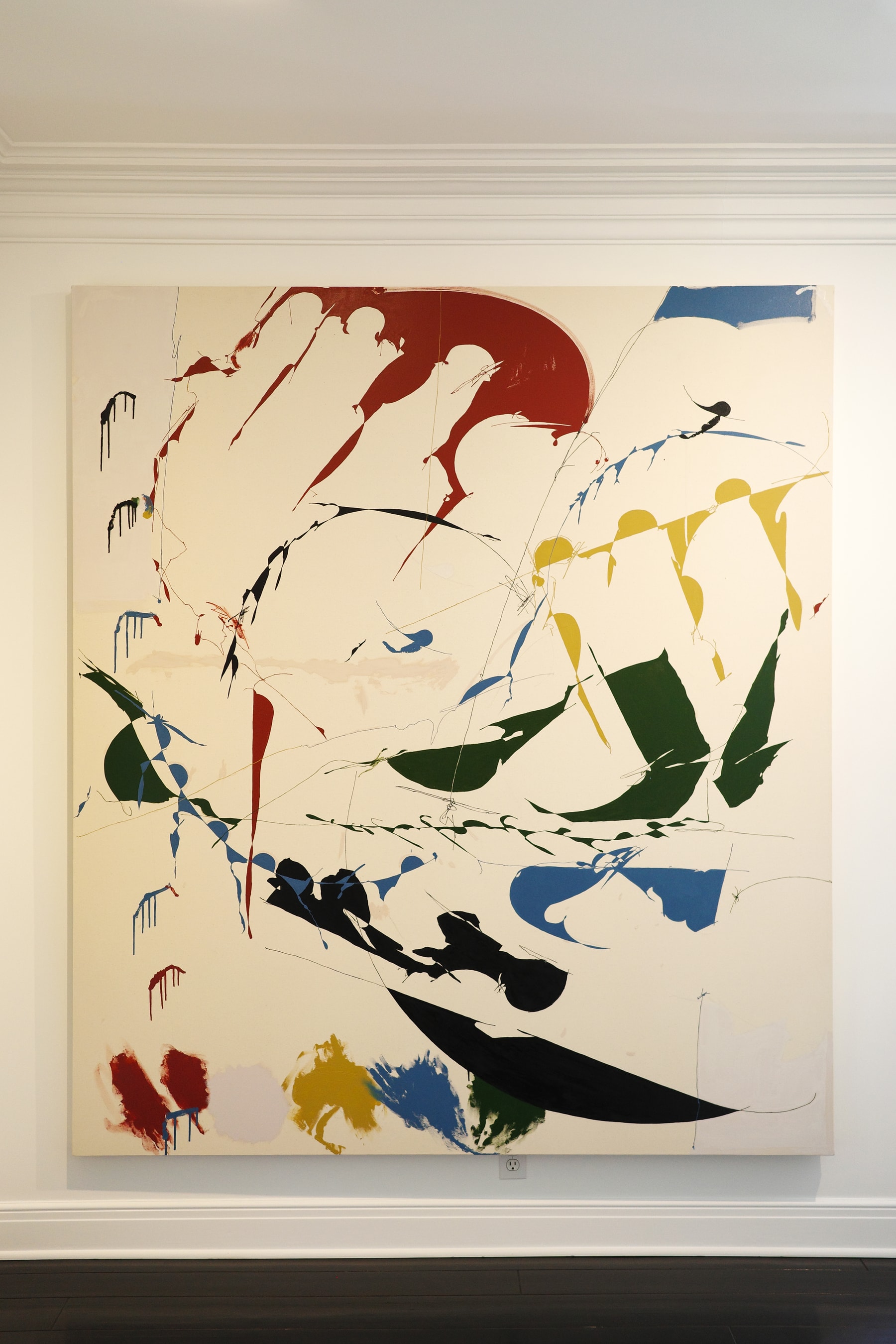 "Understanding how they work and what's going on in their mind."
Can you describe your collector journey?
I started collecting with my mother nine years ago. There was no art collecting background in the family, but it was always something that I was interested in. I would go to friends houses and they would have art, there was nothing more exciting than going to see someone's collection and seeing what they lived with and what speaks to them — it tells you so much about a person.
So we started collecting nine years ago based on a trip to Miami for the fair and just delved into that world a bit. From my own collecting, that started with studio visits to a lot of LA-based artists — because when I first started collecting, I was living in LA and going into the artist's studios and talking about the work, understanding the work and figuring out what I connected with. A lot of the artists I visited at that time weren't necessarily work that I could buy at that age. But I would go meet their studio assistants and meet other people they worked with, that's where my collecting started.
Collecting is all about relationships, understanding people and getting to know people better than just the commercial aspect of looking at work in a gallery, museum or auction house. It's about meeting them, understanding how they work and what's going on in their mind.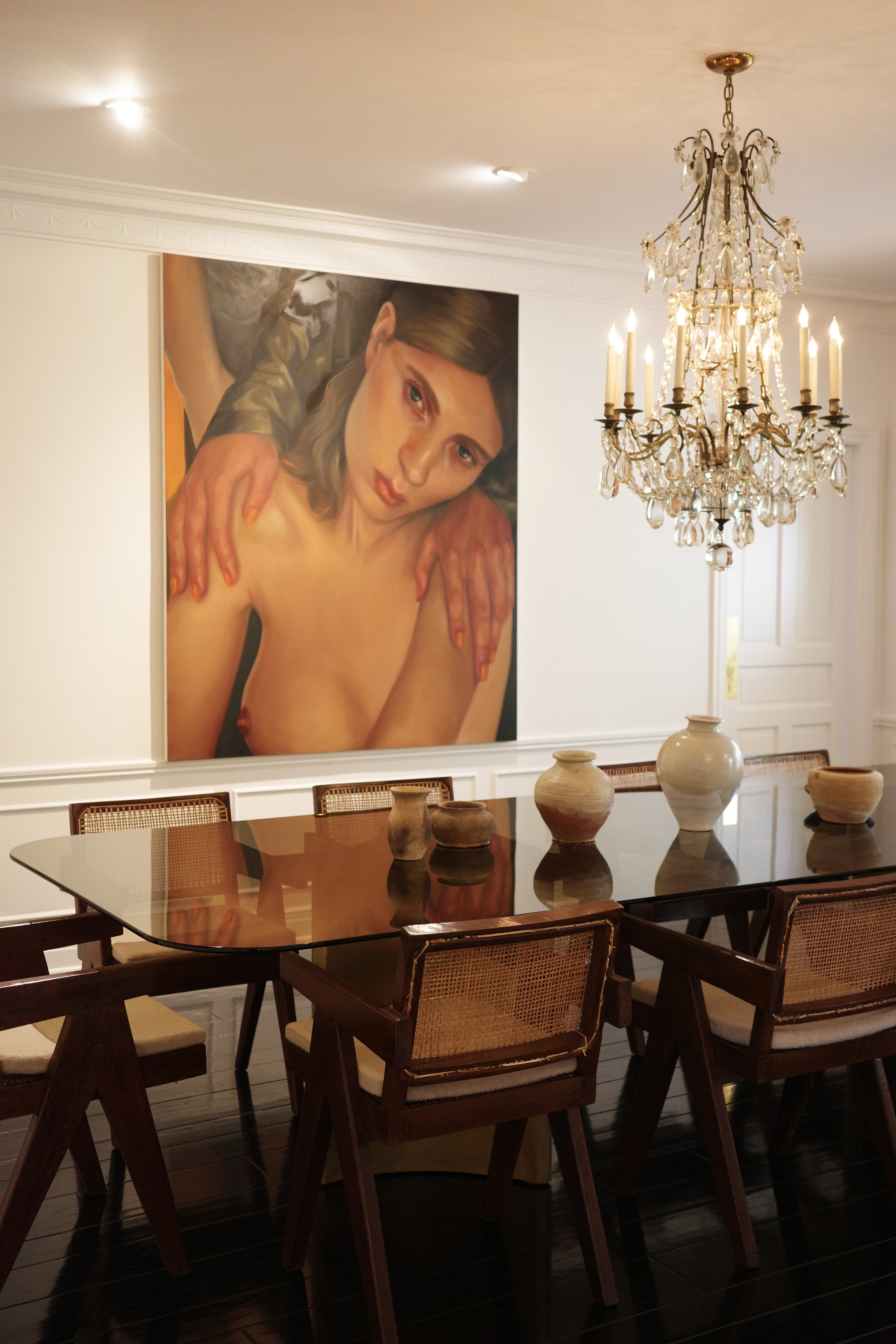 "It's hard to grasp the full vision, unless you understand where these ideas are coming from."
In terms of collaborating with your mother, is that an ongoing process and do you two approach an exhibition or collection?
I mostly focus on collecting myself now. I still help my mother collect, which is fun, because it's nice to collect with someone who has a different idea than you or shares different prospectives. It really starts conversations — 'what do you like? What do you not like? Why would this work make sense for the collection that you're building?'
The collection that I've built for her has mostly been all female artists, because that's the vision we've decided to go through with and understand it. It's a nice conversation on how to stay within a vision. I've collected artists who are still in grad school for her, to artists who are no longer living. It all tells a story of their history and what's come before it and what artists are influenced by.
Not many people outside the business of art know what the life of a collector is. What is your day-to-day process like?
I get sent PDFs all day long. I'm also curating. Artists are always contacting me on Instagram or via emails — 'look at my work.' Once in a while, those nudges and pushes kind of get somewhere. There's this artist who came to my show in New York, his name is Alfie Caine. We're working on our second project together now.
In terms of collecting, I've seen everything — seen the good, seen the bad. I love going to studio visits. That's what really helps me collect and work. For example, Friedrich Kunath, he just opened a show at Blum & Poe — he's a great friend and both of his studio assistant are super talented and have both shown in LA. I met all the studio assistants and went to their own studios and saw what they were working on. I continue to have conversations and visit them as they develop. LA is such a community where artists really support each other.
There are so many times I see work and don't connect with it. Then I meet the artist and we end up sitting there and having three hour conversations — I start looking at the work in a different way — that's what helps me connect to the work and helps me understand it. Sometimes you don't get the full story in a group show or if you're seeing a work at a certain period of an artist's career. It's hard to grasp the full vision, unless you understand were these ideas are coming from.
Every single artist that I've collected or plan to, I've either met, talked to, have a personal relationship with — and that's really important to me. I don't think there is one artist that I own that I don't know personally.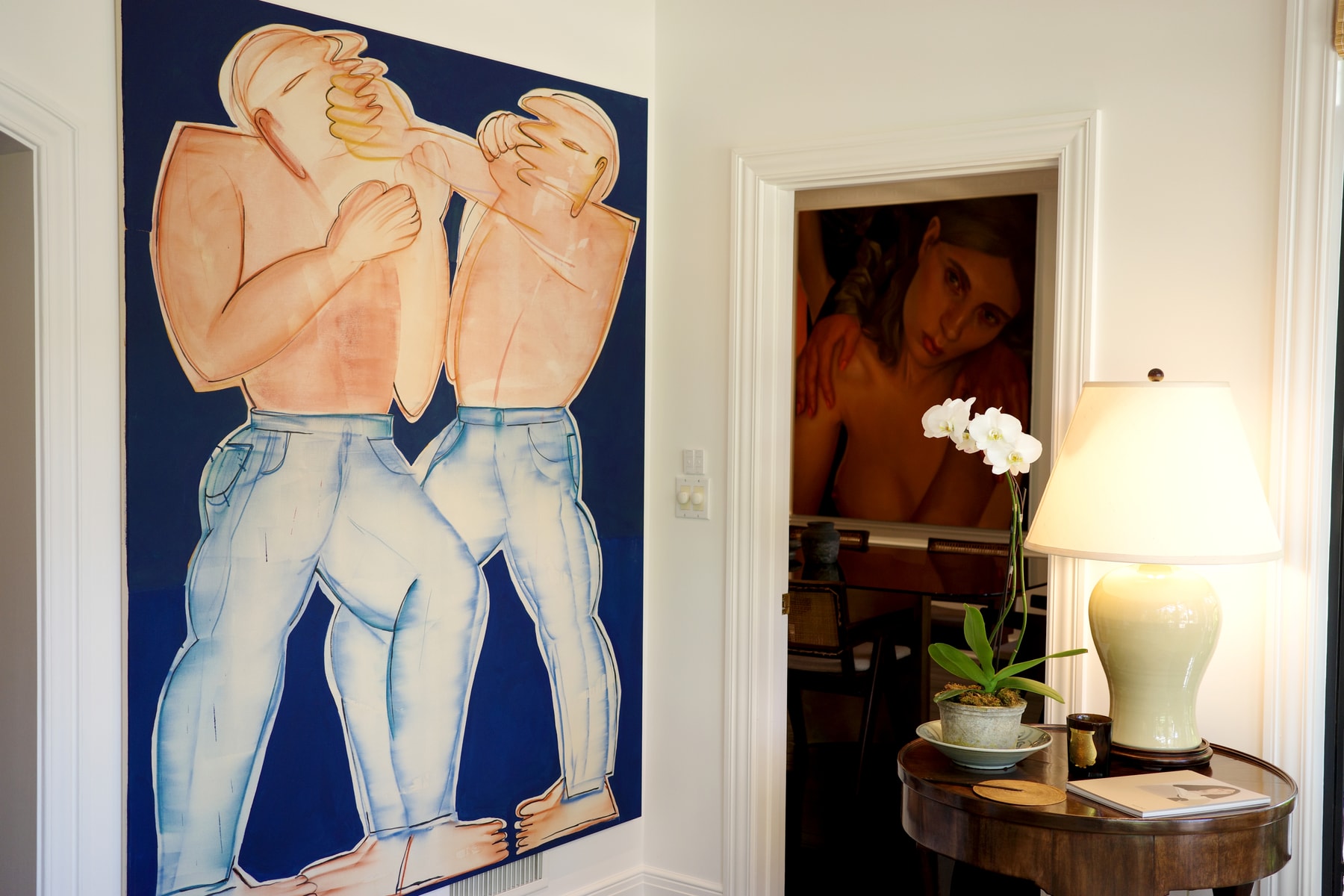 "…the world they create and being immersed in someone's else's nature or vision."
Speaking on the most recent Art Basel in Miami, who were some artists that you didn't know that really drew your attention?
July Guzman, who is 21 and at RISD. It's funny, he shows with the gallery I work with all the time — 1969, they had a booth at NADA. I got a PDF a few weeks prior and didn't think anything of it. Sometimes I see works online and it doesn't do something for me immediately, so I keep scrolling and don't think about it. But I saw the work in person and was just blown away at how technical and beautifully painted they were on the surface. I fell in love with the work and started talking to him and will show a work of his in my LA show next month.
That's what's fun, especially going to the smaller fairs, like NADA or UNTITLED — they are real discovery fairs. You can look at every single individual artwork and have conversations with the galleries.
I talk to artists all the time who don't necessarily love showing at an art fair, because at the end of the day, it's a trade fair and your work is only being shown for a few days. But I tell them all the time, it's a great introduction for people all around the world in different locations to be able to see your work and experience it for the first time. An exhibition in one city, is not as international as a major art fair, like Art Basel Miami.
Can you talk about your upcoming exhibition opening next month?
My forthcoming show is titled Immersed. This is going to be my fourth show, my second in LA. When putting together this show, I was thinking about the way people experience life in LA. People spend so much time in personal spaces in LA — either at home or in the car. I feel like those are the two places people spend the most time. It's a more homebody city, as opposed to a New York or London. I was thinking what it is like to experience someone's personal space — the world they create and being immersed in someone's else's nature or vision.
This show brings together artists who depict personal spaces, either with interior or landscape paintings. Even abstraction, because abstraction is something that is so personal. It's a vision that they create that other people try to understand. The exhibition will feature over twenty artists and will open February 13th.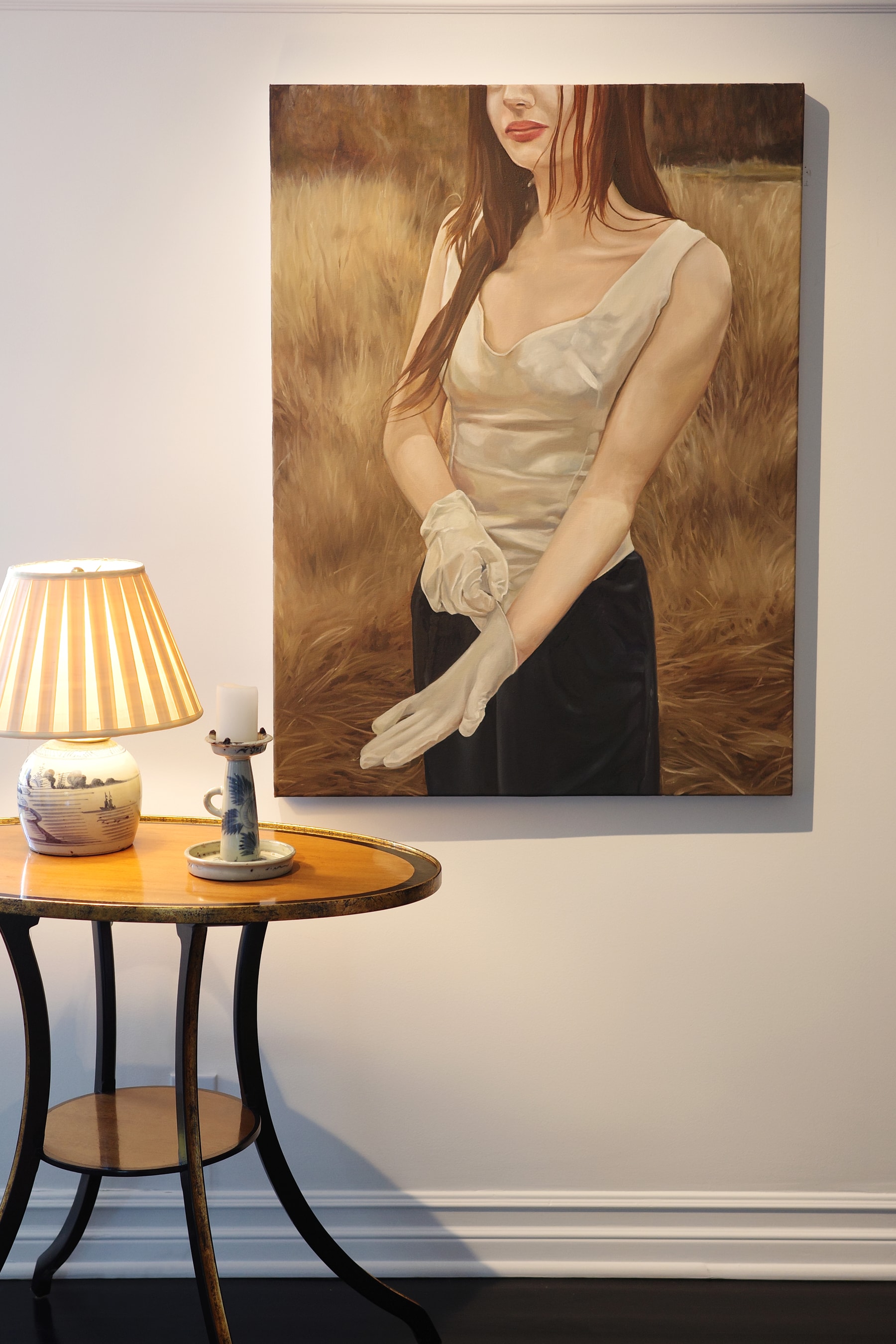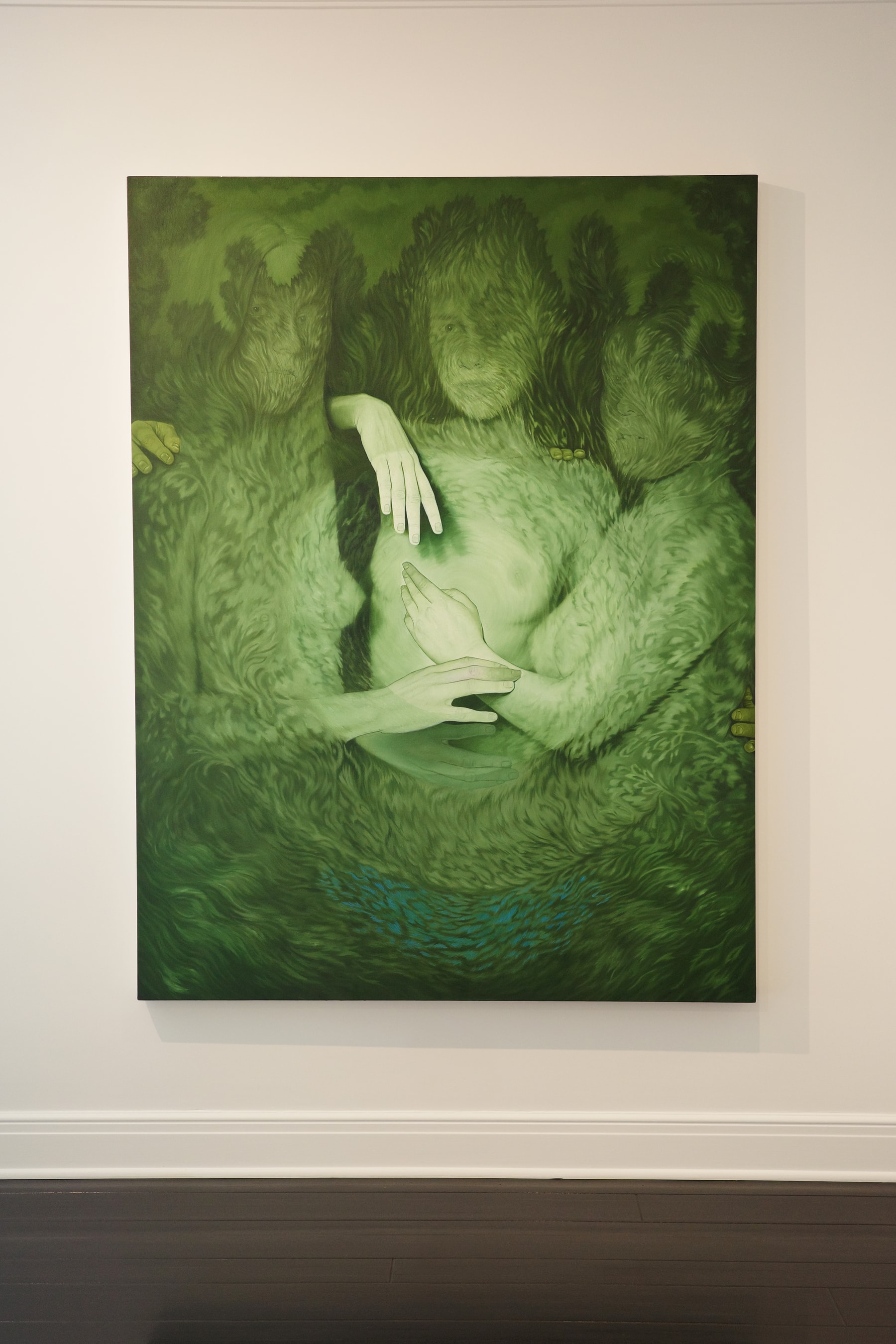 "I just love bringing people together."
Are there some other projects you're planning this year that you'd like to talk about?
That's what's coming up. I love curating shows, the exciting thing is to be able to tell a story and bring artists together who aren't normally grouped together. Even in my social life outside of art, I just love bringing people together. That's how I look at these shows, to tell an interesting story with people that I want to be able to have a conversation with. I'd like to do something more permanent in LA in the near future, whether this year or a few years down the line.
Would that be a gallery space?
A project space to create conversations and group artists that I think would tell a story together. Something a little outside of the box of the traditional gallery. In LA especially, there are so many incredible spaces — we have the Case Study houses and all the incredible architects in LA. A lot of these spaces aren't properly used or are vacant. I also love architecture and design and want to bring all those idea together, because they're all influenced by one another. To tell a story with artists in a space that was created by another artist, whether a fine artist, architect or designer, would be super exciting.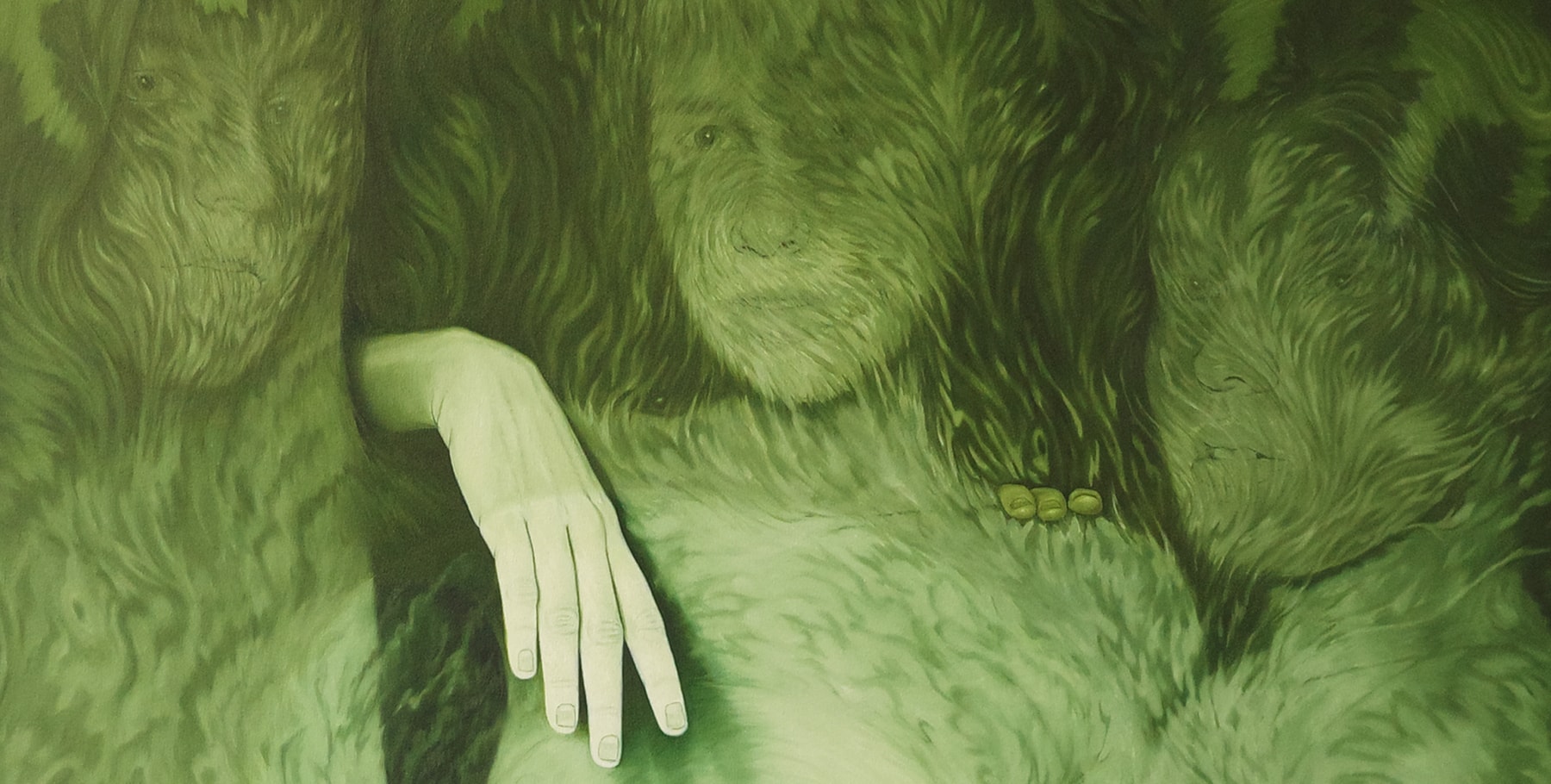 "You really have to buy work that you connect with."
The culture of collecting can really be anything. It doesn't necessarily have to be blue-chip artwork. Someone can equally collect vintage sports programs, magazines, etc. Is there a particular thing you collect outside of art that speaks to you?
I have another bad habit and that's design. Since I'm redoing my house right now, I'm obsessed with design. I look at design in the same way I look at art. I want things that are based off history or tell a story. A lot of the furniture that I've connected with happens to be French Mid-Century Modern. It goes so well with art, because they are art pieces on their own. Like art, I have an addiction of sourcing and finding new designers.
Green River Project, they are a contemporary design firm making beautiful work. It's a fun journey going into these design studios and meeting the designers, if they're still around, and seeing what their inspiration is — or going to auction houses and design warehouses and sorting through things, reading and find things that connect and tell a story, but also work off of what I'm building in terms of art collecting. They all need to work together to tell a story.
What is your advice for an aspiring collector, who say, is looking to get into the field but is intimidated by the exorbitant prices of some of these artworks?
It's really hard to figure out where to start. Buying your first piece is the biggest struggle for most people. It's like, 'where do I start? What should be my first piece?' Once you start buying things, it becomes an easier process, and along the way you can create a vision of what you really connect with. I think you have to buy work that you connect with that obviously is affordable to your price range. At the end of the day, the art market is something that comes and goes — there's ups-and-downs. You can't really buy based off that. Sure you can, but you really have to buy work that you connect with and means something to you, you want to live with, is beautiful or challenging to you.
A lot of the art world is based off influence and what other people tell you to buy — it's great to work with someone you share a vision with. But it's finding work that you connect with, especially in the process of doing that, anyone who wants to start collecting, you have to see everything. Go to every show, if there is an artist you like on Instagram, ask to go to their studio — I do it all the time — eventually they'll say yes. You have to go to institutions and museums too.
I studied art history at NYU and you have to understand what came before and what the inspirations are. Is it a mere extension of something that came before? It's understanding the greater world of it and I'm not saying to go all the way back to the cave paintings, but go look at works from the 20th Century. Artists of the generation before the artists working now and how they inspire this generation. To be able to talk about your work in that kind of context is important.
Just experiencing art with your eyes or collecting through books.
There are so many different ways you can collect. Exactly, there are artists that I love that I can't buy their art, so I buy their books. I don't really buy prints and multiples, but you can definitely do that and it's a way to begin creating a vision or living with something that inspires you.
All photos by Shawn Ghassemitari for HypeArt.