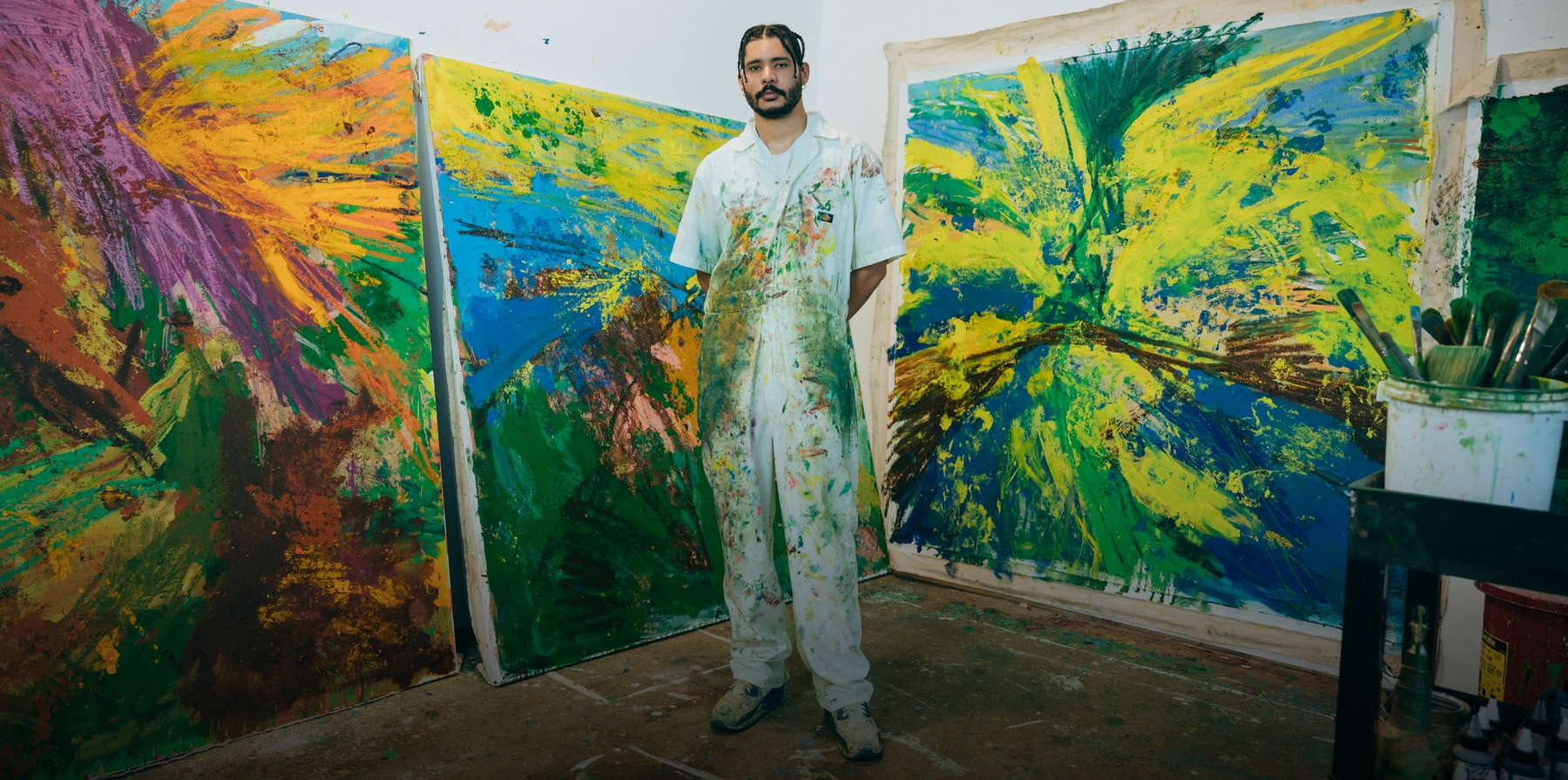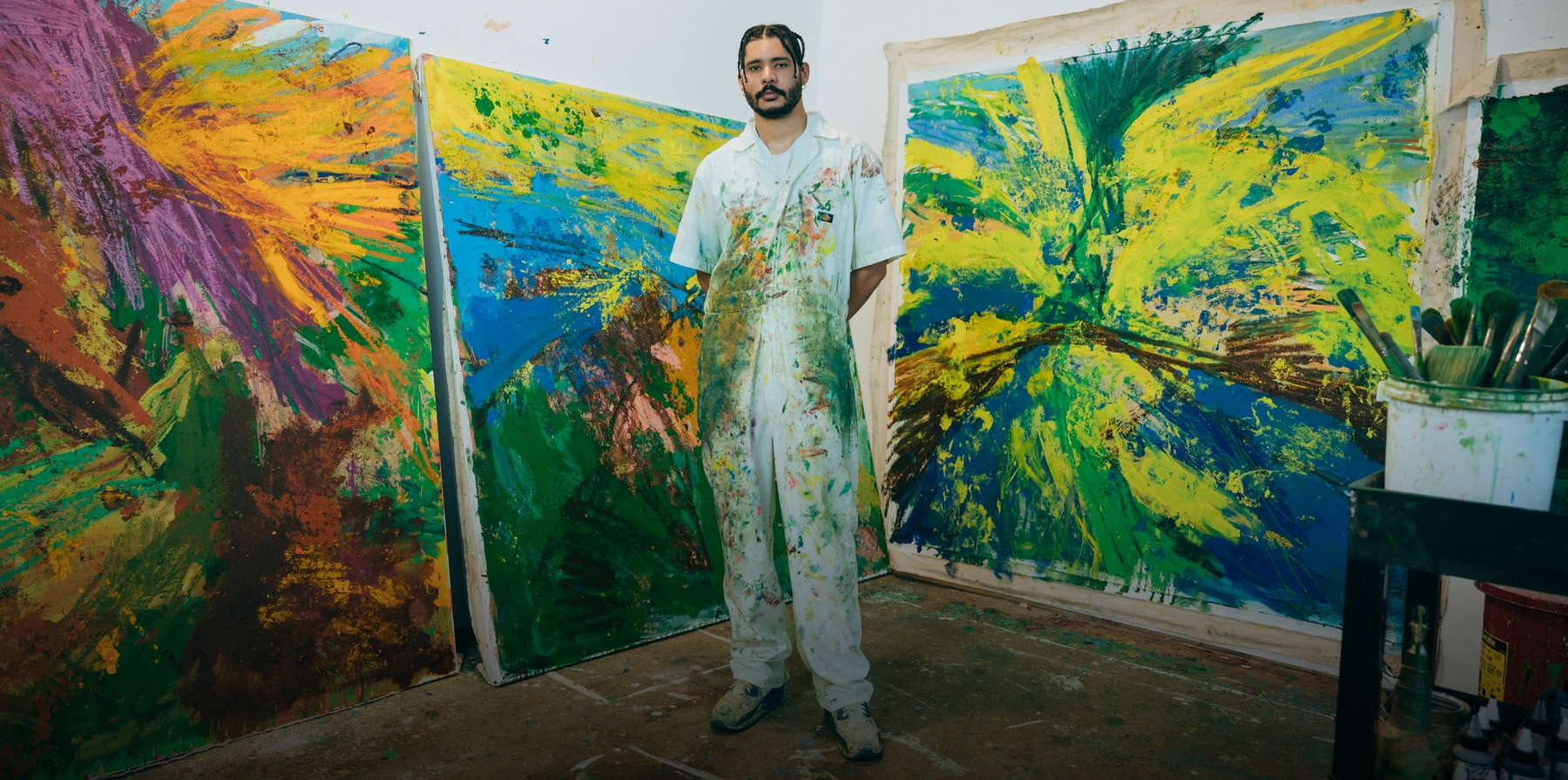 PEN & PAPER: PAUL VERDELL
Mental landscapes captured through color and texture.
Paul Verdell began his career like most artists — redrawing cartoons, anime and anything that brought him joy. As he'd grow older, drawing would be a constant throughout his life as a method to understand the world around him and his own inner self.
Like David Hockney and countless others before him, Verdell would invite his friends, family and whoever willing to sit as he'd recreate them in vibrant pigments of his choice medium of oil and pastel sticks.
While much of his work has centered around figuration, a noticeable shift has taken place. Instead of using a paintbrush, Verdell vies for the oil stick itself. Instead of depicting figures he empirically sees, he opts to capture the feelings that arise from within.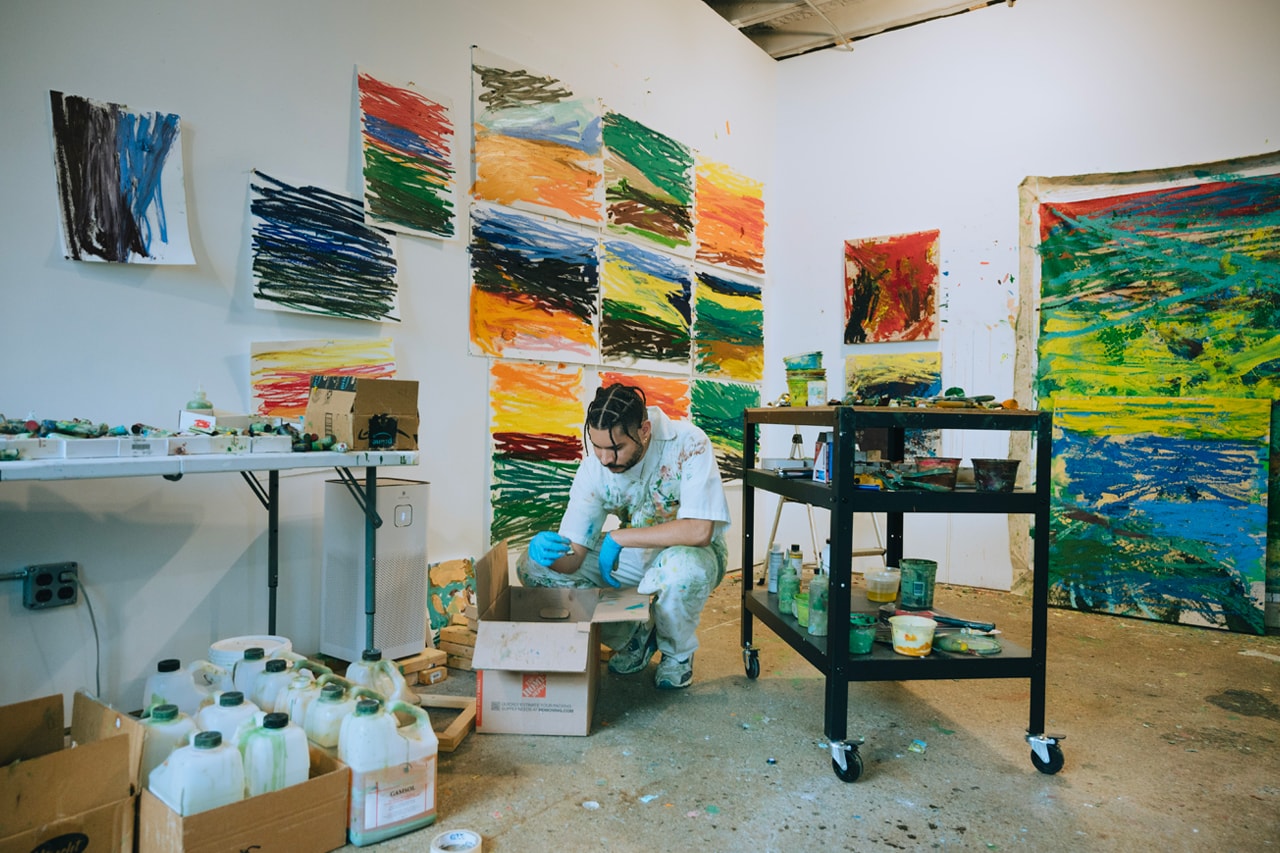 'Mental landscapes' is one way to describe these new paintings. Having presented this series at a recent solo exhibition at Library Street Collective, the newly christened Detroit-based artist is one of the few selected for Kehinde Wiley's Black Rock Senegal artist-in-residence program. For an artist who isn't afraid to draw outside the lines, we can only expect further experimentation from Verdell.
For the latest Pen & Paper, HypeArt spoke with Verdell on this new chapter within his career. Read the full interview below.
1 of 2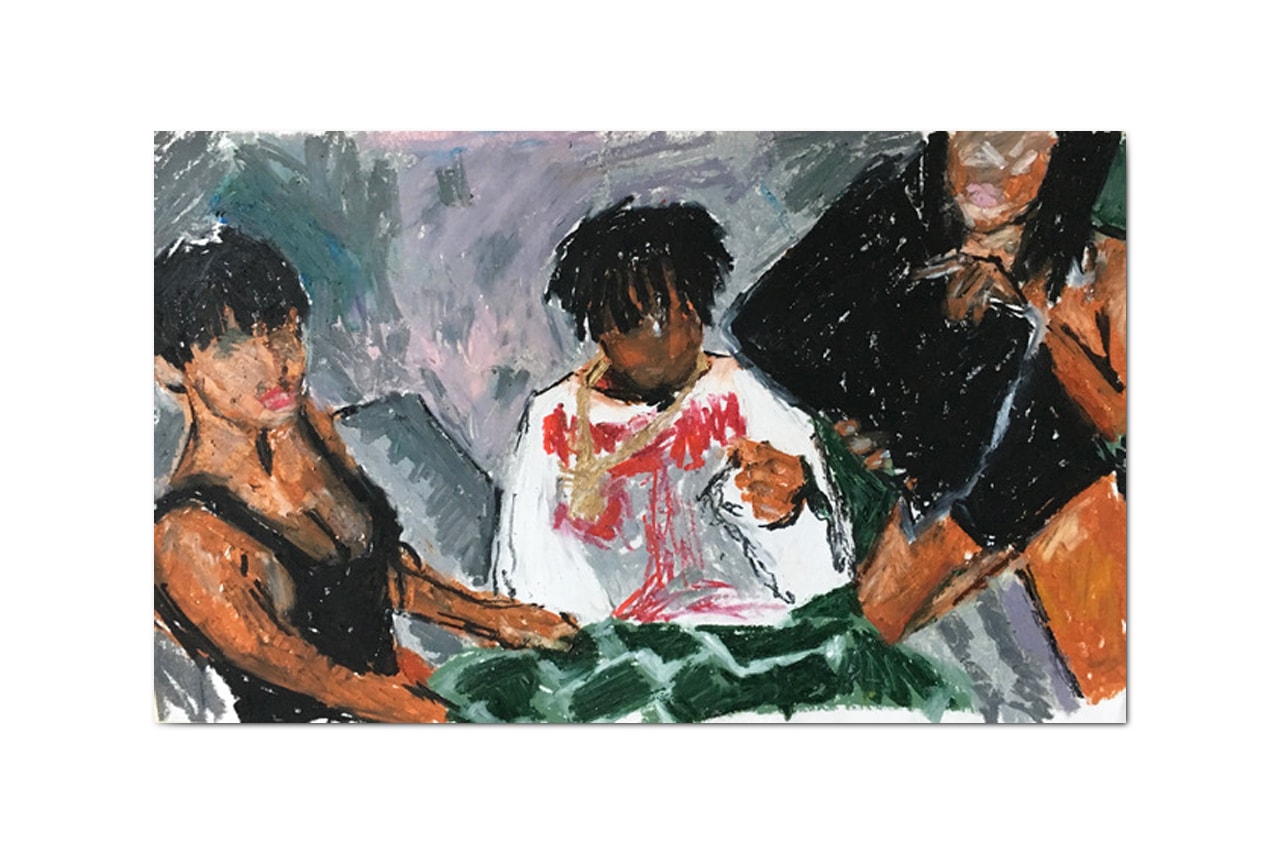 2 of 2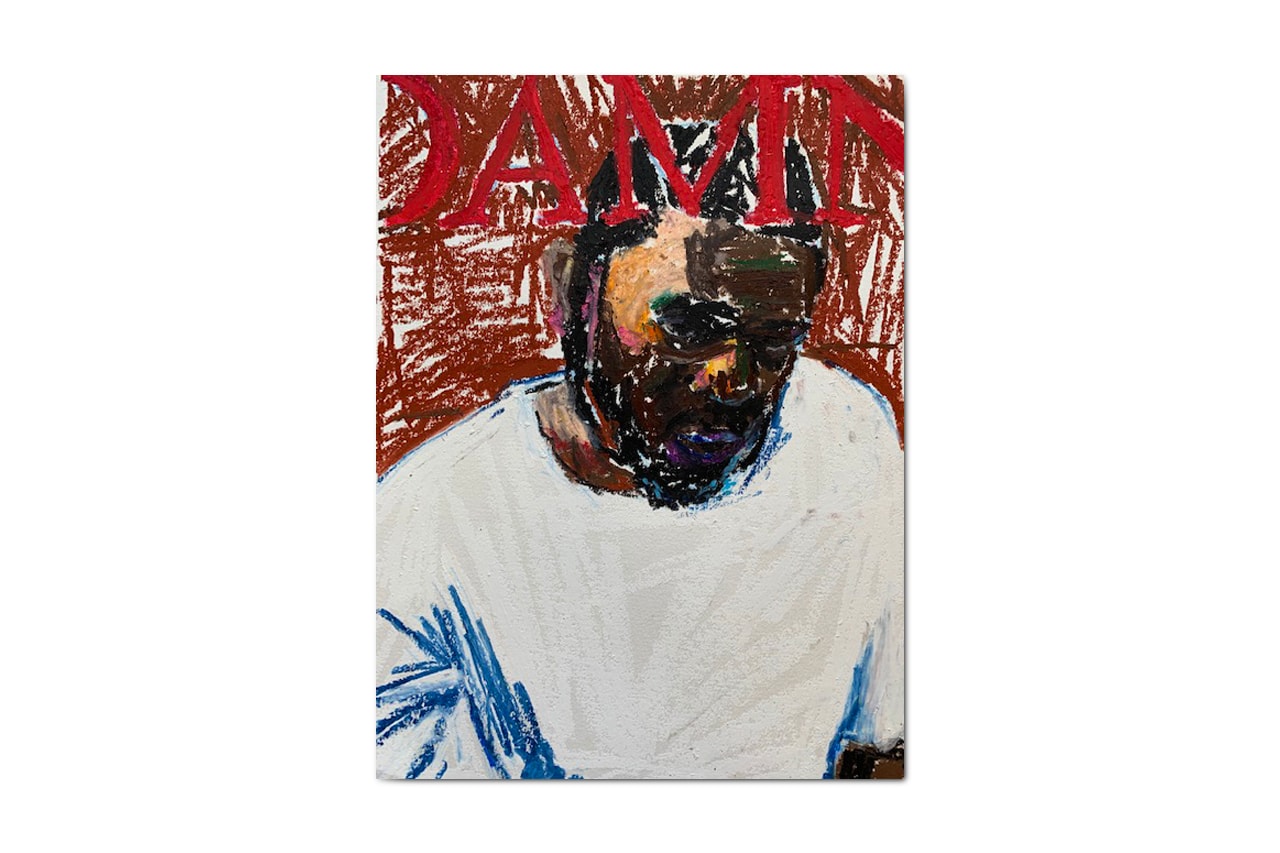 "The work just continued to shift after that."
Were you born in Long Beach or Ohio?
Long Beach, but moved to Ohio around 2004, when I was about 13.
Can you recall those early days in Southern California. Do you think those years contributed to the artist you are today?
To be honest, not really. I think Ohio really shifted where I was going with my work. I ended up really doing more art in Ohio than in California, mostly because in Ohio, there was a winter haha.
Are there any particular artists or movements that inspired you early on?
In the beginning, I really wanted to be an animator. I think that's where a lot of artists start off with — you see cartoons and are like, 'I can draw that.'
You start drawing different cartoons, different anime that you see and that's where I started off. Going more towards the future then it started getting into, 'I want to try and draw somebody's face and see if I can really capture their likeliness.'
A lot of the work I was doing before was rooted in music. I would draw a lot of album covers through hip-hop and pop culture. The work just continued to shift after that.
1 of 3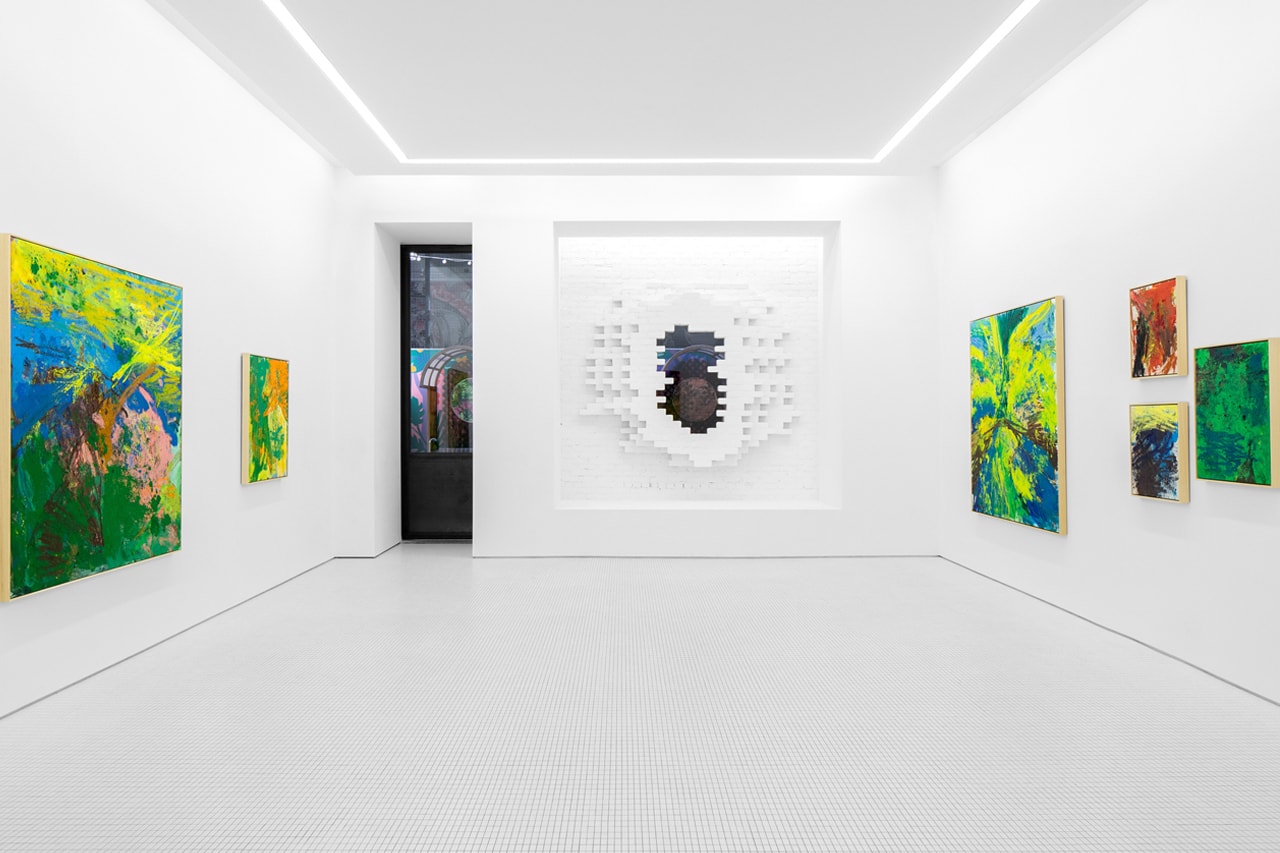 2 of 3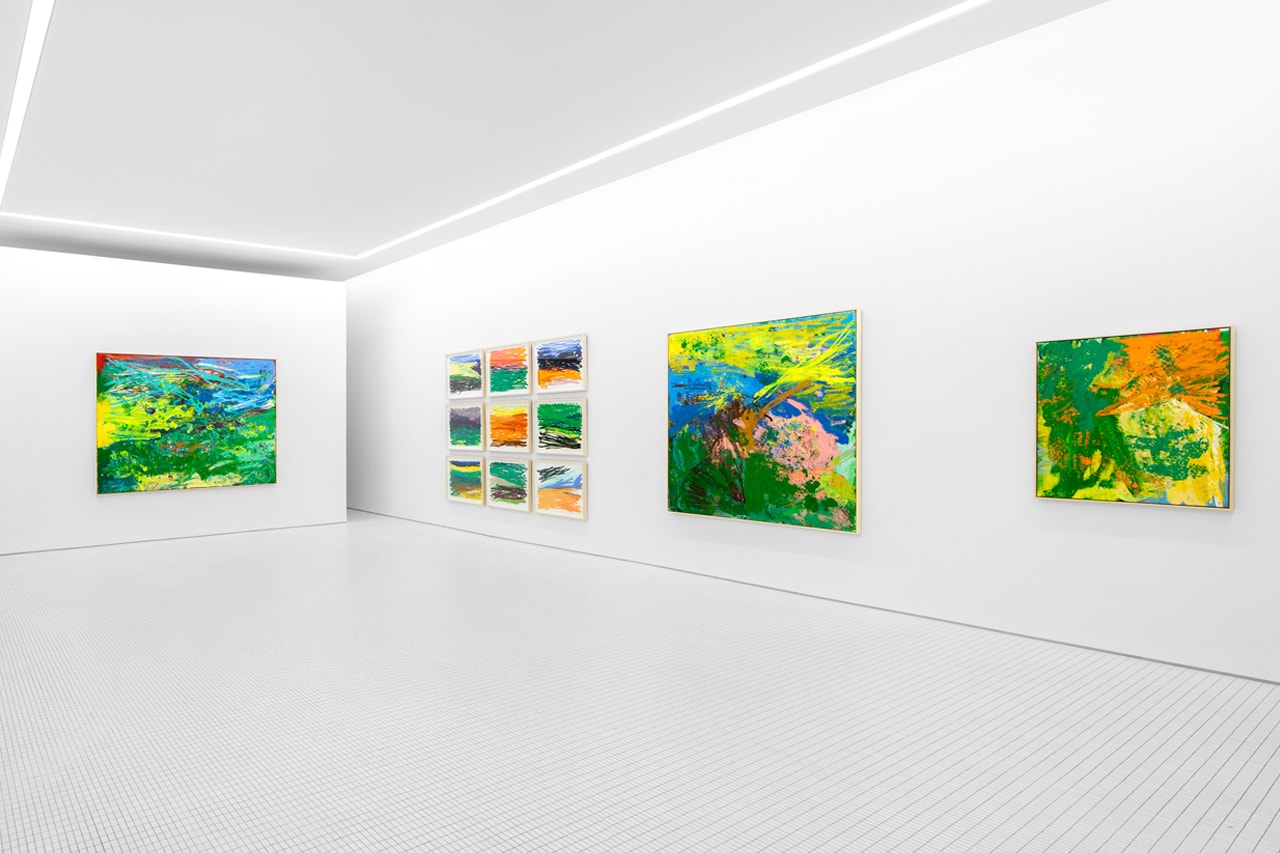 3 of 3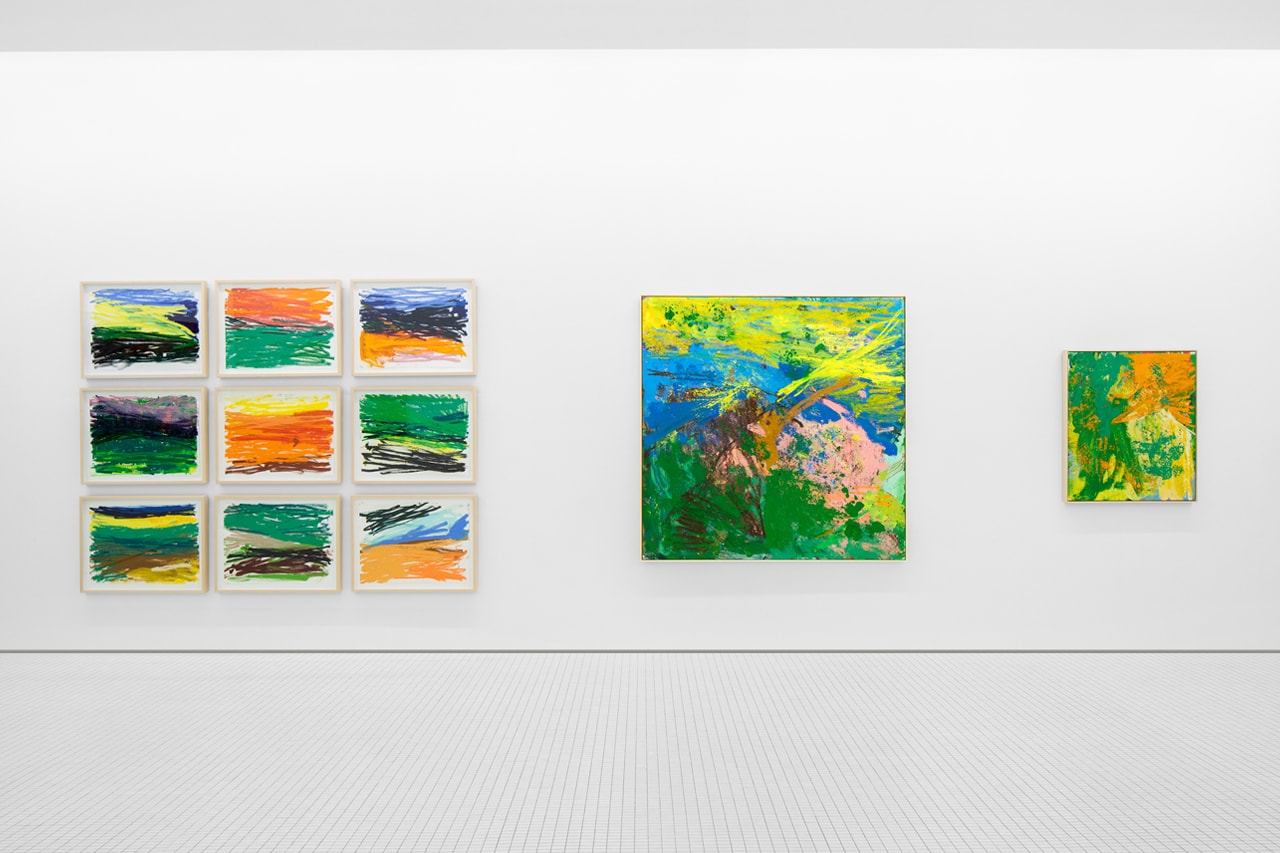 "They're really more about color, texture and just moving around the paints and getting more of a feeling going with these works."
Like many artists, you didn't see your practice as a full-time profession at first. What was the spark to push you in that direction?
Really the spark came a lot later in life for me.
I want to say when I was 25. I had drawn and painted just because that's what I knew how to do. I didn't think I could make a career out of it or anything until I decided to go back to school for my bachelor's. I took one contemporary concepts class — contemporary concepts of painting — and I just remember learning that this was a class that you can paint and make whatever you want. There really wasn't any limitations and I enjoyed that so much that I was like, 'that's what I want to do for the rest of my life.'
How would you describe your aesthetic?
Color and land.
Are the mediums you use primarily oil pastels or do you use acrylics and other materials?
A lot of the paintings that I first started with was oil pastels and oil paints. But now, I really ventured off into working primarily in oil stick and no brush. So I would just draw with paint on the canvas.
There is an art renaissance happening in Detroit at the moment. Can you describe your early partnership with the Cleveland Cavaliers and your recent exhibition at Library Street Collective?
I think that was in 2019, I ended up making work for the Cavaliers stadium and it was a cool project that I could really bring home to Ohio and actually have some work for the state.
For my latest exhibition, I actually left the figure. I'm not doing figures anymore. I started to do landscape and working on more abstraction through these landscape paintings. They're really more about color, texture and just moving around the paints and getting more of a feeling going with these works.
1 of 4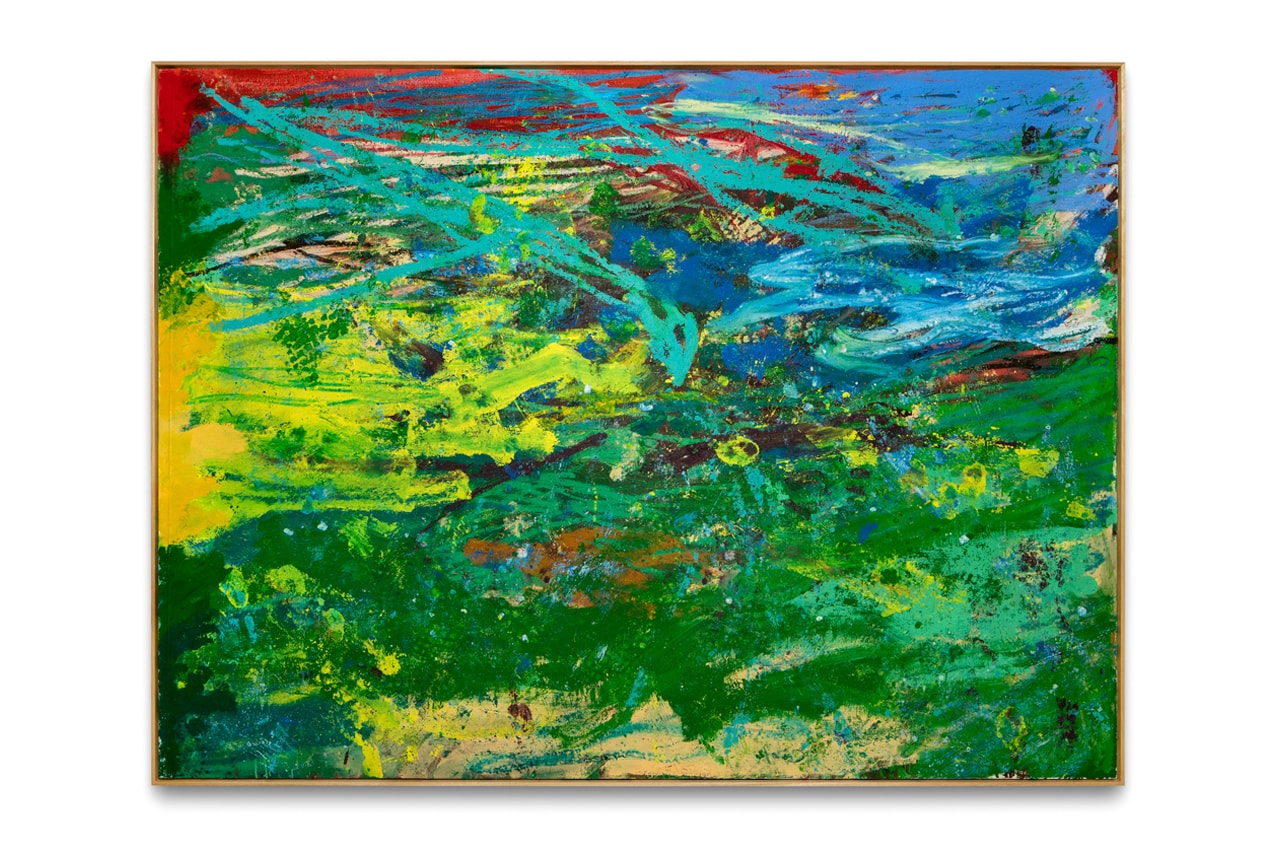 2 of 4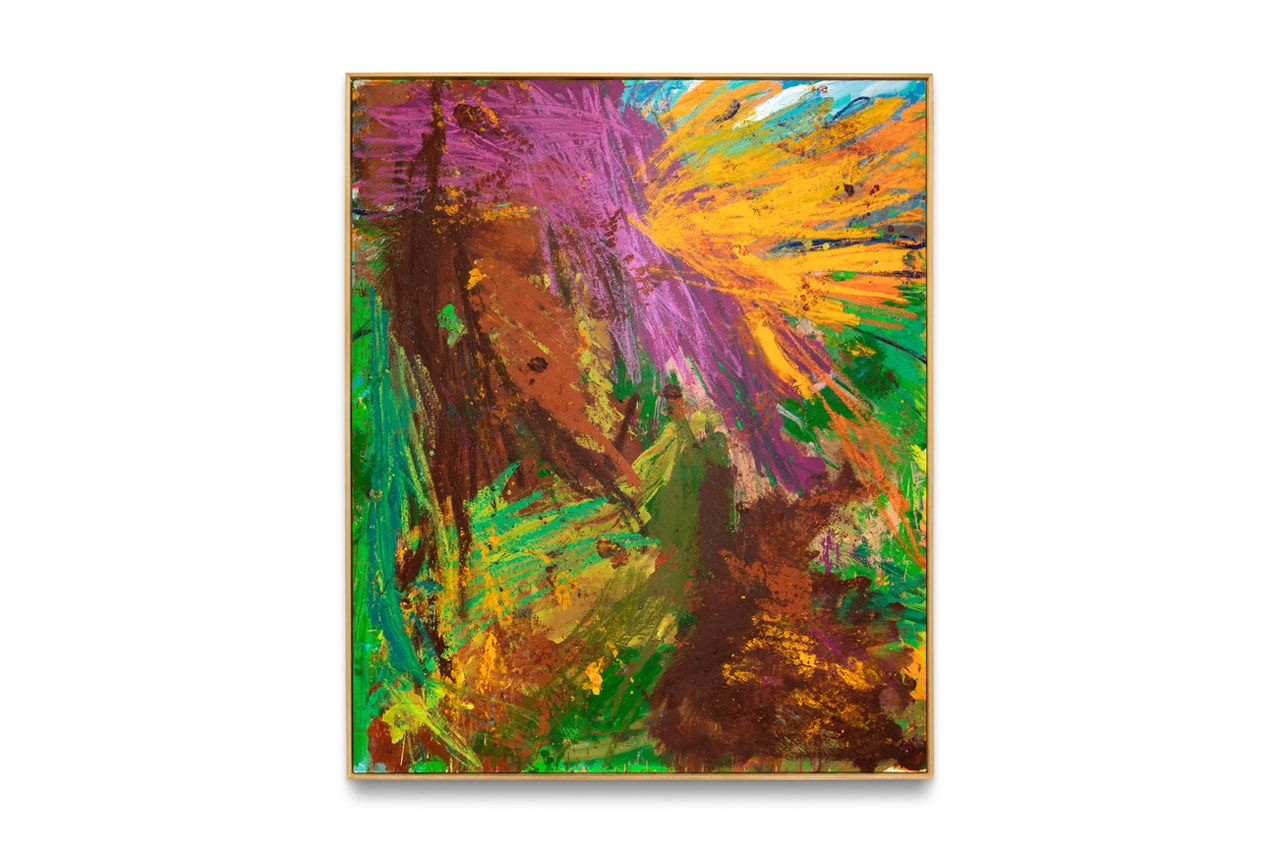 3 of 4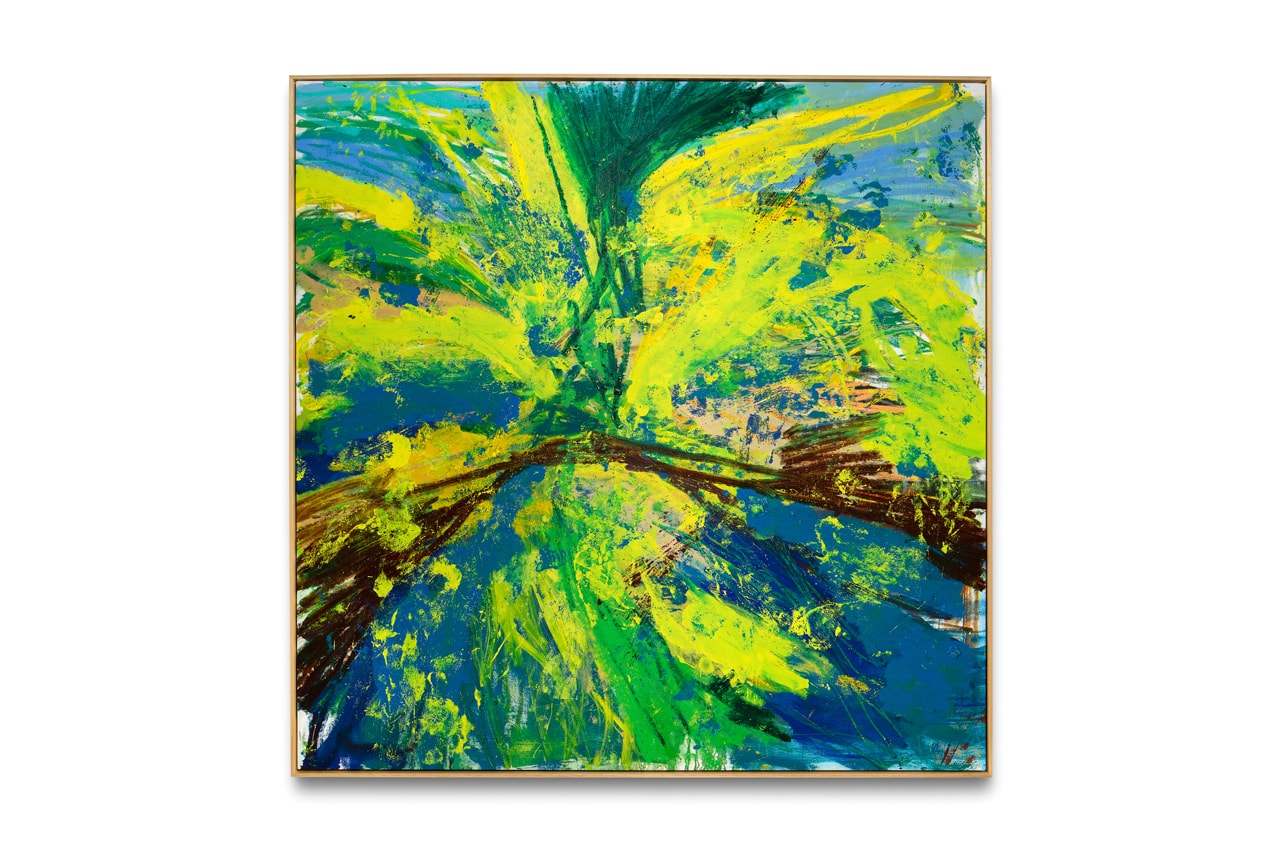 4 of 4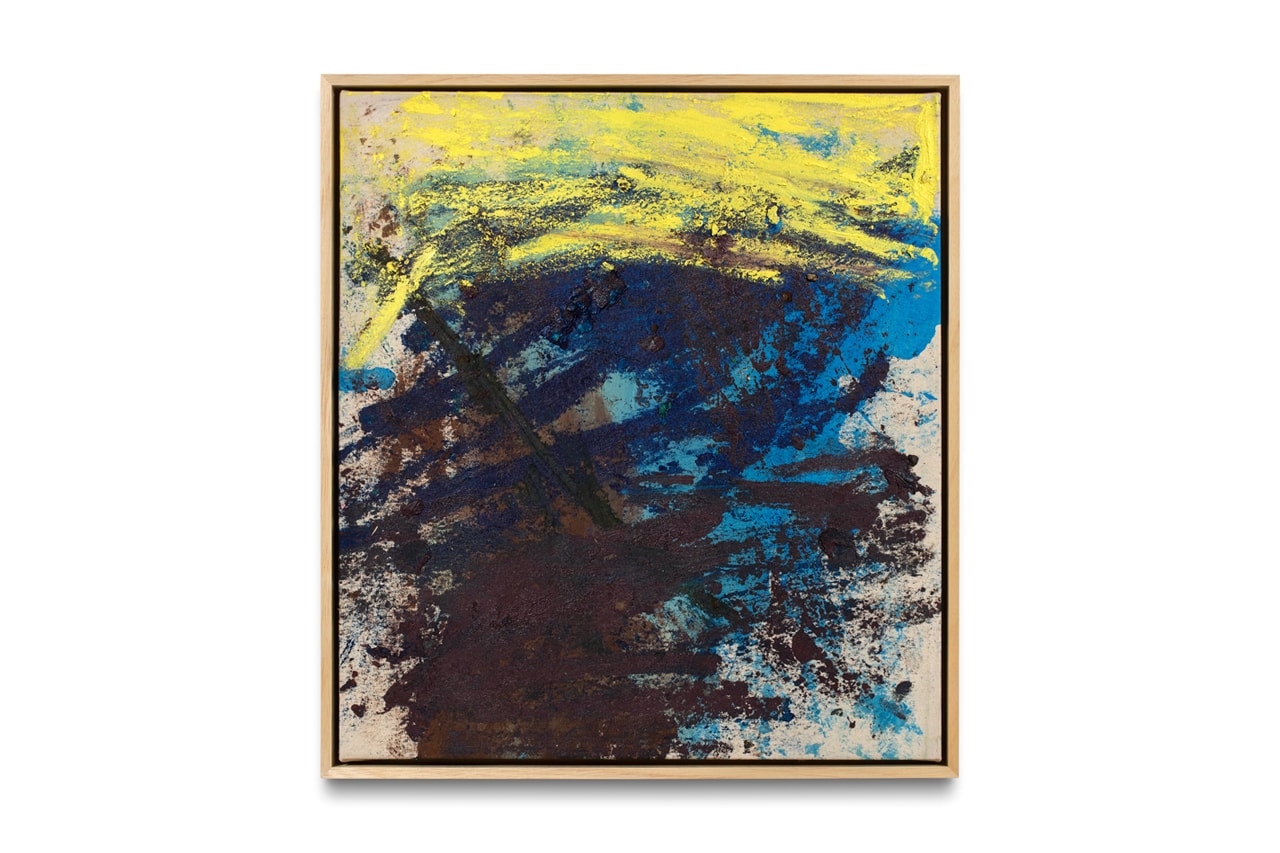 "It's more about the color and mark-making."
How would you describe that transition?
The transition was something that I knew was going to happen eventually, I just didn't know when.
Looking back at my older works, even the works that I started with oil pastels, I did a Playboi Carti cover and that was the first one. Even that piece, despite being figurative, was very abstracted. You can get the glimpse of what it is — it's an album cover — but it's more about the color and mark-making.
I didn't know it then, but looking back at that now, it makes sense that the transition started to become more about color and shape and mark-making on canvas.
Music is a constant throughout your life. In the studio, who are some artists or mixes that have been on repeat?
I can't even lie, I've been putting on a lot Drake lately.
I also listen to a lot of MF Doom. I've been a big Doom fan for years, so that has always found a way into my playlists. I've been listening to Danger Mouse too and that track, "Belize", that has MF Doom on it. Been listening to that constantly ever since his passing.
1 of 3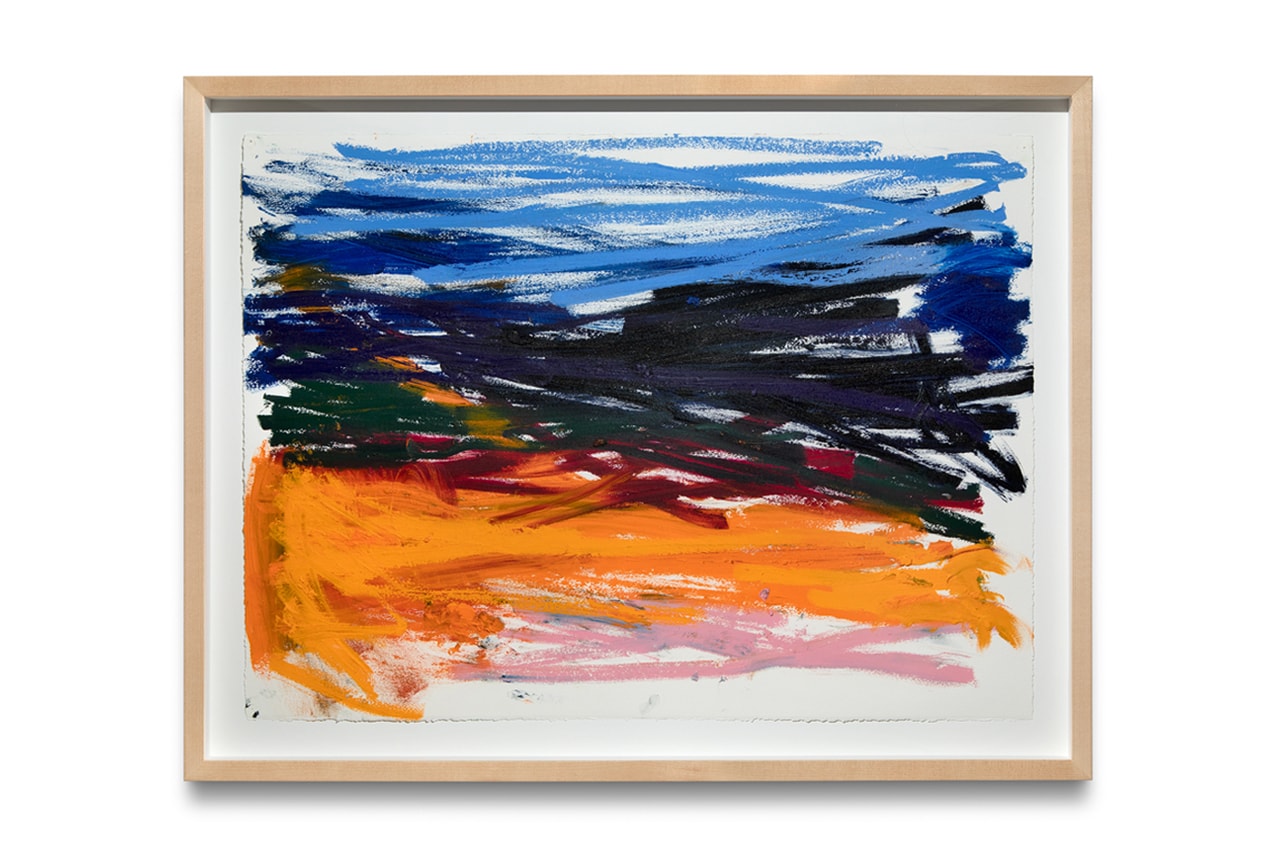 2 of 3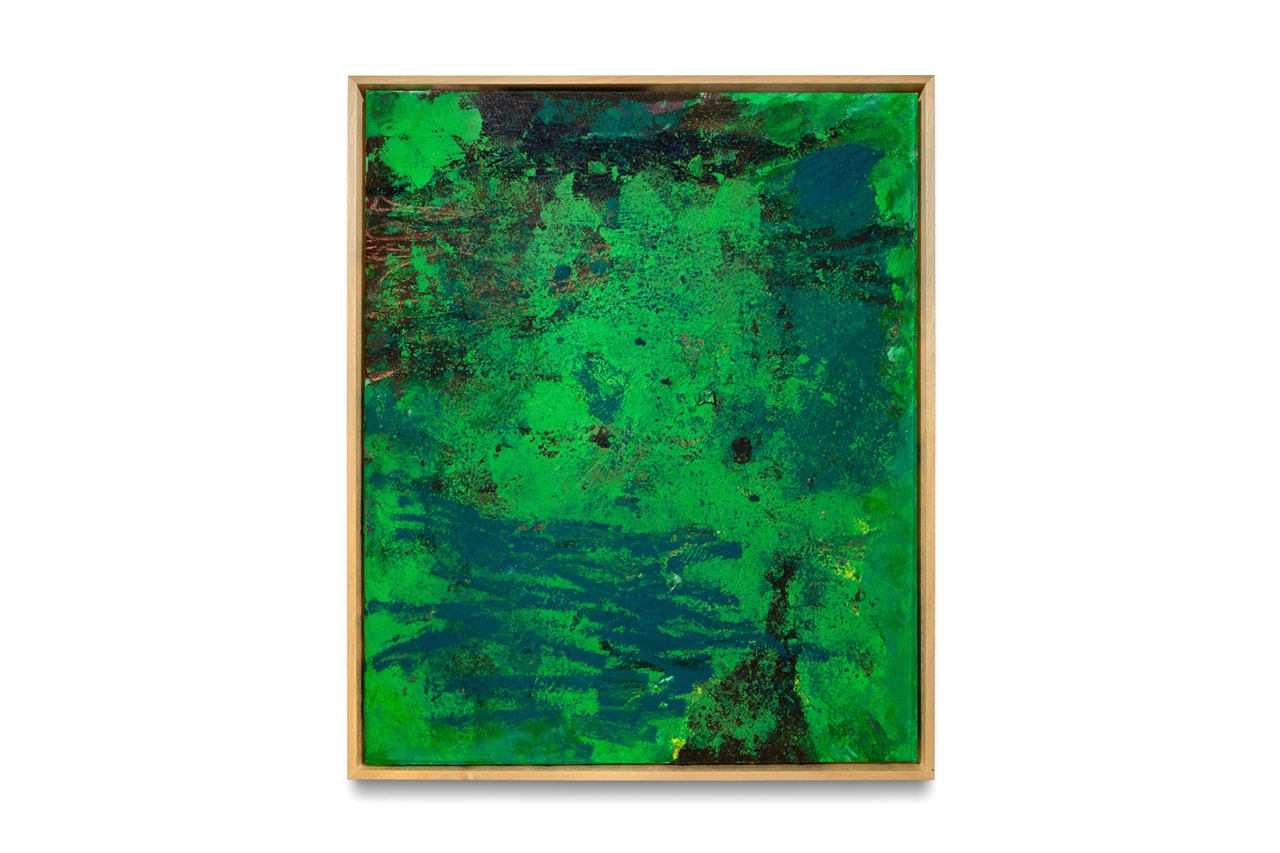 3 of 3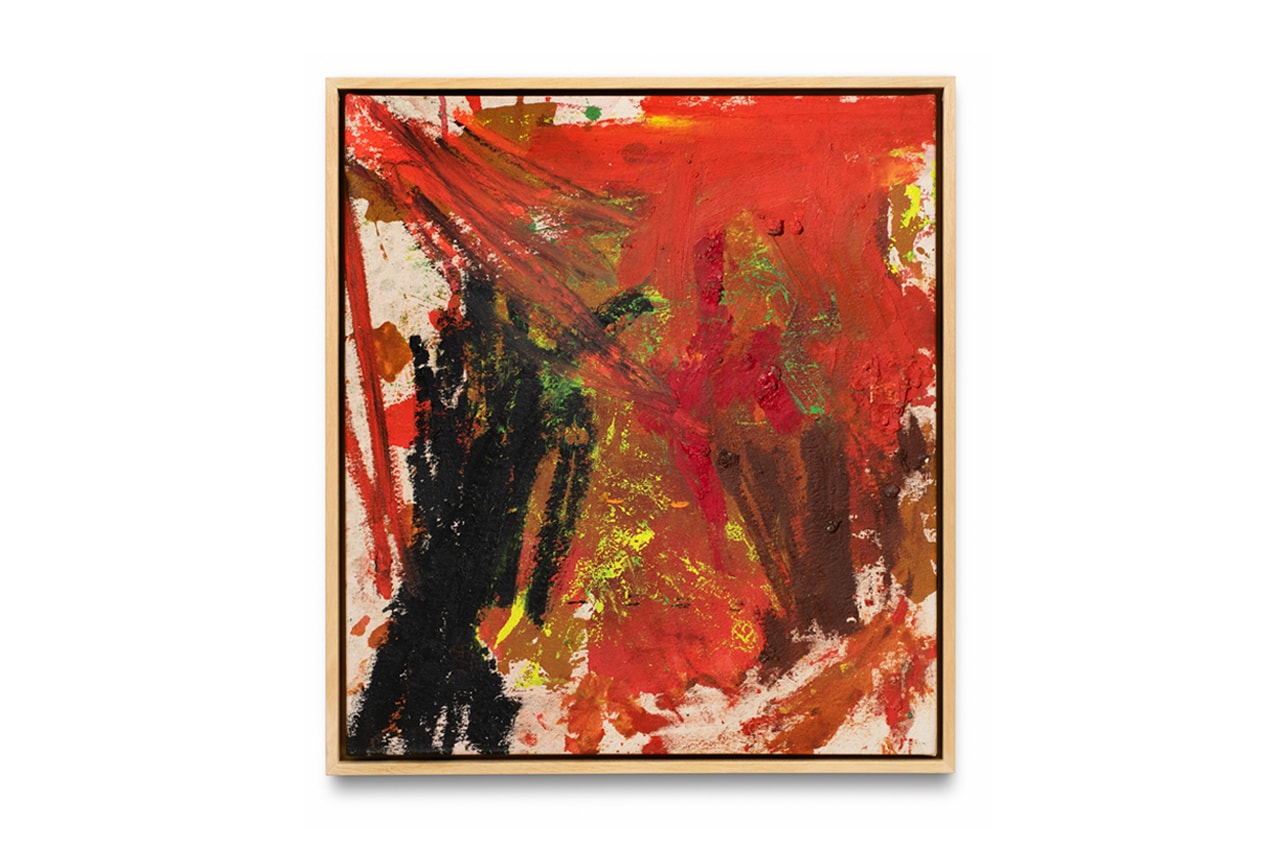 "There's just a real sense of community."
As one of the emerging creatives in the Midwest scene, who are some others in the community that you'd like to shout out or something about the arts community in Detroit that much of the West and East Coast overlooks?
I think being an outsider looking in right now, because I've only been in Detroit for about a year, I guess the one thing that I can really say without putting anybody or anything on the map is that Detroit has always had this really rich culture. It's always been one of the Blackest cities. I hadn't really been to Detroit when I was living in Ohio and having lived here, there's just a real sense of community.
I see a lot of artists who were born here and live here, really know a lot of each other and just about everybody. It's really amazing to see that and I'm just hoping to continue to live here and be a part of that culture as well.
Are there particular projects or exhibitions that you're working on now that you'd like to share?
I don't really have anything coming up right now, but really just constantly working. I'm just constantly tinkering around in the studio and hoping to further push oil sticks and pastels within my work.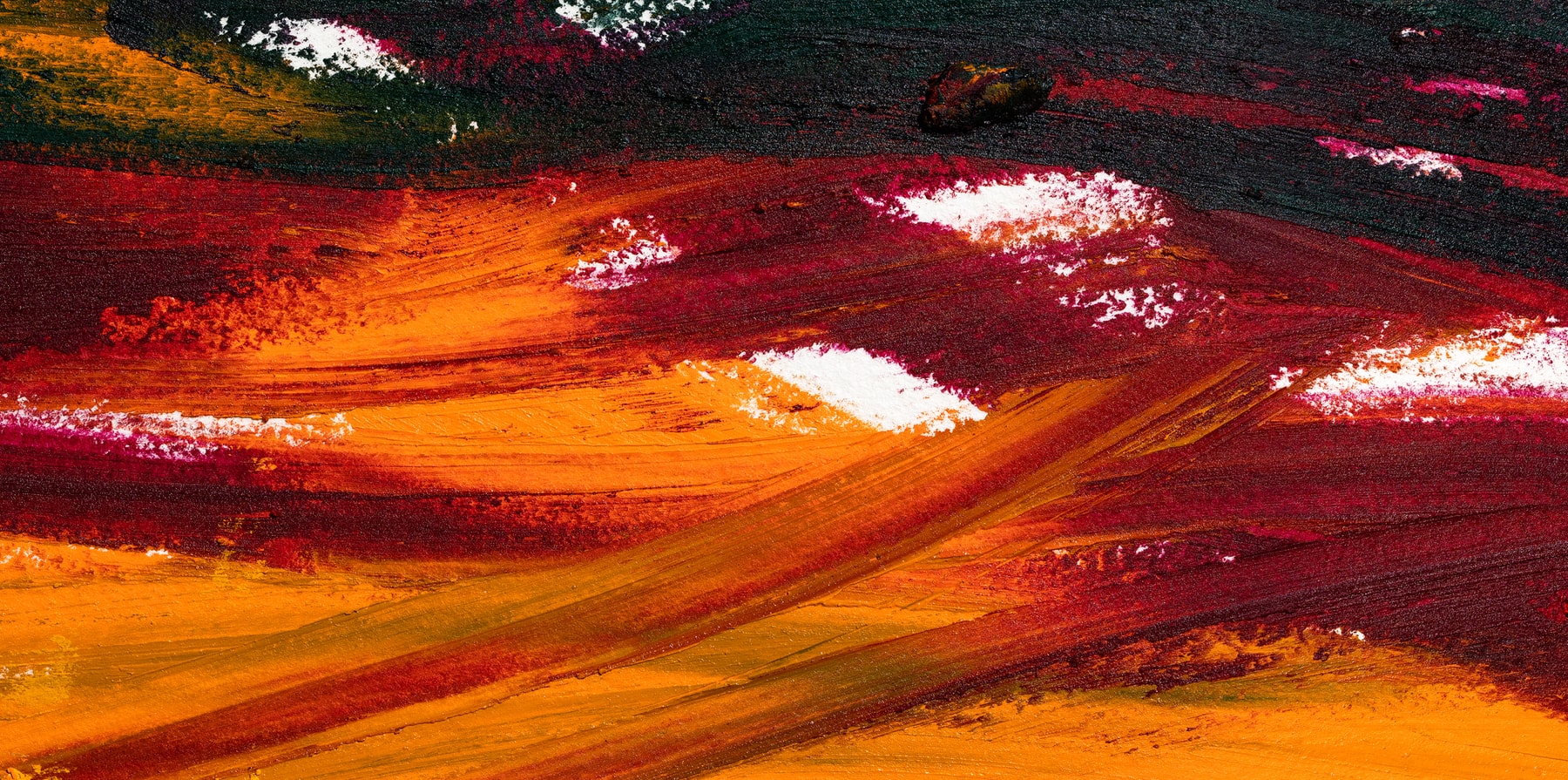 "The way that I'm making art now is based on a feeling and moment."
What's your process from earliest idea to execution?
The best way to describe it: It's really becoming more of a feeling lately than a full plan.
I know some painters like to do sketches ahead of time before they make the monumental painting. I just dive in. I started diving in and it works out a lot better that way.
I work on the floor sometimes too to give that impression that I won't be able to see the work right away until it's stretched and hung.
If you were to speak to your younger self or an artist who isn't quite sure whether to go all in, what would your advice be?
The way that I'm making art now is based on a feeling and moment.
I just think it shouldn't really matter. You should be able to just make the work. So many people worry about their futures. I could literally be in a shed somewhere and just make the work and not really care about what's going on.
A lot of this work has become very selfish of me. When I first started making art, it was really with the intention to have eyes on it. Now, the intention is to just make the work. I don't really care if there's eyes or not.
That's always the best work, the passion projects — work that comes from the heart or the unconscious.
Right and that's where the best work is made. You're so in-depth with the work and you're so in love with making it, that you don't care about everything else going on around you besides the work being made.
That's my advice is just take out a piece of paper, a pencil and just go.
Studio photos by Kai Newby. Artwork photos by PD Rearick. Courtesy of the artist and Library Street Collective.