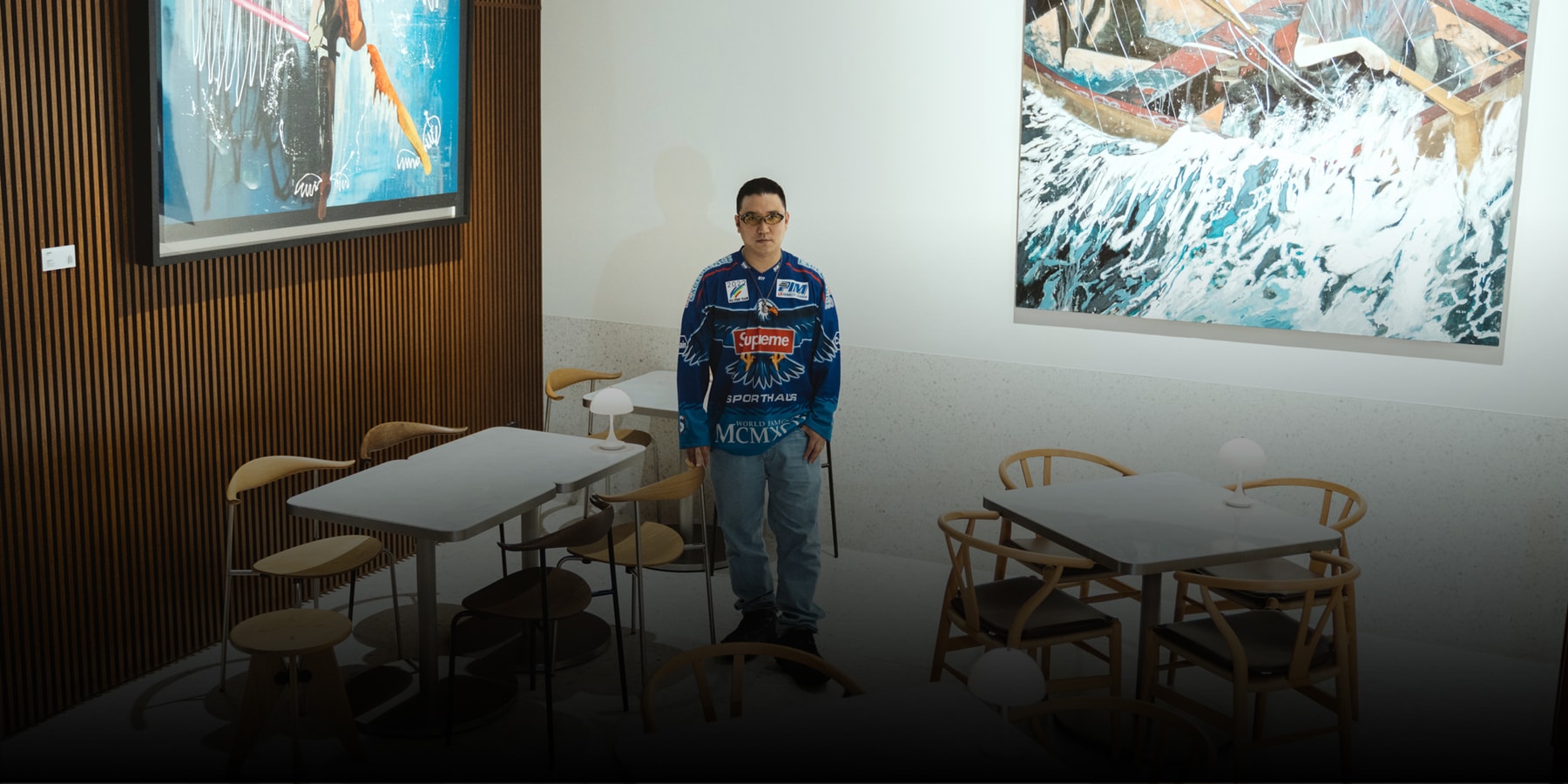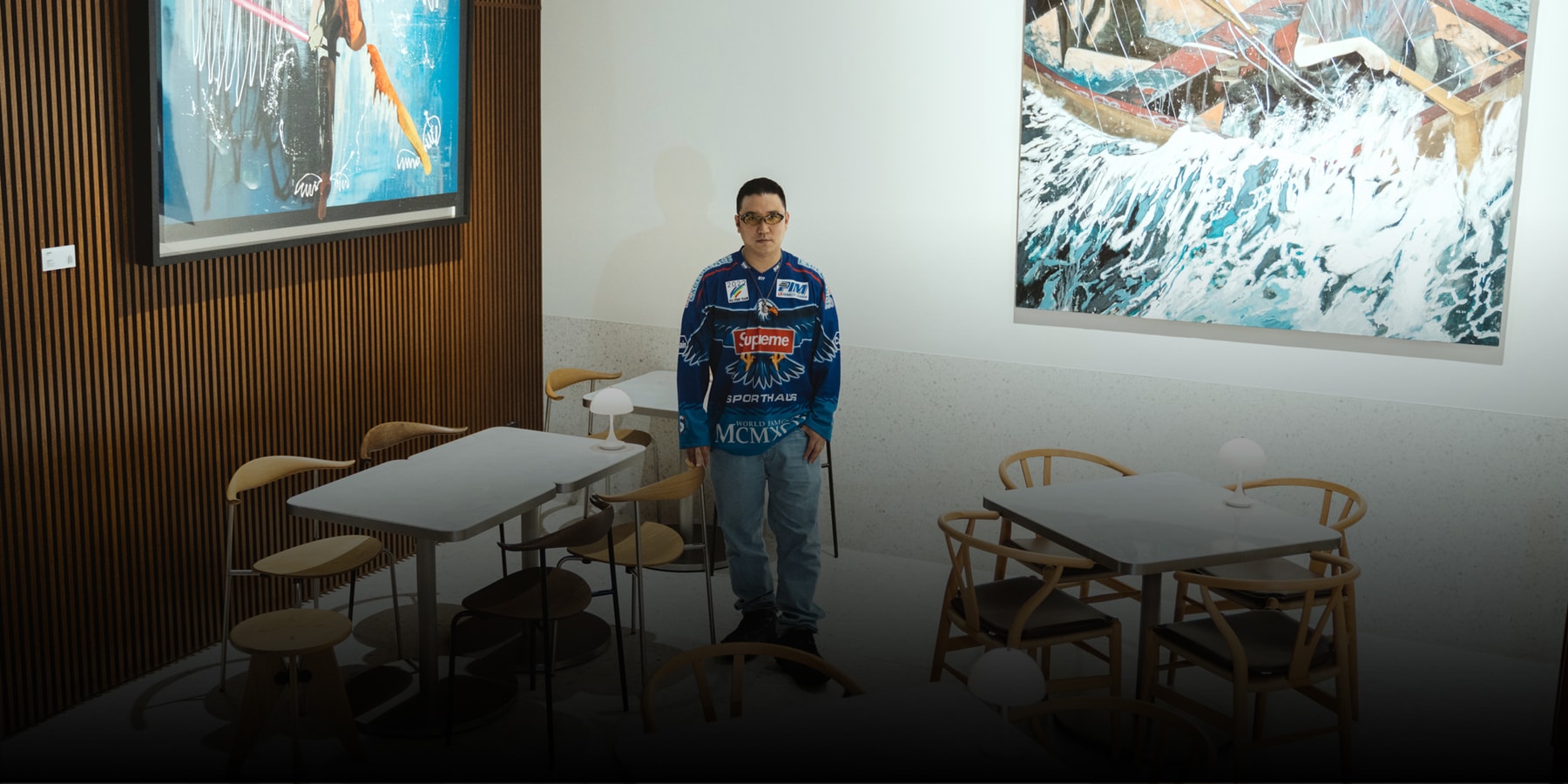 Collectors: Jun-sub Shim of OPNNG
'Collectors' journeys into the homes of fledgling and seasoned art buyers from across the globe. The ongoing series offers an intimate spotlight on a range of personal collections from hobbyist ephemera to blue-chip artworks — all the while dissecting an individual's specific taste, at-home curation and purchase trajectory.
Jun-sub Shim is the food and beverage entrepreneur and former fashion executive who is well-regarded for his prolific collection of Korean modern and contemporary art pieces. His collection encompasses roughly 100 works of art from the aforementioned genres and includes works by Dansaekhwa masters such as Lee Ufan, Chung Sang-hwa and Park Seo-bo. His penchant for collecting also expands to works by Korea's avant-garde pioneers like Lee Kun-Yong and Kim Ku-lim as well as contemporary artists Lee Bae and Kim Chong-hak. Rounding out his collection are several works by international contemporary artists such as Hernan Bas, Andy Denzler, Yayoi Kusama and Joel Shapiro.
Shim counts his seasoned experience in the fashion industry as being the catalyst to launch his interest in collecting works of contemporary art. Before launching his food and beverage ventures, Shim has spent over a decade overseeing Korea's biggest e-commerce fashion platform called MUSINSA where he continues to act as an advisor for the label.
In 2021, Shim opened his upscale wine bar called OPNNG that plays host to 500 different types of wine and a rotating curation of contemporary and modern Korean artworks from his personal collection. Resembling an art gallery more than a wine bar or restaurant, Shim has dedicated plenty of spaces inside the wine bar to mount a total of 12 to 13 works from his collection. While the artworks inside the space are constantly rotating, one work that will not be replaced is by the Korean artist, critic, philosopher, and poet Lee Ufan, which is located on the right side of the entrance. "This work is a red dot painted by Lee Ufan on the pottery of Park Young-sook, and I think it is perfectly in line with OPNNG's identity in that it is a 'artwork' in which the 'color of wine' is coated on the 'bowl,'" he says. "We sell wine and food, and we can appreciate art at the same time."
Apart from being an advisor for MUSINSA and an owner of OPNNG wine bar, Shim is now playing the role of a curator as he's busy planning a group exhibition this September in Korea. In light of Seoul's first-ever Frieze Art Fair, we connected with Shim to discuss his passion for collecting works by Korean artists, personal stories behind acquiring several highlighted works in his collection, and navigating the art industry as a whole.
Read our exclusive interview below alongside photographs of Shim and works from his OPNNG Wine Bar and storage space in Seoul.
1 of 3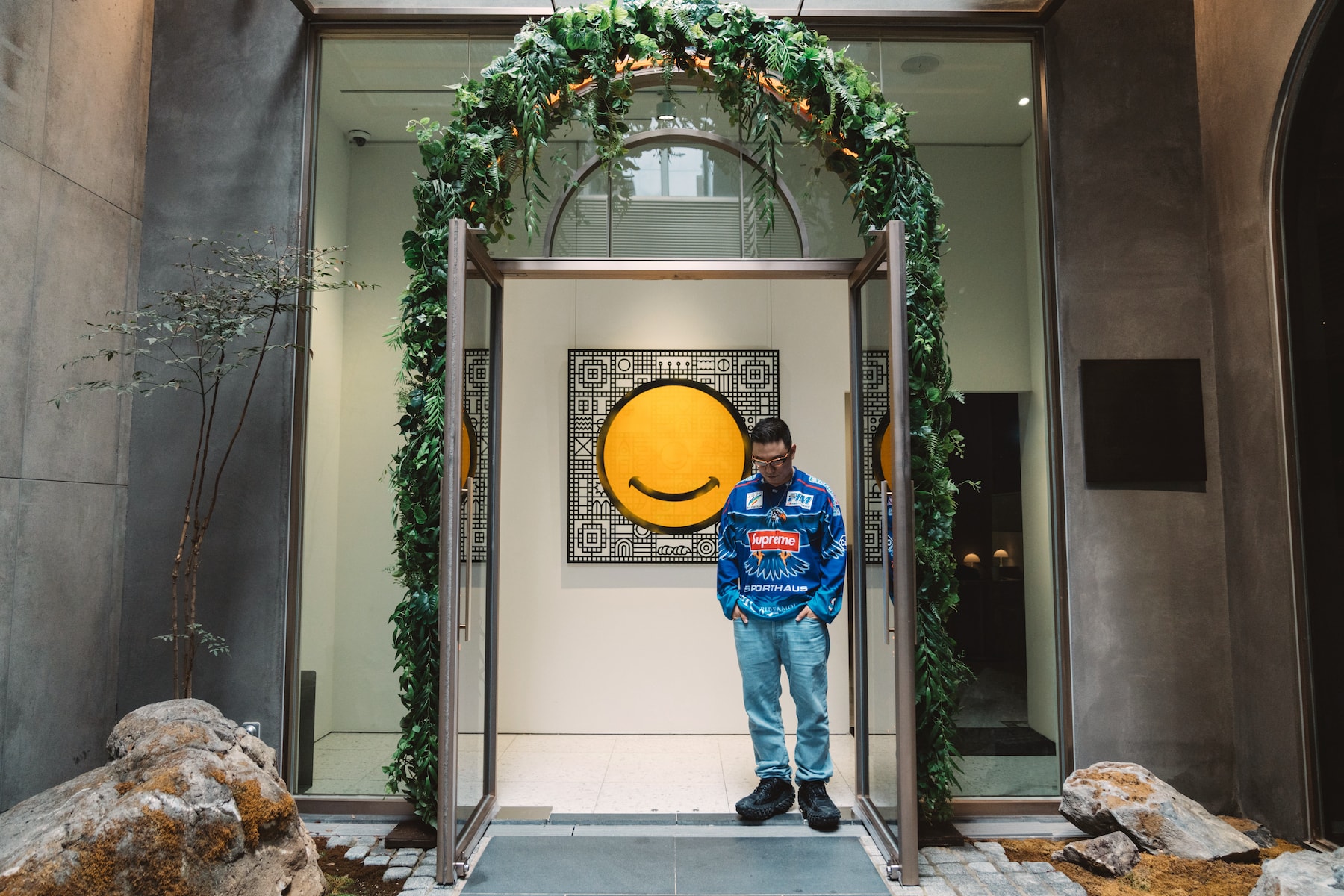 2 of 3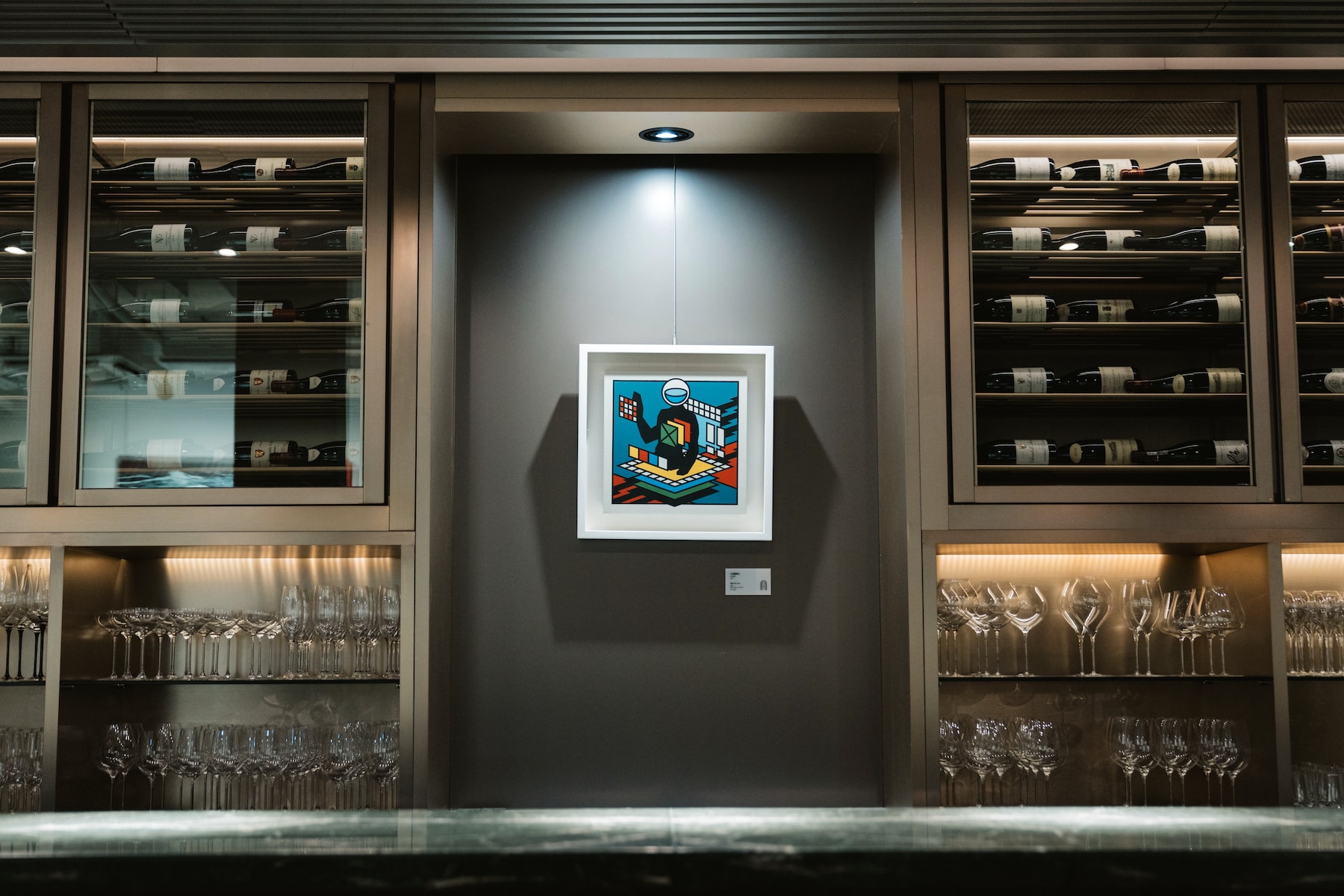 3 of 3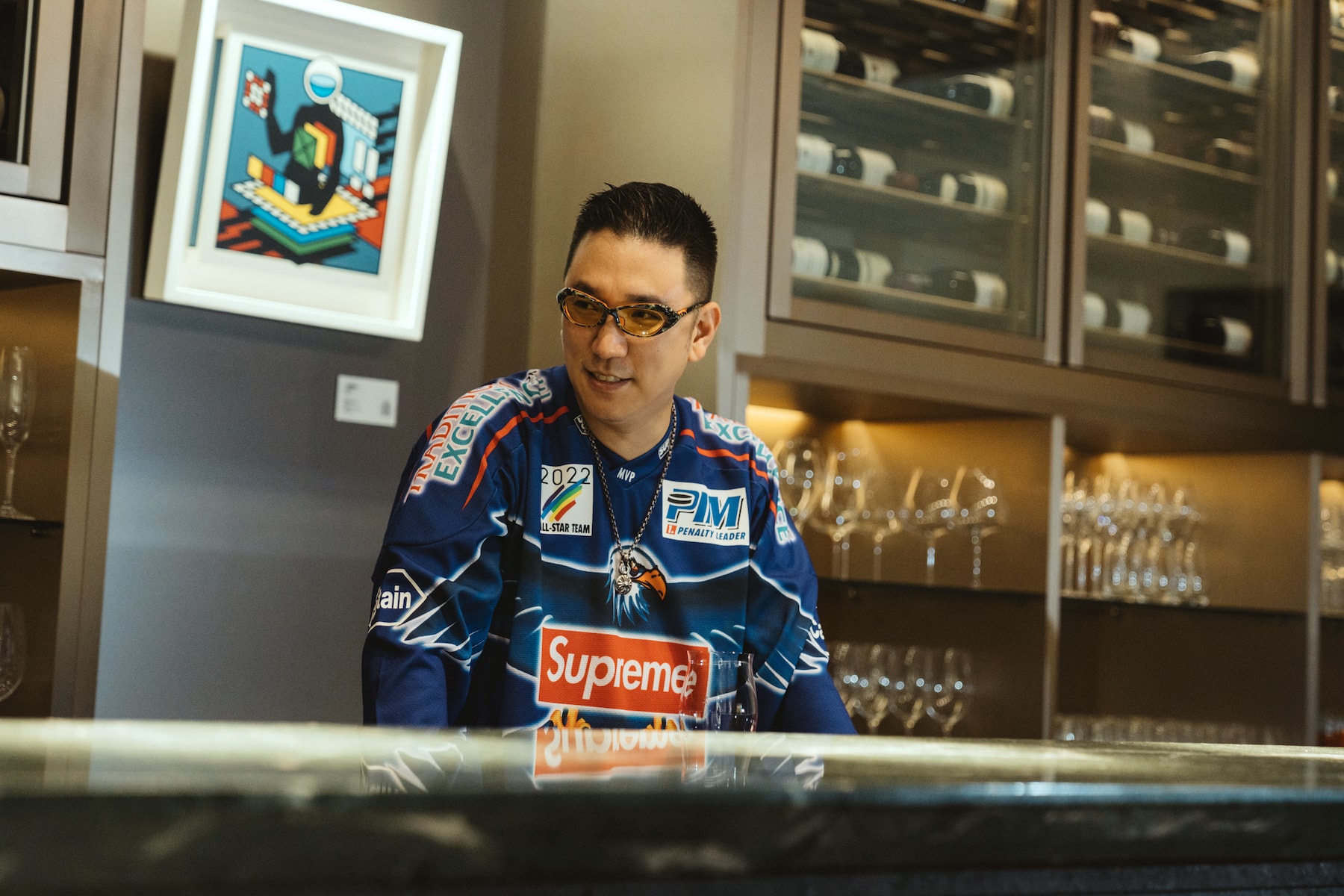 "I have enjoyed collecting since I was a child."
When did your collecting journey begin? Is there a specific artwork that propelled you to acquiring more works of art?
I have enjoyed collecting since I was a child. I collected plastic models, figures, sneakers, hats, glasses, and so on, until my first purchase of Ok Seung-cheol's artwork in 2018. He was an artist who was close with my friends in fashion, and I wanted to support his artistry by my purchase. What I didn't know was how famous he already was and that most of his uniques were sold pre-opening.
In contrast to my first purchase, the acquisition of my second piece by Park Seo-bo was solely driven by the energy I felt from the piece. At that time, knowledge of Park Seo-bo was not particularly high, yet his use of color and eccentrics in approach attracted a high volume of bidders. This work by Park Seo-bo, ECRITURE No. 040219, shows that even an artist born in 1934 can still have a strong resonance with the art market today.
Since winning that particular auction, I began to collect works by modern and contemporary Korean artists as aggressively as I could.
1 of 3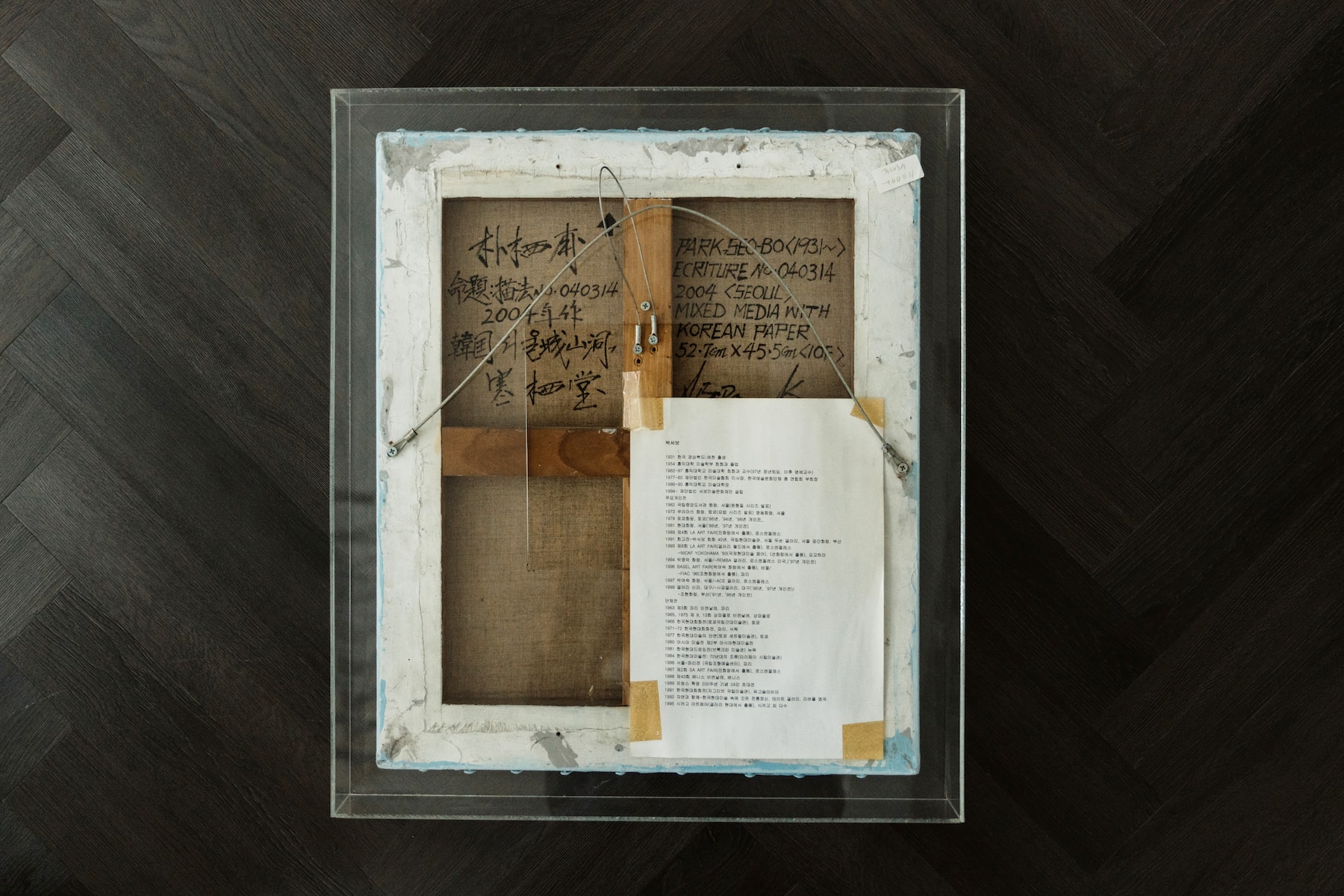 2 of 3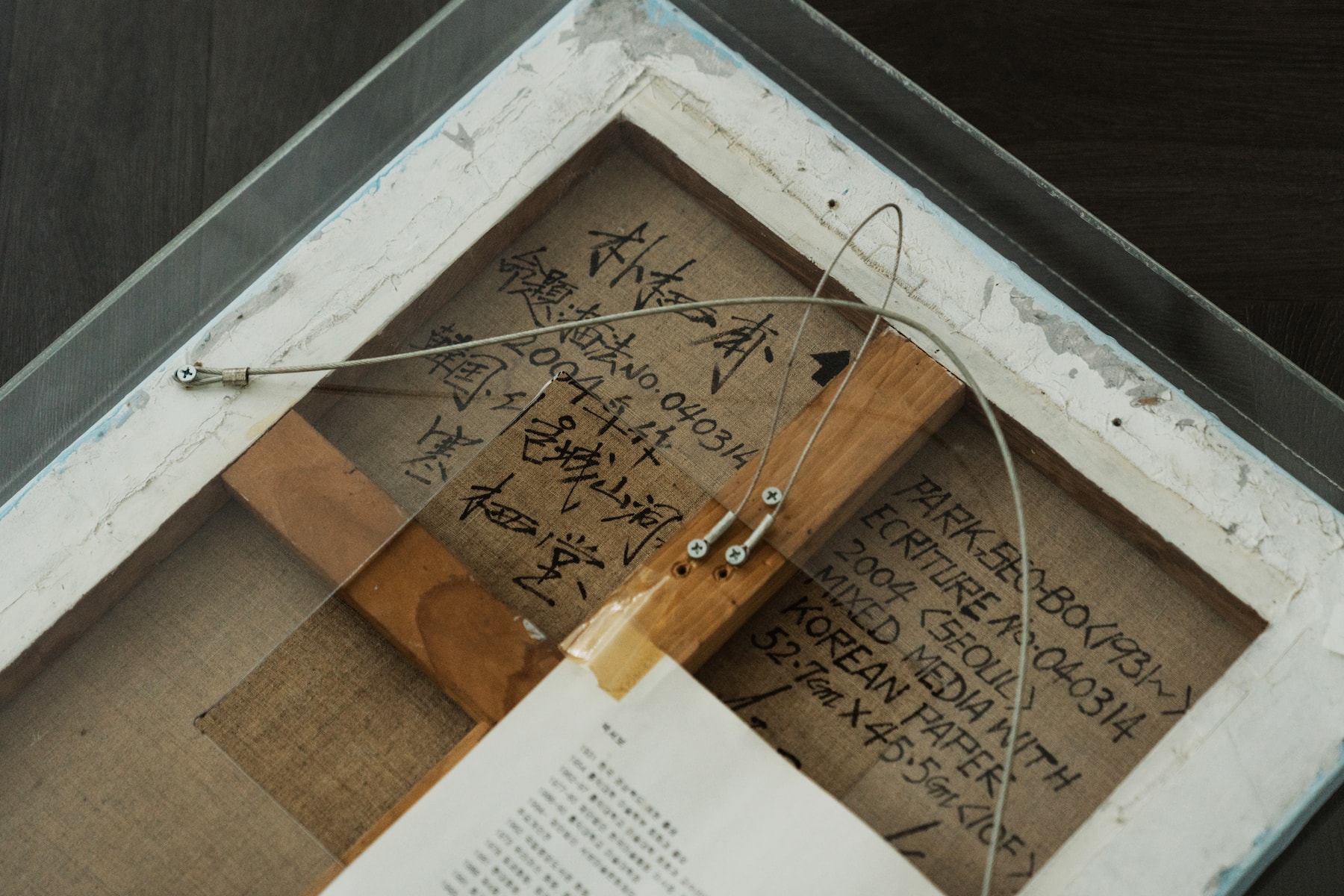 3 of 3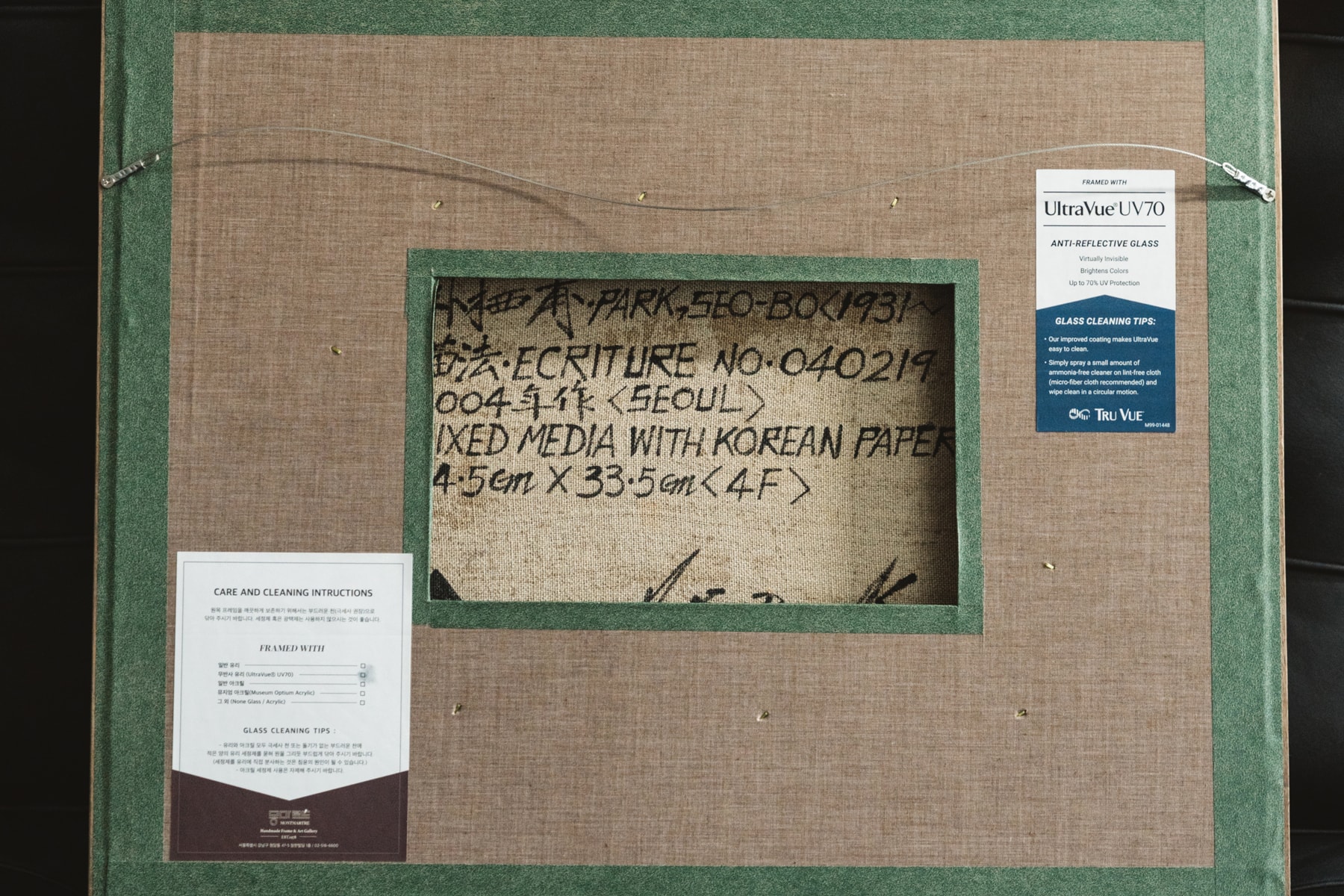 Art collectors have varying tastes and gravitate towards distinct pieces. Describe your collection and the artworks that attract you.
I am collecting works of various modern and contemporary artists who have developed Korean art history for a long time. On the other hand, I am collecting the works of young artists who live in my contemporaries who are in contact with the fashion and subcultures I love. I'm going to create a gallery one day and hold a permanent exhibition where these two kinds of collections can be presented at once.
I love all the works that I imported, but if I had to leave only one piece in my house, I'd choose Jeong Sang-hwa's 1973 piece. I was very impressed by Jeong Sang-hwa's exhibition at the Seoul Museum of Modern and Contemporary Art held in 2021, which included in the best mise-en-scène I witnessed while watching the exhibition. After discovering this work in the gallery by chance, I decided to buy it immediately, even though it was expensive but I'm proud that I did. Abstract paintings come in all shapes and forms, so therefore it's difficult to describe why someone may or may not gravitate to a particular piece. However, I get very happy whenever I think about this painting and really look forward to showing this work one day at OPNNG.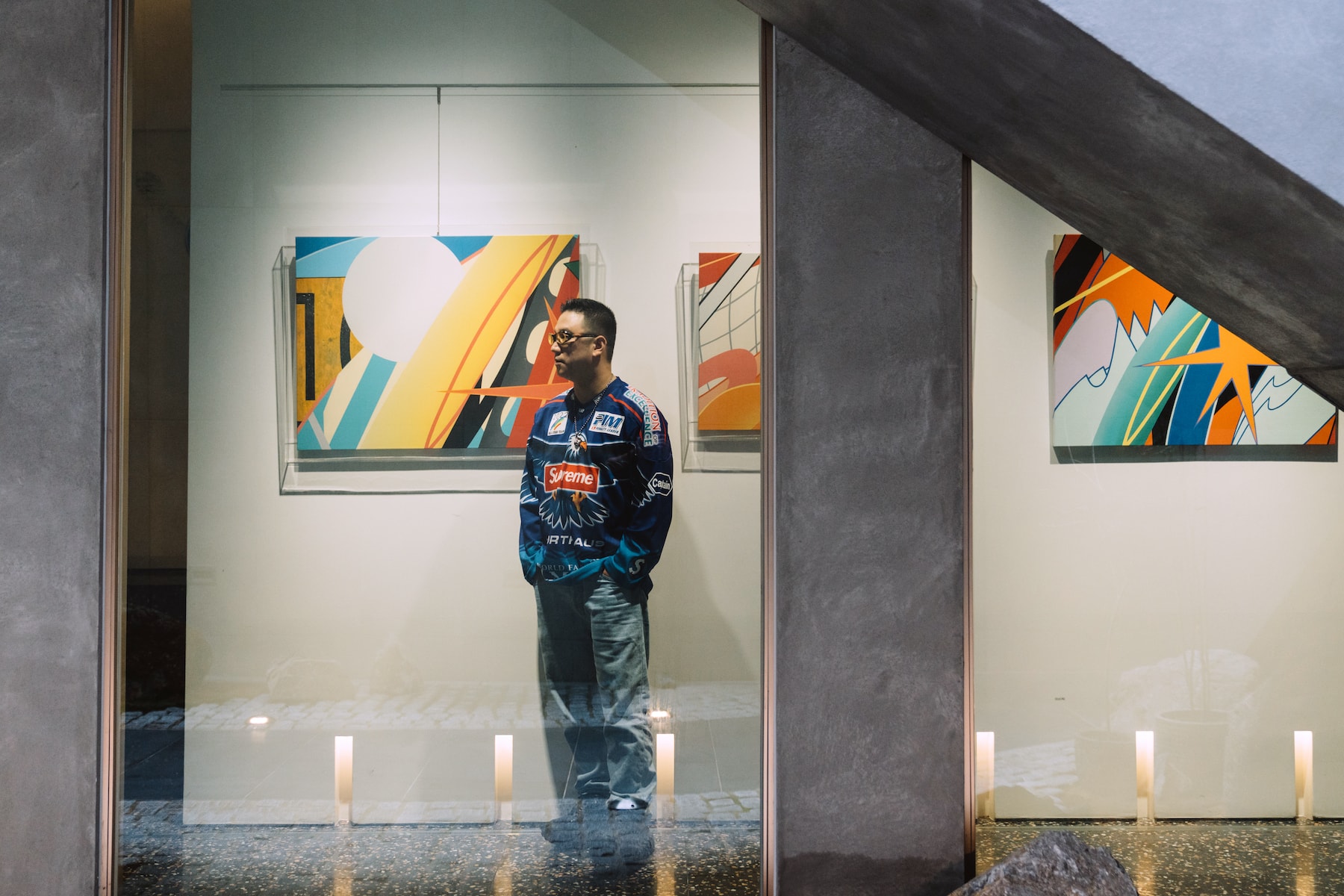 "I always think that all planning processes should be natural and professional at the same time."
It's mentioned in a recent interview that your collection predominantly includes works from Dansaekhwa masters such as Lee Ufan, Park Seo-bo and Chung Sang-hwa. Tell us about your fascination for the Dansaekhwa movement and the artists behind it.
I think I bought a lot of Dansaekhwa art because one of the first pieces of my collection was Park Seo-bo's. I became interested in collecting modern and contemporary art through Park Seo-bo, so naturally I became interested in the Dansaekhwa compositions. This fascination led me to study why artists painted their work in the way they did. I uncovered a common thread: It was a speculation that the fundamental goal of these works was to 'escape the artist's instinct as an artist to paint something artificially beautiful'. Since then, each Dansaekhwa artwork has felt like a trace and a process of their own efforts. The repetition of labor-intensive simple acts of pushing paint-soaked hanji with Park Seo-bo's fingers and the boring and excessive acts of filling, lifting, and refilling the canvas by Jeong Sang-hwa may have resulted in a 'monochrome' appearance.
But they are all beautiful. After all, my definition of the genre of Dansaekhwa is that "in expressing beauty, the result of each of the ways in which the ultimate people want to be free from the instinct to express beauty is still beautiful."
You have a profound collection mounted inside your OPNNG Wine Bar. What was it like curating your wine bar? Tell us about your preparation and process.
OPNNG's collection is 100% made up of my own personal collection. At the time of opening the store, there were three main goals and they are still maintained. The first is to fit well with the space where the artworks are placed, the second is to configure the customer's movement to make them anticipate the next artwork, and the last is to display artworks in moderation as much as possible. Therefore, it is most difficult to select the work by the entrance. Of course, a great piece should be hung, but if one that's responsible for the climax of the exhibition is hung, the interest in the rest of the exhibition decreases, and there is a limit to selecting such a piece within an individual's collection. The piece must fit well with our arch-shaped entrance, which is OPNNG's symbol, but also has to be in charge of the 'beginning' of the exhibition.
One can hang artwork at any restaurant. You can hang pictures or paintings, and they can be by famous artists, or products of the restaurant owner's hobby. I respect them all, but the difference between us and them is that OPNNG was conceived with the goals 'to hang paintings' and 'to open a wine bar' at the same time. Also, I always think that all planning processes should be natural and professional at the same time, and the interior design team called BY SEOG BE SEOG and the construction team called WYCOFF understood my natural will accurately and professionally implemented it.
1 of 3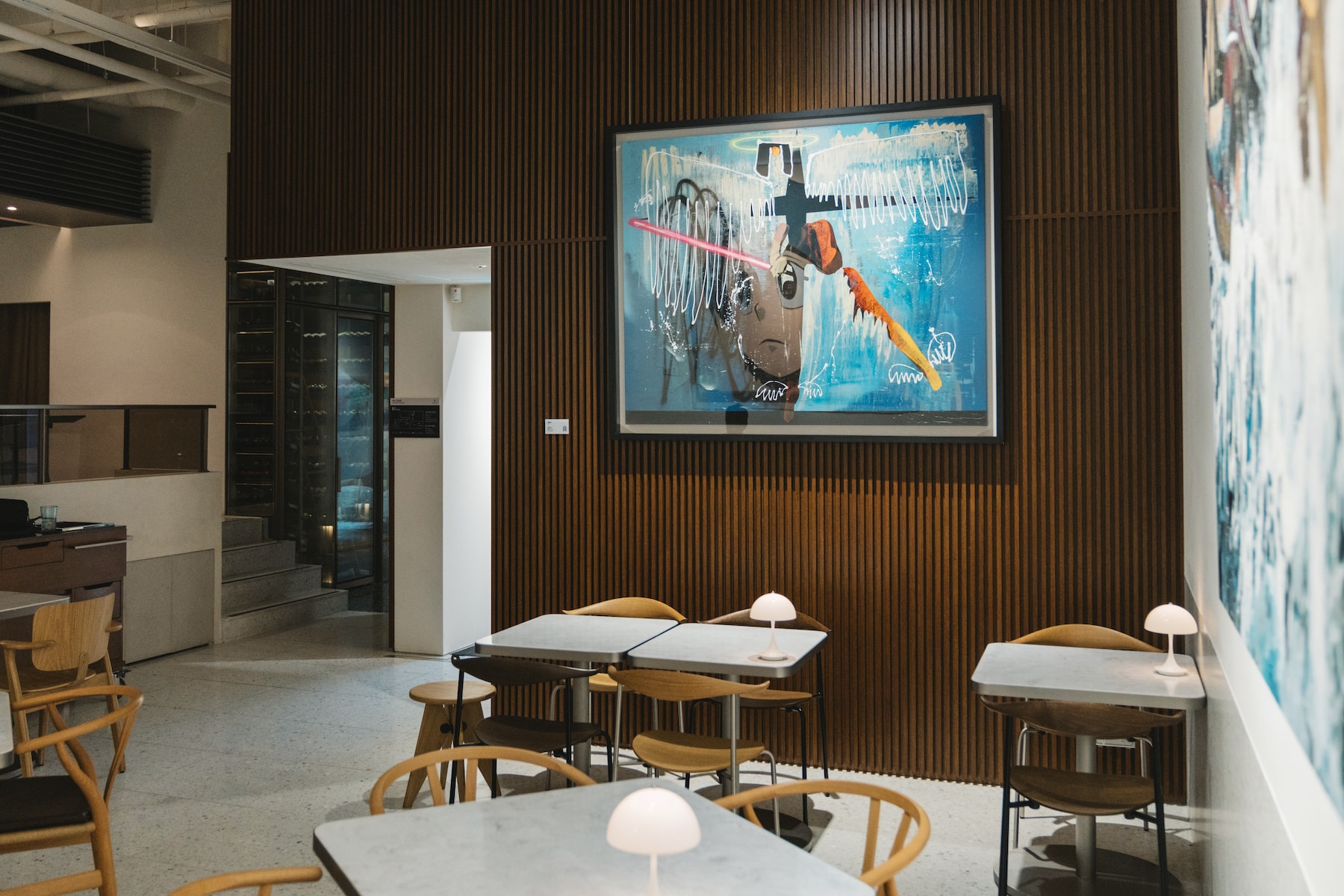 2 of 3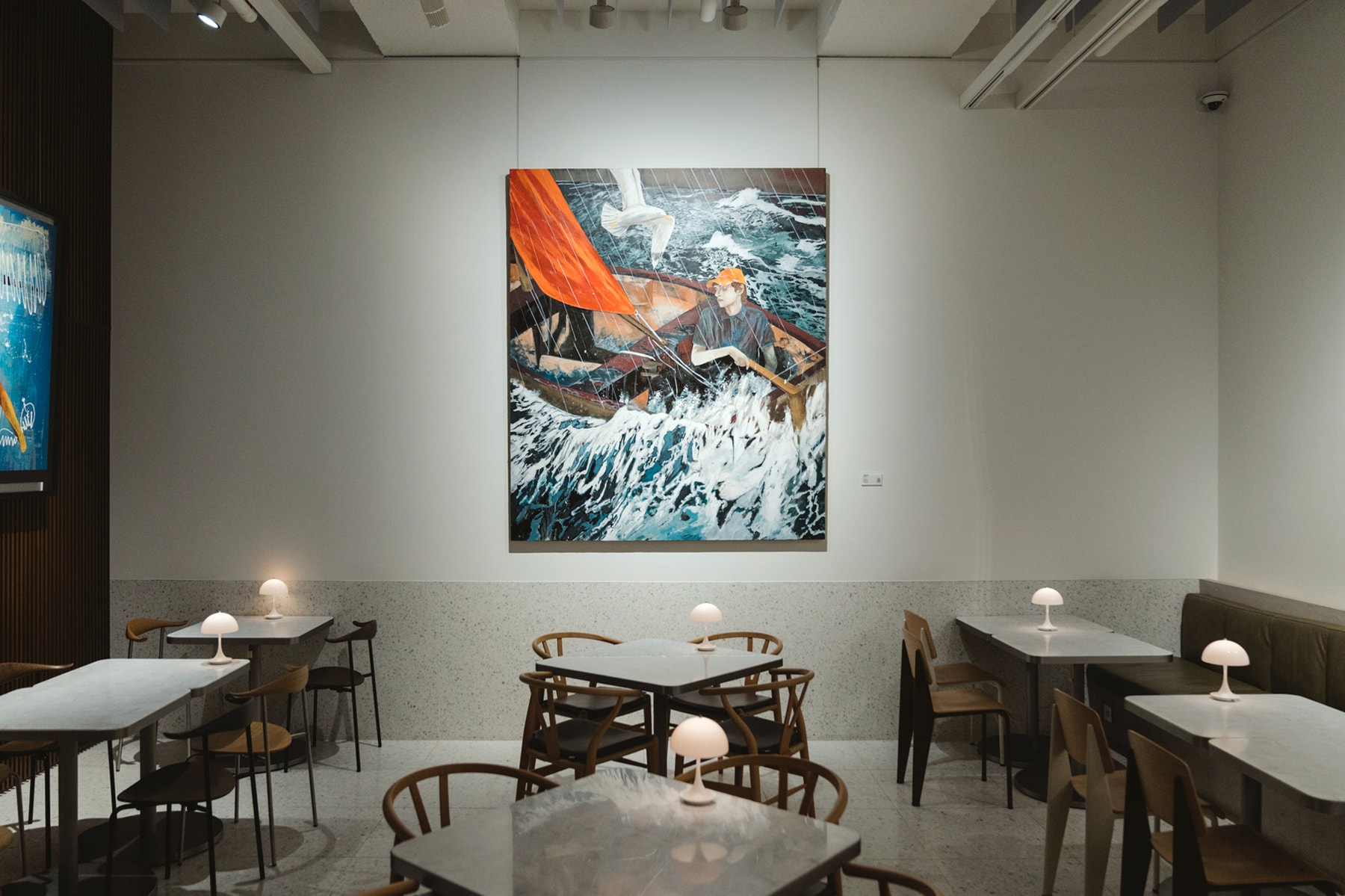 3 of 3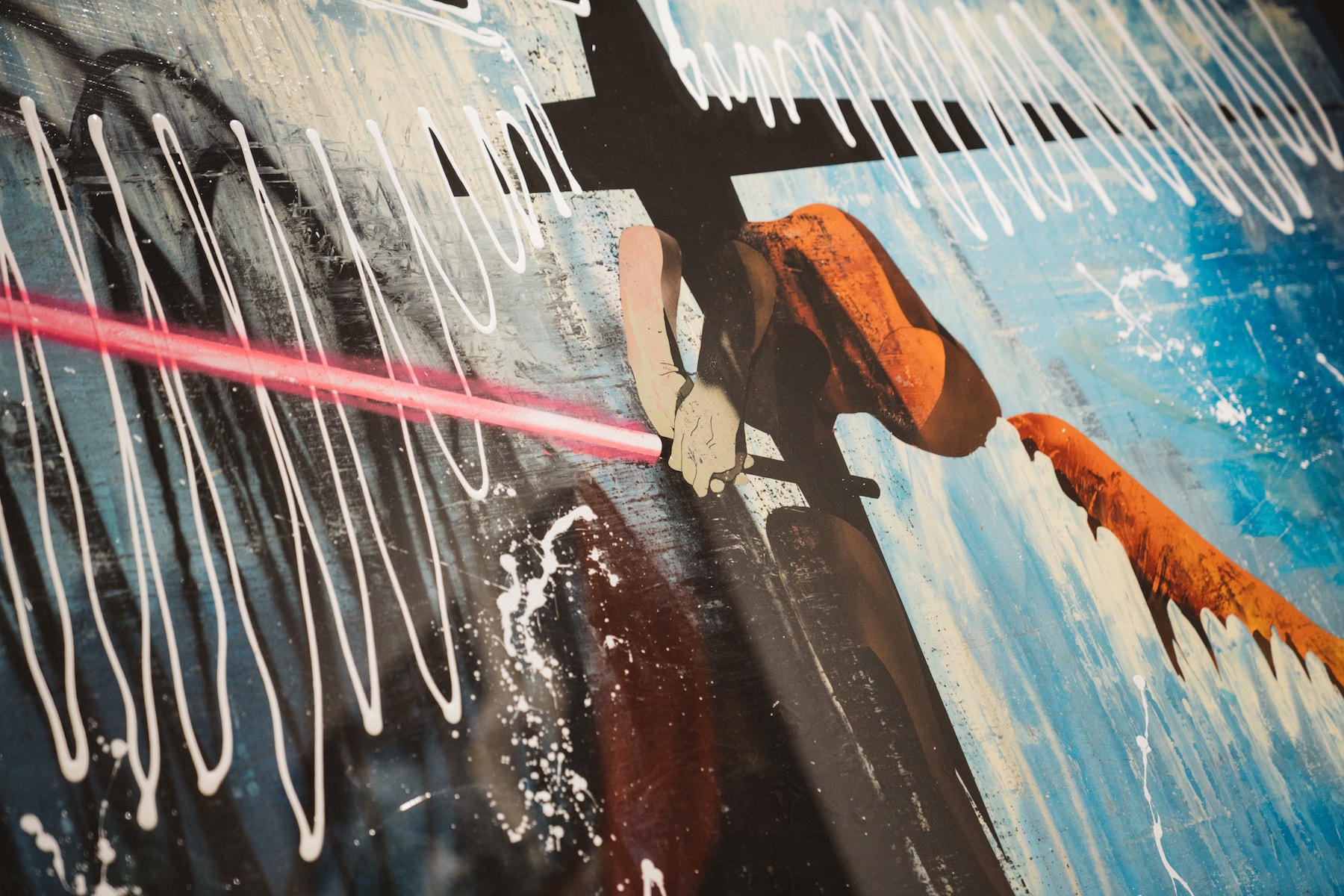 Could you please give us an introduction of the current exhibition at OPNNG this September?
If OPNNG has presented works by masters who have led Korean art history so far, this fall's exhibition is mainly composed of works by contemporary artists. Artists living at the same time are in charge of 'this moment' among contemporary artists and prolong the history of art. I wanted to collect their brilliant images and show them in one space. Also, I thought that various people could come and appreciate the works because the exhibition point overlaps with the time of Frieze and KIAF. As always, this is 100% my own collection, and you can see the works of GRAFFLEX, N5BRA, Hernan Bas, XEVA, SAMBYPEN, Kim Seung-hyun, and Friedrich Kunath.
How many pieces are inside your wine bar? Could you please tell us some of the highlighted artworks by name and by the artist who made them?
I like all the works installed in the exhibition, but hanging the works of Friedrich Kunath and Kim Seung-hyun together in the private room is the most experimental installation.
Friedrich Kunath is already a world-famous contemporary artist, but Kim Seung-hyun is still not well-known in Korea. Kim Seung-hyun has a series of works called BORN SERIES, which is completed by writing only the text, "I WAS BORN TO DECORATE YOUR LIVING ROOM WITH YOUR (ARTIST NAME)" on the canvas. For example, you can do Lee Ufan and Gerhard Richter.
The artist's works, which contain a rather amusing notion that the canvas itself was born to be next to a particular artist's work, have a rule that never rework with the same writer, same size, same color, because a work that already meets three conditions can never be painted again.
I decided to hang the work of Friedrich Kunath, and at the same time, I asked Kim Seung-hyun to do a commissioned piece. I WAS BORN TO DECORATE YOUR LIVING ROOM WITH YOUR FRIEDRICH KUNATH was born next to Friedrich Kunath, but it's a piece of imposing conceptual art and is installed with an independent caption. I hope that the works of two contemporary artists who live at the same time, but are completely different in composition, concept, age, and even fame, will be delivered to those who watch the exhibition as a scene where they cooperate and exchange energy.
1 of 4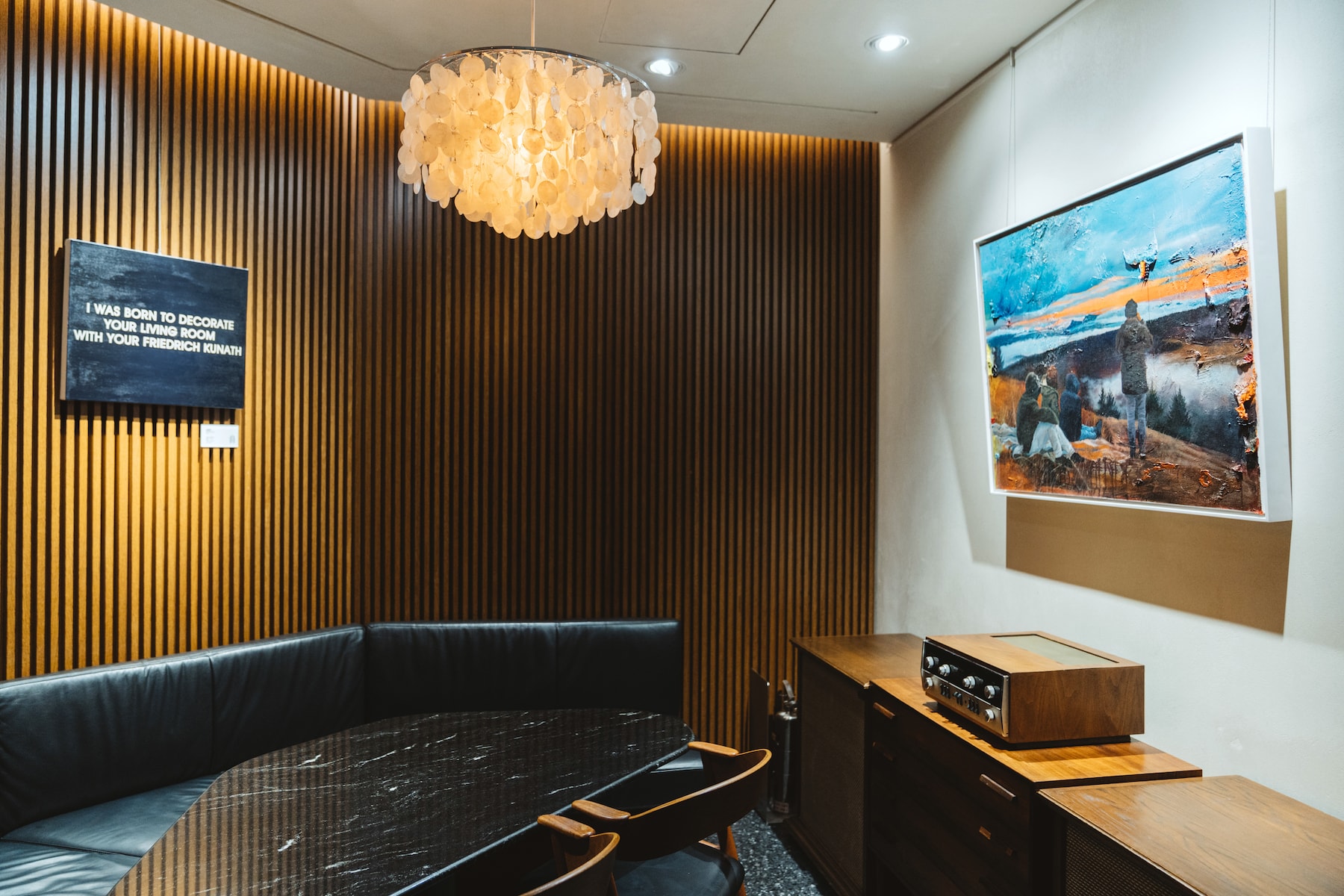 2 of 4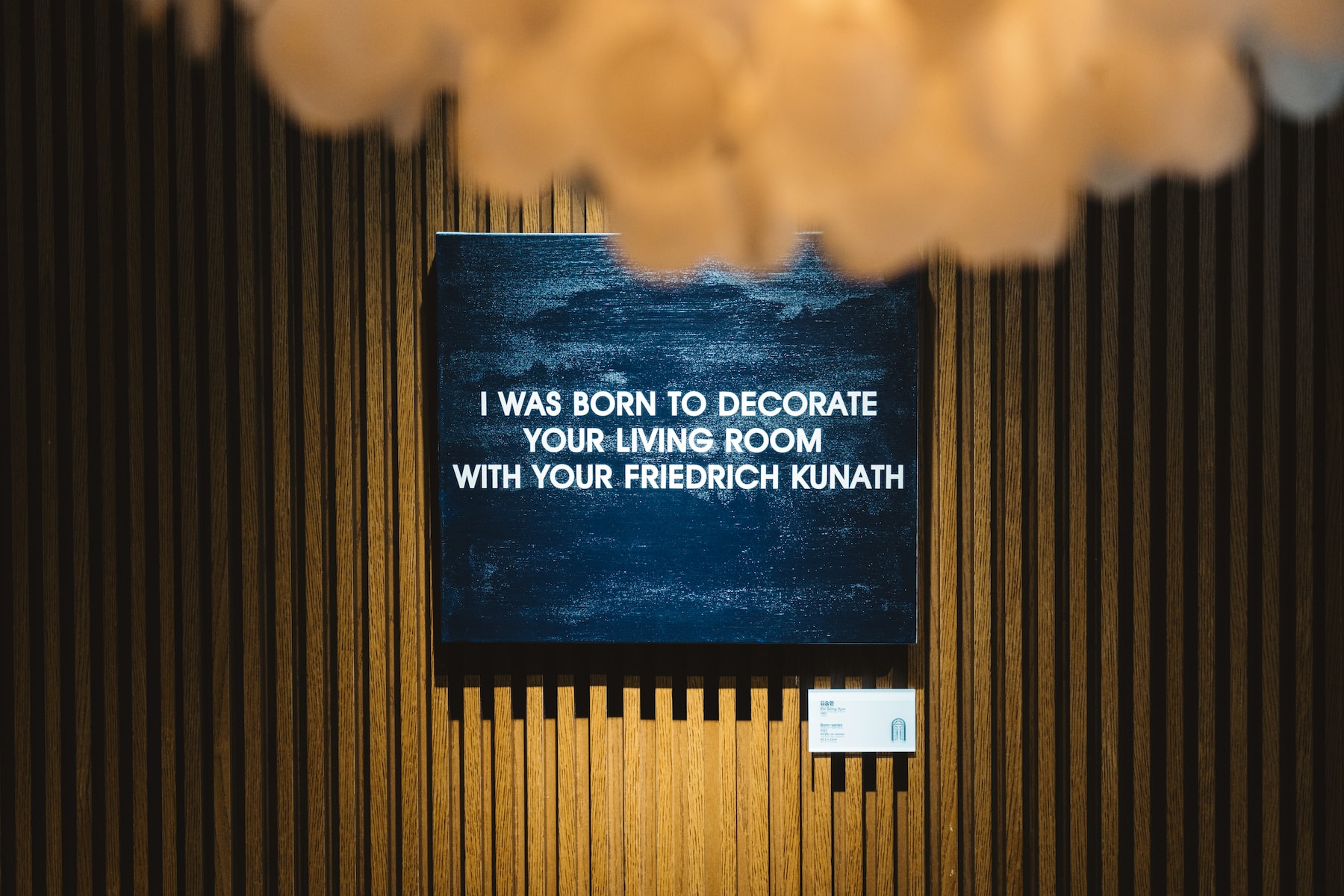 3 of 4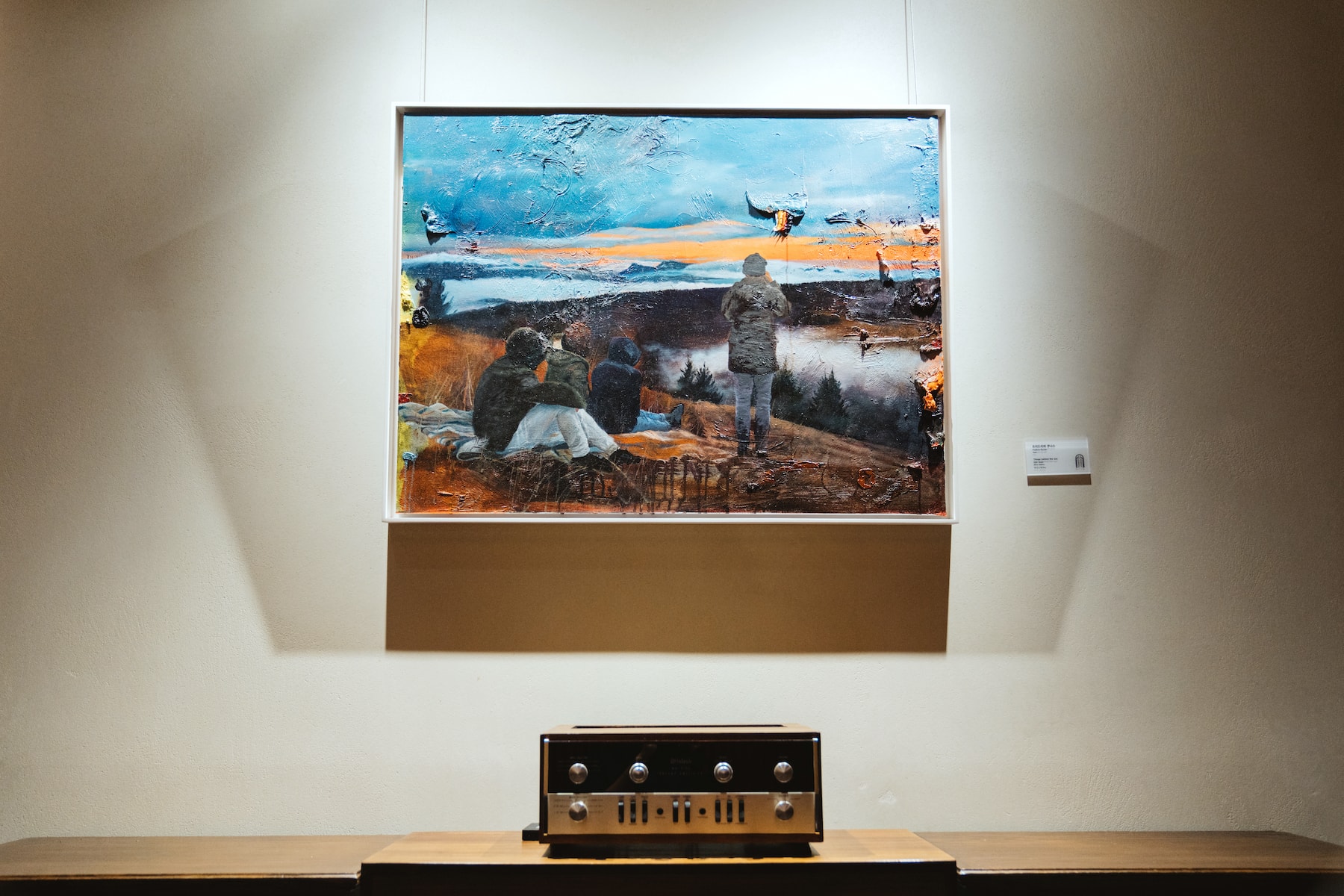 4 of 4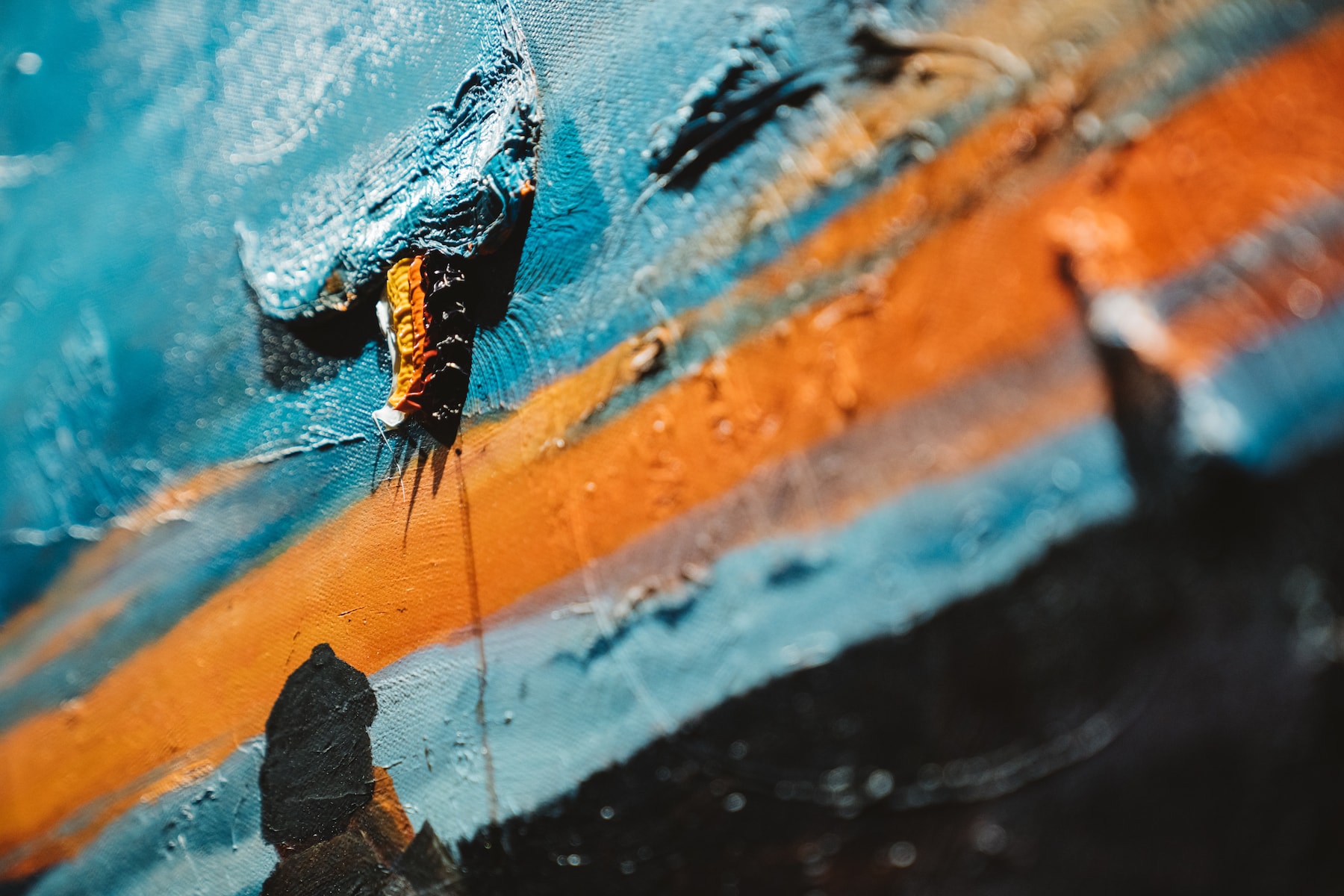 "'What kind of collector am I?' and the answer I still give myself is 'A person who collects modern and contemporary Korean art.'"
Do you find it important to collect works that are both old and new? If so, why?
I think collecting works is an act of solving both aesthetic and collection needs. I often ask myself, 'What kind of collector am I?' and the answer I still give myself is 'A person who collects modern and contemporary Korean art.' Since I am a collector of Korean art, I naturally became interested in important works in our art history, and as a result, I have collected works of Gyeomjae Jeongseon and a certain Byeon Gwan-sik.
I think collecting antique art is an important quality to have in becoming an experienced collector.
Describe the works in your storage space. What are you planning on doing with these pieces? Do you ever swap these with ones in your home?
It hasn't been long since I rented the storage room. I'm filling it up by transferring the pieces that were presented in OPNNG. So the works that are in the house, office, OPNNG, gallery, and auction storage (not yet claimed) go through OPNNG and then moves to the rental storage unit when we decide to replace them.
1 of 4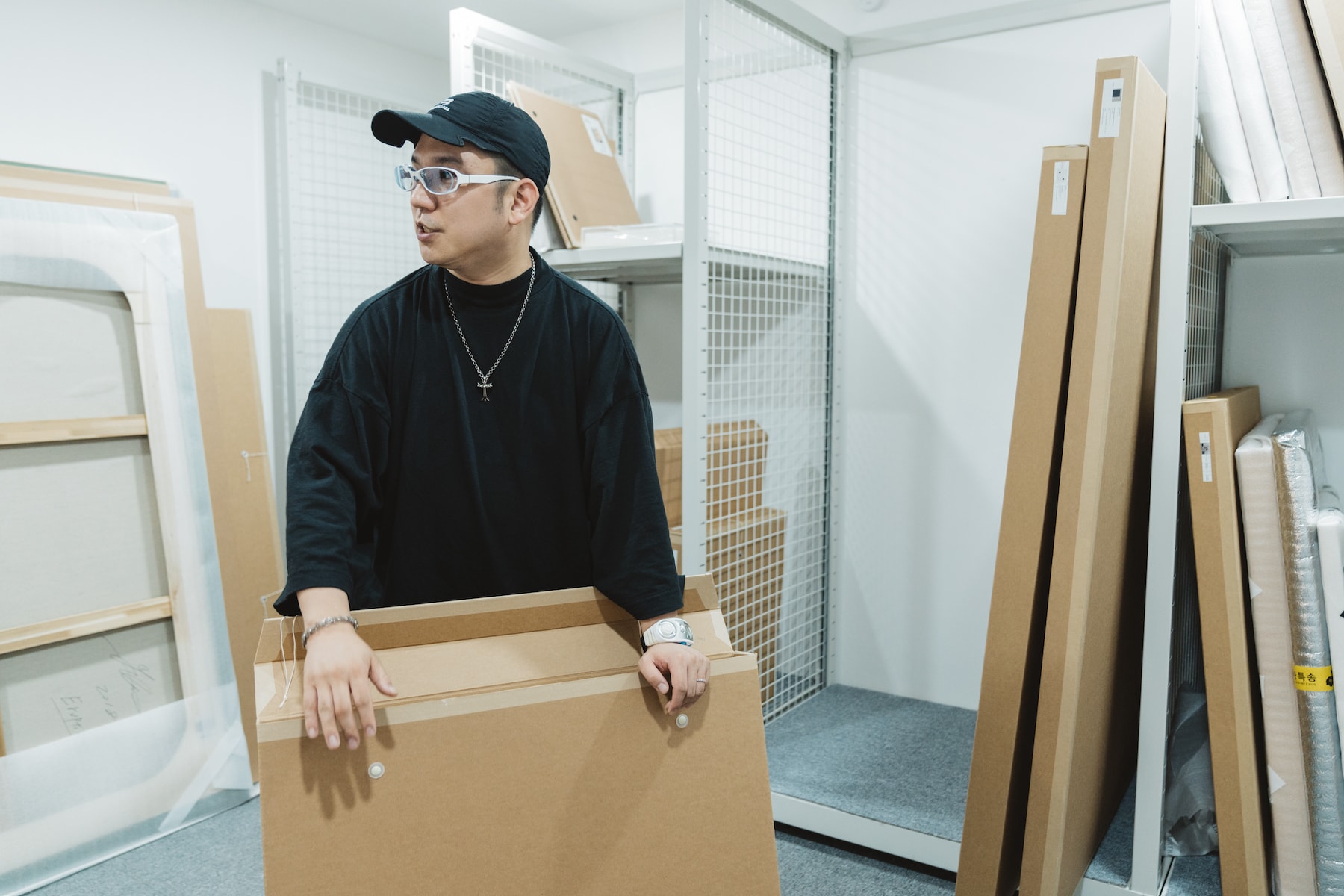 2 of 4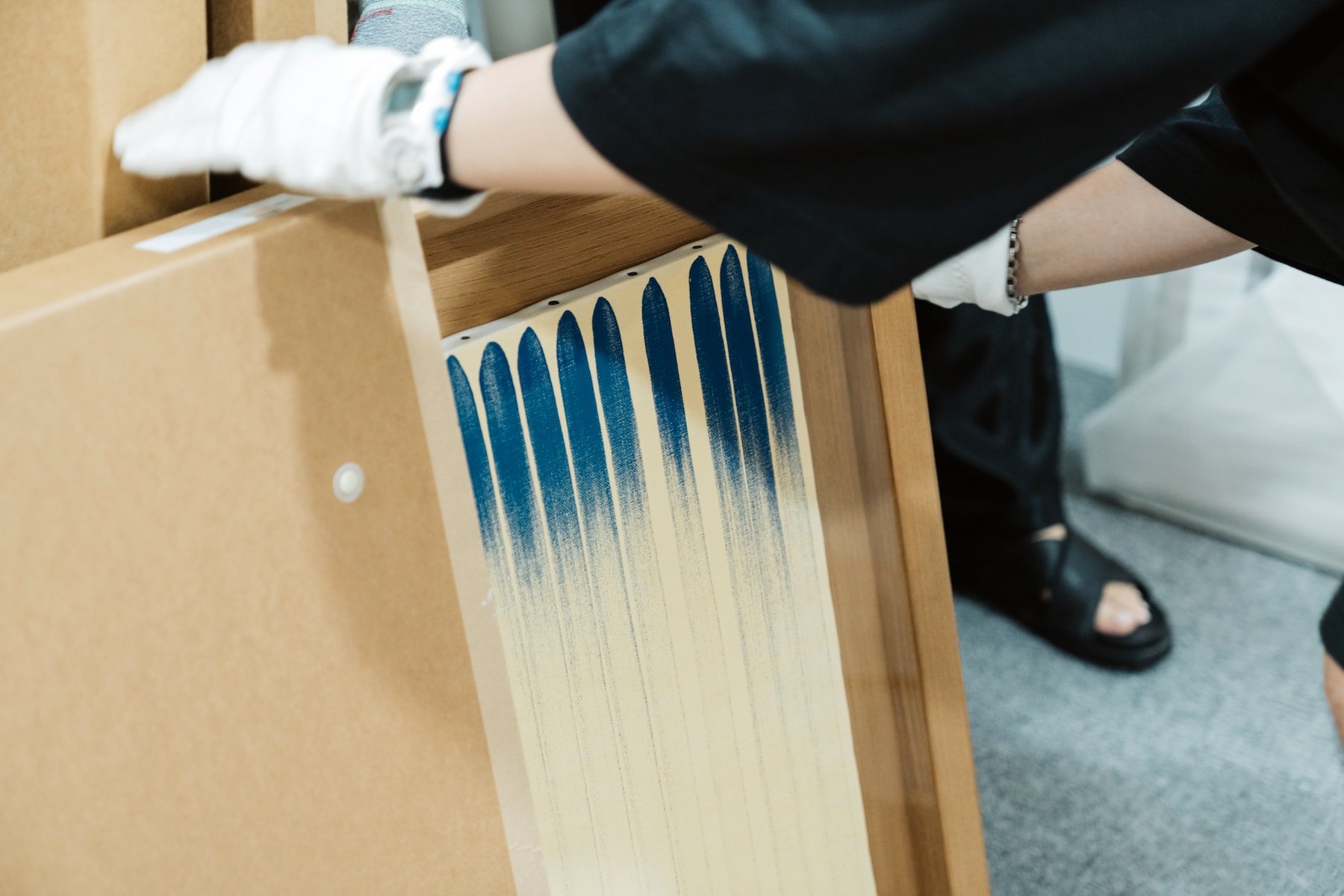 3 of 4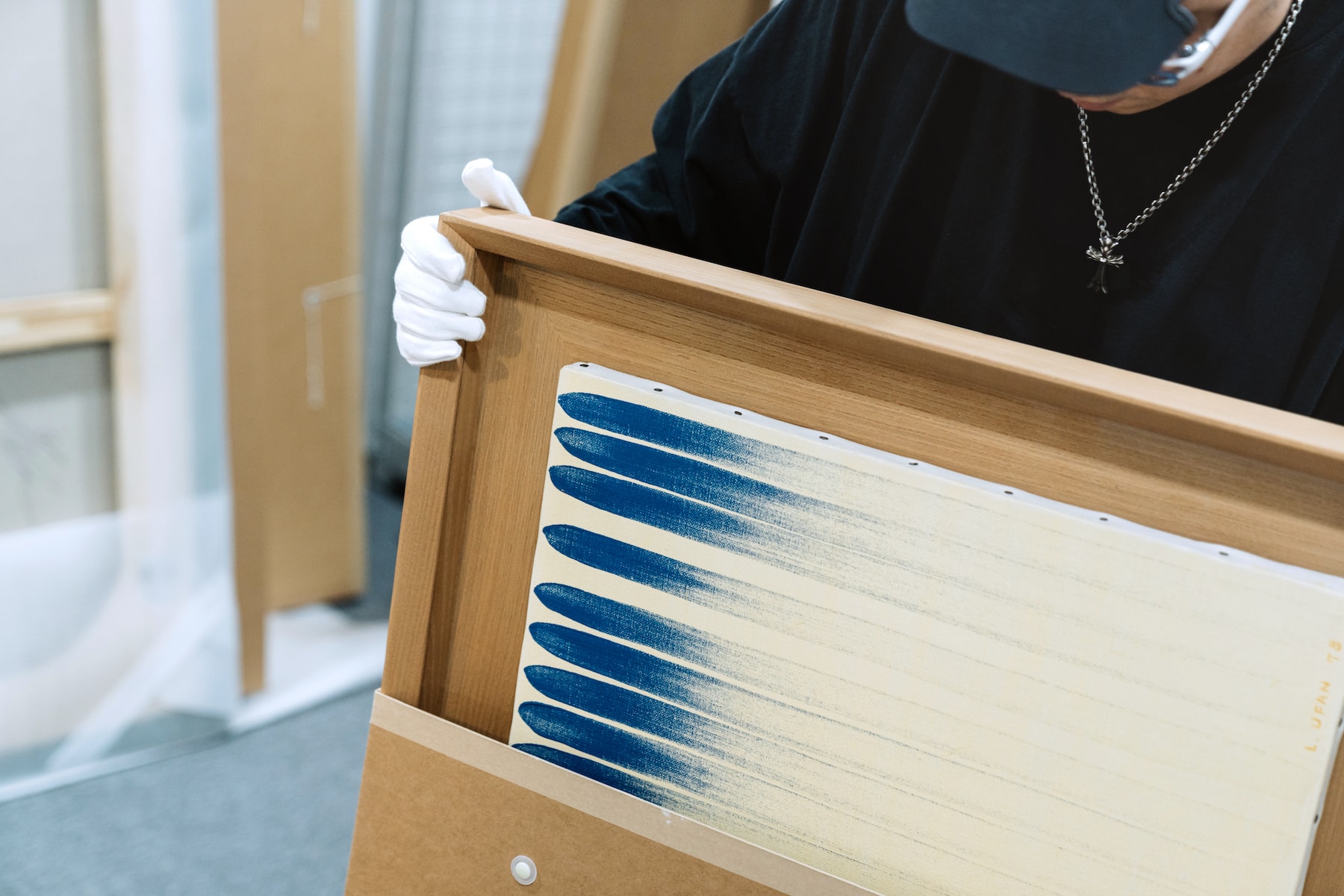 4 of 4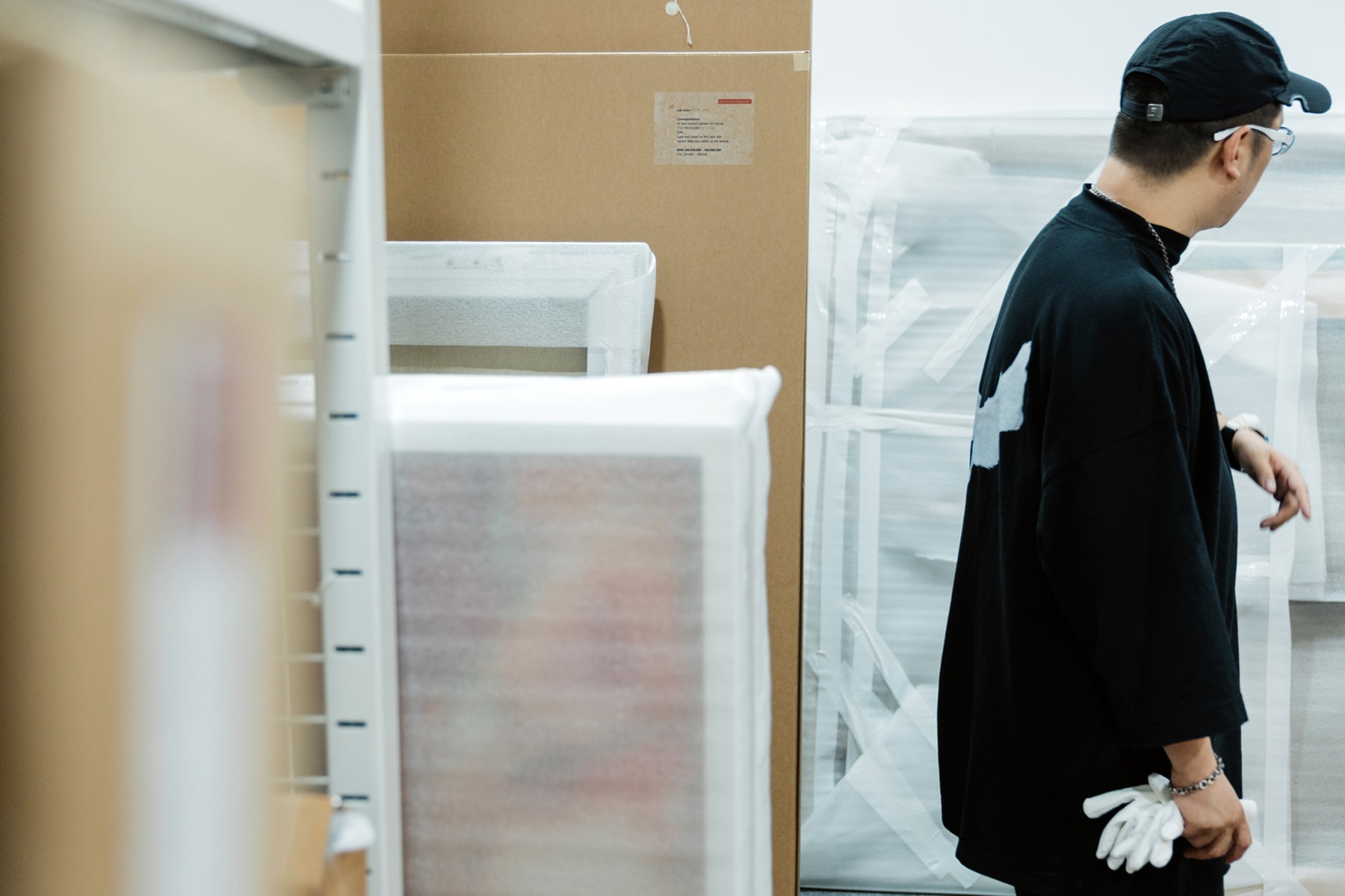 You also collect works by international contemporary artists such as Hernan Bas, Andy Denzler, Yayoi Kusama, among others. As a collector, how do you keep up with art market spaces from across the globe? Which outlets or galleries do you find yourself returning to the most to check out new works?
I'm basically a collector of modern and contemporary Korean art, so I'm not interested in all the artists around the world, or I don't think it's possible to collect everyone. However, I look around the works of artists who are paying attention in the global art market and sometimes buy works of artists who are touching my heart, and I think the best place is the domestic and foreign fair. Both Hernan Bas and Andy Denzler's works were also purchased at a domestic fair. Recently, galleries in Korea, art galleries, or overseas galleries in Korea are holding good exhibitions. The most impressive exhibition was Daniel Buren's exhibition at the Daegu Museum of Art. I had the opportunity to attend the opening and have dinner together, and I could see the true nature of the master in paying attention to the details of the exhibition until the end.
It is of course good to tour galleries or look around art fairs while traveling abroad, but there are many cases where conditions are not available. In that case, I look around the works through Instagram. I think the indirect experience of appreciating works through Instagram and web surfing is very important in that it provides the will to see this work in real life, although it is very unfortunate that you can't see the texture in real life.
Domestic works are often introduced through Gallery Stan, which introduces Gallery Hyundai, international galleries like Kukje Gallery, and young artists, but overseas artists and works are often introduced through the 313 Art Project, which operates galleries in Paris and Korea at the same time. In particular, I recently purchased works by Friedrich Kunath and Xavier Veilhan through the 313 Art Project and even had the opportunity to meet the artists through the actual galleries in Basel and Paris, which gave me a lot of excitement.
"I think this concern about 'harmony and balance' is also a factor that fashion and art are very closely connected."
Collectors usually loan works to museums or galleries. Have any of these pieces in your storage been featured in another space apart from their initial showing? Tell us about the provenance of a particular work in storage.
Not many, but Park Seo-bo's Ecriture No.1-79-81 in 1979 was rented to an exhibition at the National Museum of Modern and Contemporary Art located within the Deoksugung Palace.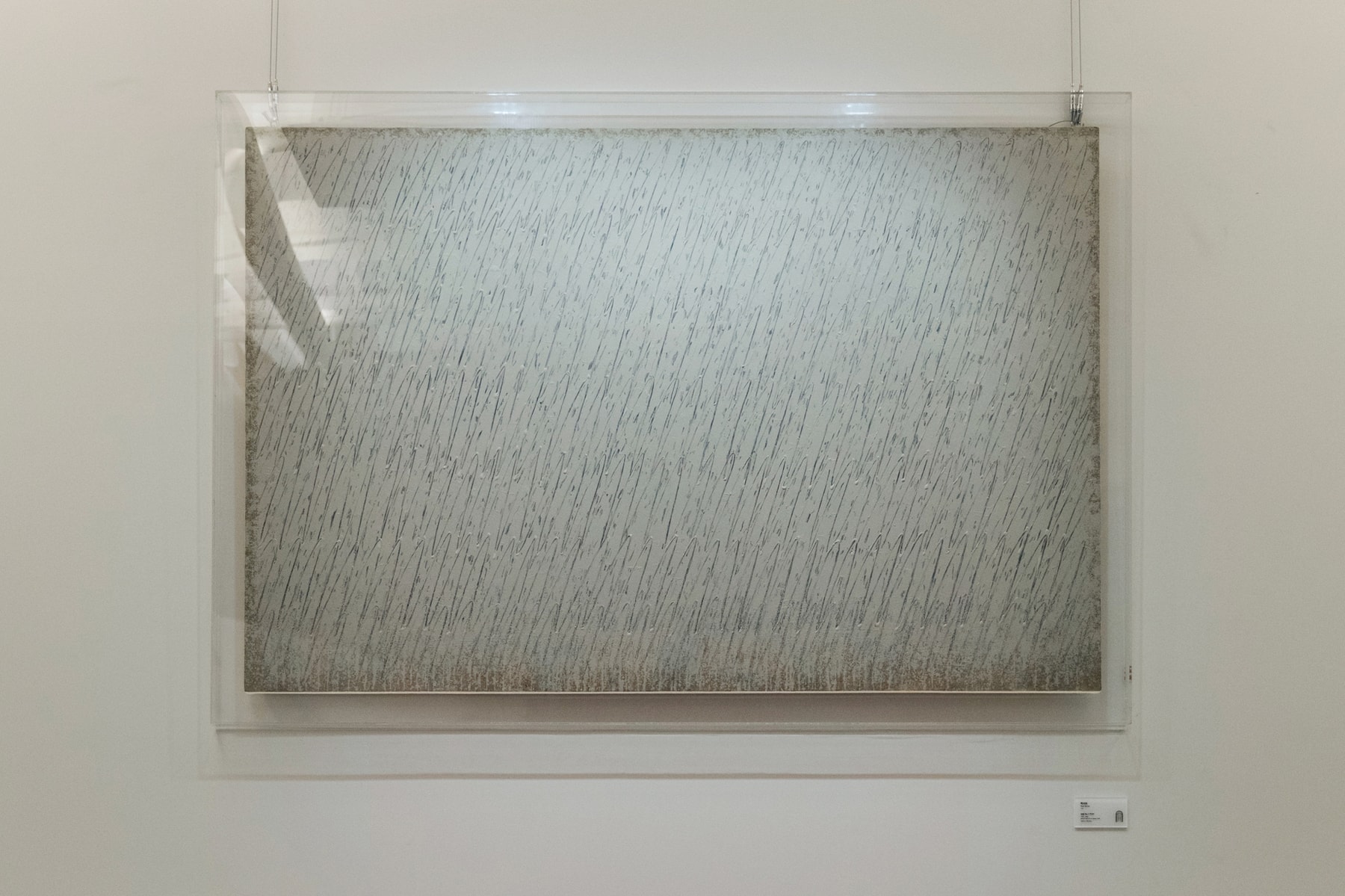 Apart from collecting art, you also have an extensive background in fashion. Tell us about how fashion ignited your curiosity of arts and culture.
The common thing between fashion and art is that aesthetic need is the base. It is very important how beautiful and experimental fashion is, and how well it reflects the market trend. Nowadays, how limited quantity is supplied to the market has also become a very important factor. I think my last journey, which has always been part of the fashion market, not only provided me with an aesthetic desire to pursue beautiful things, but also led me to easily get used to being an element of the art market as a collector.
Fashion is important whether these clothes, hats, and shoes look good on me, but it is also very important whether they look good with other clothes, hats, and shoes that we are wearing together. As a collector and a person who presents his collection through a commercial space called OPNNG, I always think about 'exhibitions'. Now you're thinking about where, how, and what you're going to hang whatever you buy. I think this concern about 'harmony and balance' is also a factor that fashion and art are very closely connected.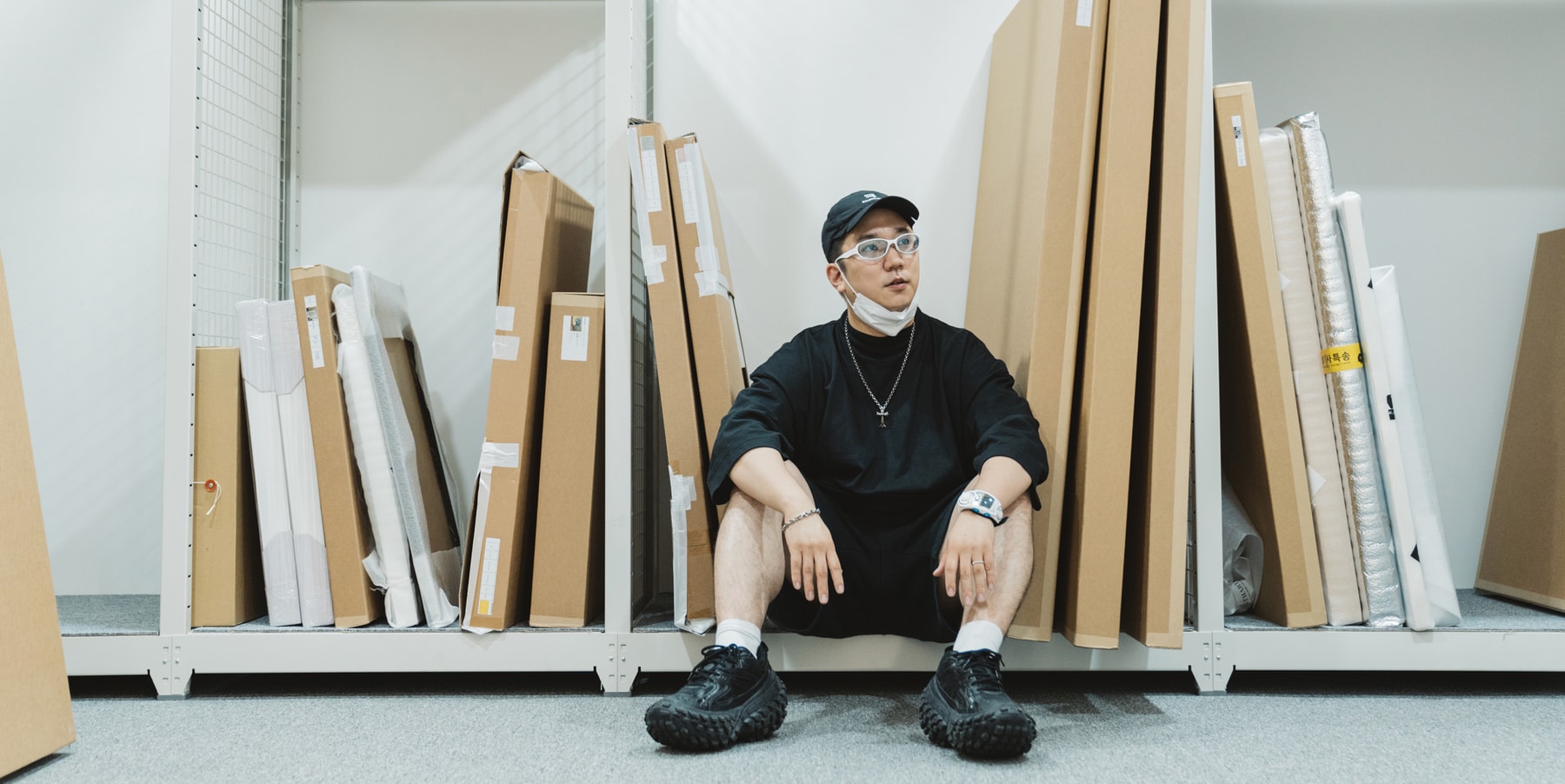 What advice would you give to those who want to start their own art collection?
I think enjoying art is a very good hobby. Interestingly, you must buy and drink wine to enjoy it, but you don't have to buy art to enjoy it. There are countless exhibition spaces in the world that are open to the public, and there are many very important works that penetrate the history of world art. It's so empty to talk about wine without drinking wine, but I don't think it's necessary to buy art to enjoy art.
Nevertheless, I would like to tell those who want to buy artwork due to reasons like personal aesthetic pursuit, collecting perspective, or investment perspective, to select the artwork you purchase carefully — because once you buy a piece, you can't stop.
Photographs by HooYoung Joung. Arranged by Juyoung Byeon for HypeArt.