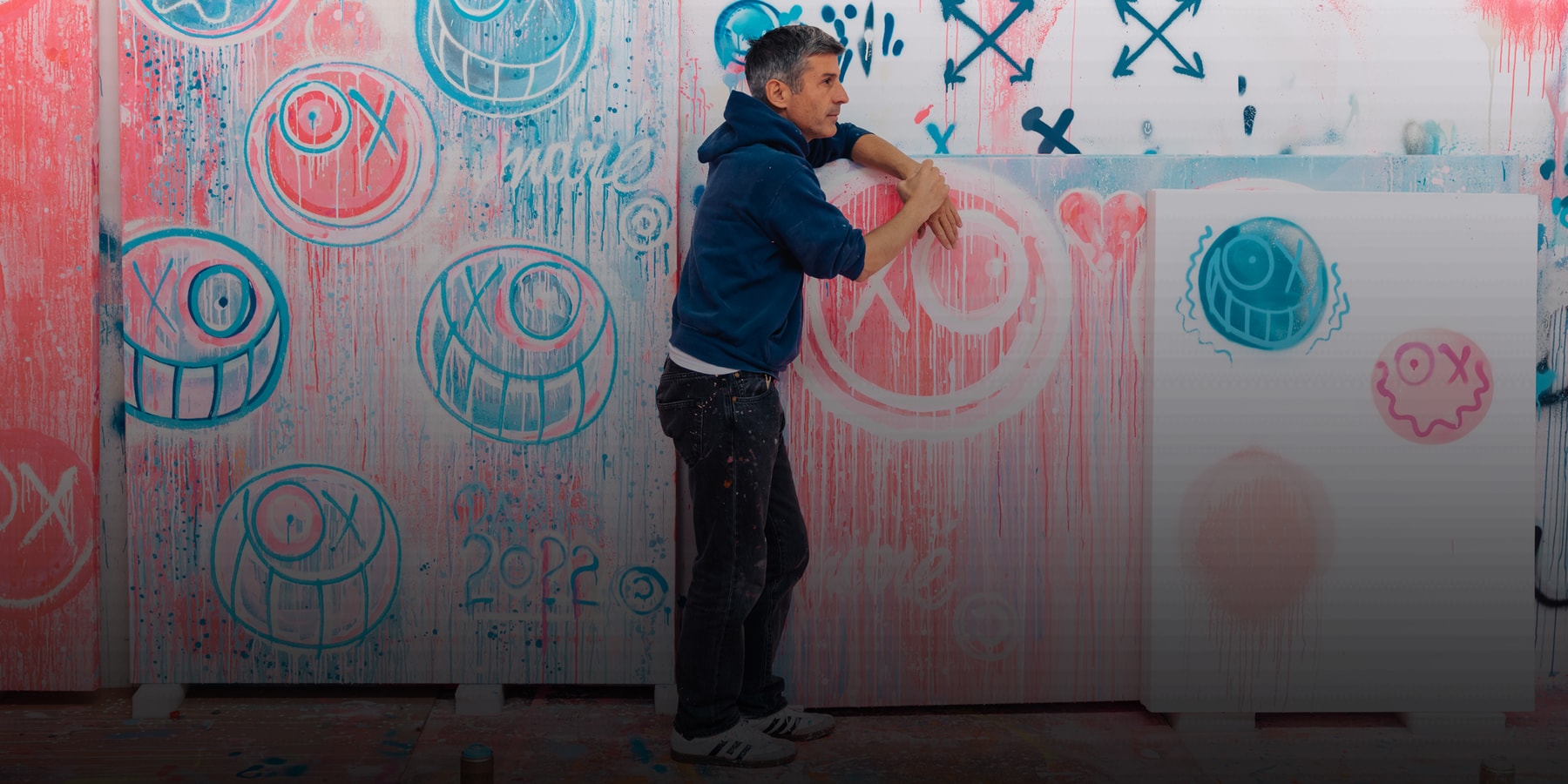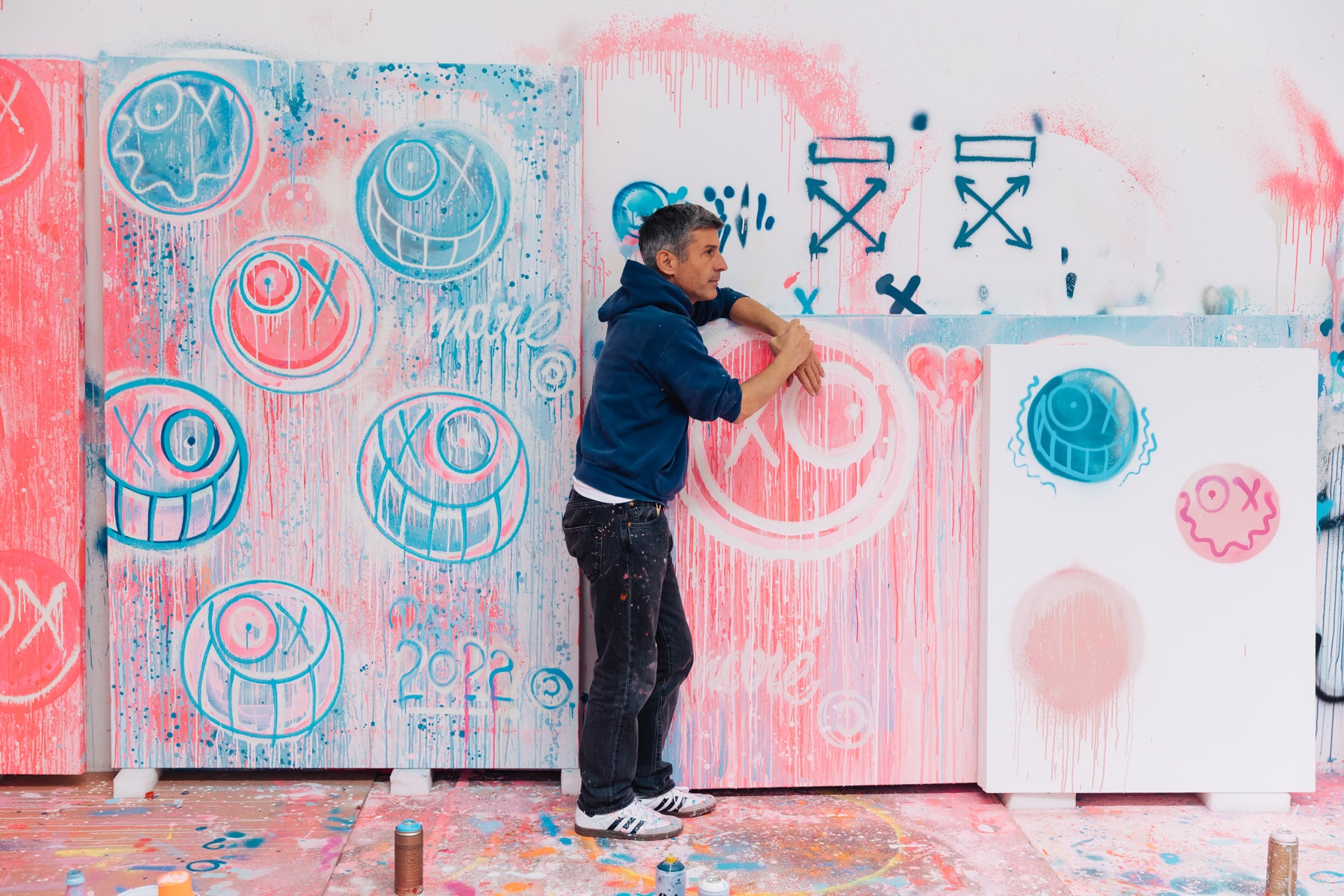 Studio Visits: André Saraiva
The Swedish-French artist behind the iconic 'Mr. A' character.
Clad in a top hat with a noodle-like figure and grimacing face is the ubiquitous Mr. A character that can be seen on the facade of historic buildings in Paris or on the streets of New York City's Chinatown neighborhood. From dream concert posters to sprawling murals, the character lives on any medium that its creator wishes for the public to view. The brains behind the cartoonish motif is the acclaimed Swedish-French artist, André Saraiva whose accolades go back to the heydays of the 1980-90s international graffiti scene.
Saraiva began his prolific artist career by tagging his name on the outskirts of Paris alongside notorious writers such as INVADER and ZEVS. He was one of the first artists in the 90s to utilize a particular character or logotype as his signature motif. His identity immediately became synonymous with the long-limbed Mr. A character with circle and cross for eyes. In the 2000s, the artist began to work on his contemporary art practice. He kickstarted this endeavor with a performative project called 'Love Graffiti' in which he would spray paint the name of a person's lover at an address of his or her request for $2,500 USD a piece. He then went on to paint compositions that harnessed multiple elements beyond his graffiti signature which featured more text, bold lines and sharp-edged shapes. In 2004, Saraiva was spotlighted in an exhibited at the Parco Museum in Tokyo and two years later, was featured in the the "La Force de l'Art" show in Grand Palais in Paris.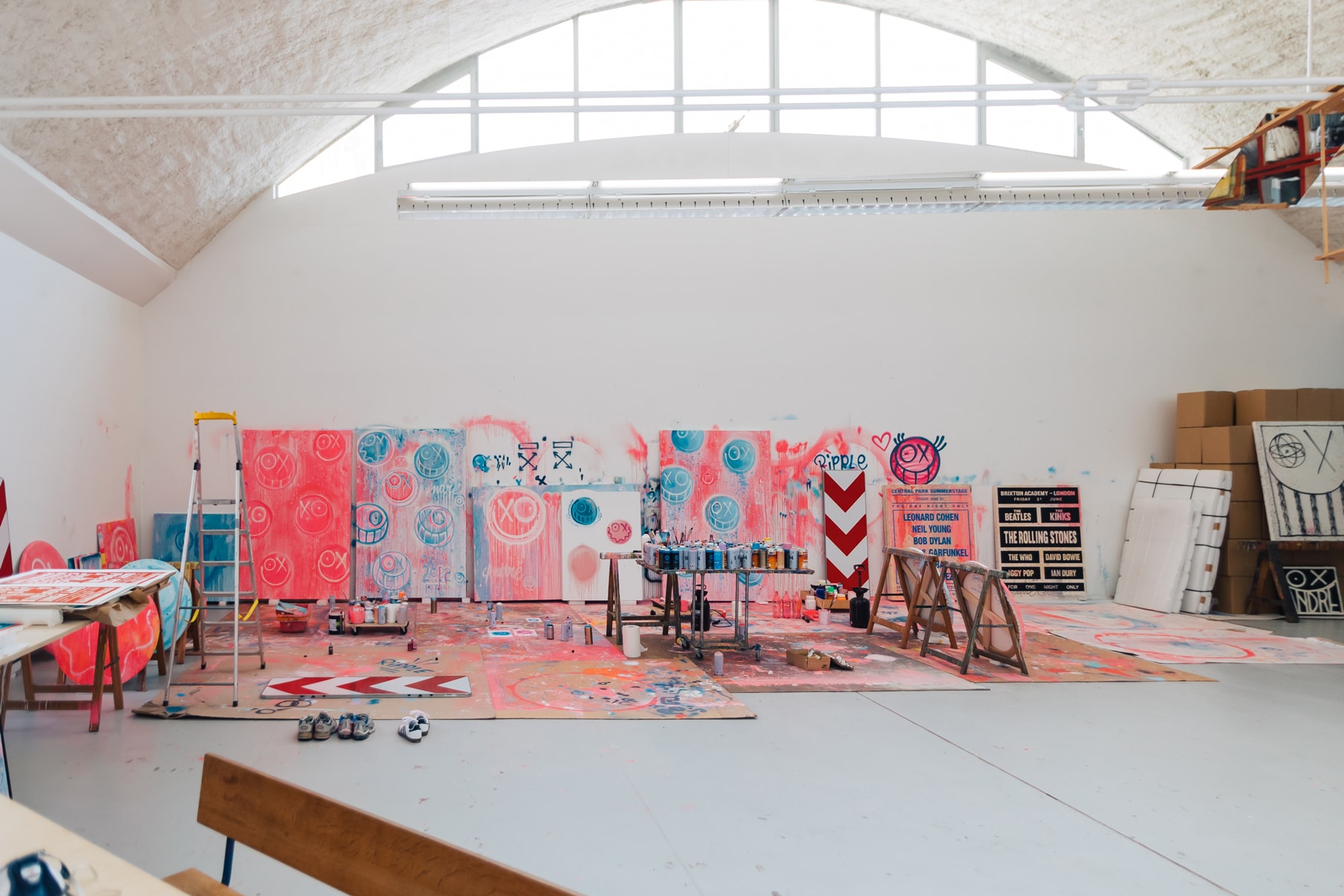 When André Saraiva isn't overseeing his legendary Hotel Grand Amour located in Paris' 10th Arrondissement or The Friend bar located in the heart of Silverlake in Los Angeles, California, the artist is juggling exhibition shows or collaborative projects. His portfolio includes the likes of Louis Vuitton, adidas, Tiffany & Co., Converse, Nike, among many others.
Beyond tagging walls or painting canvasses, Saraiva is enamored with drawing these days to escape from the more commercialist aspects of his practice. "In quiet moments, he prefers drawings on scraps of paper or in notebooks, which he's constantly filling, but rarely shares with others. This is a more personal and intimate activity, far from the commercialism of art," said the artist's friend, Oliveir Zahm, in a statement. "In André's world, drawings have a special currency, like billets-doux to share love. For him, the only way to escape the smothering blanket of capitalism, in or out of the art world, is in things you can't buy — love and generosity."
We recently caught up with Saraiva in his new humongous studio in Paris, which he says was once a plane hangar, to discuss his star-studded career, a day in the life in his studio and upcoming projects including his long-awaited Rizzoli book. Check out the exclusive interview below as part of our Studio Visits series.
1 of 4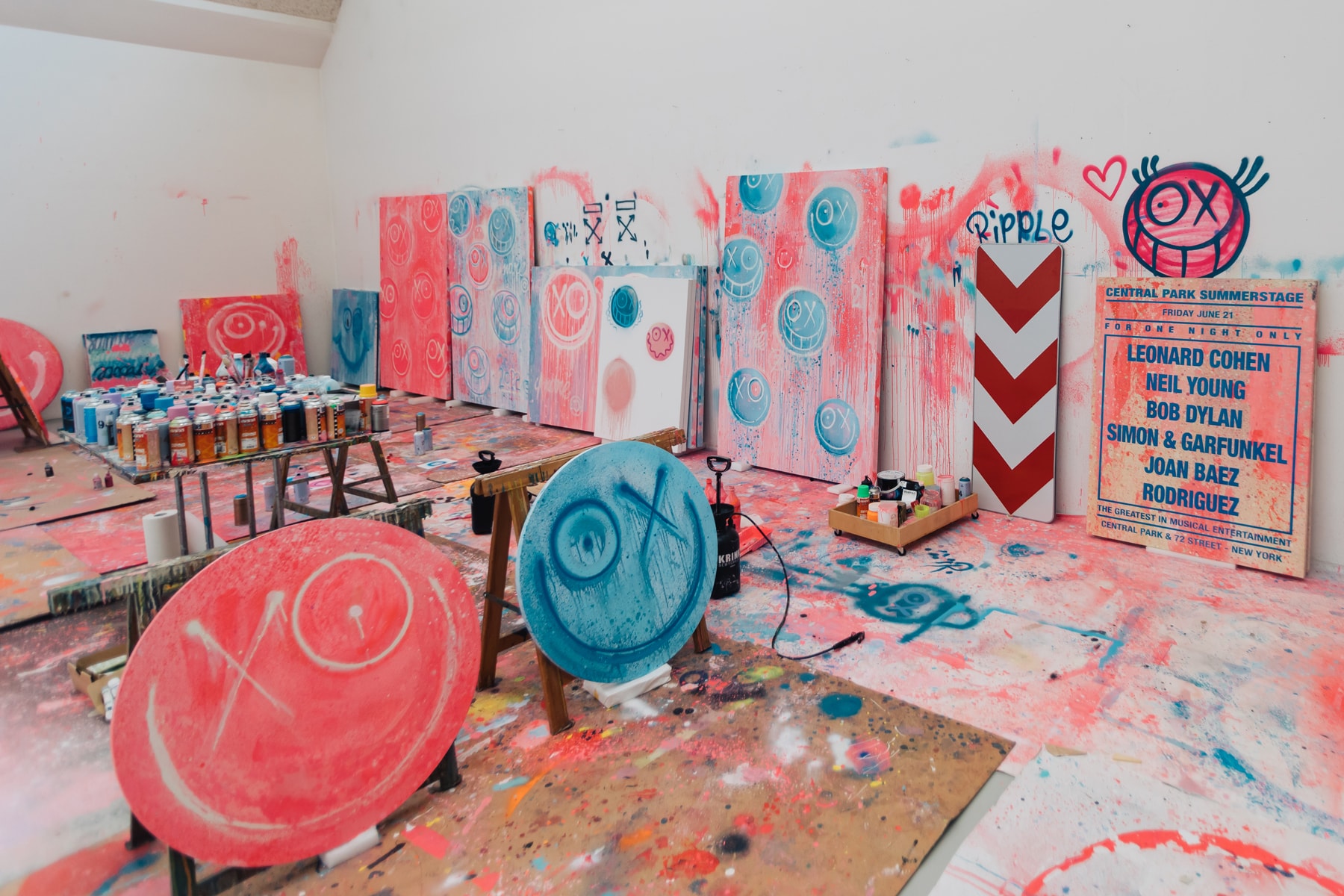 2 of 4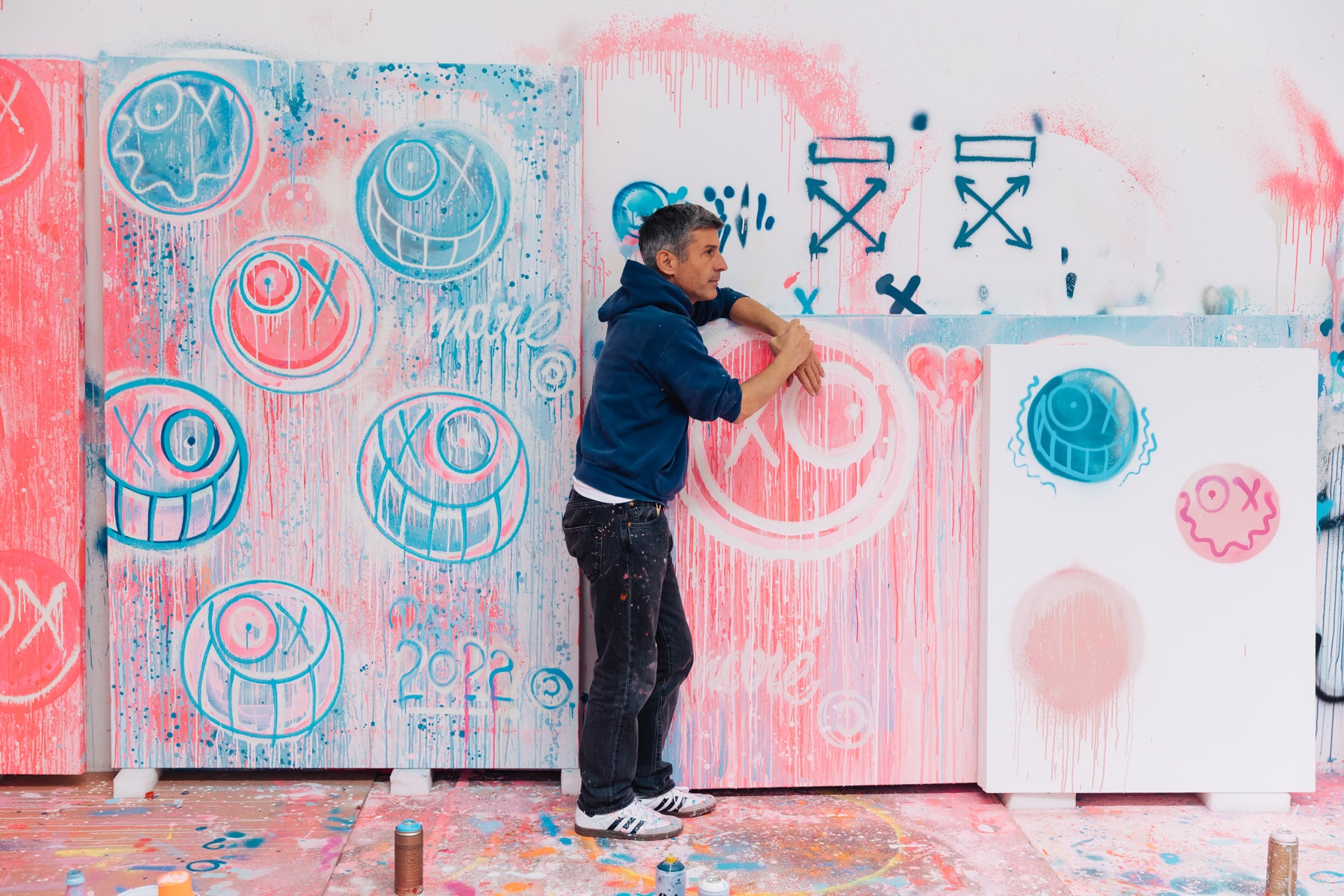 3 of 4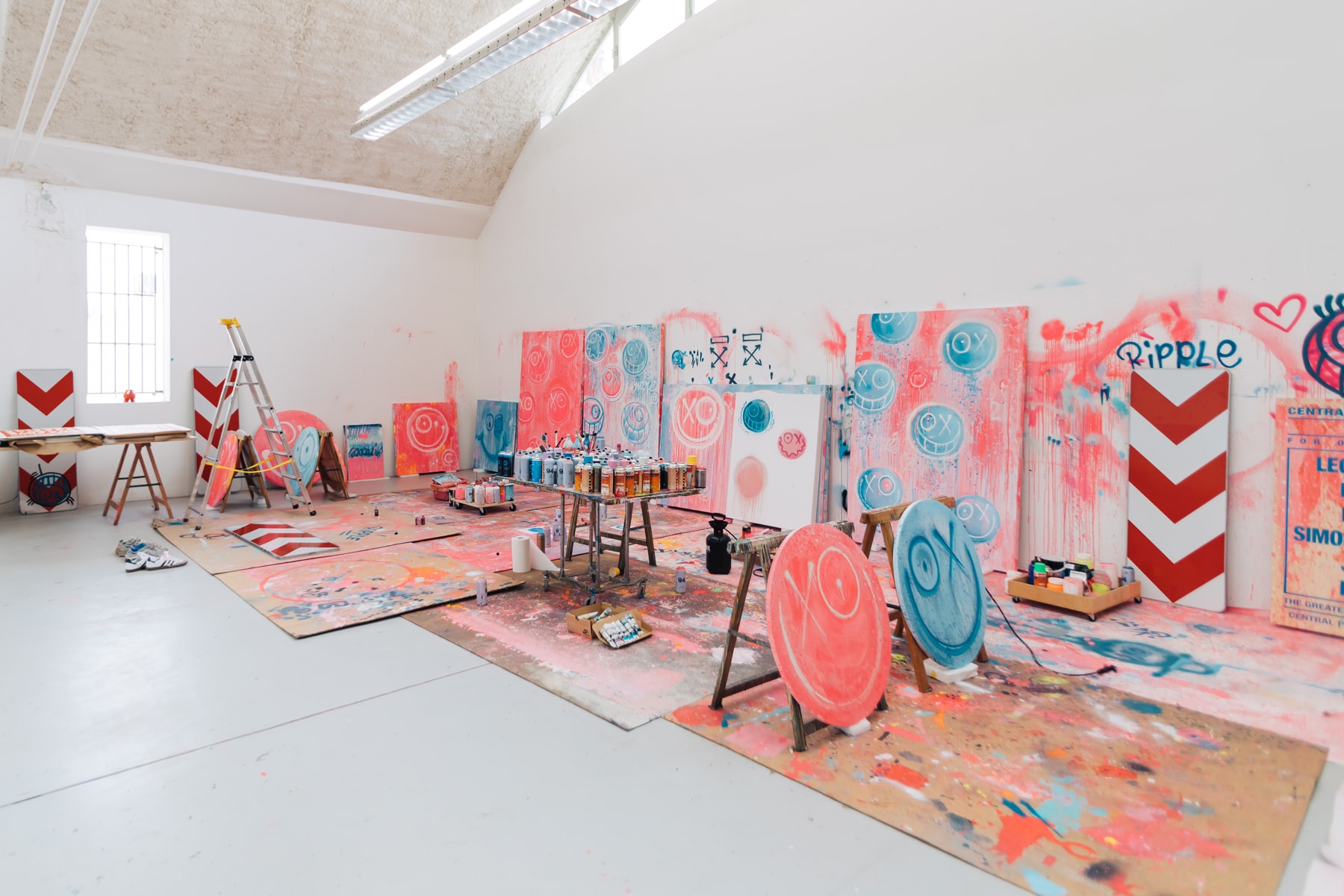 4 of 4
"I love to work on multiple pieces at once."
Tell us about your new studio in Paris. Why did you decide to move to this location and what does this space offer that your last one didn't?
I had to move out of my studio on NY during the pandemic, and it became really difficult for me to come back and work. We decided to install a studio in Paris. And we were lucky to find this amazing studio with a rare big space in a brutalist building in Paris. The best thing is, it's not far from where I live, and I can bike to work everyday.
What does an ordinary day at your studio look like? Describe the atmosphere.
Typically we like to put some good music on, and as the day goes by I get inspired and explore. It's also a place where my friends come, hang out, discuss and we create together.
Do you often work on one piece or multiple pieces at once?
I love to work on multiple pieces at once. Go from one story to another, add, put a piece on hold, and come back to it until I feel it's finished.
1 of 4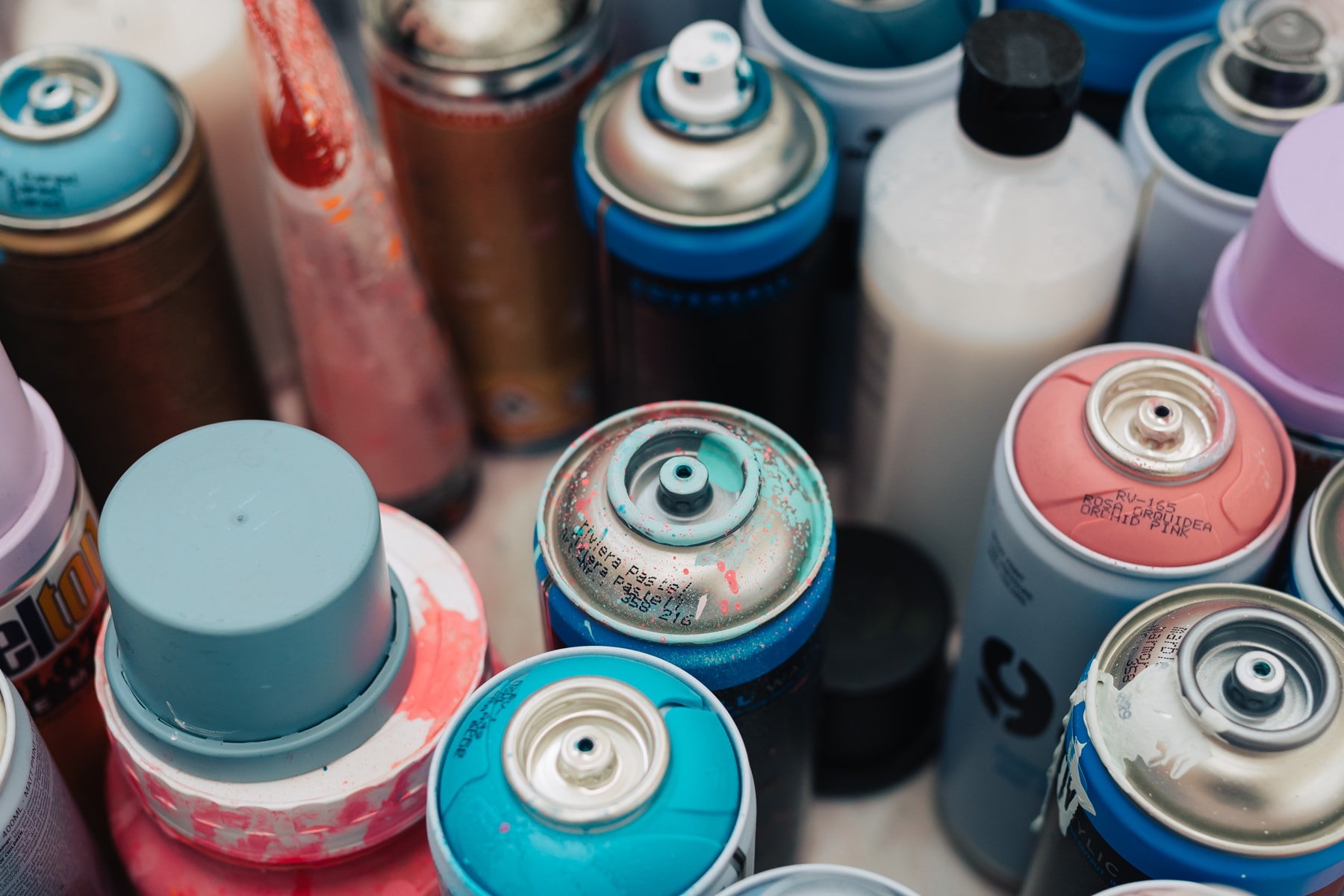 2 of 4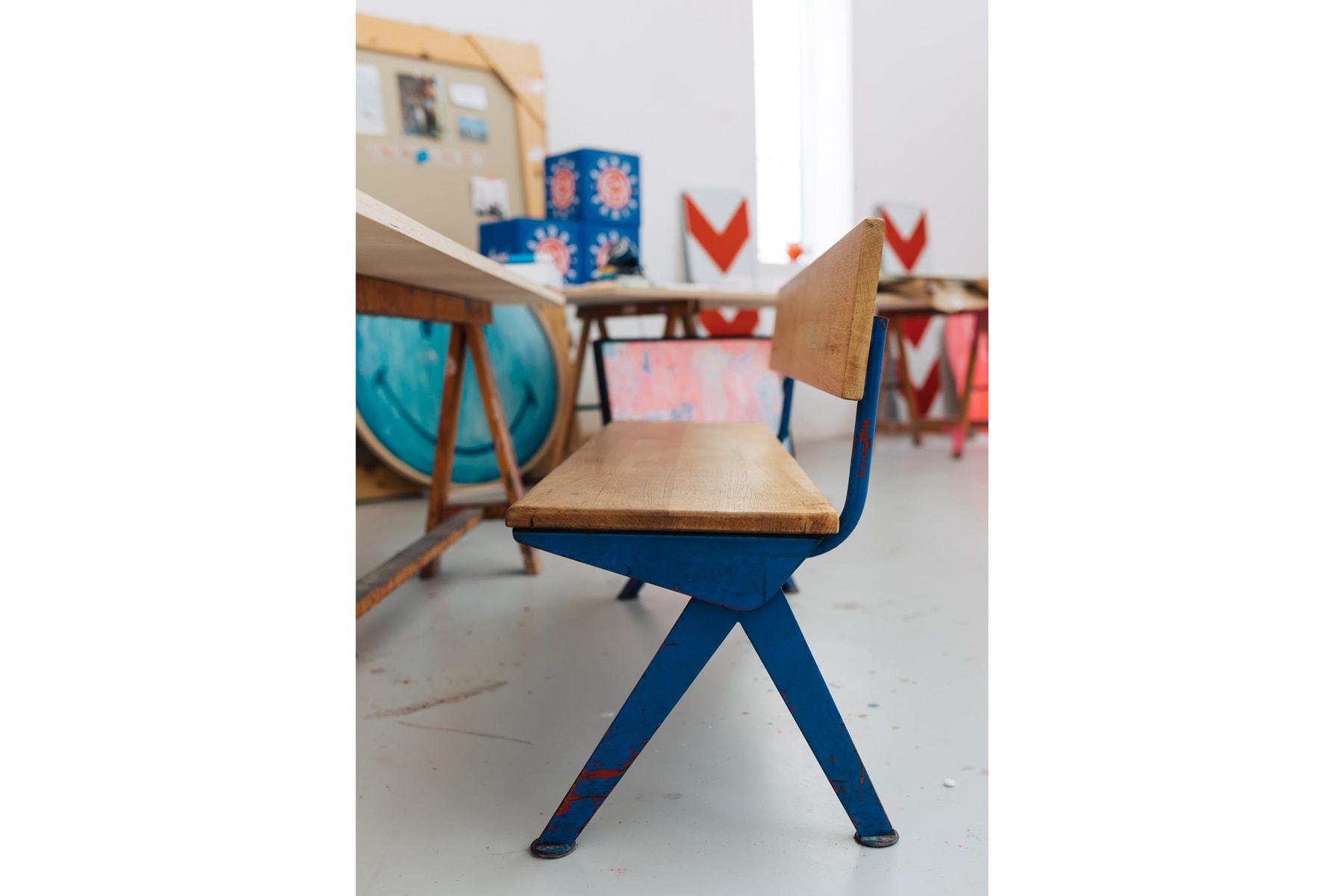 3 of 4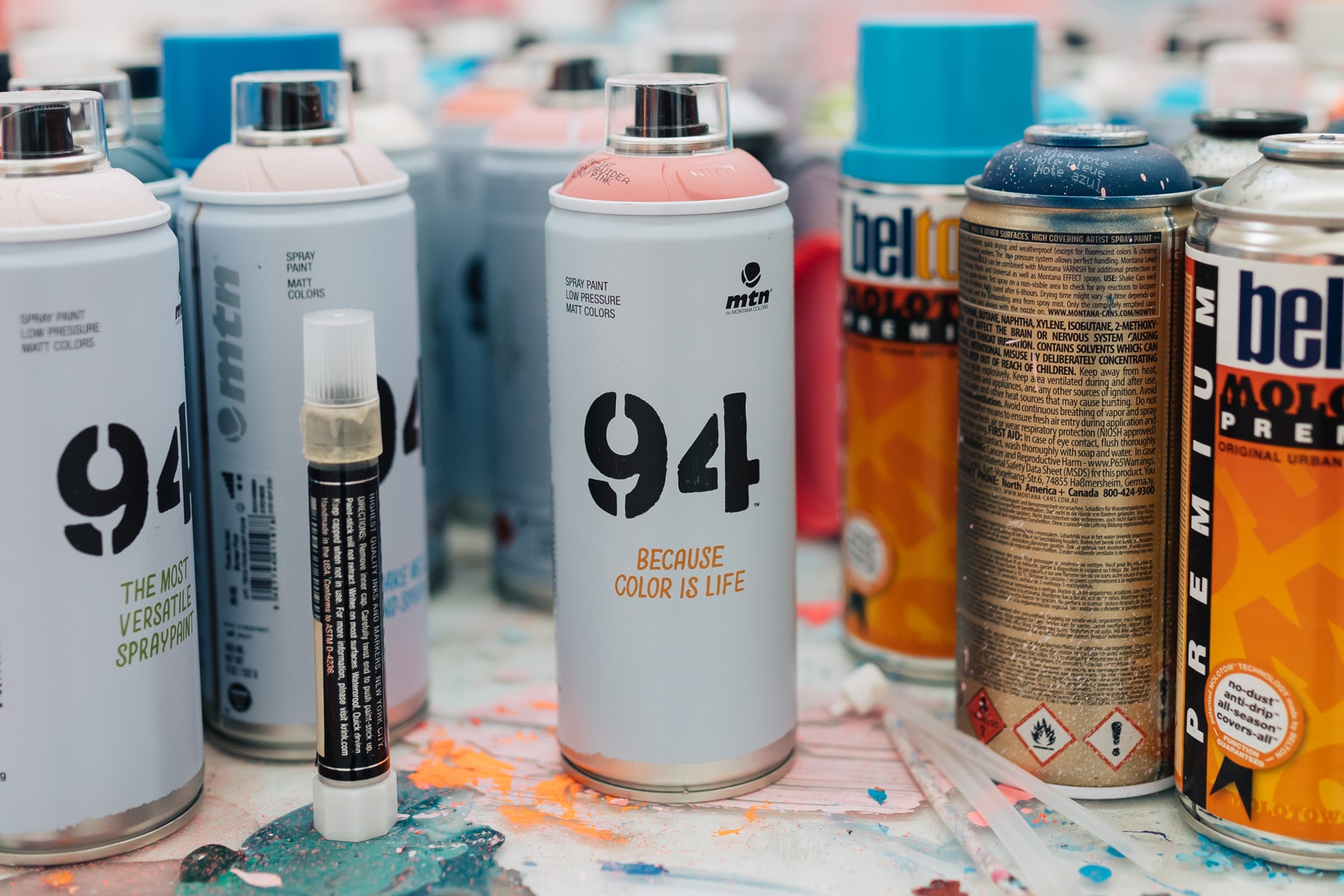 4 of 4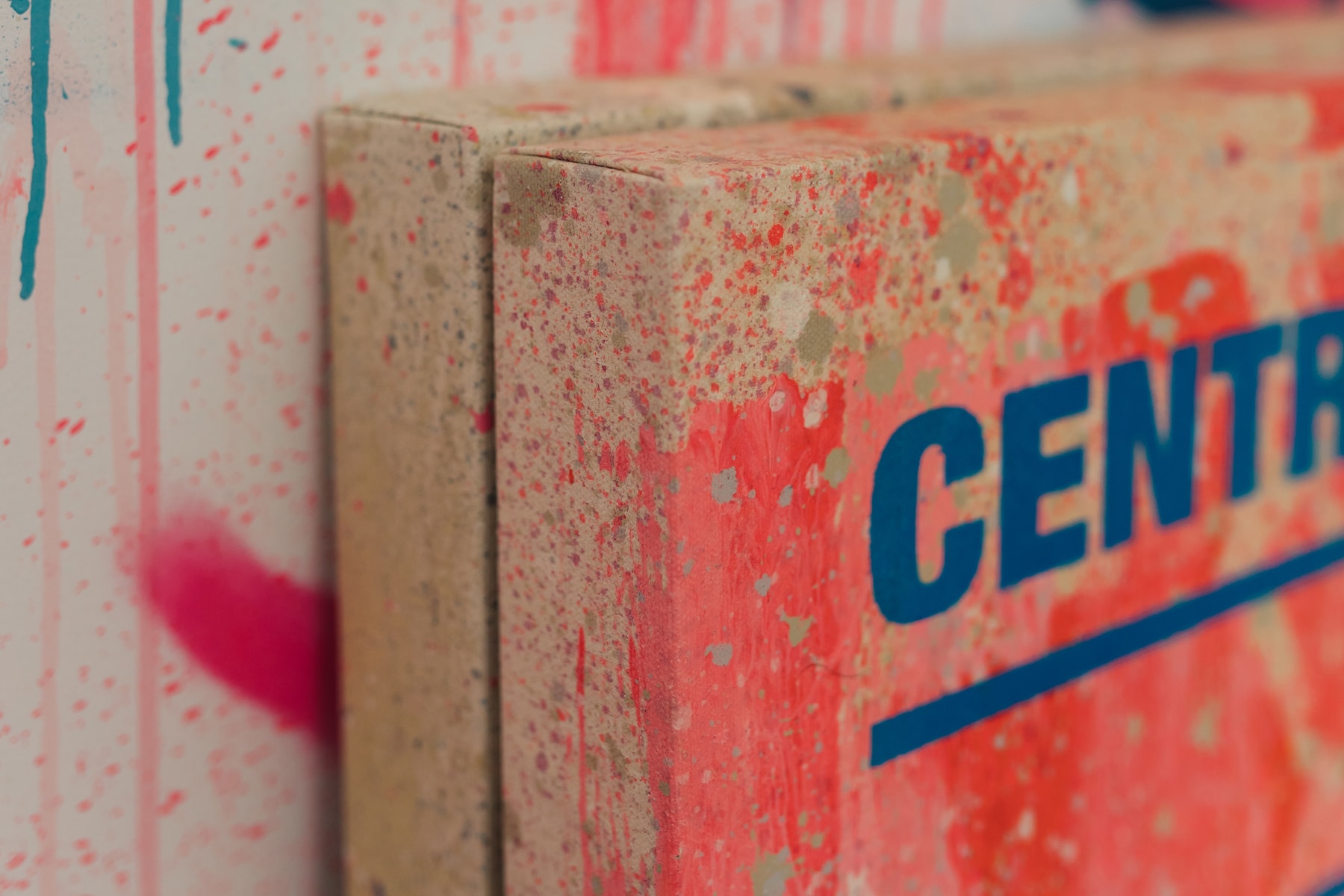 "Graffiti belongs to everyone. People can make up their own stories around them."
Your Mr. A character is renowned from all across the globe and is seen in your recent works. What motifs have you recently introduced into your practice?
I think as Mr. A grows I get him some new expressions and feelings. Also some friends join him in his team like Monsieur Toutmou the worm.
Tell us about the inspiration behind Mr. A, when and where did you come up with the character?
I was looking for something that was not written like a character that could speak to people with very few lines so I could reproduce it as fast as I used to write my name on the walls, but still be a drawing of a character that everybody could understand and relate to.
Tagging Mr.A in the streets of Paris earned you reputation as a graffiti artist. Tell us about one of your proudest moments from your early days as a graffiti artist.
One day, I was walking down the street, I noticed a woman in deep conversation with someone. From afar I couldn't see who she was speaking to. But as I got closer I saw that she was alone. Then I realized she was talking to one of the Mr. A's I'd sprayed on the wall. I continued my walk because I didn't want to interrupt her conversation. Graffiti belongs to everyone. People can make up their own stories around them. That's why I do graffiti.
1 of 4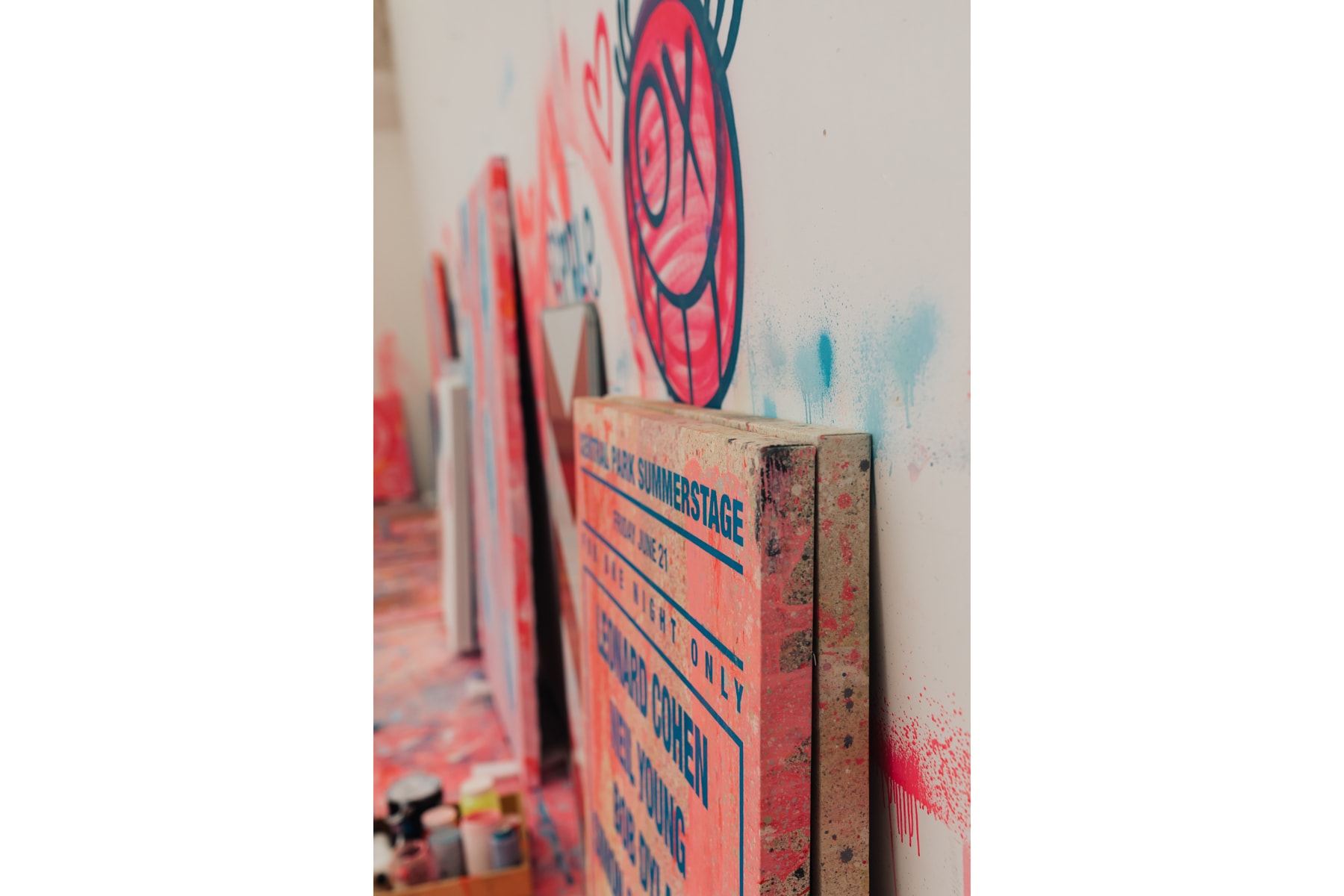 2 of 4
3 of 4
4 of 4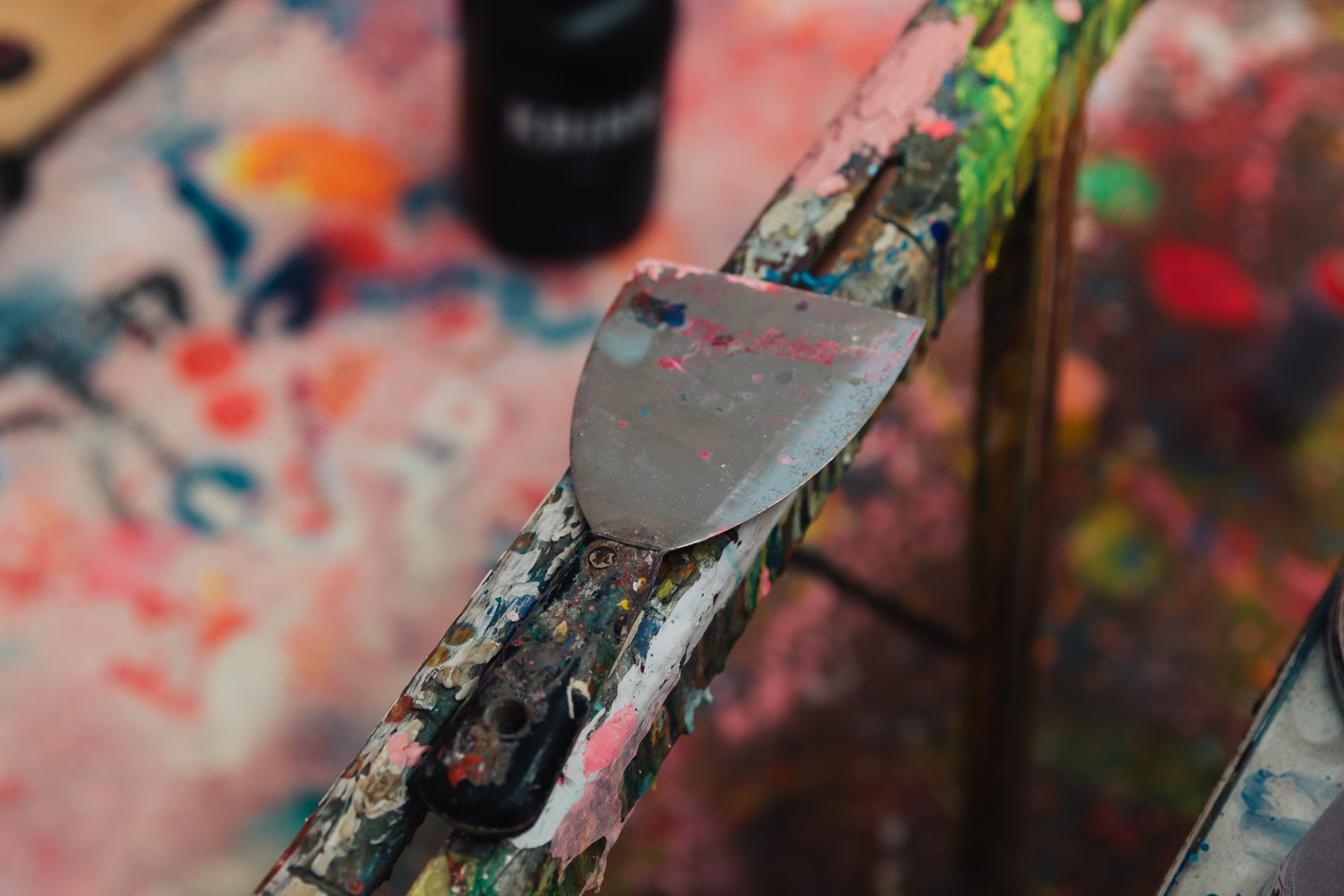 "The best advice is don't take advice. Stay pure and keep your freedom."
At which point in your career did you take contemporary art seriously? And why?
I always like to create and make art. I never took contemporary art seriously, that gave me the freedom to be a bit of an outsider artist.
What are your thoughts on the landscape of contemporary art today? How has it changed for you since you first started your career?
The taggers and the graffiti artist were always renegades and misfits. We weren't part of any establishment. Most people grow up with graffiti around them and it became part of their world. Today the art world has to integrate us because we are so strong.
What's the most important advice you've ever heard on being a successful artist?
I don't know what successful artist means. I think successful artist is to having the freedom to paint and create what you want. The best advice is don't take advice. Stay pure and keep your freedom.
1 of 3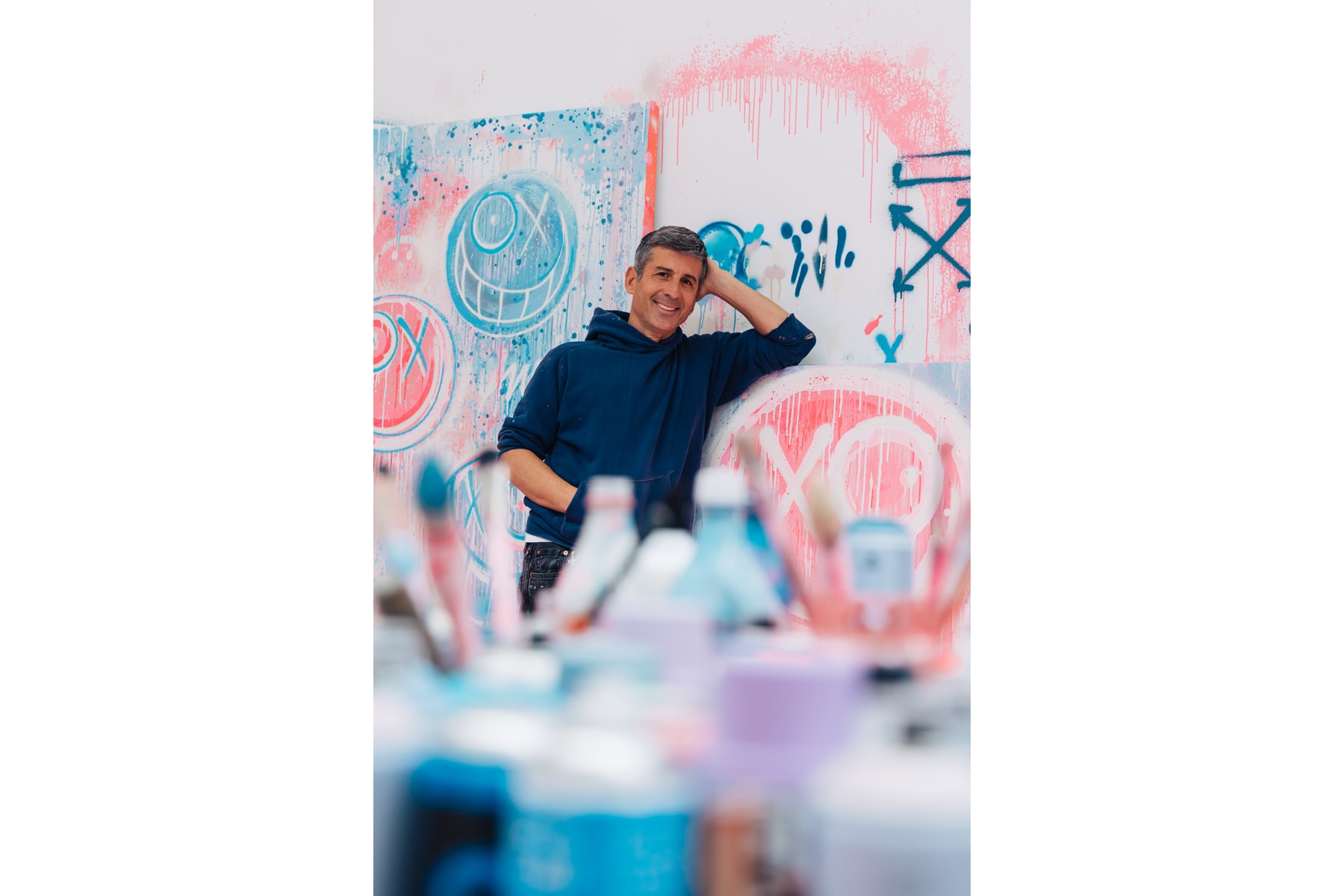 2 of 3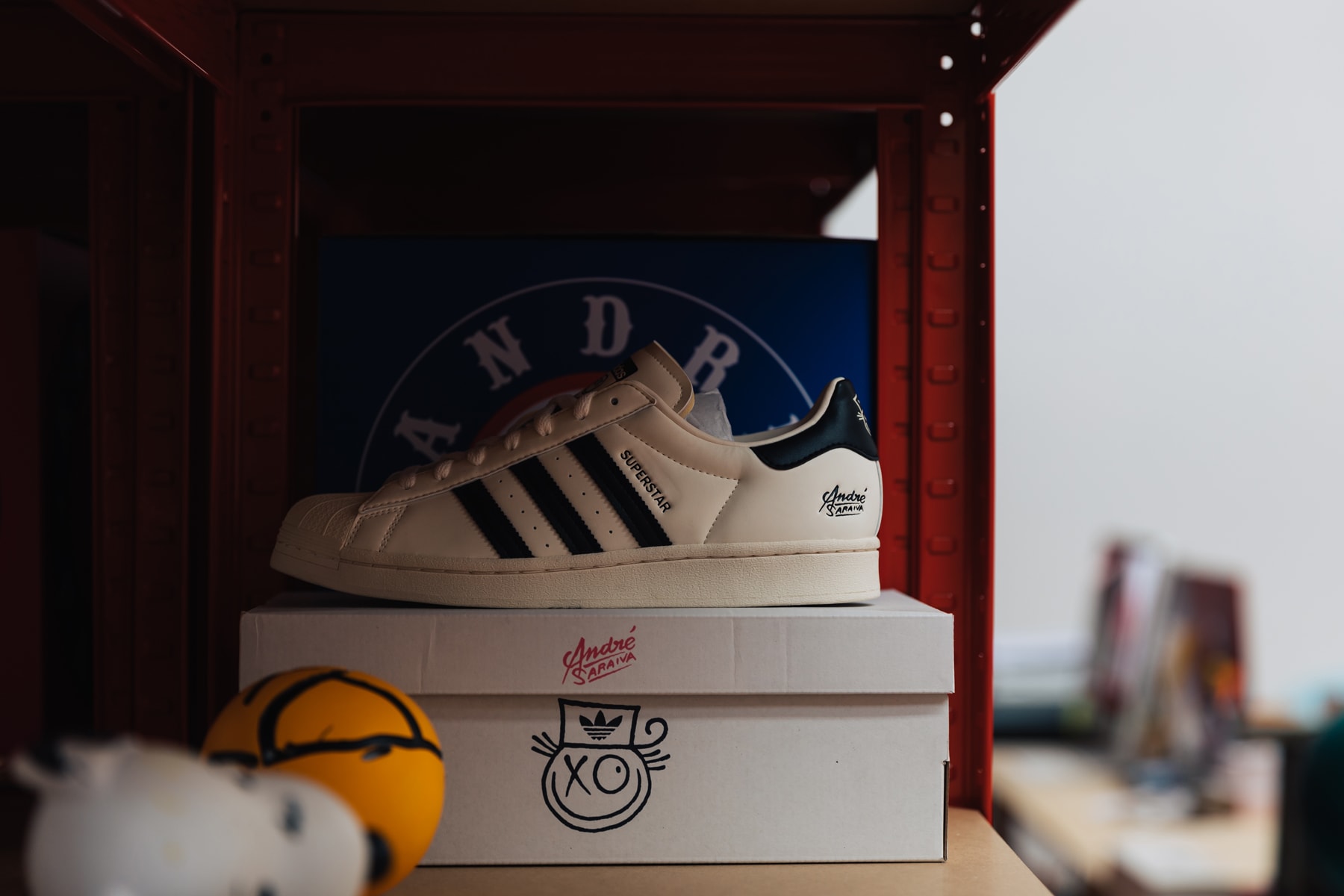 3 of 3
"I only partner with brands that I like and give me 100% freedom to create the collaboration."
You made your debut on the blockchain last year, selling an animated Mr. A for a winning auction price of 10 ETH. Where are you thinking of taking your talents next in the metaverse? What are your thoughts on the crypto world in general?
It is part of our society now. It's just another tool in our toolbox. If we know how to use it we can make great things with it.
From Louis Vuitton to Adidas and most recently Longchamp, you've done a fair share of major fashion collaborations. How do you navigate collaborations? Do you have any preferences on how you select commissions?
I only partner with brands that I like and give me 100% freedom to create the collaboration.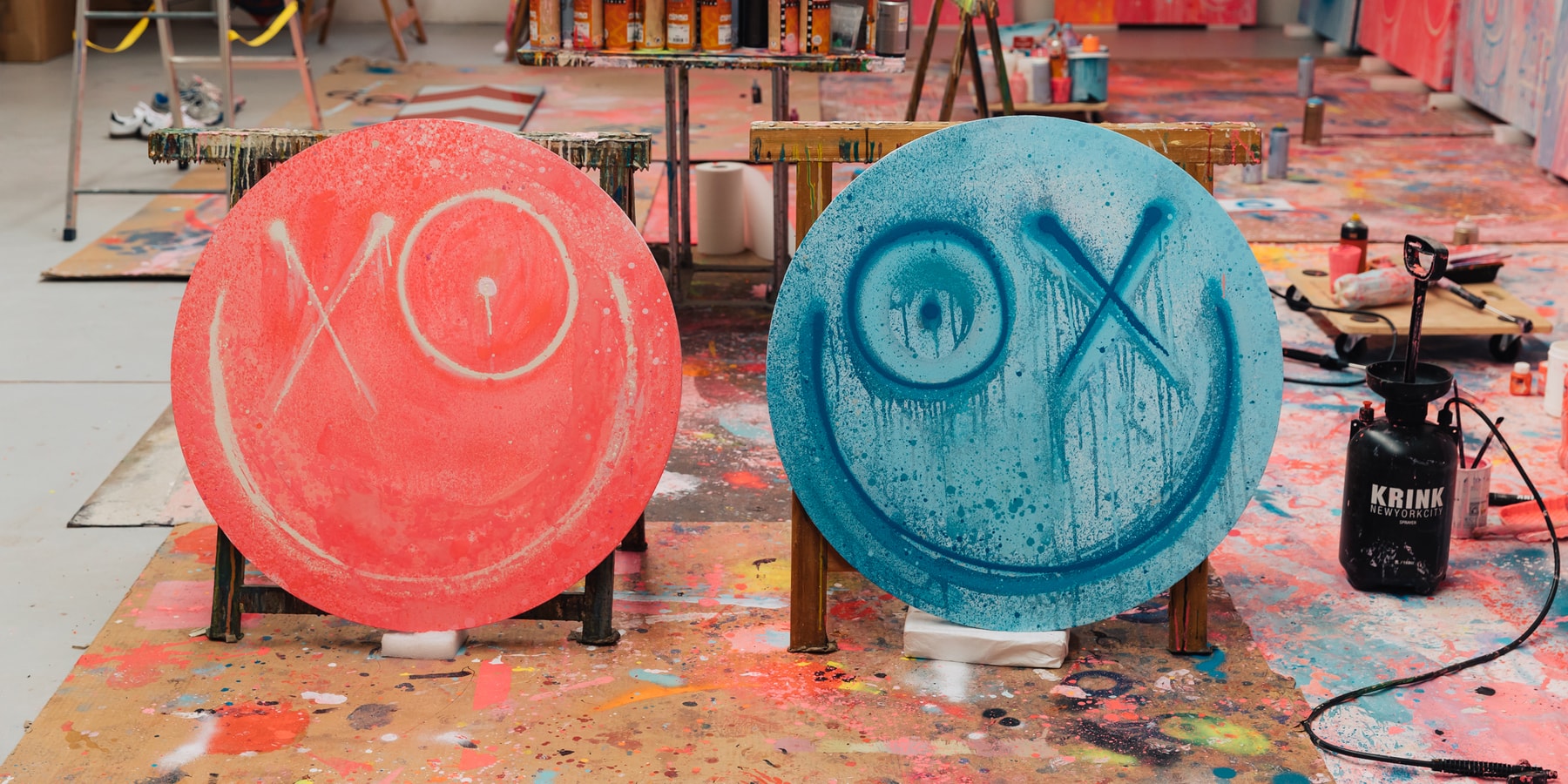 What projects are you currently working on?
We have a book coming out with Rizzoli this year in fall. I have been working on it for five years. For me this will be a great achievement seeing it in the shelves of all the book stores.
Photography by Karl Hab
---