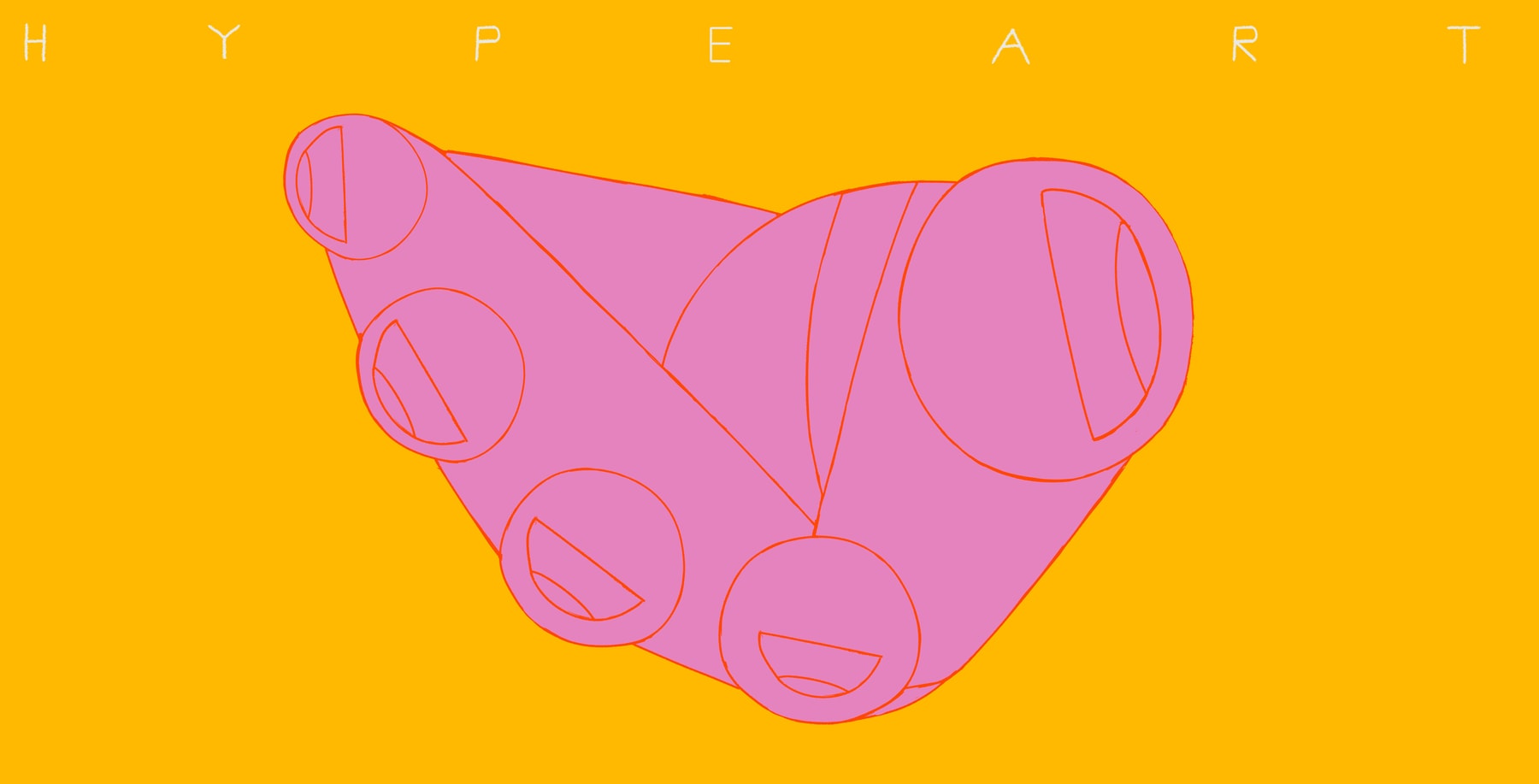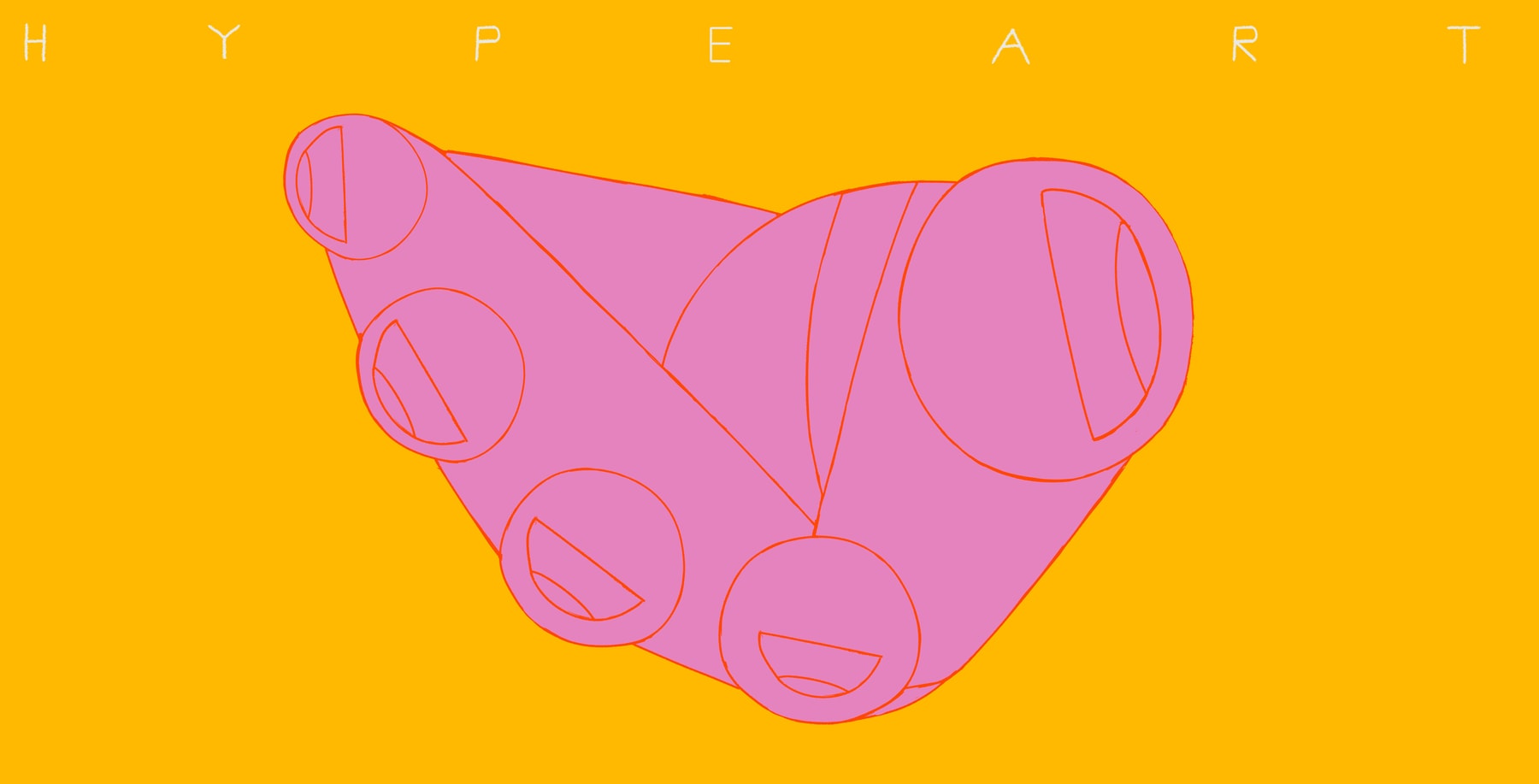 PEN & PAPER: SEB CURI
The artist who reminds you that painting is a joy and a journey.
Sebastian Curi reminds you that you don't have to have it all figured out. Like much of life, art is nothing more than a journey.
Born in Buenos Aires and now based in sunny Los Angeles with his wife and studio partner, Macarena Luzi, the animator-turned-artist creates whimsical prints and paintings that radiate with joy. Animation and graphic design continue to be the breadth of his career as he's created work for Apple, Zara, Venmo, Nike and The New York Times, amongst others. Painting, however, is what offers the Argentine a respite to explore his imagination in a way that the standard rules of design often limit.
"Painting offers me a very happy release," Curi told HypeArt. It's extraordinary to see the arc Curi has achieved — having just started painting, alone let alone started learning about painting, for only two years now.
His subject matter often features hands in a colorfully minimal aesthetic, but there is no deeper meaning other than he seeks to feel joy and push others to do the same in what ever field they choose.
For the latest Pen & Paper, HypeArt chatted with Sebastian Curi to discuss his practice. Read the full interview below and let us know your thoughts.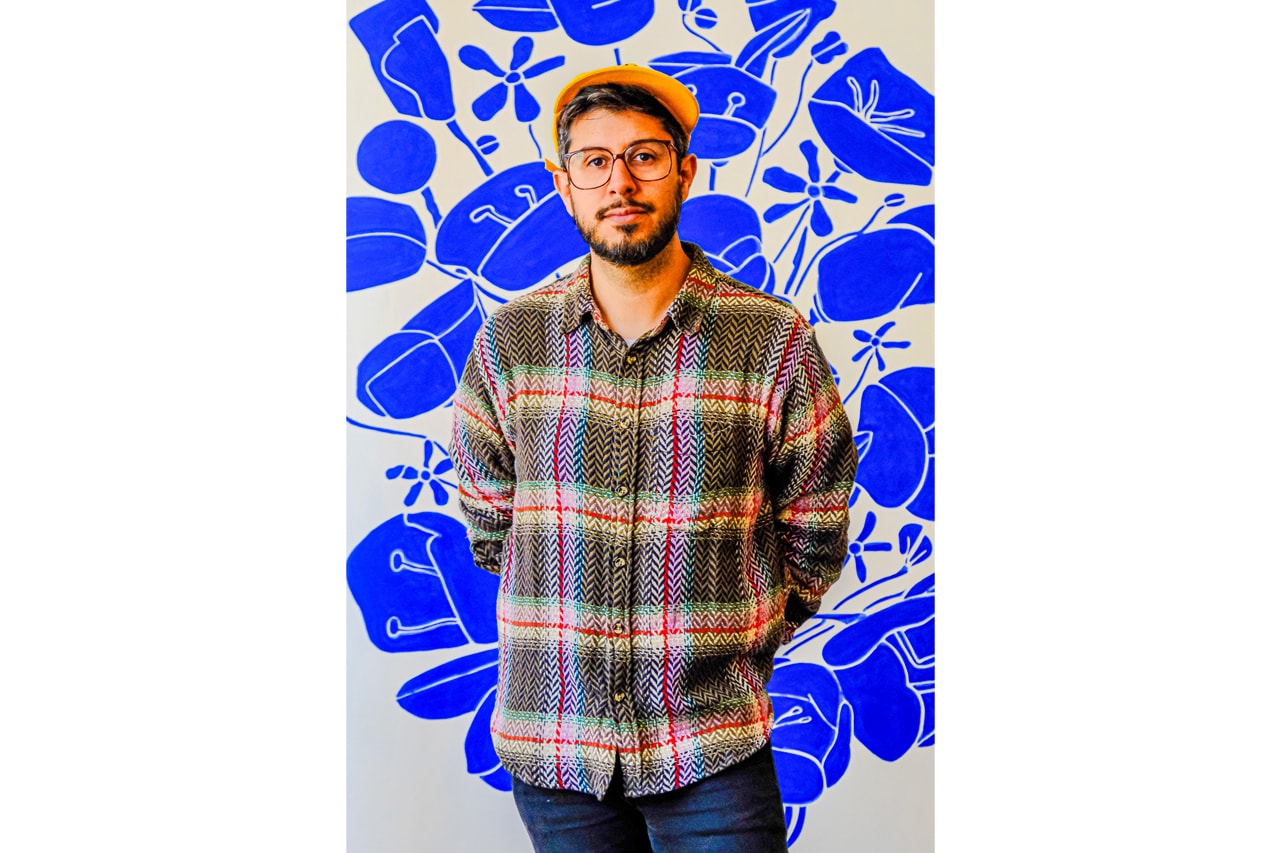 "After I finished high school, I thought I was going to be a journalist."
When did you come out to LA from Buenos Aires?
I actually was doing animation — motion graphics — and I was at this studio that used to be in Downtown LA called BUCK. In terms of football, they're like the Barcelona of motion graphics and I freelanced for them and they wanted to hire me full-time as an animator.
They offered me a job in 2016 and we moved out here. It was the first time we actually stepped foot in the United States.
How was the transition?
I think it's a different world, but it wasn't a shock because we've seen so many movies that LA is almost like a brand. Maybe you don't expect downtown, you expect Santa Monica — but you're very aware of the language of the city. At the beginning, I couldn't really speak English, but the food is kind of the same — burgers, pizza, etc.
I really like to work here, though. The industry pushes everything so much. You're always busy.
You studied journalism, correct?
To study in Argentina is free.
After I finished high school, I thought I was going to be a journalist. Of course, that didn't happen. I studied one year and dropped out because I wasn't good at writing. I love to read, but writing is such a different process.
I used to play a lot of music — punk rock and hardcore — and had a band player who was studying film and production. It was kind of artsy, but I don't come from wealth so I need to pay the bills. He said 'Oh no, this is legit', so he said we could work on films, advertising and TV commercials. I started to design a lot and studied graphic design for three-to-four years.
1 of 5
2 of 5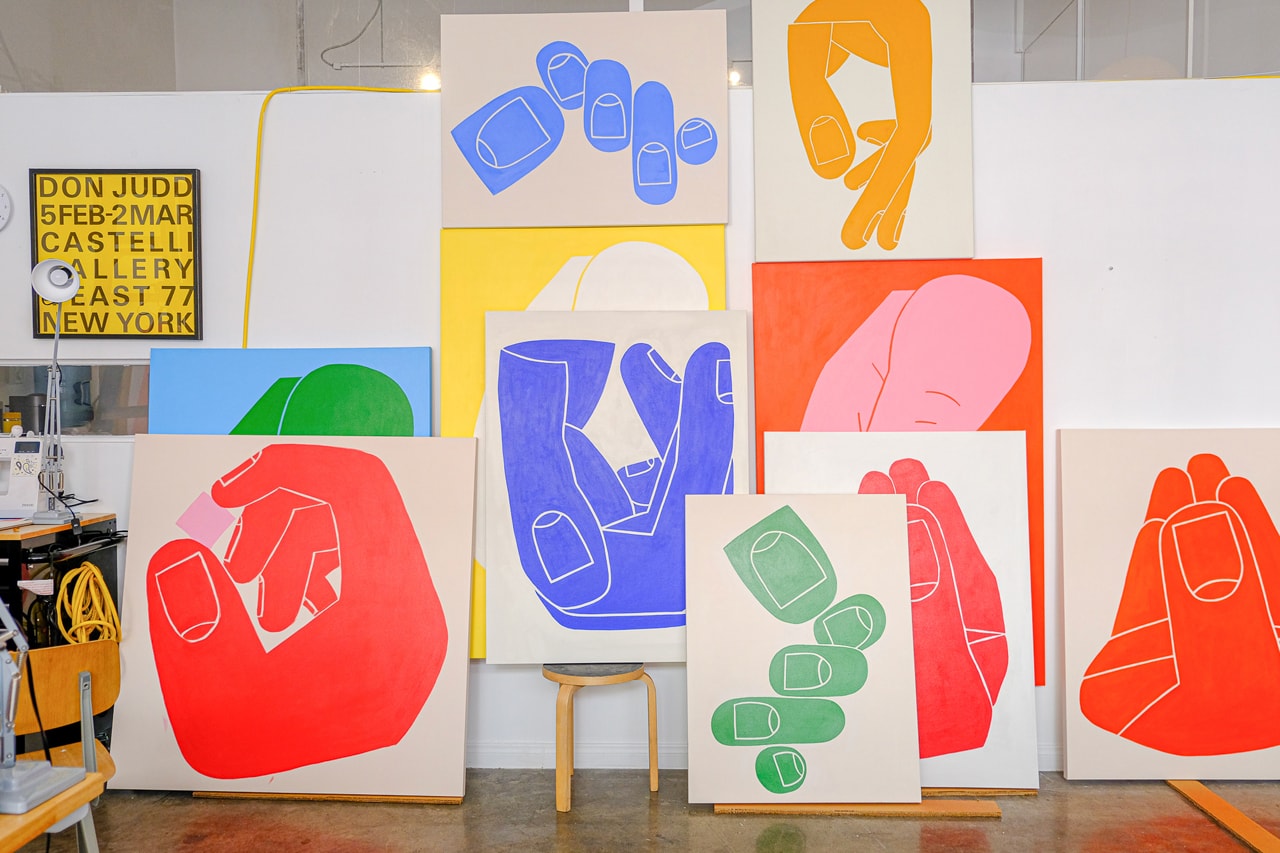 3 of 5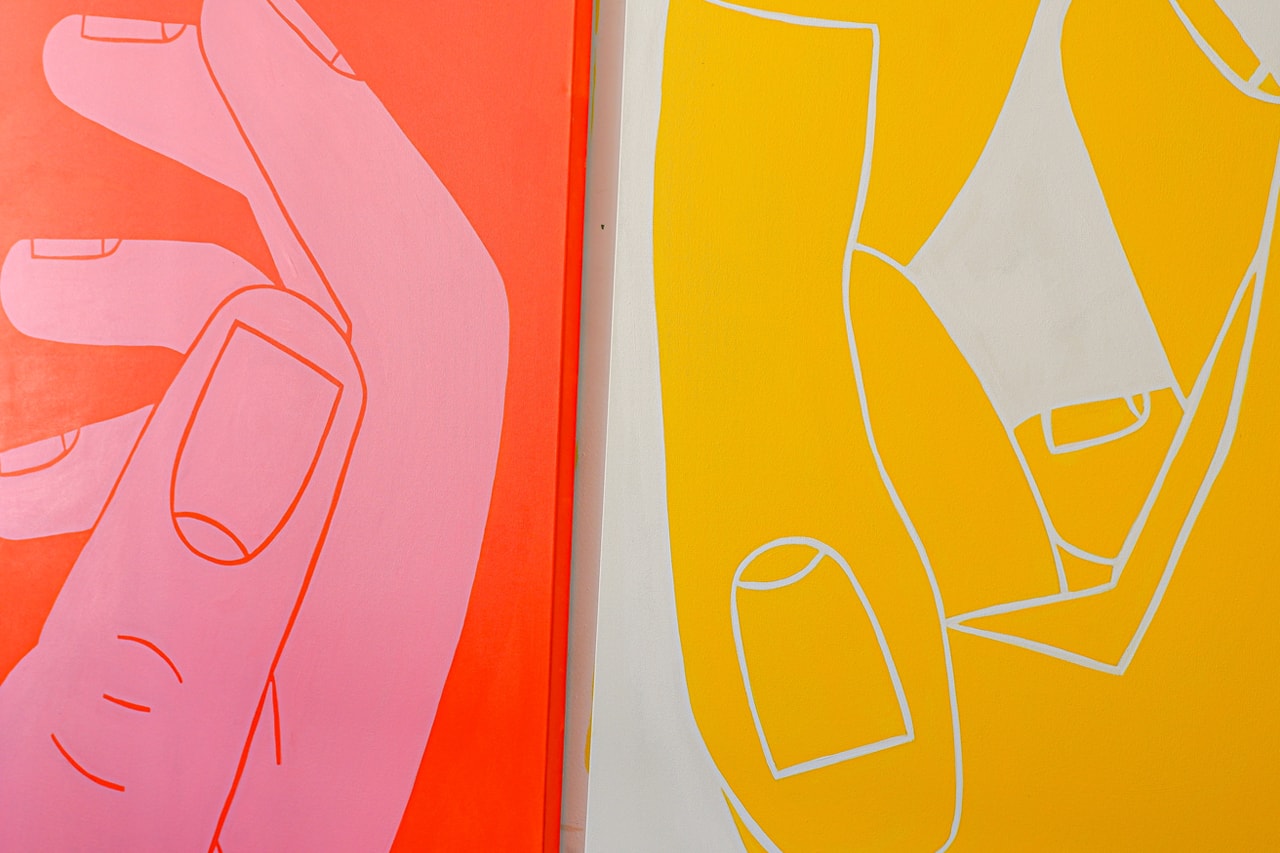 4 of 5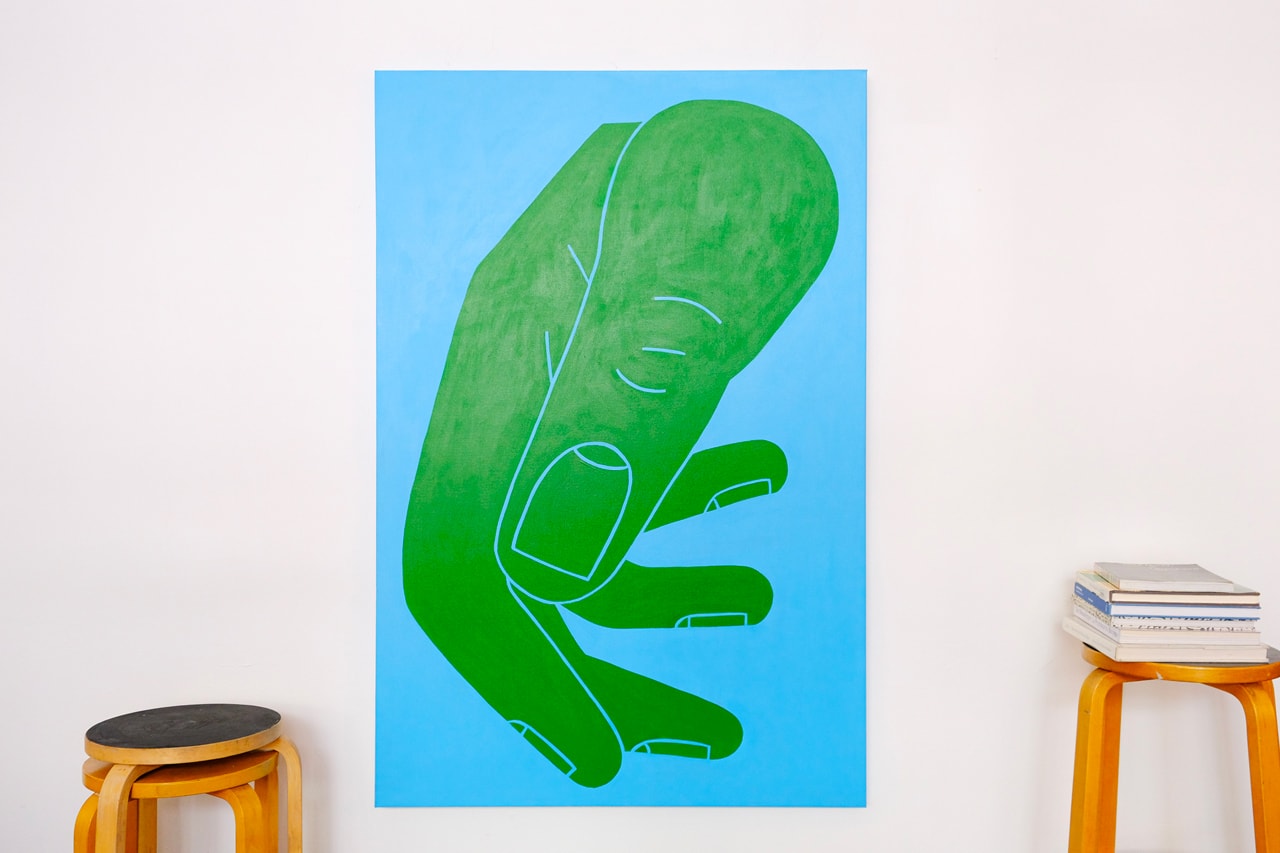 5 of 5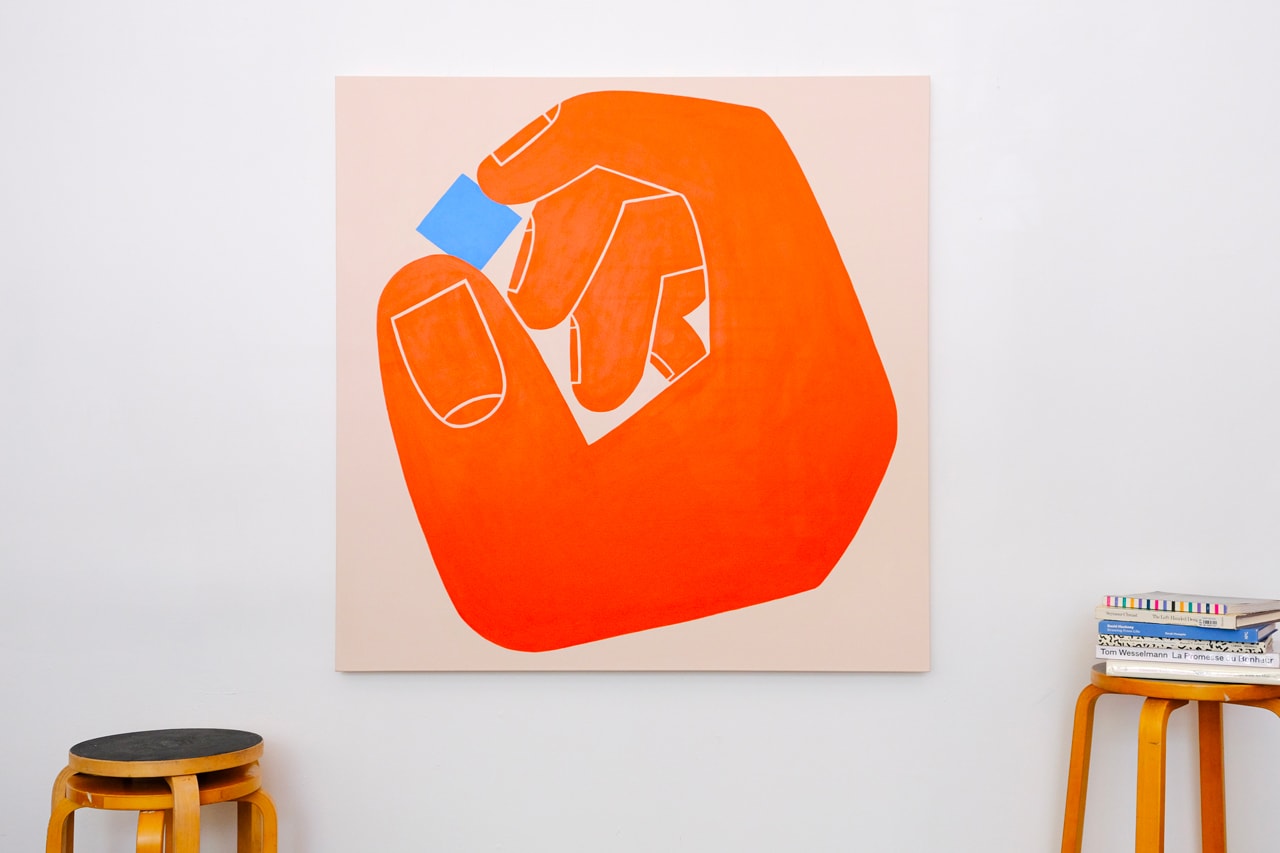 "The work that I do is joyful."
How do you imbue storytelling within your work?
At the beginning, I just wanted a job that paid. After, I started to want to do things that reflected some kind of value or idea. I needed to see myself within the work.
It took me years to establish a studio and have a voice and to be able to push my own work. I really come from a place of animation and advertising, where there is a lot of feedback and revisions. Over the last few years, I feel like the paintings and illustrations split me into two different people. It's all living in the same universe though.
What are some films that may have subconsciously influenced your art?
I love film, but I think I was too young to really study them in that way. At that age, I was into a lot of stuff. I think LA — having been in a punk rock band, where you have the mentality of doing everything yourself — that intention stuck with me.
Till this day, I think I do almost everything myself in the studio, besides the silkscreens. Even when I finish a painting, instead of going to a gallery, I just open up the studio for people to come see.
Aesthetically, LA is so different than Buenos Aires. It's like a European city, in that it has a different pace. It's more of a huge residential area. Coming here, culture is king. I started paying attention to graffiti, American art, Milton Glaser and a lot of illustrators. Seymour Chwast, Bob Gill, all the Push Pin stuff — work from the '50s to '70s from graphic designers that wanted to do something that is visually appealing. I don't like the more utilitarian work.
Your art shows a designers eye in the way the compositions are structured. When looking at the super-sized hands and thumbs, how would you describe your own art?
I've struggled making statements and defining the work, to be honest. I started painting two years ago, not only as a medium, but the subject matter. So it's just me doing whatever I want. When I think, 'what do I want to paint or what do I want to say? How should the art look?' Sometimes I have the answers but it is very rough.
The work that I do is joyful. It's very positive and light. Sometimes you smile, sometimes it's silly. It's not a brainy thing, it comes from emotion. There is something about that, that I really resonate with.
I love bright colors, they make me feel happy. I totally feel like a teenager, in that, I'm still learning. I'm a graphic designer trying to do something with painting. The silkscreen prints were the easiest way for me to do something that looks more like myself or my own voice. Who's going to draw hands? It's such a random thing to do. Just the physicality of drawing is very mechanical, like meditation.
I work a lot in animation and you put stuff out and it's gone in a week. I think the prints and paintings connect better with people than advertising, which can be superficial. I really try to create work that has a positive vibe.
1 of 5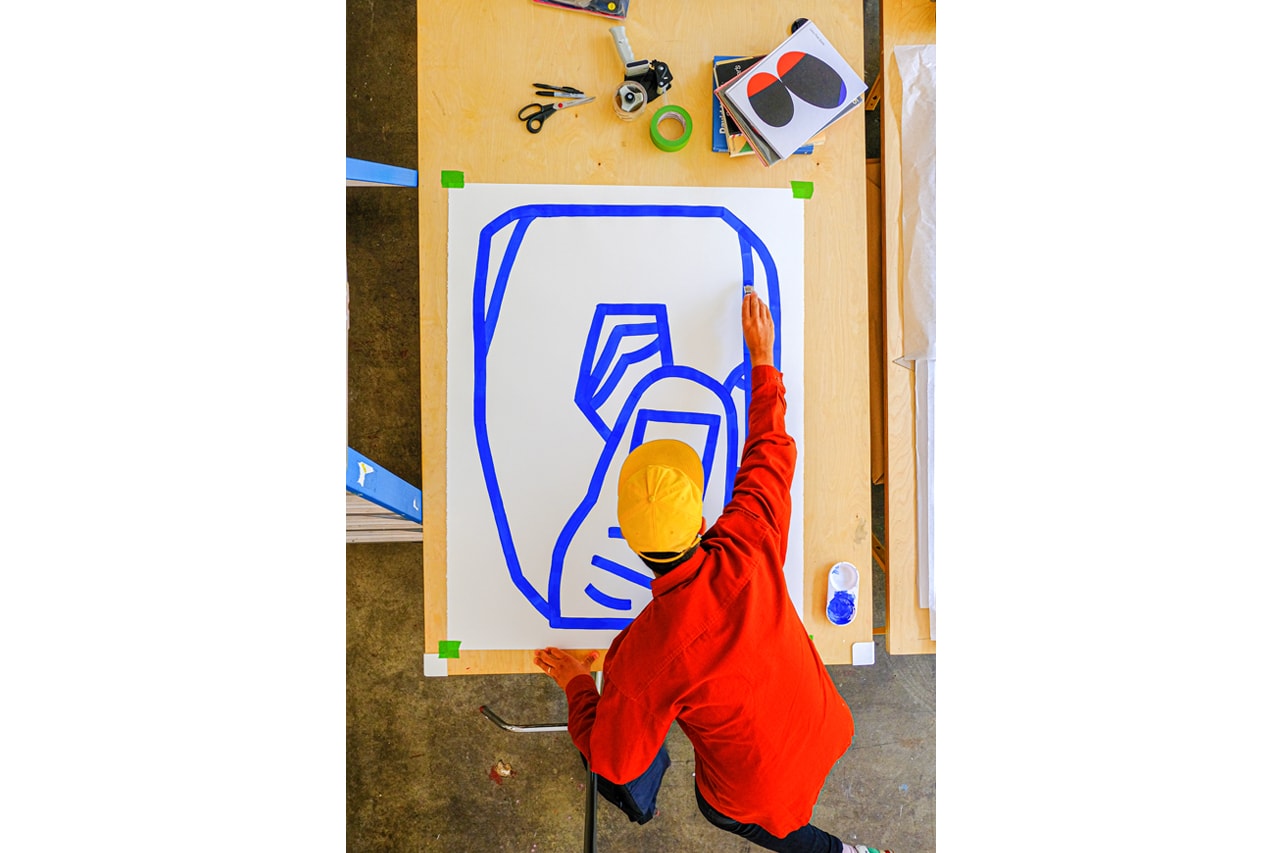 2 of 5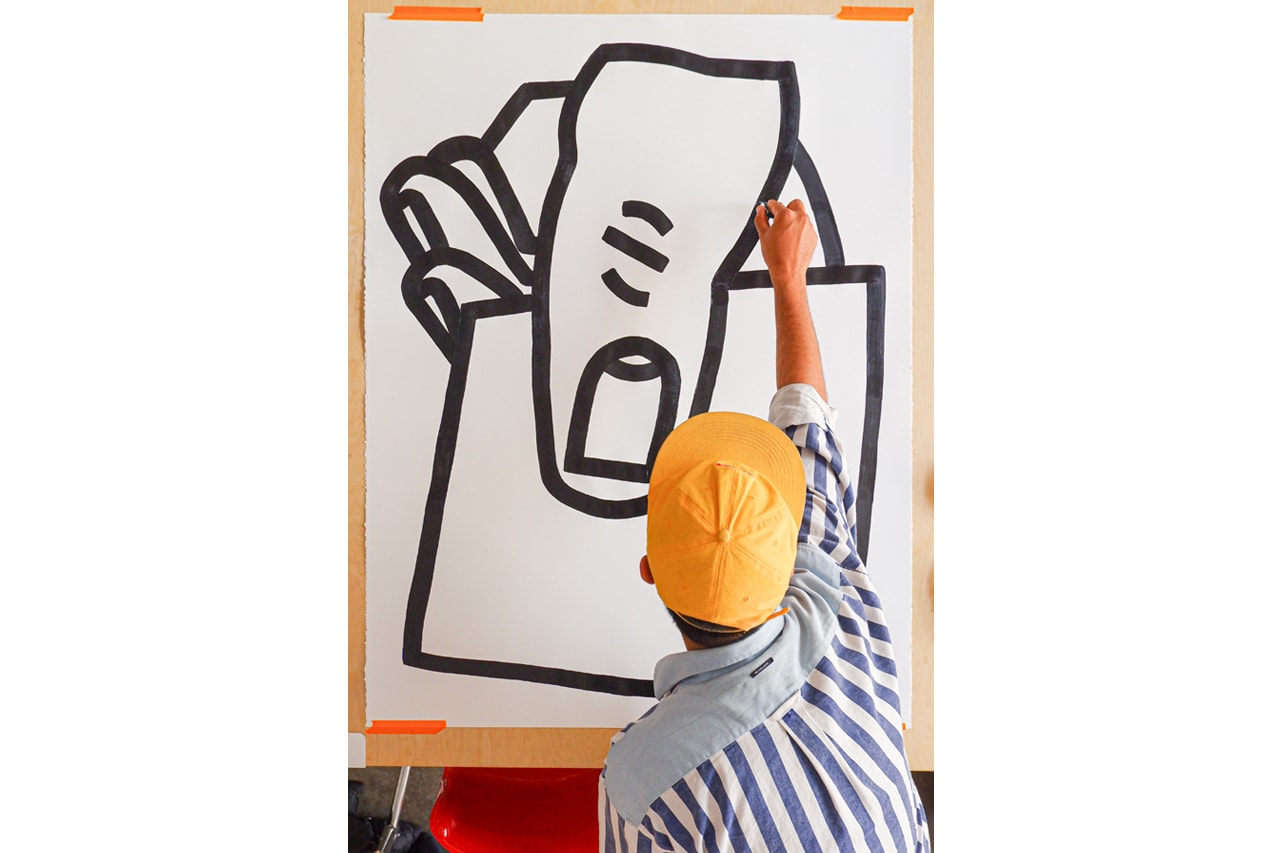 3 of 5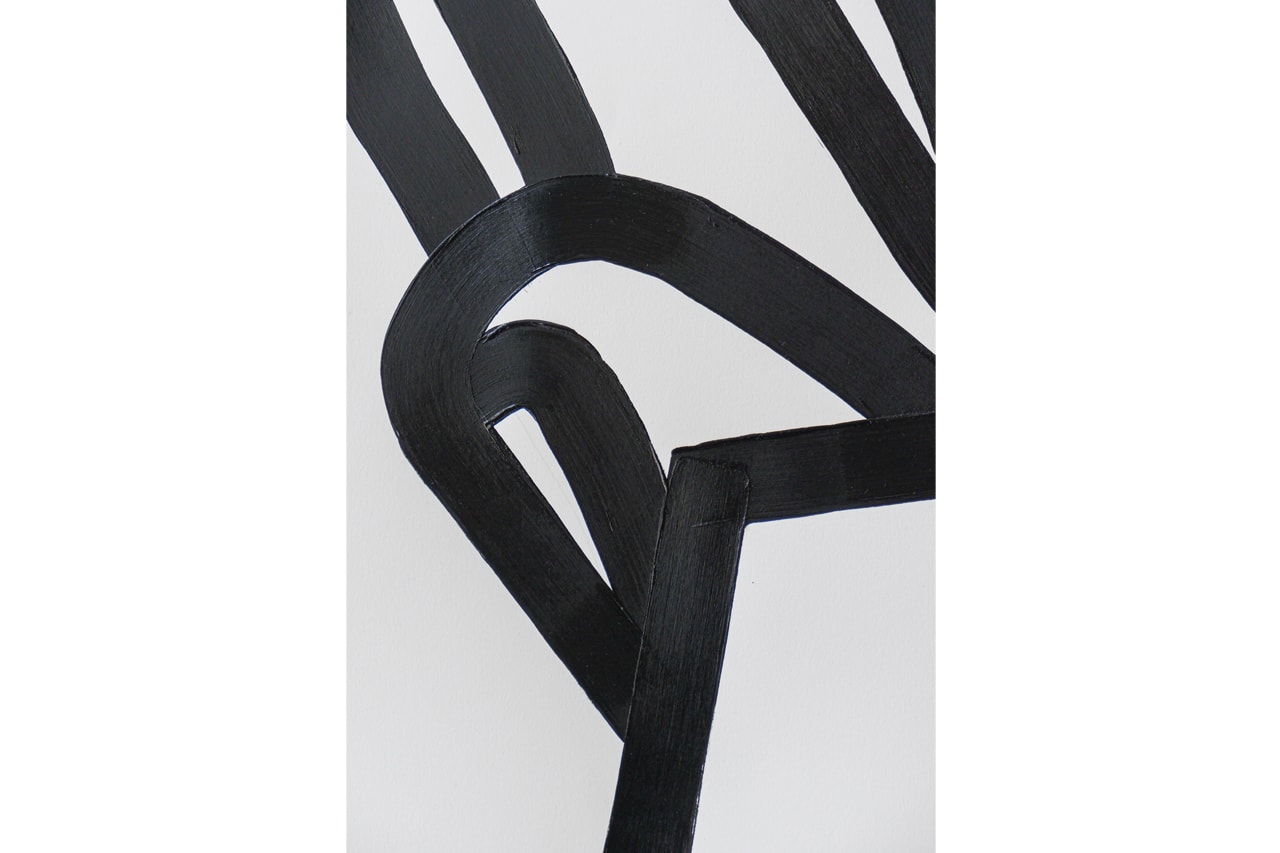 4 of 5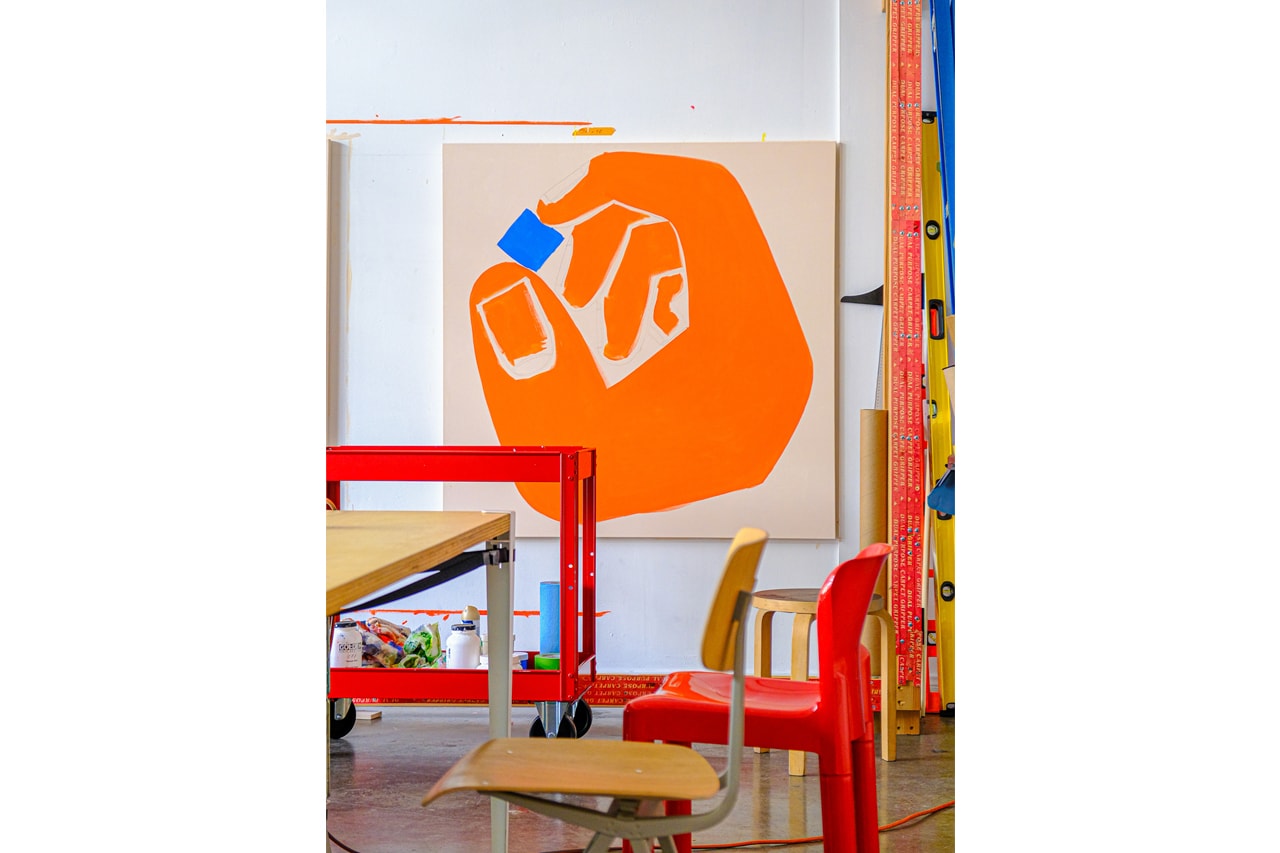 5 of 5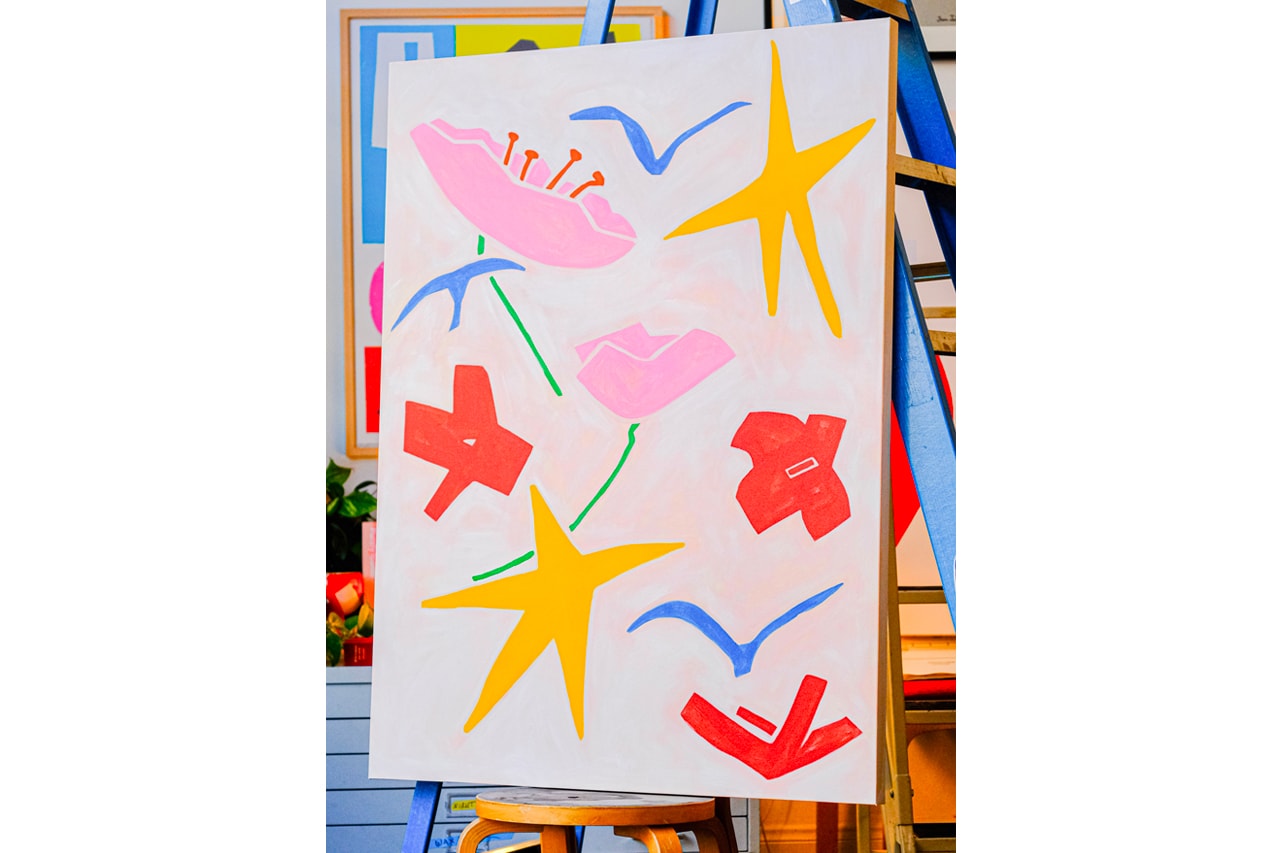 "Commercial work is always just a repetition of something that you did."
It's interesting how you separate the static art with the animation, the latter of which is very fluid. There's almost like a dance to the way you approach your animation — almost like football. When you think about your editorial projects, what have been some of your favorite projects in the storytelling you brought to it?
At the beginning, I didn't draw but was creating drawings — it's kind of weird. I would composite elements and they would resemble a body. I had a project for a museum in Buenos Aires. It was for young people, because they have a lot of programs to connect with young artists, so they do music, theater, etc.
In summer, they just wanted to paint the building and do some posters. They didn't have a theme other than 'love'. I wanted to say something that would resonate with me and I couldn't find any topic. As a graphic designer, you always work for a client and a commission. So to have that freedom in a sense is terrifying. You're not trained for that.
That pressure was the first challenge as an artist. It ended up talking about sexuality, gender, diversity. Argentina, you know, has white and brown people, which can create a hierarchy. The gender discussion was big at that moment where we're trying to pass abortion. So the work was of different people, different sizes and different compositions — all very diverse — talks about individuality, kindness and love.
The personal projects, however, always give me the most excitement. Commercial work is always just a repetition of something that you did. I do think in commercial art, you can find something interesting, but it is challenging. The personal projects and paintings that I do are the ones that I hope drive my career and give me the freedom to able tell more stories.
Nowadays, do you prefer painting or animation?
Painting for a lot of reasons. For one, it's an exciting new thing. Animation, I'm trained for it. I'm a soldier with 15 years of experience and have worked in Europe, South America, the United States and Canada. It's hard for me to do animation in an experimental way, you just work with rules. Painting offers me a very happy release.
1 of 5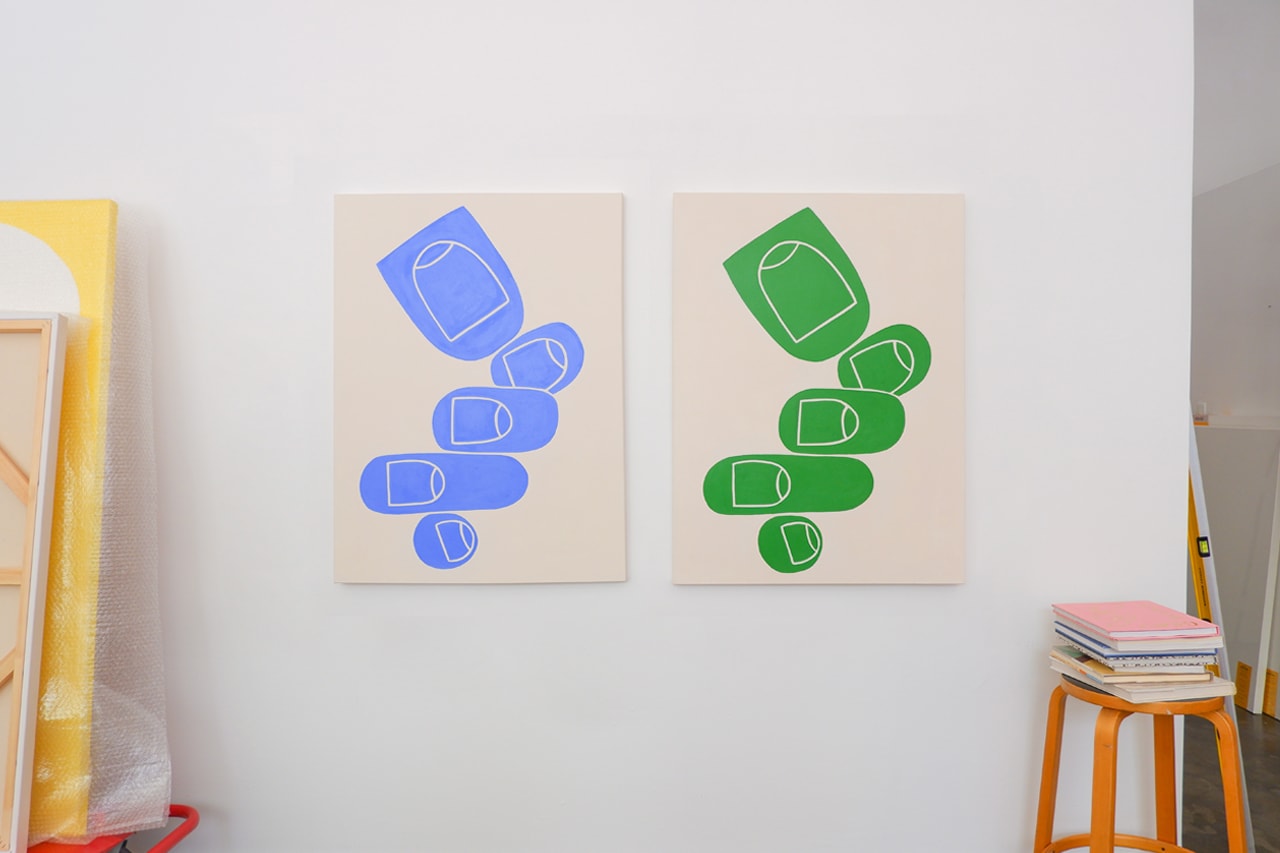 2 of 5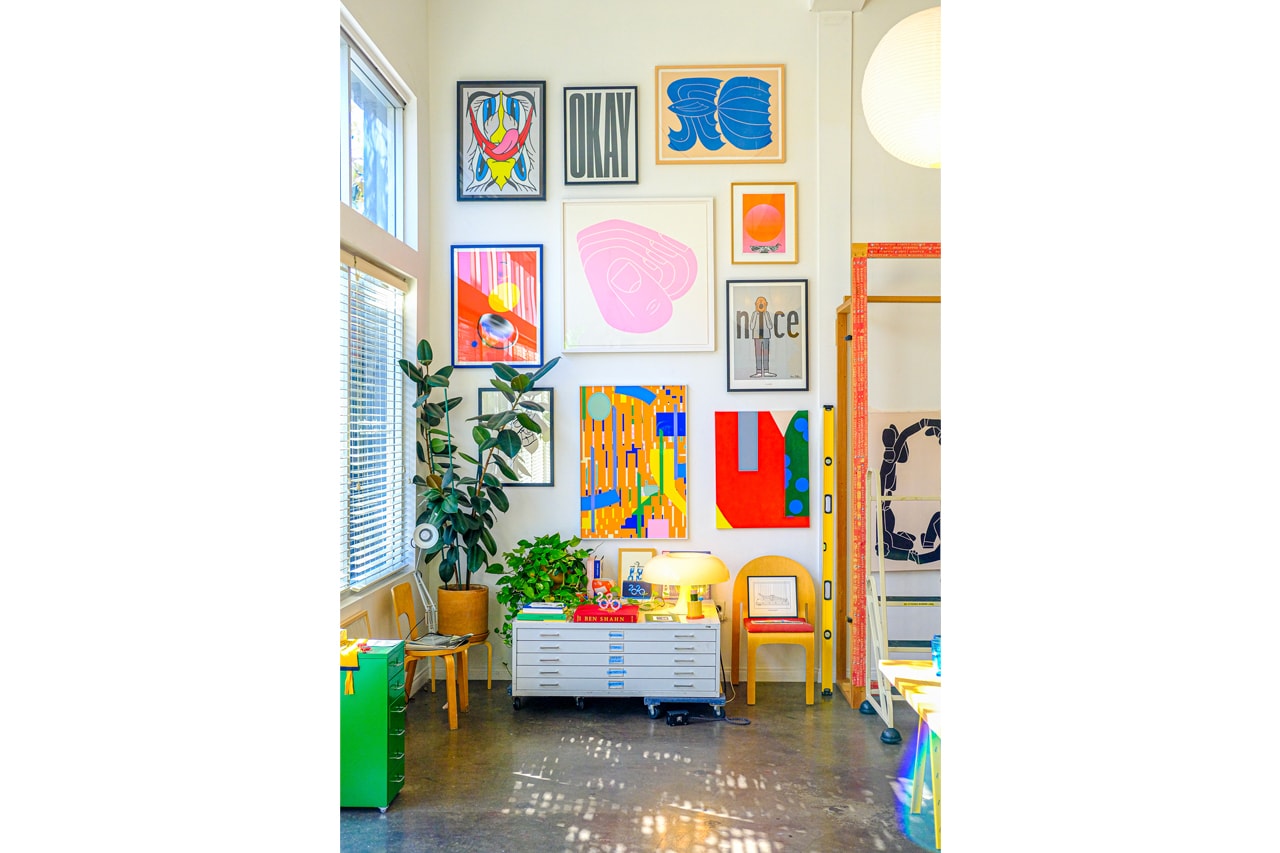 3 of 5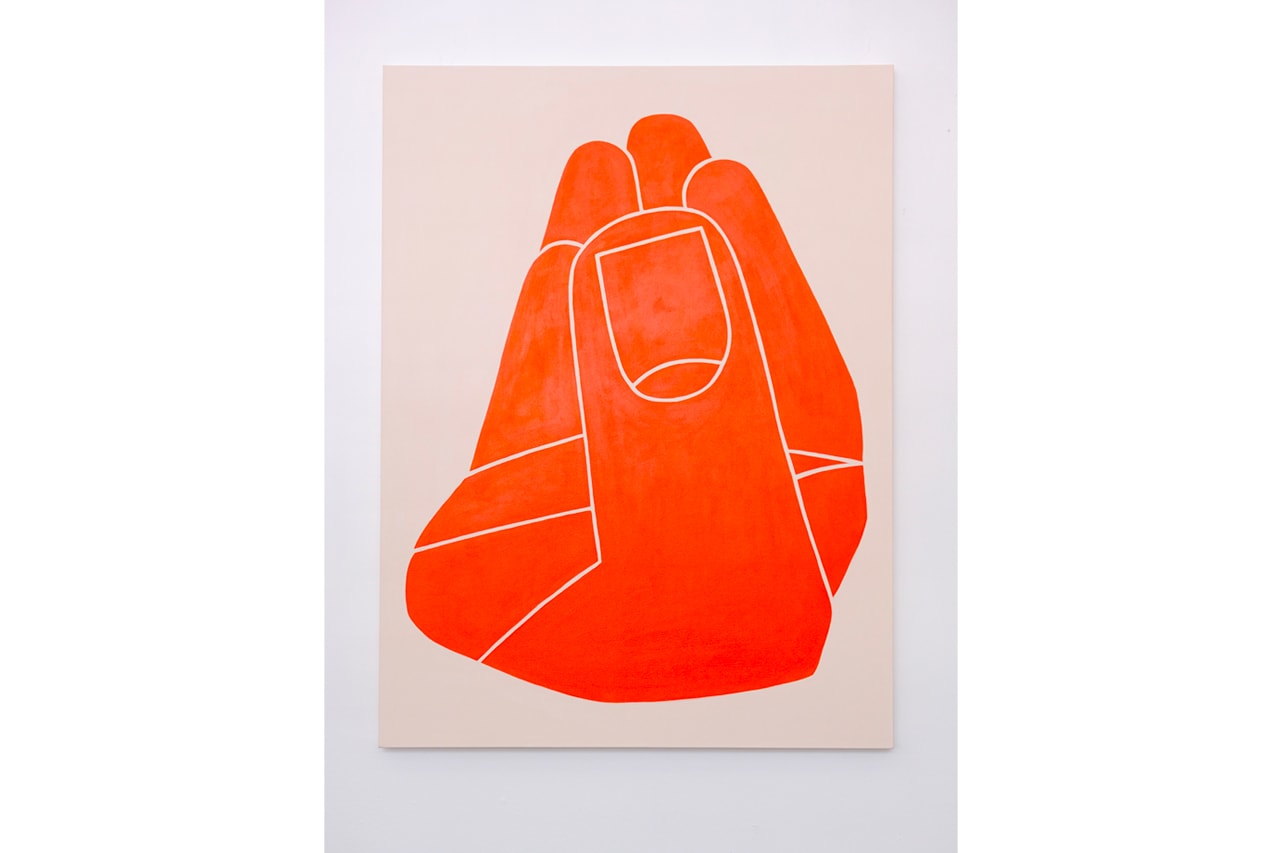 4 of 5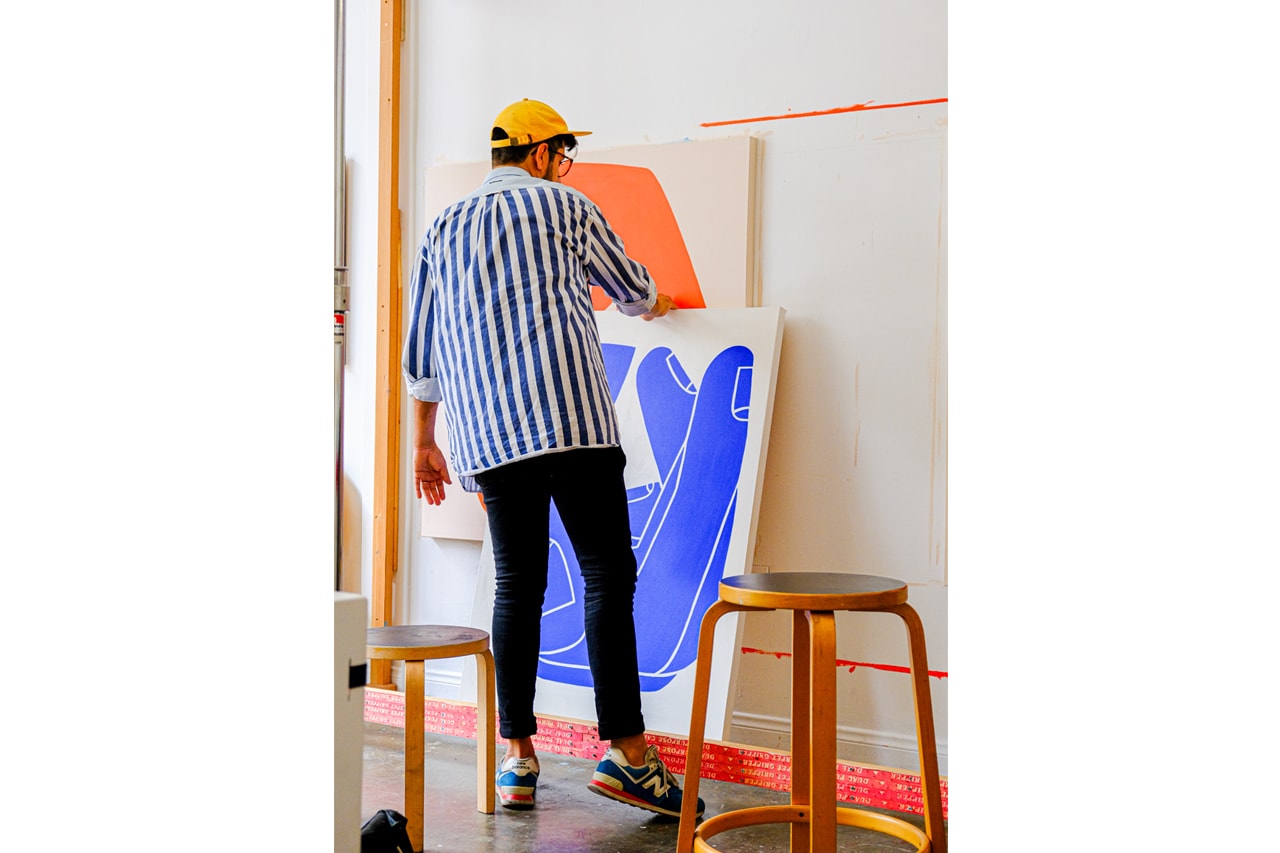 5 of 5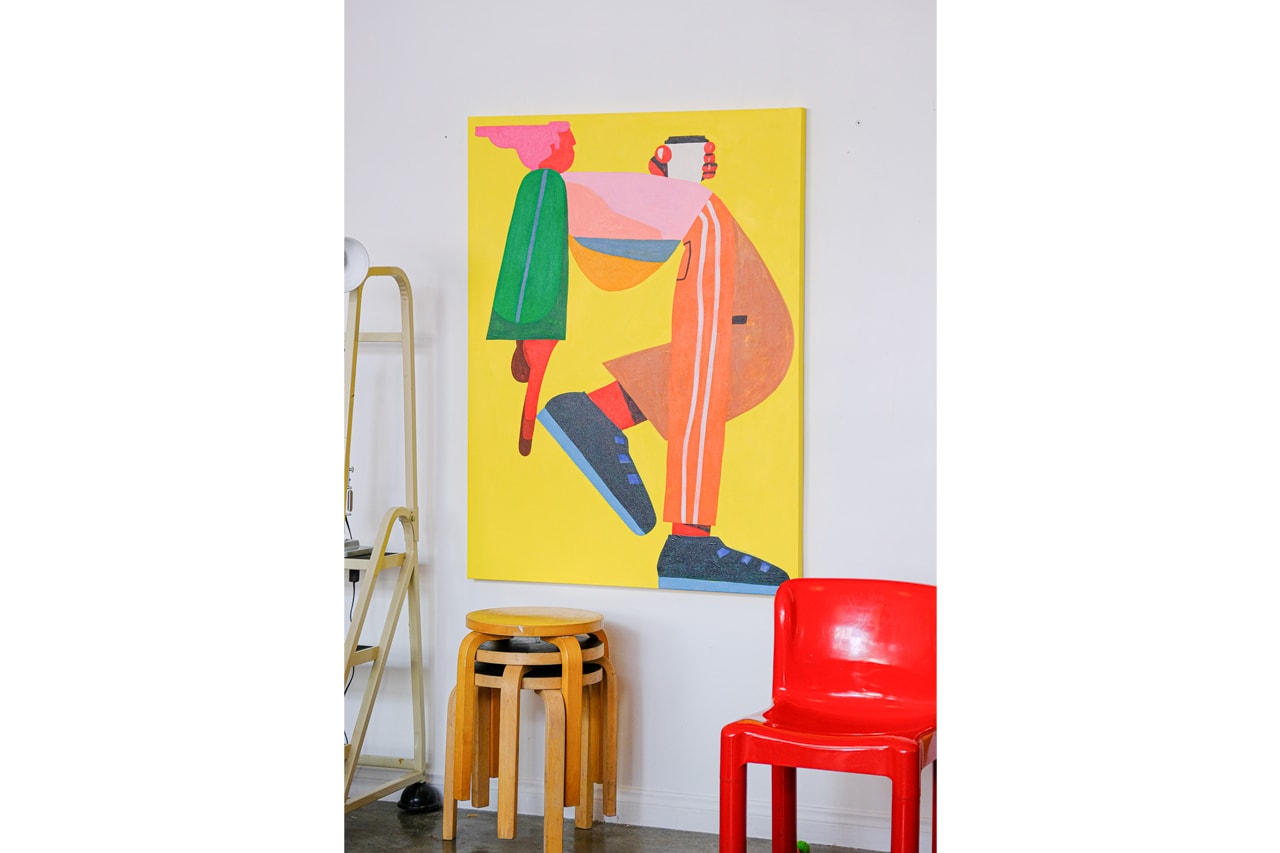 "I'm learning painting as I go."
When trying new mediums, you almost don't know any better, which can allow you to experiment through expectations. For the paintings and with your studio, is it a constant collaboration with your wife?
So we have separate practices. It's been changing, though. She was a cook, but the food industry can be very toxic. She saw how I was working as an illustrator and the amount of freedom I could get. So she started to make carpets and it's very similar to painting. She worked on carpets for two years and still does some. But when you start trying to sell them and make it sustainable, you start to compete with companies like IKEA, which will push you to sell cheap.
She started to paint and we're both learning together. Sometimes she helps me as the canvases get bigger-and-bigger.
One of your most recent projects was on football shirts raising funds for the migrant worker controversy surrounding the current FIFA World Cup. Can you talk on that further?
I love the guys, they have a small shop in Ireland — a family business. Last year, they made prints with Amnesty International, whereas, this year they chose shirts for the World Cup.
As I've said before, I'm not really big on football, but I'm all in on projects that don't have a brief and just give me a blank sheet to create. So Maci and I dedided to come up with something cool for Argentina because I'd love to represent my country in some way and I'm very patriotic. It was just a bunch of artists and graphic designers trying to raise money for a good cause. Most of the work, however, is from Greg from Goalissimo.
The graphics for the shirt we created just intend to be representational of Argentina. At this stage, I don't want to be really deep with the message other than I'd like to keep it positive.
What are some future projects or exhibitions we could look forward to?
For now, I'm just excited to create these paintings in a series. I'll do five or six, look at them, see the problems and go again. Sometimes different subject matter or materials. I'm learning painting as I go.
All images courtesy of Sebastian Curi.