And Austin Wants to Make Noise (Without Making Noise)
Hypebeast caught up with the emerging fashion brand's founders Reuben Perin and Geoffrey Glenister to discuss how their clothes speak softly but confidently.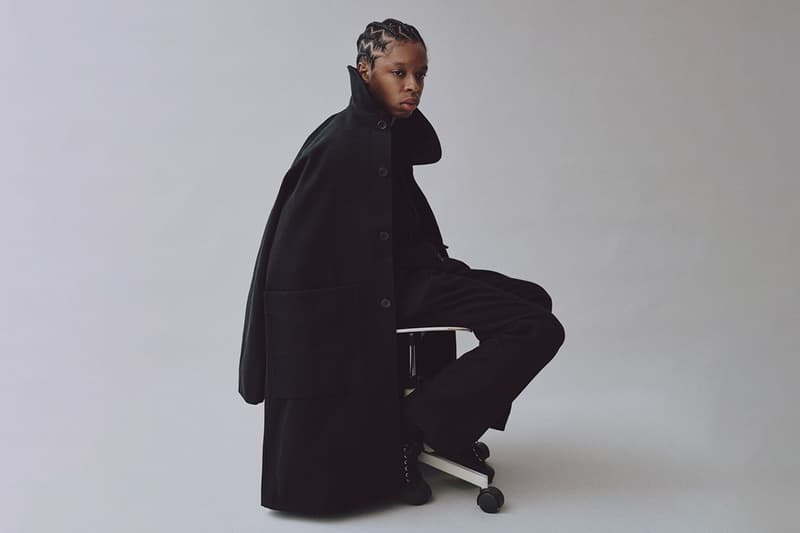 The chokehold that social media has over fashion dictates how its trends evolve. When celebrities, athletes or content creators co-sign a brand, an article of clothing or a sneaker, the floodgates open for new waves to settle in. One would assume that the best way to infiltrate the fashion sphere today would require capitalizing on consumers through digital channels, but fledgeling clothing label And Austin believes that introducing its well-crafted garments to the world without seeking too much attention is a formula that aligns more with its values. Reuben Perin and Geoffrey Glenister — the brand's founders and only employees — want the clothes to do the talking and let you decide if what they say is worth your while.
The Los Angeles-based brand is still in its early stages — it was established in 2020, right before the pandemic hit. Perin and Gleniste are familiar with the ins and outs of the fashion industry thanks to years of experience in design and merchandising, and felt that they were fluent enough to understand the psychology and methods behind making clothes that they wanted to wear and would resonate with like-minded Americana, vintage and military style enthusiasts.
If you search "And Austin" on Google, you'll notice that little information about the brand's background is available. This under-the-radar identity is reflected through the brand's moniker. "If we could have no name, we probably would," Perin says. 'Austin' serves as a homage to one of our designers and the "And" in front is metaphoric in the sense that the clothing will always come first. We also know that our products will never be aligned with Austin, Texas so it adds this weird and counterbalancing element that we love."
"We're able to communicate our individuality through the materials we select and the shapes that we cut."
A brand's design language is what distinguishes it from the rest of the pack. Some brands rely on vivid colors and playful graphics to attract their customers, but And Austin leans on its experimental-yet-familiar design approach, built upon a triad of core pillars: fabric, fit and function. "When we are showcasing our new collections, what strikes buyers the most is our ability to create harmony between workwear references and elegant details," says Perin. "We're able to communicate our individuality through the materials we select and the shapes that we cut."
Perin and Glenister's design process always begins with fabrics. They're constantly rummaging through high quality cottons, nylons, leathers and knits, all of which are sourced from mills in Japan along with Italian-made yarns that are not only pleasurable to touch and feel, but highly durable. Fit is pronounced through roomier silhouettes that are controlled with well-tailored lengths. And function comes into play thanks to their oft-used muted, neutral and versatile tones along with utility-inspired details like storage pockets.
"Our experimental aspect speaks to the nature of the textiles we select and the contrast between drawing inspiration from traditional workwear garments."
The result is clean, timeless pieces that consumers can seamlessly weave into their daily lives. And Austin references evergreen styles that the untrained eye can digest, but bolsters them with subtle nuances that fashion aficionados can nerd out on. "We're often inspired by the golden era of vintage clothing from the '40s-'60s which features silhouettes that many people could consider staples in their wardrobes," says Glenister. "Our experimental aspect speaks to the nature of the textiles we select and the contrast between drawing inspiration from traditional workwear garments." From there, we're reinterpreting them as more dressy and tailored."
During its three years of business, And Austin has brought a myriad of garments to life, but there are a few that have served as cornerstones for the brand. In the outerwear category, the Club Collar Coat is a label staple and a prime example of And Austin's practical-yet-modernized approach to design. It draws inspiration from a 1950's fireman jacket, and while it may appear like a normal trench coat from a bird's eye view, its oversized waist pockets, precise tailoring and club collars elevate it with an avant-garde aesthetic.
Styles like the Giza Modified Mac and the Trucker Jacket bear similar shapes that are comparable to classic chore jackets. The former is devised with a unique, slanted chest pocket while the latter is constructed with a durable nylon cotton and accessorized with Cobrax Swiss metal hollow snap buttons that supply it with technical flair. Other crowd favorites include a slew of pleated trousers, long-sleeved shirts and cashmere cardigans. Its upcoming FW23 collection sees a few staples return to the forefront in new colors while directional tracksuits, wool coats and additional knit silhouettes get the opportunity to show face for the first time.
Currently, And Austin is sold through its own website as well as an ever-growing list of retailers that span across the US, Canada, Asia and Europe. E-commerce platforms offer assistance in terms of getting the brand on other consumers' radars, but from Perin and Glenister's point of view, the brand is still best experienced in person where you can try the products on, feel the weight of their premium materials and fully appreciate the time and effort that goes into constructing every piece, a tangible triumph that cannot be replicated through the typical online add-to-cart process.
Today, tomorrow and down the road, And Austin intends to pump out concise and calculated capsules that emphasize quality and craftsmanship as well as bring the fashion audience along with them if they so choose. "At the end of the day, all design is subjective and personal to each individual wearer", says Glenister. "What you decide to make is as important as how you make it, and we only hope that people appreciate what we make and how we make it so we can continue doing it."