Damian Lillard's Eyes Remain On Target
Sitting down with the slick sharpshooter to discuss adidas Basketball's new direction, his next album, style and more.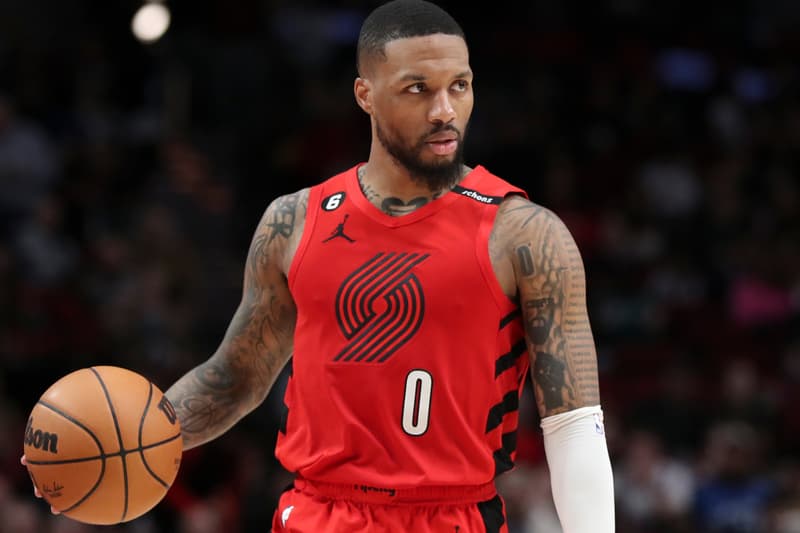 11 years into his NBA career – all with the Portland Trail Blazers – 32-year-old Damian Lillard has been cemented as one of the league's most lethal point guards. A seven time NBA All-Star who was named to the league's 75th Anniversary Team in 2021, his clutch play has warped his presence into a perpetual state of "Dame Time."
Lillard's cultural impact reaches far beyond his electrifying presence on the court, though. The king of "4BarFriday," he's also established himself as a tenacious force in the rap game under the Dame D.O.L.L.A. (Different On Levels the Lord Allows) moniker. With four studio albums under his belt, teaming up with the likes of Lil Wayne, Jeremih and Snoop Dogg along the way, Dame stays poised, ready to strike at any moment.
Outside of the studio, he's continued to make noise with tunnel fits and courtside looks ranging from shirtless suits to rocking the latest adidas Basketball gear. Having worked with the Three Stripes on a multitude of signature shoes since releasing the D Lillard 1 in 2015, he continues to lead the brand as the division explores its new "Remember The Why" chapter.
Heading into NBA All-Star Weekend, Hypebeast connected with a charged-up Lillard — who juggled the 3-Point Shootout, All-Star Game and worked with his many partners throughout the action-packed weekend. For him, it was "the same old," though: his victory in the 3-Point Shootout and game-winning shot in the All-Star Game was just another day at work.
Hypebeast: Since you signed with adidas in 2012, the brand has evolved significantly. What's the biggest change you've noticed? 
Damian Lillard: At first, everything was based on the history of the brand. Trying to stay true to what they've always done: a lot of the shelltoes, Top Tens, Crazy 8s and the tracksuits, stuff like that. I think the changes that I've seen involve jumping out front — being more in the future with it, doing louder things, more unusual things than what they did in the past. 
What's your favorite shoe you've released with adidas?
Probably the Dame 6.
Why is that one special to you?
I just think it was the most "different" one as far as the color blocking and the way it looked. It performed well too –  light and comfortable. I was able to play in it straight out of the box but there were also enough colorways that I was able to just wear a bunch of different shoes.
How many of your shoes do you own today?
All of them. I got a bunch of them in my garage. Team colors, random colorways, everything.
We want to hear about an All-Star Weekend classic: how did you end up collaborating with BAPE on the Dame 4?
I've been a big fan of BAPE since I was in high school. Lil Wayne and Juelz Santana had just come out with the I Can't Feel My Face mixtape, and were wearing BAPE hoodies, jeans and shoes. That always stuck with me, and when we collaborate we always look for a brand that's connected to the culture and that's gonna push the line.
What can we expect from your next shoe?
You can expect it to be different. I think a big thing for me is I want my shoe to be versatile — one that performs well but one that can be worn off the floor, due to the color blocking and the details in the shoe. Obviously I always wanna be able to tell stories throughout each colorway so that's something that's always gonna be there. And that's really it, keep making it better and better as we go.
The "Remember The Why" campaign seems to present a new direction for adidas Basketball. How do you feel about it?
It's something that I really appreciate because it has a lot of depth. It meets the people connected to the brand where they are: basketball fans aren't just like "oh, this guy is scoring 30 points a game" anymore, they want to see who the players are and what they're about as well. The new direction the brand is taking with its basketball product really spotlights both sides of that equation.
What's your favorite off-the-court shoe right now?
My favorite off-the-court shoe right now is the BAPE x adidas Superstar 80s, I've got like four pairs.
"I think NBA players are more stylish [than rappers]."
Who's more stylish? NBA players or rappers?
I think NBA players are more stylish.
Any reason for that?
Most of the rappers that I see are in designer brands with a lot of color coordination. I think with athletes, since they deal directly with designers and stylists and stuff like that there's a lot going on. There's a lot more depth to the style of athletes right now than there is to rappers.
What's in your music rotation at the moment?
Right now, I'm listening to me. I got a new project that I'm about to put out when the season ends so I've just been listening to it a lot so I can make sure it's on point.
With that in mind, what can we expect from Dame D.O.L.L.A. this year?
What did Deion Sanders say? "I'm coming."
Other than winning a championship, what's one goal of yours before you retire?
MVP.