Best New Tracks: Lizzo x SZA, Paramore and More
Enjoy the weekend with these 10 music projects.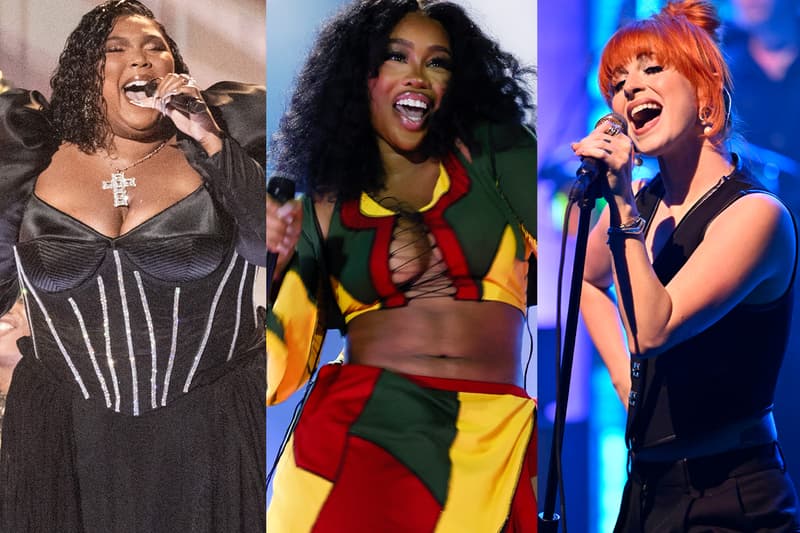 As the week in music comes to a close, HYPEBEAST has rounded up the best projects for the latest installment of Best New Tracks.
This week's lineup is led by Lizzo x SZA and Paramore, who dropped the remix to "Special" and the album This Is Why, respectively. Also joining this selection are offerings from Joyce Wrice, Kay Young, Masego, RINI, Fly Anakin, Azekel with Ivy Sole, Baby Rose with Smino and Chiiild.
Lizzo x SZA – "Special (Remix)"
Lizzo and SZA join forces to deliver a remix of the former's hit track, "Special." The new version hears SZA open the cut with a brand new verse, and the two sing harmoniously uplifting messages on the song.
Listen: Spotify | Apple Music
Paramore - This Is Why
Paramore returns from their lengthy hiatus with This Is Why, the trio's first studio album since 2017's After Laughter. The 10-track record sees the return of Hayley Williams, Zac Farro and Taylor York, and takes inspiration from alternative rock and post-punk sounds to create a record relatable to the audience that grew up with them.
Listen: Spotify | Apple Music
Kay Young – "The Way You Look At Me"
Kay Young releases her first original track in over a year, "The Way You Look At Me." The New Gen: Fall 2021 inductee takes inspiration from '60s and '70s funk, and is billed as the first teaser from her upcoming EP.
Listen: Spotify | Apple Music
Masego – "Two Sides"
Masego delivers his smooth new single "Two Sides," produced by Albert Hype and BASSCHARITY. The track serves as a warning to his new love interest about the duality of his Gemini nature, "I love games. Do I ever. 'Two Sides' make the next person that is involved with me aware of, I guess, the demons that I'm trying to fight" Masego adds, "Geminis have a bad rep. And I was letting her know that I have the potential to move in this manner because of my past and hurt. There's no silver lining in this song. It's just like, 'I could be a bad guy and I could get what I want with my slick words and my seductive beguiling ways.'"
Listen: Spotify | Apple Music
Fly Anakin – "Outsidigan's Anthem"
Fly Anakin preps his upcoming project Skinemaxxx (Side A) with the second single, "Outsidigans Anthem." The cut is described by the artist as "a theme song for outsidigan's. The ones that are outside even when they wanna go home. The streets need us. Free Max B," while the project is set to drop April 5.
Listen: Spotify | Apple Music
Joyce Wrice – "Bittersweet Goodbyes"
Joyce Wrice shares an accompanying music video for her Motive EP single, "Bittersweet Goodbyes." Co-directed by Juliann McCandless and Ashley Bone, the visual sees the artist flawlessly execute a dance performance choreographed by Brian Drake, and features appearances from Kiana Ledé, ESTA. and Mack Keane.
Watch: YouTube
RINI – "My Luv"
RINI follows up his December 2022 EP Ultraviolet with the brand new track "My Luv." Featuring bluesy guitars and warm, low-end bass lines, the track is a steamy offering from the Filipino-Austrian artist that's making waves in the international scene.
Listen: YouTube
Azekel x Ivy Sole -"Just Expectationz"
Azekel enlists the help of Ivy Sole for "Just Expectationz," taken from his upcoming mixtape Analyze Love. The track was written and recorded in 2019 while the artist was on tour, and is billed as a cut "exploring themes of the harsh reality of love and sacrifice." Sole shared in a statement that she began working on her verse as soon as she heard the song, "Azekel's pen and voice are so distinctly smooth, so I approached the song with some staccato, imagined some relationships past and let the production lead me. The result was a bit of transatlantic magic." Meanwhile, Analyze Love is set to drop March 17.
Listen: Spotify | Apple Music
Baby Rose x Smino – "I Won't Tell"
Baby Rose announces her new album Through and Through with "I Won't Tell," the funky, Smino-assisted cut that hears Rose take on a new sound. Through and Through drops April 28.
Listen: Spotify | Apple Music
Chiiild – "Antidote"
Chiiild preps for his upcoming album Better Luck in the Next Life (dropping March 3) with "Antidote," which the artist describes as a song "about being enamored by a person. It describes the infatuation of watching someone live life optimistically and simply wanting a piece of that because they symbolize the light for you. It is a representation of the idea that this person could save me from any emotional or physical struggle."
Listen: Spotify | Apple Music