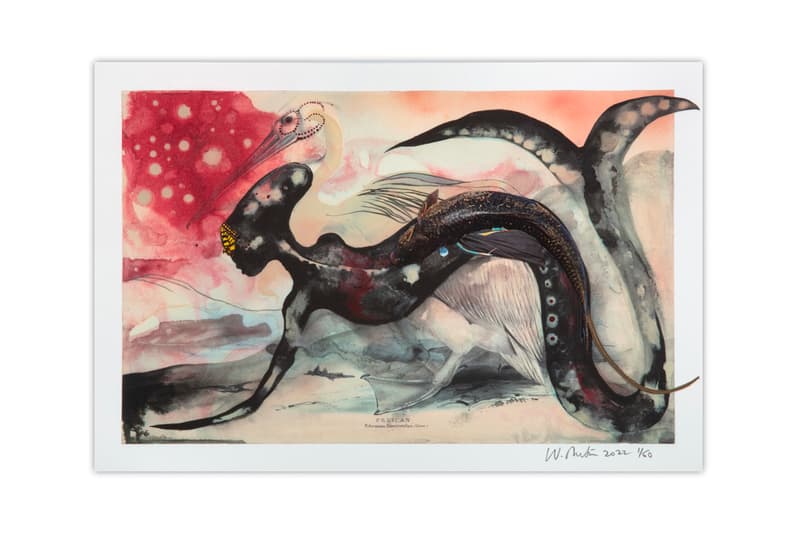 Wangechi Mutu Releases Limited-Edition Print Alongside New Monograph by Phaidon
Made in conjunction with Artspace.
---
To accompany her first monograph, Kenyan artist Wangechi Mutu worked with Phaidon and Artspace to release a limited-edition print entitled WaterSpirit washed Pelican, 2022. For those unfamiliar to her work, Mutu approaches image-making like an archaeologist, by mining found objects and art history in an attempt to probe questions of identity and representation, as well as ecology, politics and more.
In the past, this process has translated into semi-mythological artwork that is charged with unorthodox materials, such as tea, synthetic hair, Kenyan soil, feathers and sand. "Working with older prints and found materials is a kind of archaeography," said the artist in a statement, "a re-discovery and re-naming of an image. It's my way to conjure up something from the past that can return to tell me something or remind me what I've forgotten."
For her latest print, Mutu revisits the half-fish, half-woman character Nguva. "In Mutu's hands, Nguva also holds lessons for understanding our universe and generating empathy in our world," wrote curator Kellie Jones. Limited to an edition of 60, plus 10 artist proofs, WaterSpirit washed Pelican, 2022 is a lithographic print that sizes at 7.5 x 11-inches. Each person who orders a print will also receive a signed and numbered copy of Phaidon's 2023 monograph Wangechi Mutu. Please visit the publisher's website to join the waiting list.
Elsewhere, Bart Simpson plays muse in Katherine Bernhardt's latest exhibition.