Raul Rosas Jr. Becomes Youngest Fighter in UFC History
At age 17.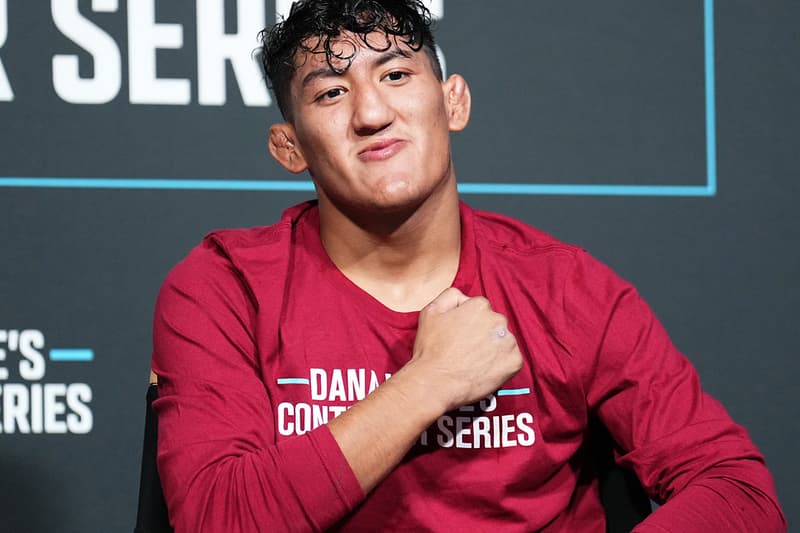 Following his victory over Mando Gutierrez on Dana White's Contender Series, 17-year-old Raul Rosas Jr. was officially offered a UFC contract, becoming the youngest fighter ever in the history of the promotion. The previous record was held by Dan Lauzon who signed his contract at 18 years, 198 days.
"I've never seen anything like it," White said in an interview. "Not only that, the amount of fighters blowing me up saying you're crazy not to sign him — He's absolutely, positively talented. He's special, he's different."
Rosas was born in Mexico and is currently a purple belt fighting out of Eddie Bravo's 10th Planet Jiu Jitsu in Las Vegas. His three-round match against Gutierrez improved his professional record to 6-0 and was his first official bout to go the distance having finished his previous fights via four submissions and one knockout. Entering the UFC, Rosas will compete in the bantamweight division in which Aljamain Sterling currently holds the title.
"I knew I was gonna get that contract," Rosas said following his recent decision victory. "I've been saying it since the beginning. Since I was born, I knew this was gonna happen."
"Everybody shouldn't be surprised. I'm the new king in here, so I'm coming for that belt now," he continued. "I'm gonna be champion when I'm 20. Respect to everybody, but I'm gonna be champion when I'm 20, or even earlier. Nobody is gonna stop me."
With Jon Jones currently holding the record for the youngest UFC champion at 23 years old, Rosas has five more years to make history if noone beats him to the mark. Look to see more of him in the coming months as he makes his official UFC debut in the octagon.
"I will become the youngest UFC champion": 17-year-old Raul Rosas Jr. makes a BOLD statement after being signed by Dana White.#DWCS | Full video: https://t.co/IqEv9032s2 pic.twitter.com/eH9shhh2c9

— MMA Junkie (@MMAJunkie) September 21, 2022
Introducing Raul Rosas Jr. – the youngest athlete in UFC History ? #DWCS

— UFC (@ufc) September 21, 2022
In other news, Tom Hardy quietly enters and wins Jiu Jitsu Open contest.