vVARDIS Releases a "Strong Mint" Version to Its Luxurious Anti-Aging Oral Care Kit
Priced at $200 USD.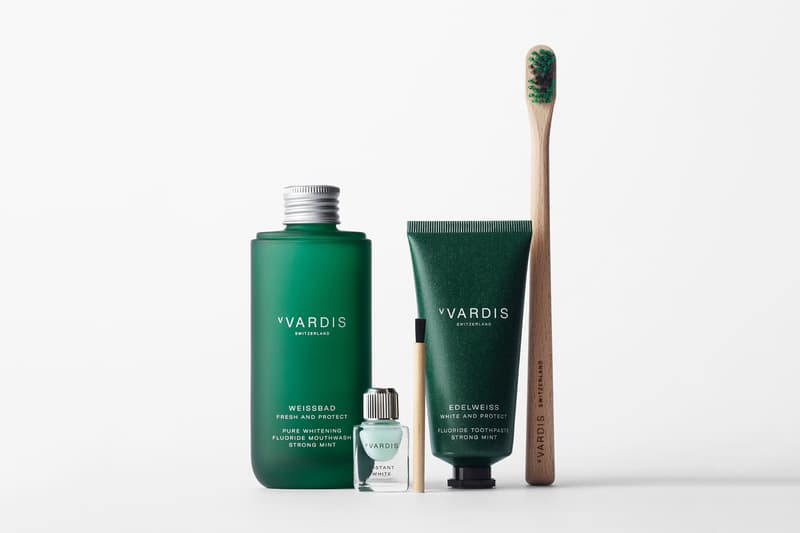 Switzerland's vVARDIS offers up a new option for its "anti-aging" ritual for teeth. The new Strong Mint set uses vVARDIS' patented Biomimetic Science to repair your teeth with the creation of new white enamel.
Based on technology that is used by the leading dentists in Europe, vVARDIS was created by Dr. Haleh and Golnar Abivardi and inspired by Dr. Green Vardiman Black's vision of a preventive future for dentistry. The goal is to create a drill-free future and eliminate tooth decay in the younger generation. Unlike living tissues like bone, enamel cannot regenerate, and degrades over time due to exposure to acids in food. vVARDIS eliminates early decay and creates a protective layer around the tooth which is strengthened with natural minerals.
Sold as a ritual set, the kit contains the New White Enamel Anti-Aging Serum, the Enamel Anti-Aging Toothpaste, the Highlighter mouthwash, and a wood toothbrush. Priced at $200 USD, more info on the regimen can be found over at vVARDIS.
In other personal grooming news, Lil Baby teams up with AXE to create limited-edition "WHAXE" packs.