Best New Tracks: Blood Orange, Ab-Soul, Mura Masa
10 music projects to dive into this weekend.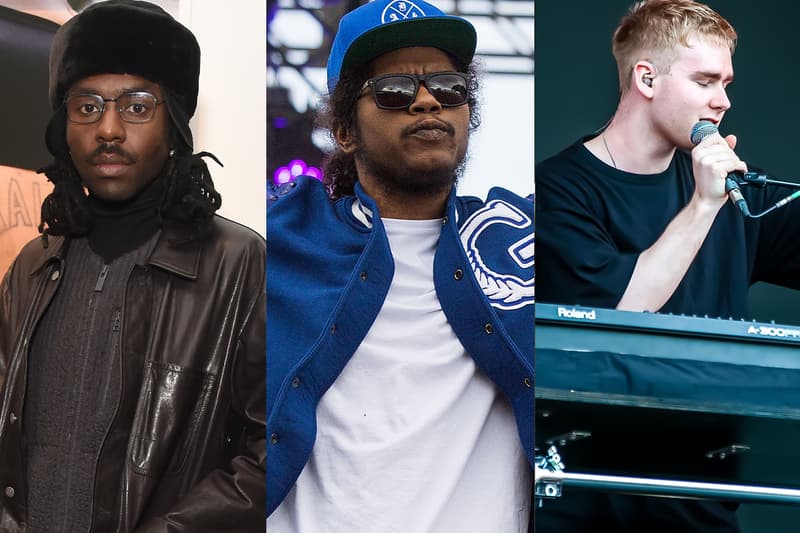 As the week in music comes to a close, HYPEBEAST has rounded up the best projects for the latest installment of Best New Tracks.
This week's list is led by Blood Orange, Mura Masa and Ab-Soul, who released the projects Four Songs and demon time and the single "Moonshooter." Also joining this week's list are offerings from Nick Hakim, Ravyn Lenae with Doechii, Obongjayar, Pink Siifu with Real Bad Man, AG Club, EST Gee and WizKid.
Blood Orange - Four Songs
Blood Orange makes his exciting return with Four Songs, his latest EP and first material of new music since 2019. The four-track record is produced and written by Hynes himself and features a series of both new and old Blood Orange collaborators, including Ian Isaiah, Eva Tolkin and Erika de Casier.
Listen: Spotify | Apple Music
Ab-Soul – "Moonshooter"
Ab-Soul drops his second single of 2022, "Moonshooter." The PoptartPete-produced cut clocks in at three minutes and follows April's "Hollandaise," with Top Dawg Entertainment hinting that Ab's Do What Thou Wilt., followup is dropping soon as the record is finished.
Listen: Spotify | Apple Music
Mura Masa - demon time
Mura Masa delivers his R.Y.C. followup, demon time. Inspired by a note on his phone that simply read "FUN" in capital letters, the title serves as a reference to the early hours in the morning during a party or a hangout with friends "where a delivish yet innocent sense of mischief prevails." The 25-year-old enlists the like of BAYLI, Lil Uzi Vert, PinkPantheress, Shygirl, Pa Salieu, Channel Tres and more for the 11-track record.
Listen: Spotify | Apple Music
Nick Hakim – "Vertigo"
Nick Hakim drops a new single from his upcoming album COMETA entitled "Vertigo." The artist also releases an accompanying music video helmed by Asli Baykal, and sees the artist on-location in Bosnia-Herzegovina in a rotating house built by Vojin Kusic. "The making of the video spanned over a transformative year, and our collaborative friendship with Nick became the center of the journey," Baykal shared. "Initially, Nick showed me a video of a Tuxedomoon performance from Downtown 81. It was filmed in the studio where the camera was spinning in the middle." She adds, "That idea gave life to the lyrics ' Spinnin', fast as hell can't tell if it's me or the room that's moving'. The room evolved into a moving house by a man who built it for his wife. Love is dizzying with multiple spins."
Listen: Spotify | Apple Music
Ravyn Lenae x Doechii – "Xtasy (Remix)"
Ravyn Lenae enlists Doechii for a remix of her Hypnos cut "Xtasy," produced by KAYTRANADA. The new version arrives just ahead of Lenae's North American tour with Omar Apollo, which kicks off in October and will see her in Houston, Los Angeles, Salt Lake City, Atlanta, Nashville and Brooklyn before closing it out in Toronto on November 29.
Listen: Spotify | Apple Music
Obongjayar – "Sugar"
Obongjayar shares an accompanying music video for his latest single "Sugar," taken from his most recent album Some Nights I Dream of Doors. In an interview with HYPEBEAST, the Nigerian-British artist opened up about the record and revealed a major challenge he had to overcome was "finding the sound I wanted to encompass and package," although "figuring that out was also the most exciting part."
Watch: YouTube
WizKid – "Bad To Me"
WizKid delivers his first single of the year, "Bad To Me." Produced by the Nigerian superstar's longtime producer P2J, the single is billed as "a declaration of lust in its purest form," with "sultry vibes over a percussive beat that only continues to add to the ongoing tension." The cut arrives just shortly after WizKid headlined the first ever Rolling Loud in Toronto.
Listen: Spotify | Apple Music
EST Gee – I Never Felt Nun
EST Gee drops his debut album I Never Felt Nun featuring guest verses from Future, Jack Harlow, Bryson Tiller, Machine Gun Kelly and Jeezy. Speaking to Apple music 1, the rapper opened up about the themes of the record, "I don't want to put my beliefs, my feelings off on other people, but just, you got to stay motivated. 'Cause a lot of time it don't seem like it get better. You know what I'm saying?" He continued, "But you got to make it better. So that feeling of not feeling nothing… You know what I'm saying? That shit's basically just keep going through it, don't let it affect you. Before I knew to tell myself, that's how I really was. You know what I'm saying? So that's just what that album's about. It's the third installment of this type of, I don't feel nothing serious. I don't think it's a fresh start, but it's just like a… I'm leaving out all the problems I've been having and all the stuff I've been going through behind. So it ain't like the door's open, I'm just finally walking through it. You know what I'm saying?"
Listen: Spotify | Apple Music
AG Club - Impostor Syndrome
Jody Fontaine and Baby Boy of AG Club deliver their latest album, Impostor Syndrome.  The group's newest record is executive produced by Vic Wainstein and is their first album on a major label. Billed as a record that "dives deep into the inner psyche of AG Club as they battle with their own idea of self-identity and authenticity," the 13-track album features appearances from the likes of redveil, Na-Kel Smith, kiyomi and more.
Listen: Spotify | Apple Music
Pink Siifu x Real Bad Man - Real Bad Flights
Following his team up with Boldy James in 2021 and 2022, Real Bad Man now joins forces with Pink Siifu for Real Bad Flights. Produced entirely by Real Bad Man, the record features guest appearances from James, Armand Hammer, Chuck Strangers and more, with Siifu stating that the concept behind the record is that "flights are horrible." He continued, "BASICALLY eye just been doin a lot of traveling since Covid started and it's kinda been ironic af lol, so eye just wanted to make sum folks could relate to on tht end but also soundtrack style type shit for folks to play while at tha airport or in tha sky." Real Bad Man added, "Working on all the songs for REAL BAD FLIGHTS, I approached it a little different than previous projects. Siifu has stuff a unique vibe and sound, but, at the same time, he's mad diverse. I started making tracks with him in mind, from scratch. I think there were probably 20 -25 tracks made over the course of the six-months it took to make this project. We'd send stuff back and forth. Siifu's an artist with a very strong vision, most of the songs came back to me fully formed and arranged, and it was up to me to bring those songs to life by adding or subtracting from the instrumentals. The goal was to not let the music get in the way of the song."
Listen: Spotify | Apple Music