The Bentley Continental GT Speed Is Man's Best Friend
While the W12 grand tourer has bark and a bite, nothing is as much of an all-rounder as this.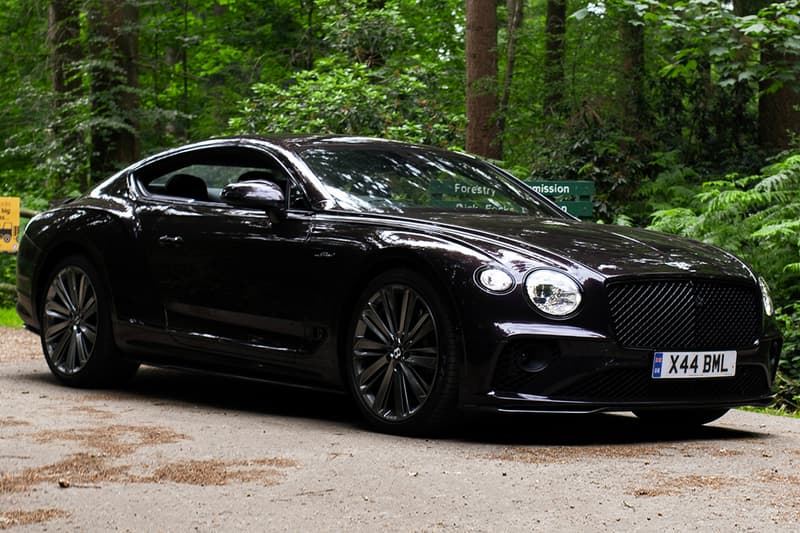 Paris Hilton had one in baby pink. Kim Kardashian had one in black, inspiring her viral phrase "Honey, would you put a bumper sticker on a Bentley?". Katie Price, footballers, and reality TV stars from The Only Way In Essex also had one. The car in question is the Bentley Continental GT, the car described as singlehandedly inventing "the modern luxury grand tourer segment." It became an instant hit for its handsome looks, 200 MPH-plus top speed, and class-leading driving experience, but had its reputation muddied by the car's sophisticated – yet ironically chintzy – appeal. Today, it looks as if Bentley has gone back to its roots.
When Walter Owen Bentley founded his eponymous motoring company in 1919, grand touring was all the rage. The firm's 3-Litre, which was released in 1921, was designed to take passengers across Europe. Likewise, the 1926 6 ½-Litre model became a benchmark for GT excellence and went on to shape the marque's now-historic racing legacy, as the car was modified into the Bentley Speed Six, which won the 1929 Le Mans race. The marque's history goes on, including the 8-Litre from 1930, dubbed W.O. Bentley's "masterpiece" for its 100 MPH top speed. It was the quintessential Bentley, combining speed and sophistication with comfort and class. As Captain W. Gordon Aston wrote for The Tatler, "Never in my life have I known a vehicle in which such a prodigious performance was linked to such smooth, unobtrusive quietness."
It's these attributes that went on to define Bentley over the next 70 years, which saw the British automaker create machines fit for aristocrats and royals. Yet with the launch of the Bentley Continental GT in 2003, the historic brand reached a new market and an emergent form of wealth, tapping a young, new money generation of early influencers and Premier League footballers alike. 
The 2022 version of the Continental GT Speed shows how far the car has come in two decades. While Hypebeast's example was finished in a plumb-shade of black and featured over-the-top 22-inch rims, diamond-like headlights, black exterior detailing, a shouty Akrapovic exhaust system and plenty of interior bling, it seems as if the car is more refined than ever. 
Whether we were stuck in London rush hour traffic or blasting around country lanes, the Continental managed to make passersby put their thumbs up and grin in appreciation. Likewise, sitting at traffic lights welcomed neighboring cars to wind their windows down and initiate a conversation about the Bentley's presence, a car known and loved by generations young and old. 
But this was no surprise to us. Inside, you're cocooned in ample amounts of finery from some of the highest quality leather that's stitched meticulously into a diamond pattern across the door sills and seats (ones that massage you, no less). Alcantara coats the dashboard and headliner, while the control panel is covered in a mixture of metal and piano black detailing, accented with clear crystal-like controls, metal vents and physical buttons, and even an infotainment screen that rotates on itself to reveal vintage dials reading temperatures and a lap timer. With that in mind, there's no doubt that the Continental is going to be a showstopper inside and out. 
However, what did surprise us was the dynamism of the Continental GT Speed. Sure, "Speed" is in its name and it does feature a thumping six-liter W12 engine that produces over 650 HP, but it's also a luxury barge that weighs more than 2.3-tonnes and can seat four people in unrivaled comfort for its vehicle class. Regardless, this behemoth became a stealthy motorway mile muncher and a poised dart around the tree-lined lanes, expertly handling every ripple and bump by simply flattening them – because no Bentley driver wants to be disturbed by such faults. 
After a week with the car, it became clear that the Continental could fit into your life comfortably. It makes sense that people have been so willing to spend upwards of $275,000 USD on a car like this – capable of being driven responsibly to the shops or being hooked up in Sports mode for some more frivolous activities. 
Above all else, the Continental GT Speed was one of the only cars to feature on Open Road that we've not wanted to give back. It became a part of the family in such a short period. At times it's too big and feels cumbersome to drive, and the interior felt too beautiful to soil with our feet, and for that, the Continental GT Speed is not flawless. 
But there's a certain je ne sais quoi to the Bentley that seldom features in modern cars: It's one thing for a car to put a smile on your face, but for it to put a smile on the face of others? That is the Bentley charm.