Sole Mates: Taylor Shupe and the Vans Sk8-Hi
The Stance co-founder and former YEEZY Vice Chairman discusses what he learned from Kanye, his passion for manufacturing and more.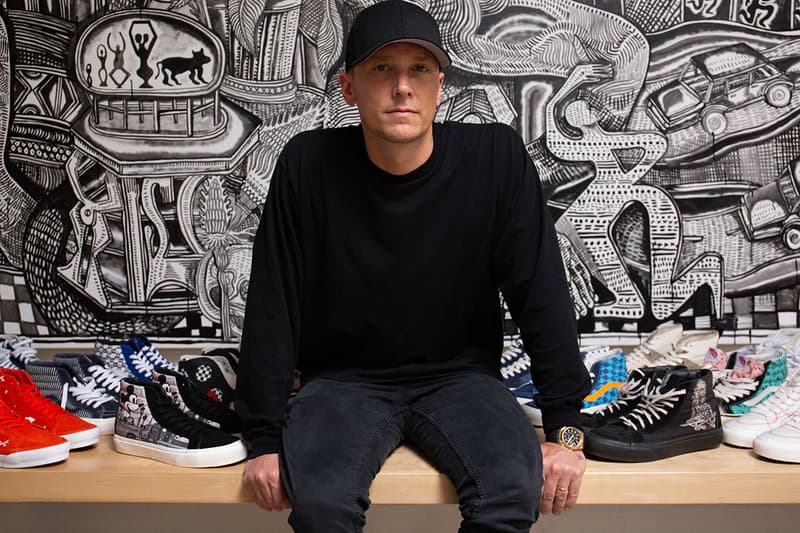 It's one thing to possess an entrepreneurial mentality, but putting that into practice in such a way that is consistent, ethical and ultimately lucrative is a challenge. But Taylor Shupe, a California native and well-seasoned entrepreneur, understands this perfectly. Growing up, he's always had a fervor for building businesses and manufacturing infrastructure, and his innate curiosity has to start a computer accessories brand, be a co-founder of Stance, run YEEZY's Board as Vice Chairman for Kanye West and start and start FutureStitch — a global textile and technology company designed to create premium knitted products through a business model that promotes social and environmental consciousness.
Born and raised in Orange County, CA, Shupe was naturally surrounded by skateboarding, and it was through the sport's culture and lifestyle that he started to develop an affinity for sneakers. Silhouettes that provided both comfort and functionality were the ones that he gravitated towards, but if there's one model that stood out amongst the rest, it was the Vans Sk8-Hi. "I had super fat feet growing up, and the Sk8-Hi's construction and the way that the laces were positioned on the shoes gave me plenty of breathing room", he says. His love for the sneaker dates back to when he was just a young adolescent kick-pushing around the streets of his hometown, and it's still a model that he keeps in heavy rotation to this day.
HYPEBEAST had a chance to catch up with Shupe to talk about his takeaways from Kanye West, creating jobs for ex-incarcerated women through FutureStitch, building sustainable manufacturers and more.
HYPEBEAST: Who or what got you into sneakers?
TS: Sneakers have always been super important to me. As one of seven kids, my parents bought us two pairs of shoes per year; a casual pair and a Sunday pair. You can imagine how tough that was for a guy like me who loved sneakers. I grew up in the 80s and 90s in Orange County and really gravitated towards skate and surf culture when things like the Vans Warped Tour was happening, and from there really pandered towards skate shoes.
After I started Stance in 2009, that's when I really started to appreciate sneaker culture because it played such a huge role in the brand's success. A lot of people would rock Stance socks to elevate that ecosystem around their footwear.
Can you recall some of your favorite silhouettes growing up?
Growing up I really loved skateboarding silhouettes. In the 90s I loved the Koston 1s. That air bubble was so sick to me and that shoe was my go-to for years. I also really loved the Etnies Sal 23s and Brian Reid's D3s. I really loved that chunky vibe back then. I didn't really start to appreciate non-skate products until I got to my 20s.
What other silhouettes are you into now?
It's funny because one of my favorite silhouettes now is the YEEZY 450, that product is like the Tesla Cybertruck. Since my background is more in engineering, I'm always paying attention to how a product is made. I'm always look at the fabrication, tooling and whole supply chain. And there's so many features that are advanced on that shoe and the way that it's actually created is a very beautiful and artistic process to me.
Can you reflect on ideating Stance socks, building it out and seeing how it has grown into what it is today?
We were pretty scientific with our approach to establish the business. It's funny because at first, other people took it as a joke and I had friends and family saying that I was getting into 'male hosiery'. I had already been an entrepreneur at the time and I had data to back it up on why I wanted to get into socks. One was white space because there was a lack of sock selection in special skate shops and boutique stores that we would visit, and second to that was gross margin because gross margin allows you to make a lot of mistakes and not completely f*ck up. We also got really lucky. During the recession, people didn't have $100 USD in disposable income to spend on a new pair of denim, but they could spend $10 USD on a pair of socks and get similar gratification. I still get this immense sense of stoke when I see them in the wild.
"It's more than just a historical icon. It's this thing that embodies what I want to recreate in a lot of ways by building these communities through manufacturing buildings and products that are innovative to bring back American jobs."
Let's touch on your Sole Mates selection now. The Vans Sk8-Hi is such a cultural staple in skateboarding, what about this sneaker resonates with you?
I grew up in San Juan Capistrano, which was about 20 miles from the Vans factory and factory store. Their manufacturing created a better middle class that produced goods and really furthered innovation. Since I was always interested in manufacturing, this sparked love for the Sk8-Hi sneaker.
I love the smell of them. I love the box. I love that it was the first box that I had gotten where the lid opened and was connected to the base. I love the waffle sole and its honeycomb pattern. As a lover of entrepreneurism, I'm a huge fan of people who build community through employment and that was exactly the story of Paul Van Doren. I never met the guy, but I was immersed in the skate culture. I saw what Vans did in the 70s in the 80s and I thought it was so cool. The Sk8-Hi was sick because of its quilted design, vertical running stitches, extra padding on the interior. The community around it was so loyal that it was a tragedy when they moved away from US manufacturing. That silhouette to me is more than just an aesthetic preference. It's more than just a historical icon. It's this thing that embodies what I want to recreate – communities, manufacturing factories and products that are innovative, in order to bring back American jobs.
The Sk8-Hi has such a simple canvas and is reinterpreted in many ways whether that be through collaborations, Vault by Vans etc., what are some of your favorite colorways?
The classic black and white is definitely my favorite. The ComfyCush black and white Sk8-Hi to be exact. During the pandemic I actually invested in an Airstream and traveled through the 48 contiguous states and that was my go-to on that trip. Other collaborations that I really love are Wes Langs, and all of Takahashi's collaborations.
If Taylor Shupe got his own Vans Sk8-Hi collaboration, what would it look like and why?
If there was a Taylor Shupe x Vans Sk8-Hi, it would have to be a sock top. The top needs to be a real sock and I'm not talking about Nike FlyKnit or adidas PrimeKnit or the Balenciaga Speed Trainer.. I'm talking about a real circular knit. I'm talking about making it here in the US and that it'll be so comfortable and seamless that you don't need or want a sock. Ironically, I want to create a product that systematically undermines the sock industry in its entirety, so we have less articles of clothing. No more washing, no more sorting or organizing socks anymore or having them get lost in the laundry. And it's also got to smell new with every single wear.
"You'll learn to appreciate life's variability and to take those new variables and innovate with them. Then you can come up with stuff that nobody else has ever seen or ever done. "
I know that you're a former Vice Chairman of YEEZY. Talk about the experience of working with Kanye West.
Kanye West is a brilliant creative. There's a lot of mutual respect and friendship between him and I. I've learned a lot from him over the years. One of the most important things I've learned from him, even as a seasoned entrepreneur, is to never settle for anything other than your best work. The guy is maniacal about details. I also learned that not all roads lead to the same outcome. I've learned to appreciate life's variability and to take those new variables and innovate with them. That's how you come up with stuff that nobody else has ever seen or ever done.
I always just can't imagine what a meeting with him is like because I feel like he just has a million ideas. How did you guys zero in on one idea, one shoe or one sweater in those discussions?
We would go from figuring out how to solve the Israeli Palestinian crisis to why George Lucas casted certain people in Star Wars to using algae foam for the YEEZY FOAM RNNR. There's nothing linear and you don't approach a meeting with one specific objective. You approach a meeting by trying to create and enlarge the idea pool. Now, of course, there is a time where a decision needs to be made, and that's where a lot of companies struggle. The companies who invest more in flexibility are the ones that truly work well with Kanye.
From my understanding FutureStitch prides itself on being a sustainable manufacturer. What role do you think sustainability plays in today's fashion space and how exactly is FutureStitch contributing to that?
FutureStitch is really my baby. It's something that I want to leave as a legacy for my kids and it's a tool that I'm using to penetrate more markets and bring back US manufacturing in the space. It's what gets me up every day.
As I've grown up on the beaches, the environment itself has been a big concern for me. If you're not considering the natural environment, as a business person, your brand or your value proposition is probably going to be dead in a few years. I also think if you're not considering that natural environment as just a human right, you're probably killing your kids and your kids' kids. FutureStitch runs the most energy efficient factories in the world. And I know sustainability is kind of cliche these days, it's overused greenwashing. I still make things, I still produce waste, and I still use energy, but I try to make things better and that helps me sleep better.
I've also learned that a majority of its workforce entails ex-incarcerated women and it has plans to expand further in US manufacturing with partner Envision, a charity offering employment opportunities for the visually impaired. Why is this aspect so important to your company's ethos?
When you can create a product that's best in its class, I've found there's a lot of power when you can intersect it with a social purpose. When it comes to the incarceration system, I think we can probably agree that it's flawed. Next month, my plant in Oceanside, California will be operational and will be largely run by ex-incarcerated women. In fact, the goal is that all the workers there will be ex-incarcerated women. I gotta give some credit to Kanye for this idea. It was him and his ex-wife, who really impressed upon me the desire to challenge that system. I have been involved in a charity in Detroit, specifically, around taking kids to see their parents who are in prison. Being incarcerated is probably about 50% due to bad choices and 50% due to bad luck. Any of us could've ended up there if we had had that bad luck. What I'm trying to prove here is that if I create the right environment, if I have the right culture, the right pay and the right benefits, that the recidivism rate will be lower. My system could prove to be a better rehabilitation technique through giving people meaningful employment.
Where do you want to take FutureStitch in the next 10 years?
In the next 10 years, I plan to take FutureStitch public not only in the US, but in China as well. If that happens, I'll be the first white guy with controlling interest to take a company public in China. Why would I do that? Because I believe that economic vested interest between the two largest economies is very important. And I think we're in a place where the world is quite fragile and that's a big motivation. An interim goal for me would be public markets, that's in 2024 and 2025. Beyond that it's building factories that allow me to create perfect circularity. That means engineering the product for recapture and reprocess, with a monetization system that allows you to monetize over time rather than the one hit. And I want to do that through industrial processes, not through chemicals, which is what people are focusing on, which I think is wrong because with chemicals there are so many horrible offsets.
I'm already investing in raw materials and we are making products for a bunch of great brands, but long term, the idea is to own the entire value chain, because that's going to allow for that circularity to happen. So what I want to do is to be able to build products like sneakers within a 150 square foot space, in a way that it allows me to produce in every major city–maybe even in retail. I know that sounds super ambitious and it probably is, but I think we can do it. That is going to be the future of what we're trying to accomplish here if I don't go bankrupt before that.
Why are sneakers and their stories important to you personally?
Sneakers carry a story. They engineer mobility. They help people achieve things such as experiences, records, and accomplishments, and I think that's really important. I think what's even more important is the community that comes along with it. There's this physical value, but there's also these metaphysical and digital values that creates really rad social bonds, and you know this first hand because you're a curator of the bonds that can be formed around the sneaker. I'd say it's the most important fashion article out there. Building that community is a really noble cause. That's why it's important for me to go beyond socks; to use that technology to create better footwear… because that product is going to be the most visible.