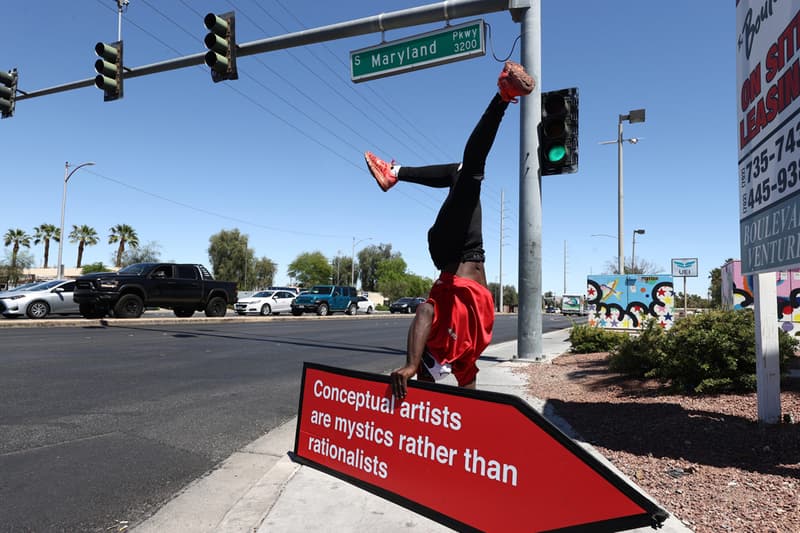 There's a New Exhibition That Takes Sign Spinning Into the World of Sol LeWitt
A show that invites us to question the divisions between art and public life.
---
If you live in America, surely at one point you've seen a sign spinner dancing on a street corner. Primarily employed to attract people to go shop nearby, the job itself has become a phenomenon of sorts, especially in Las Vegas, where there is an annual World Sign Spinning Championship.
Yumi Janairo Roth is a visual artist who has taken sign spinning into the world of art. Housed at the Grand Central Art Center in Santa Ana, "Spin (after Sol LeWitt)" features juxtapositions between the physical presence of street-corner advertising and the work of one of America's founding conceptual artists, Sol LeWitt.
"Spinners take great pride in their ability and athleticism," said Roth, adding, "yet are sometimes vilified and outlawed for distracting drivers, 'cheapening' municipalities, and accepting seemingly low-skill jobs." The Colorado-based artist seeks to challenge these assumptions by subverting the sign's message with those of LeWitt's genre-defining 1968 text, Sentences on Conceptual Art.
According to Justin Charles Michael Brown, who worked with Roth when she presented the project in the streets around Frieze Los Angeles in 2020, "Making people's opinions of sign spinning matter is a very hilarious thing to do, because if you see a sign spinner for an apartment complex it doesn't really matter what you think about it. You can enjoy it or not, and it doesn't really matter. But when you enter the art world, those opinions are the thing that everybody's after."
"Spin (After Sol LeWitt)" is on view at the Grand Central Art Center until June 12.
Elsewhere, Tobias Pils presents "Between Us Space" at Galerie Eva Presenhuber.
Grand Central Art Center
125 N. Broadway,
Santa Ana, CA 92701