Natalia Dyer and Charlie Heaton Reflect on "Massive" 'Stranger Things' Season 4 and Working With Robert Englund
The two join HYPEBEAST to discuss the beloved series' imminent conclusion.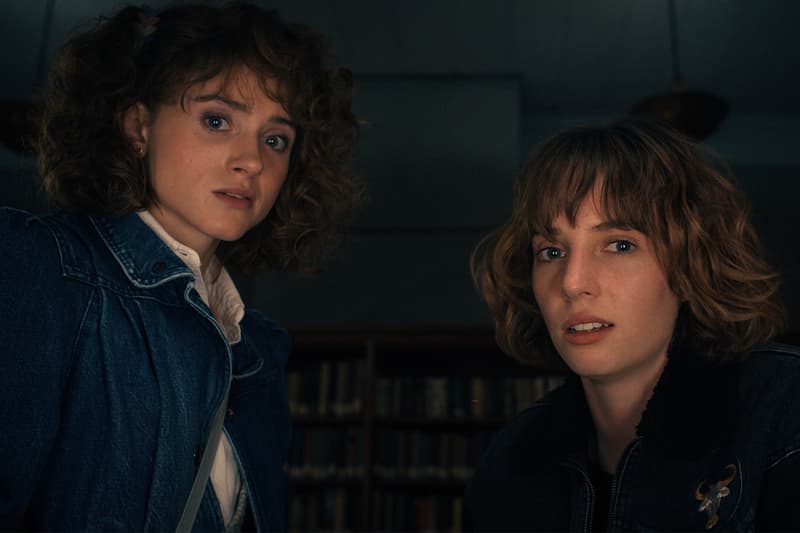 It's been almost three years since the third season of Stranger Things, but despite shooting through the COVID-19 pandemic, the show's fourth and penultimate season has come back stronger than ever before, with a bigger and darker adventure for the Hawkins crew that harkens back to the dire tone of the franchise's very first season. With increased stakes, the Netflix sensation also introduces a host of new and fun characters to help the Duffy brothers develop existing personalities before bringing the iconic series to its eventual conclusion.
Netflix has now released the first six episodes of Season Four, and while the last three episodes of the season will arrive in July, it's looking to be well worth the wait. Joining us at HYPEBEAST, Nancy Wheeler actress Natalia Dyer and Jonathon Byers actor Charlie Heaton walk us through how it was like returning to Stranger Things after a long break, where their characters are headed this season, how it was like working with Freddy Krueger legend Robert Englund, and what the show's fifth and final season might entail.
It's been a while since Stranger Things Season 3, but the show seems to have come back with a massive new season that's really taken things up a notch. What can fans expect from Season 4?
Charlie Heaton: Yeah, I think you just put it right. To me, it is much bigger than previous seasons. The writing this year almost feels like it's kind of harkening back to the first season, with the seriousness of it all, at least internally. The danger feels real again.
Natalie Dyer: It's definitely bigger. Massive, and even just lengthwise, there's way more of it. This season also answers a lot of the questions people have been asking about why things and how are happening in Hawkins, so we finally get an explanation.
How was it like shooting during the pandemic? Was it quite hectic?
ND: It was kind of the opposite, but I mean it's always so nice to come back. The people in the cast and I kind of compare it to summer camp because you go out and live the rest of your life, but then you get this sense that you're going to come back, and then you get to work together again. And so there's something always really nice about that.
But we did we started filming for a few weeks at the beginning of 2020, and everything happened so we took a pretty long break. Luckily, we were able to go back as safely as possible in the fall, but that definitely brought new obstacles and precautions and things that none of us were used to working with. That was interesting.
Jonathon's in California now and finds himself in a whole new stage of life with a new best friend. How does his journey develop over the season?
CH: This season, you'll see quite a shift in him, and it was definitely fun playing him. In the scenes that we shot, you see a very different side of Jonathan. Throughout the seasons, you've always seen this kind of introverted loner, but he's always righteous in a sense. But this year, the wheels have come off a little bit. He has moved over to California and he's having this distance in his relationship, and I think that's causing him to spiral a bit. He's also met this dude who becomes his new best friend and tries to look out for him, giving him the best advice he can while trying to get him to chill out and medicate him a little. So it was fun to explore what happens if Jonathan leans into that. We did a lot of improvising and goofing around, and it was a lot of fun to get to explore that.
In a similar vein, Nancy has had to deal with a lot of personal loss over the seasons. How has her character evolved over the years and especially over this new season?
ND: I think generally, she has become braver, and she's developed into more of a risk-taker. It's been a learning process for her: she keeps having these intuitions about something that's going wrong or where to look for clues despite being written off and not listened to. She ends up being right pretty much all the time, so I think she's really learning to trust herself and the voice inside of her. I also think that's led her to understand that sometimes you just got to break the rules, so that's been a really fun arc to play.
A refreshing team-up this season brings Robin and Nancy together and it's been so fun watching you both. Can you tell us more about that dynamic?
ND: It was fun! It was something that I was definitely curious about just from the last season when we all came together in the mall, and Nancy's like "Who's this girl?" They're very different characters, and they think about the world and things just in a very, very different way. But they're both very smart. I think they're intelligent females. So it's bound to happen at some point that they team up. Maya is very cool to work with. She's very talented and very fun, and Robin is such a funny, unique person. It was really fun to just discover what that dynamic is and where they can grow and learn from each other, which I think they do. 
This season, you guys got to work with Freddy Krueger himself, Robert Englund. How was it like working alongside such an icon?
ND: It was crazy – just so wild. We know that people like Stranger Things but to have someone join the show who has worked on these iconic films that we're trying to pay homage to is just amazing. It's come full circle. And of course, he was very, very good. He came in and really brought something special to the set and without giving too much away, I didn't even know how it was going to go. It was just a joy to witness him working.
Season 4 paves the way for the 5th and final season, and with many massively popular shows there's always expectations from fans on how the series should end. Do you guys think there'll be a lot of pressure going into the final season to satisfy everyone?
CH: Good question. I think the Duffy brothers are going to take the brunt of the pressure on how they're going to wrap up the story, but for our characters, there's definitely going to be things that you'll want as an actor. I always trust that they're going to end the story the right way, but I think there are certain things that every cast member is going to want for their own character.
ND: Everybody wants a satisfying end and some sense of closure that feels nice. But also just individually as actors, you'd think about all the things that are left unanswered about your character. You're just like: "Oh, I need this. And what about that? Why didn't they ever talk about it?" So yeah, the pressure is on the Duffy brothers for sure.
CH: Is it even possible to please everyone?
ND: No, you could never please everyone.
CH: Everybody wants to be pleased!
The first part of Stranger Things Season Four is now streaming on Netflix.