Post Malone Teases New Collabs for Upcoming Album 'Twelve Carat Toothache'
Including tracks with Doja Cat, Roddy Ricch, The Kid LAROI and more.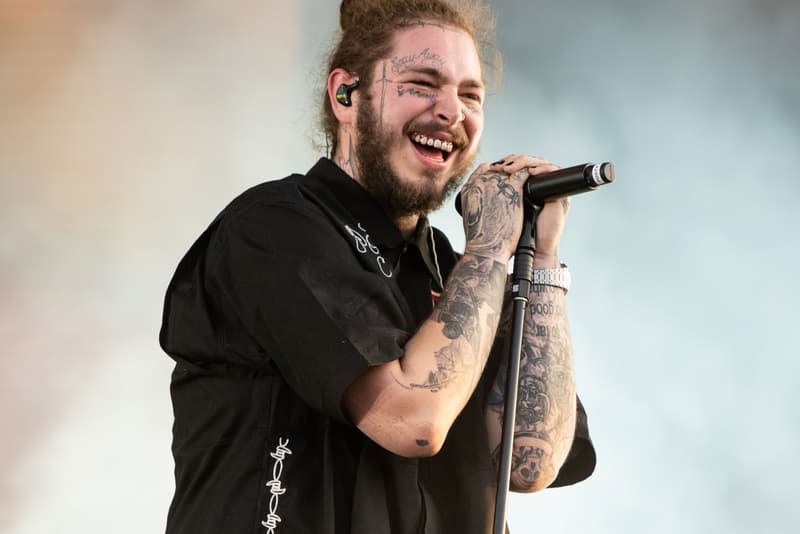 Post Malone is gearing up for the release of his upcoming album Twelve Carat Toothache, teasing fans of the collaboration they can expect when it is released.
In his recent Instagram Live, Posty gave fans a preview of his major collabs with artists including Doja Cat, Robin Pecknold, The Kid LAROI and Roddy Ricch. The artist played quite a few songs on the livestream and even told fans, "I would love to play this entire record and I just want to say hey to everybody that's hanging out. Honestly, I've been working so f***ing hard and I would love to play y'all a couple more records if y'all got time. We've got a lot of cool stuff going on."
In his song with Pecknold, titled "A Love/Hate Letter To Alcohol," Post Malone seemingly details his "struggle with alcohol" and hopes "it touches somebody out here." He also praised Pecknold, "He's the most beautiful f***ing vocalist, the most epic fucking guy. Fleet Foxes is one of my favorite bands." The Kid Laroi also appears in a track called "Wasting Angels," which Post has described as a "celebration" track about "life and a human spirit to be able to fight no matter what and just go with the punches."
Post Malone confirmed that the new album will feature 14 songs and explained why it took so long, "It took a minute especially to get my mind correct and my mind wasn't correct." He ends the livestream with a few keywords of encouragement and appreciation to his fans stating, "You have a passion and then it becomes your job and then all of a sudden it becomes very different. Just to everyone, so much love and I'm so grateful and I'm so happy. For once in my life and a long time, I'm a happy man. And I just wanna say thank you so much for the patience, for everything."
Take a listen below.
? | "HAPPY" POST MALONE FEATURING DOJA CAT !!!!!! pic.twitter.com/9UtIOw1lBV

— Post Malone News (@NewsPosty) April 23, 2022
post malone and roddy ricch comin with a heater ????? pic.twitter.com/ghaAmUjlU0

— ladidai ???? (?,?) (@ladidaix) April 24, 2022
Wasting Angels by Post Malone Feat. The Kid LAROI pic.twitter.com/YEgfhj2hxO

— Laroi Talks (@LaroiTalks) April 23, 2022
@PostMalone teasing his song "a love hate letter to alcohol" ft. Robin Pecknold off of his upcoming album. i've struggled with addiction before & im so scared imma end up drinking next. i respect him sm for acknowledging it's a internal fight not just a "cool" party lifestyle ✊ pic.twitter.com/oMULwWRkk1

— juliet ceballos (@supitsjuliet) April 23, 2022
In other music news, Daniel Caesar has released a new single "Please Do Not Lean" featuring BADBADNOTGOOD.