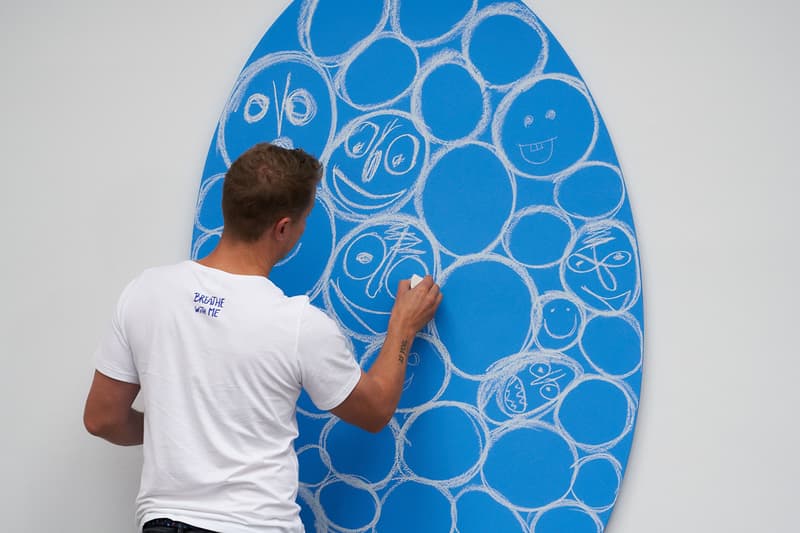 1 of 11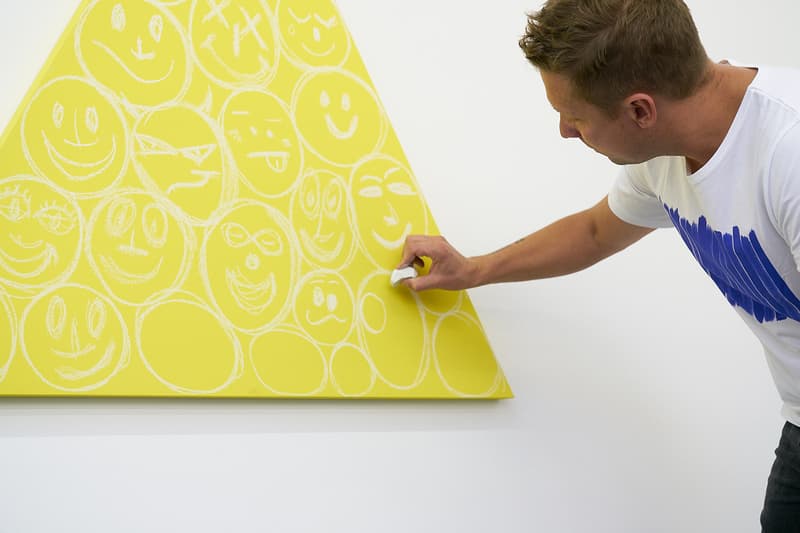 2 of 11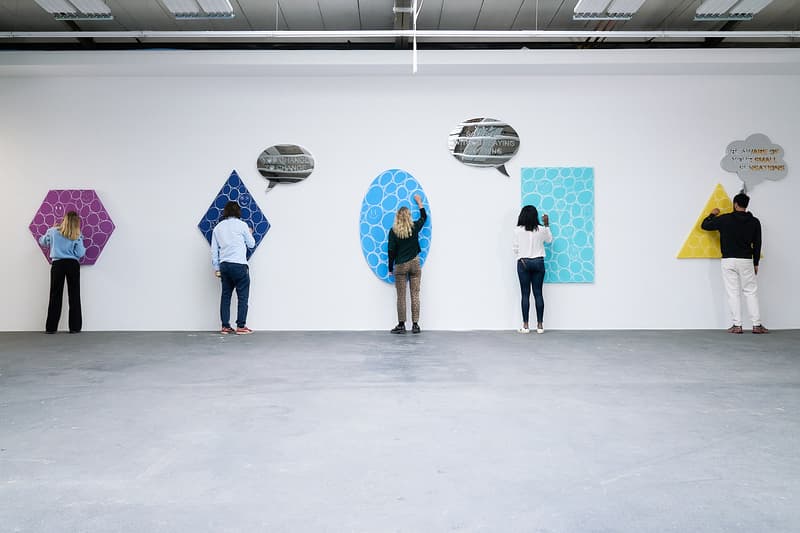 3 of 11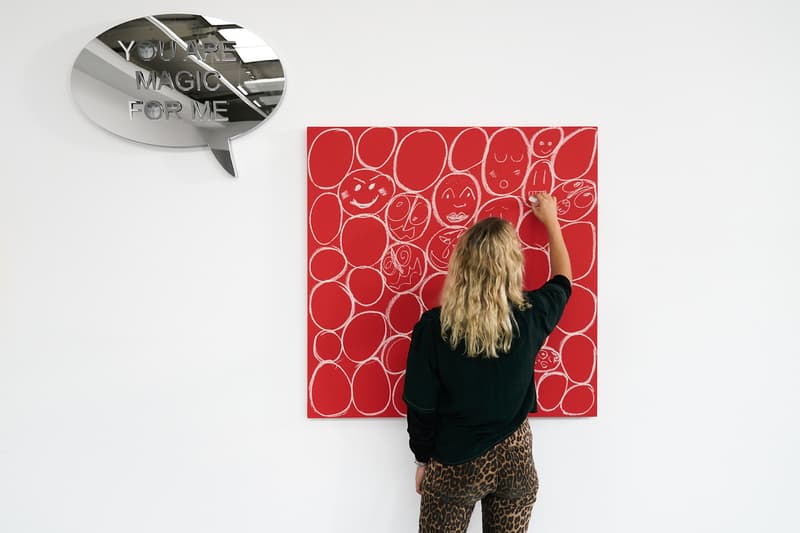 4 of 11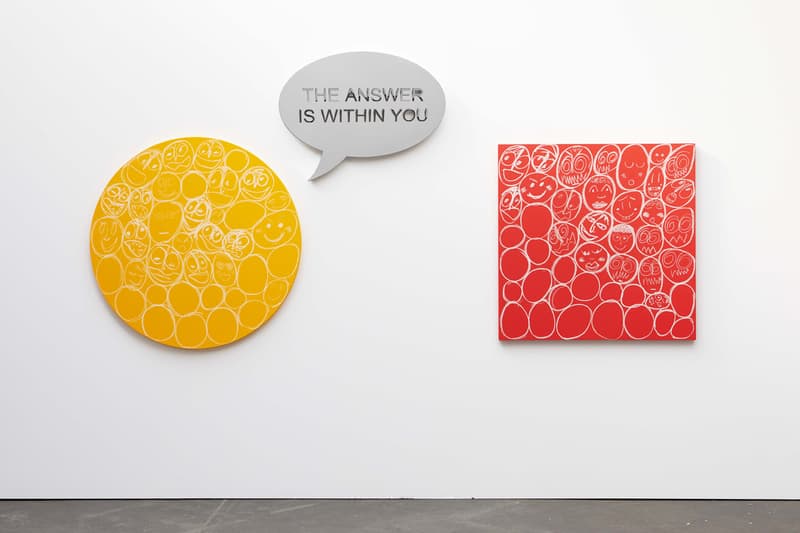 5 of 11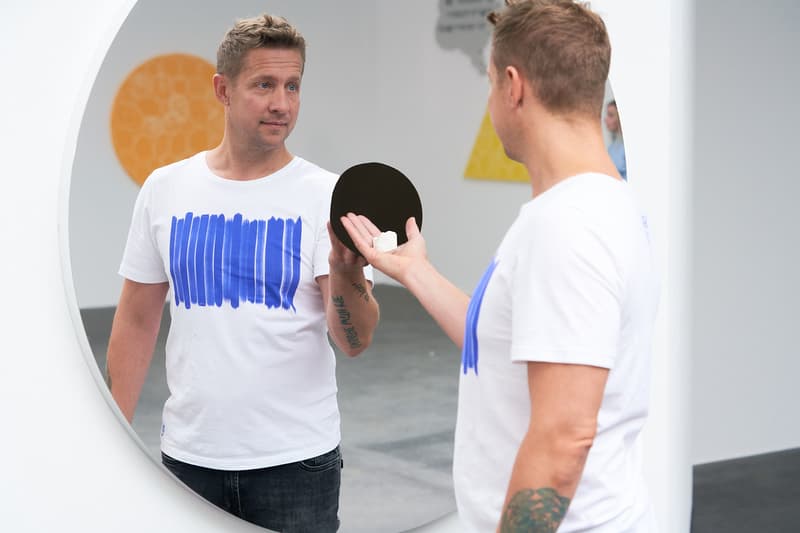 6 of 11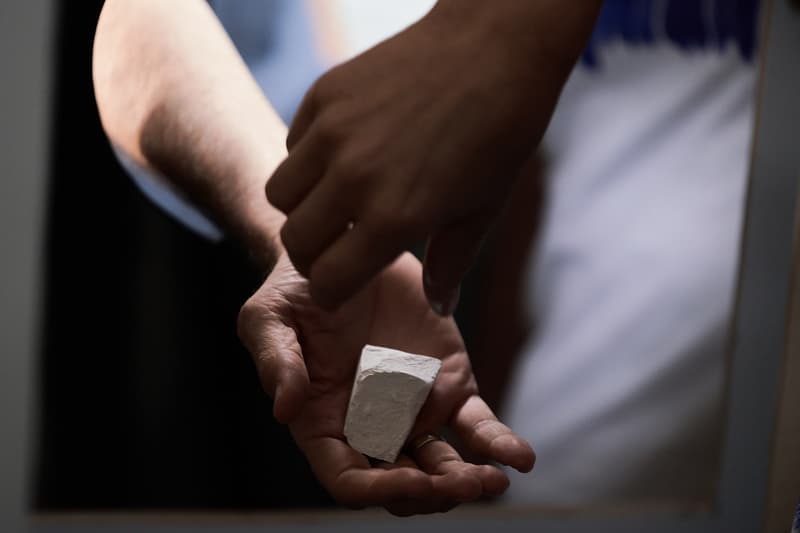 7 of 11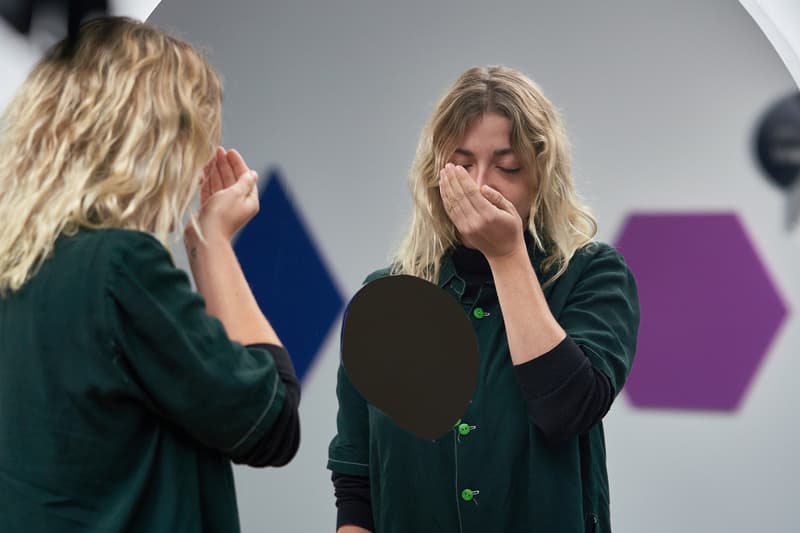 8 of 11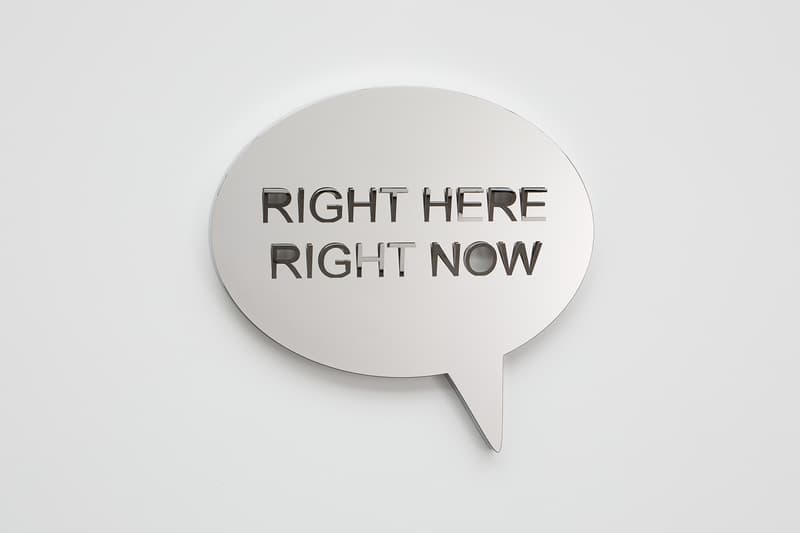 9 of 11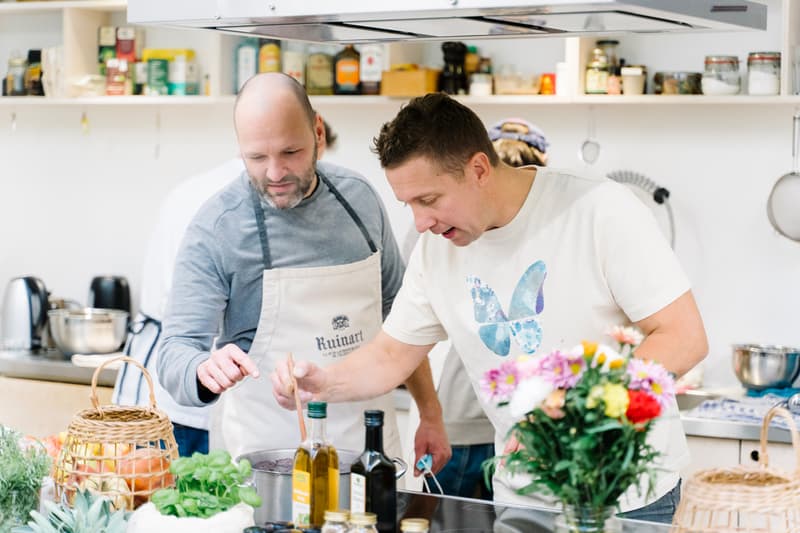 10 of 11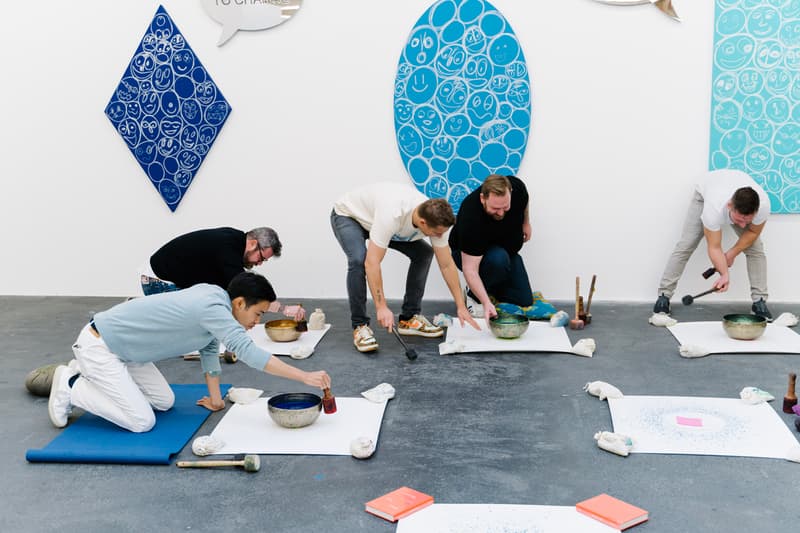 11 of 11
Jeppe Hein Focuses on "Right Here, Right Now" For Multi-Sensory Ruinart Collaboration
The Danish artist mounts interactive works at Paris' Palais de Tokyo.
---
When it comes to champagne, Ruinart reigns supreme as the maison has been tastefully crafting its bubbly beverages for close to three centuries in its vineyards located in Reims, France. Following collaborations and hosting residencies with world-renowned artists such as Liu Bolin, Vik Muniz and David Shrigley, the maison has now found its latest contemporary art-focused partnership with Danish artist, Jeppe Hein.
Hein is known for his public interventions, installations and experiences that recall the sense of innocence and wonder from childhood imaginations while bringing elements of nature in his works that heavily incorporate mirrors as well as balloons. His strong ties to nature stem from the artist having been raised in a biodynamic farm in Denmark and who now resides in a forest outside of Berlin. "Nature is of paramount importance in our lives, even if we are sometimes distant from it," he said in a statement. "To find and experience it, we can use 'tools' that awaken our senses.
1 of 7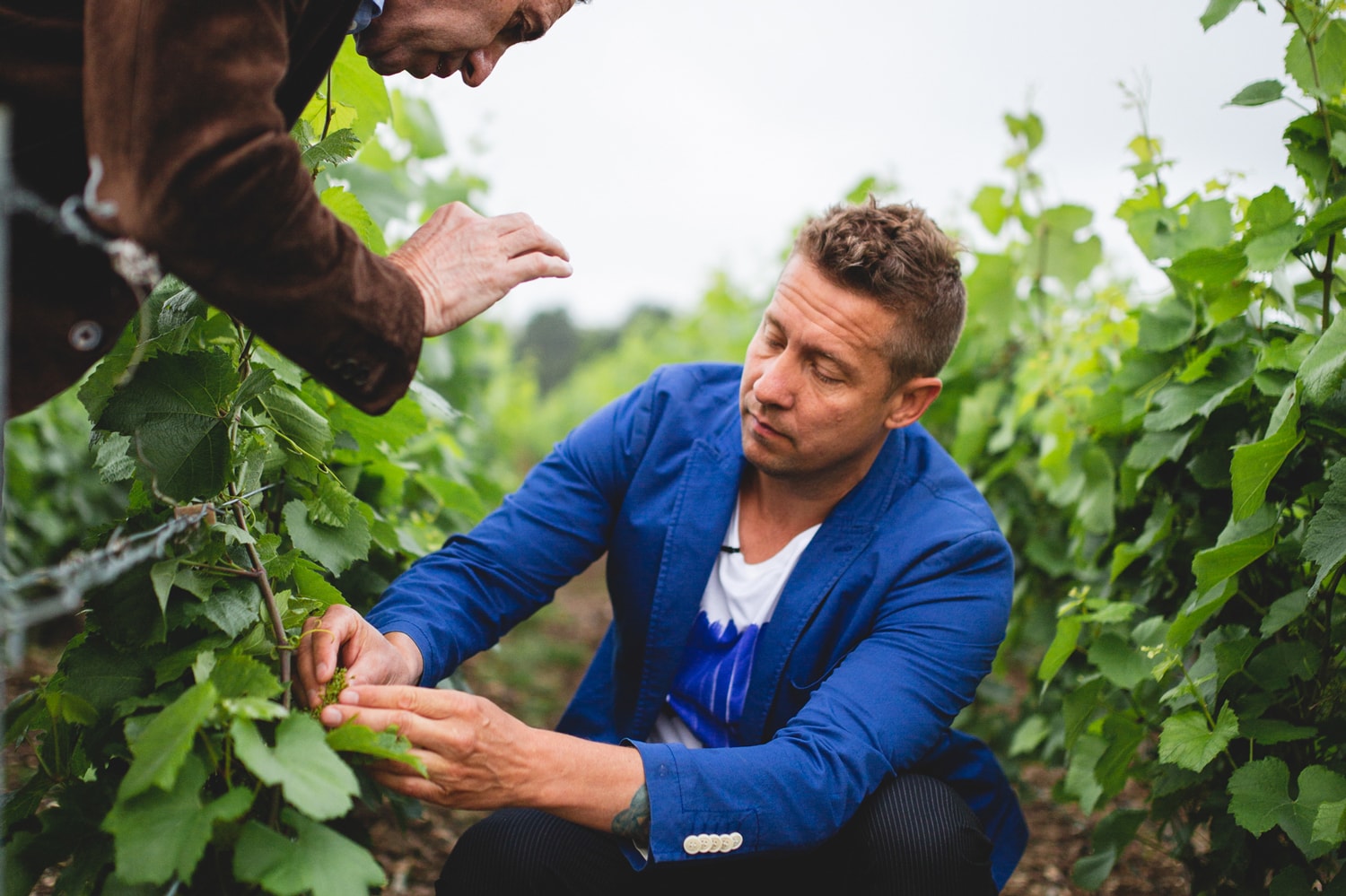 2 of 7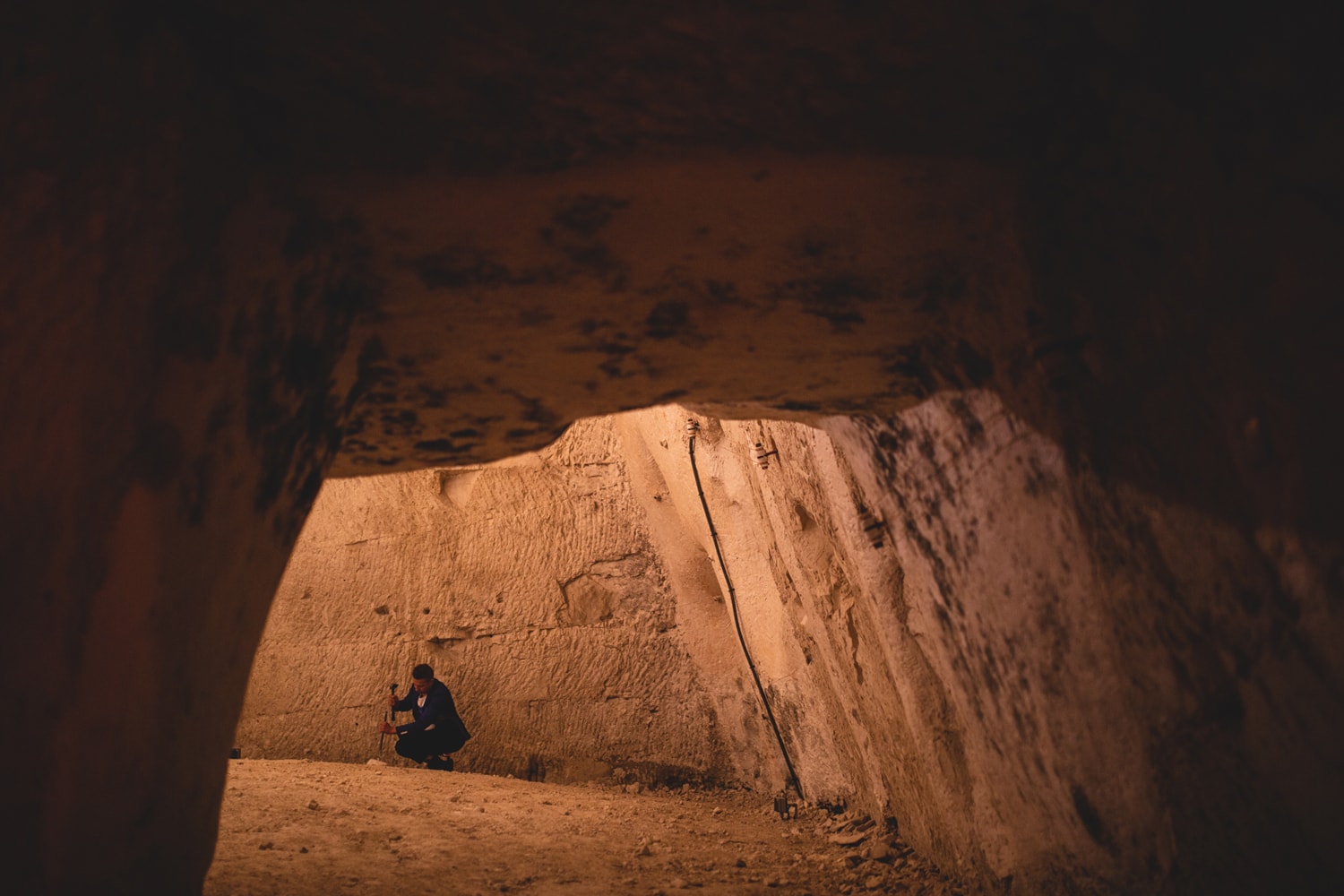 3 of 7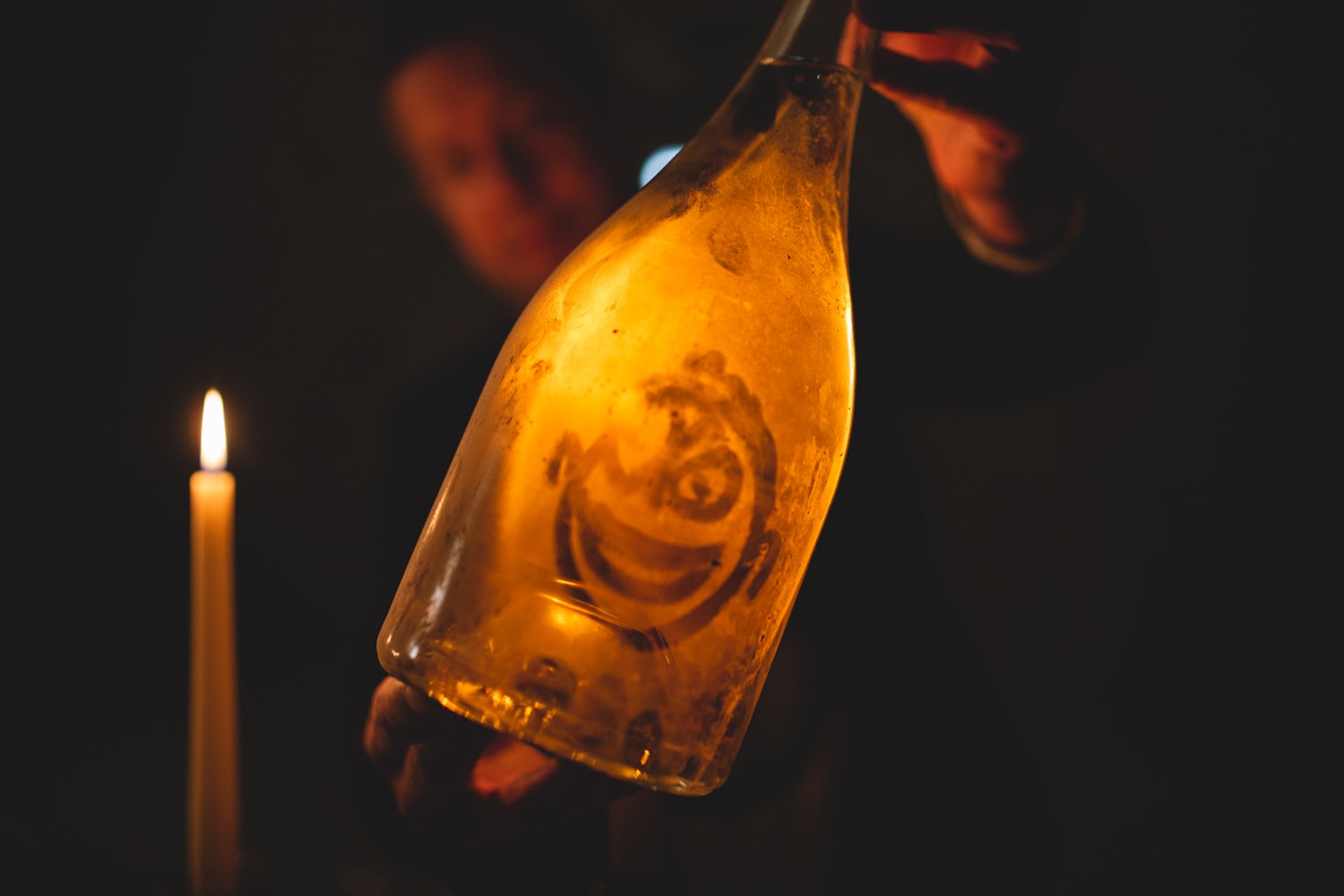 4 of 7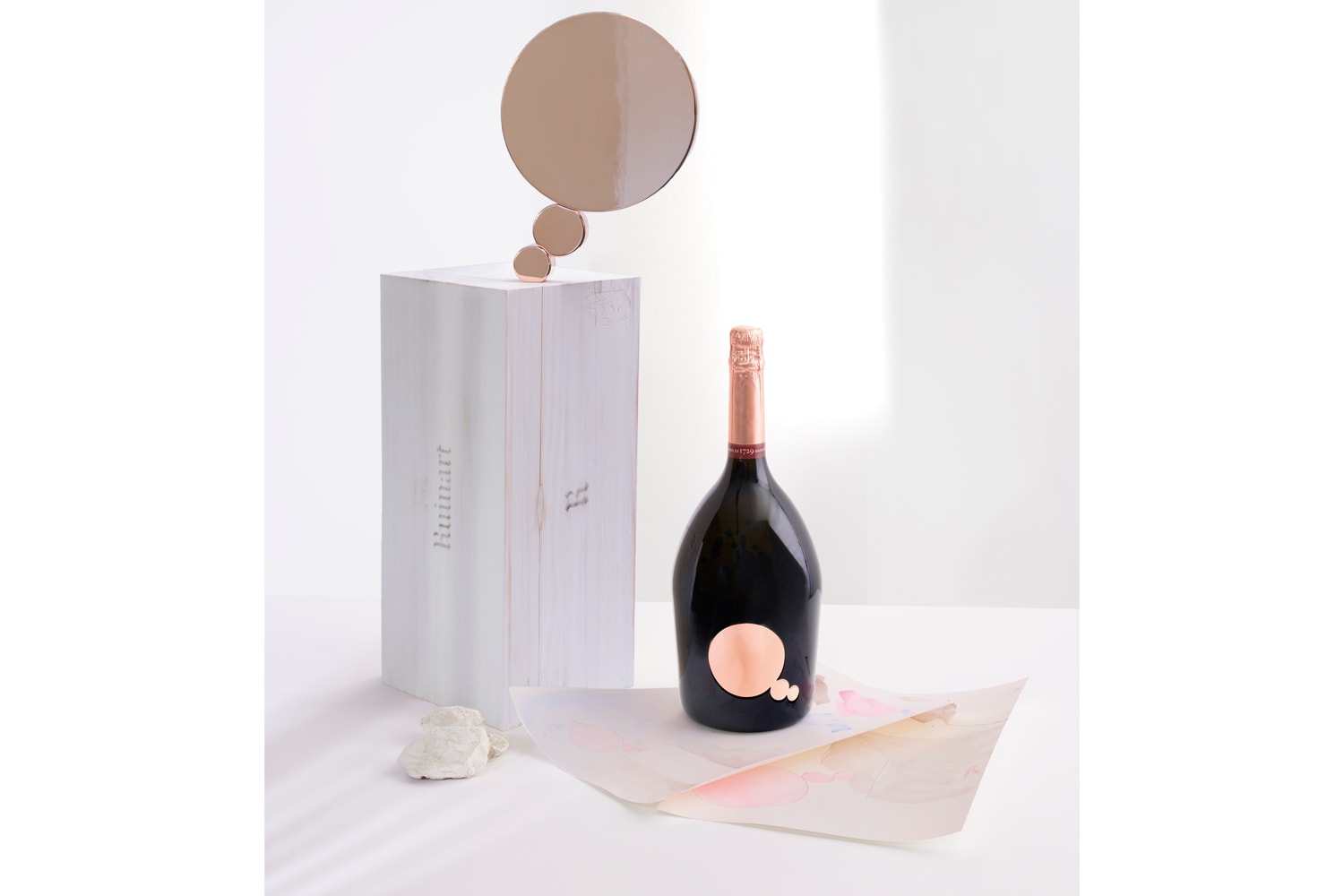 5 of 7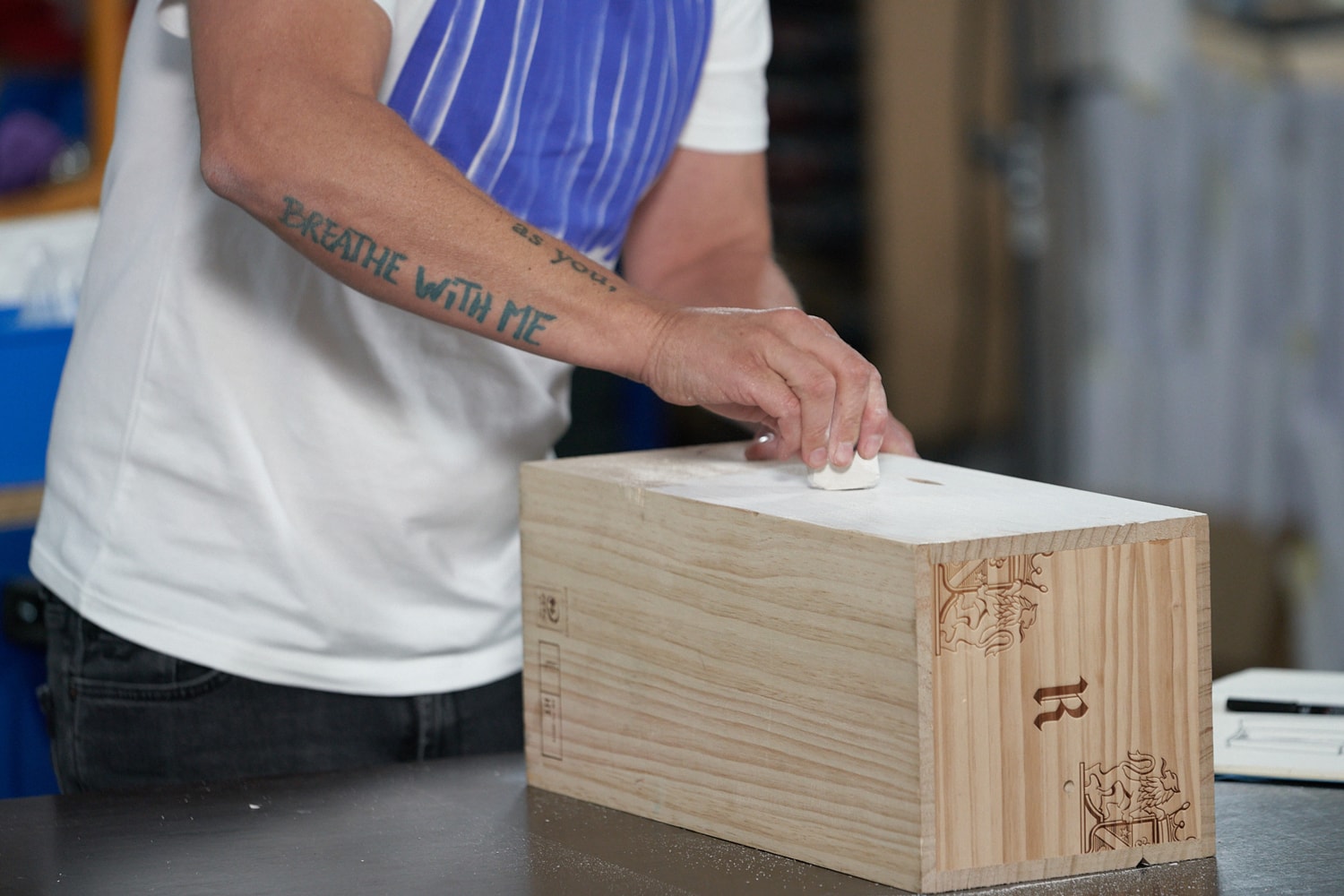 6 of 7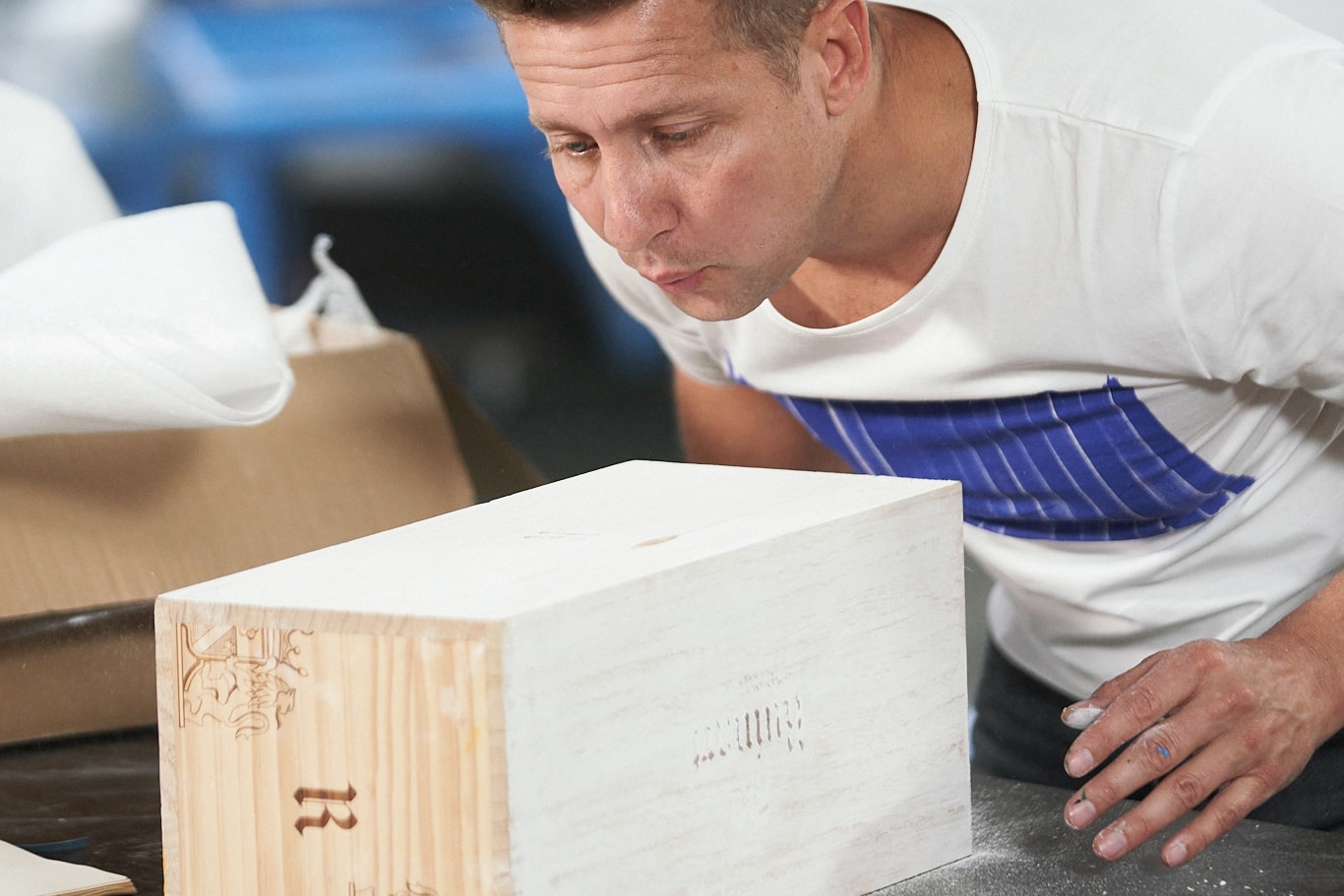 7 of 7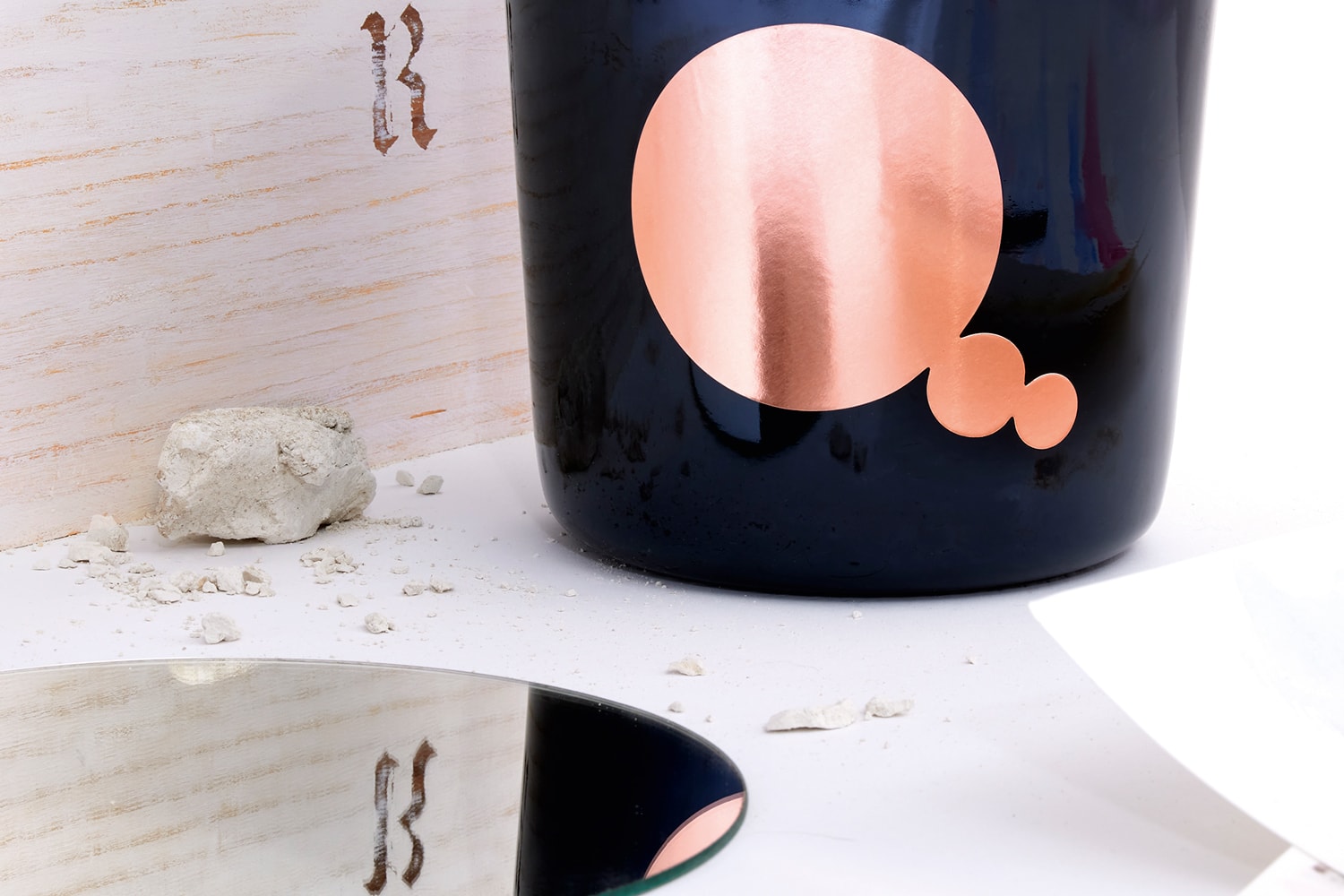 The artist worked with Ruinart to realize a multi-sensory exhibition at Palais de Tokyo called "RIGHT HERE, RIGHT NOW" that champions elements of nature with a strong emphasis on being present. The presentation is a truly meditative one with distinct interactions that amplify the five senses such as feeling a chunk of wet chalk and tasting a sun-dried grape. The aforementioned elements were discovered by the artist during his residency at the maison. "When I stayed at the maison, I discovered that I could learn a lot from the wine-making process and bring those sensory experiences into my work. The chalk, especially, which comes from the caves that stores the wine is an important and beautiful element that I would highly consider using for all sorts of things in my works."
In "RIGHT HERE, RIGHT NOW",  Hein encourages visitors to draw their self-portraits inside circular outlines of chalk on bright, colorful panels. This work draws references from the artist's 2019 public artwork called Breathe with Me which involved people exhaling while painting strips of blue lines on panels at the United Nations Headquarters and Central Park in New York.
Apart from the multi-sensory exhibition, Hein has worked with five international chefs—Eugenio Boer in Venice, Björn Swanson in Berlin, Tarik Lange in Basel, Clément Bouvier in Paris, and Sugio Yamaguchi in Tokyo—on a unique and dynamic series of Food for Art dinners paired with Ruinart cuvées, both at the fairs hosting the installation and in the chefs' restaurants. The artist has also designed a limited edition Ruinart Rosé Jeroboam bottle in a run of only 25 signed and numbered variants.
"Throughout this collaboration there is that sense of inwardness. In Ruinart's past collaborations, it's not just asking artists to slap their designs on a bottle, instead, it's a more intimate invitation to showcase your work. I think it's great that they bring that dialogue in a different context and expose you to what they do and vice versa. They really appreciate your art and admire it, but also want to see your take on their brand."
Following its debut at the Palais de Tokyo in Paris, "RIGHT HERE, RIGHT NOW" is set to to embark on a global tour including stops at the Venice Biennale in Italy to Frieze art fairs in both New York and London as well as Art Week Tokyo and Art Basel in Switzerland and Miami Beach.
Palais de Tokyo
13 Av. du Président Wilson
Paris 75116
France