HYPEGOLF and Toyota Tundra Invite You to Range Day, an Experiential Tailgate
Featuring live DJ sets, soulful bites and local community hosted at Austin's Onion Creek Country Club.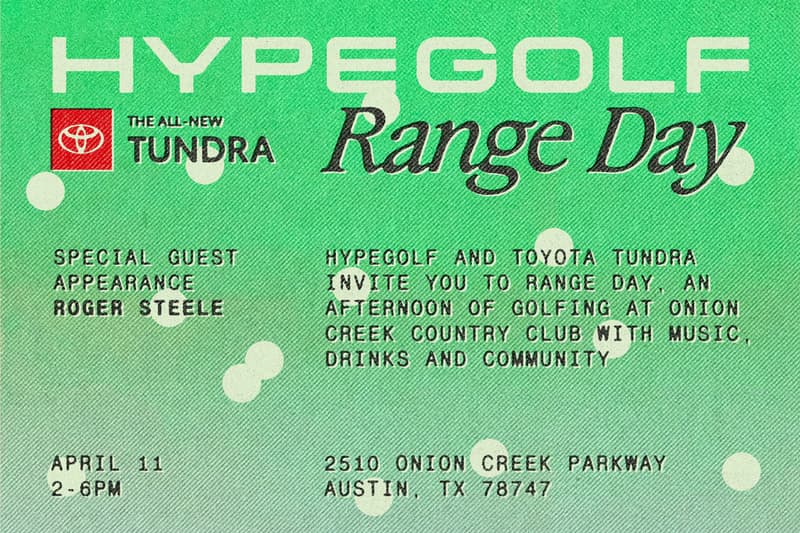 HYPEGOLF and Toyota Tundra are hosting an experiential tailgate at Onion Creek Country Club in Austin, Texas, on April 11. Called Range Day, the event will feature live music, local catering and curated special appearances from Stonie Blue and Roger Steele.
Range Day will introduce the 2022 Toyota Tundra to HYPEBEAST's golf community and will act as the flagship shuttle for attendees looking to explore Onion Creek Country Club's expansive ranges and exclusive clubs. A friendly golf competition will set the mood as the surrounding driving range transforms into a lively tailgate where guests can gather to drink, eat and enjoy live music, including a live DJ set by Stonie Blue. Slated in the guest lineup is a special appearance from Roger Steele, a radical voice and talent in the golf space whose Instagram feed highlights an inclusive future for the sport. Closing out the event, guests can interact with the Toyota Tundra and test out the revamped cabin experience while enjoying pockets of HYPEGOLF's community.
As for food and beverage, HYPEGOLF encourages a healthy appetite to relish the curated lineup of soul-inspired cuisine, including specialty bites from Elevated Soul — deemed one of Austin's top 10 eateries — serving up savory Cajun-style staples like fried seafood platters, oxtail egg rolls and garlic parmesan wings.
In the spirit of community, guests can enjoy a fresh fade courtesy of Dapper Joe, a renowned barber in Central Texas who's lent his precise handling of clippers and scissors to household names like LL Cool J, Big Daddy Kane and KRS-One.
Range Day kicks off on April 11 at 2:00 pm CT and will run until 6:00 pm CT. As the tailgate is open to the public, attendees can RSVP here to secure a day of generational recipes, live music and a sneak peek of the 2022 Toyota Tundra.