Best New Tracks: Nigo, Phife Dawg, Chance The Rapper and More
Start the weekend off listening to these 10 new releases.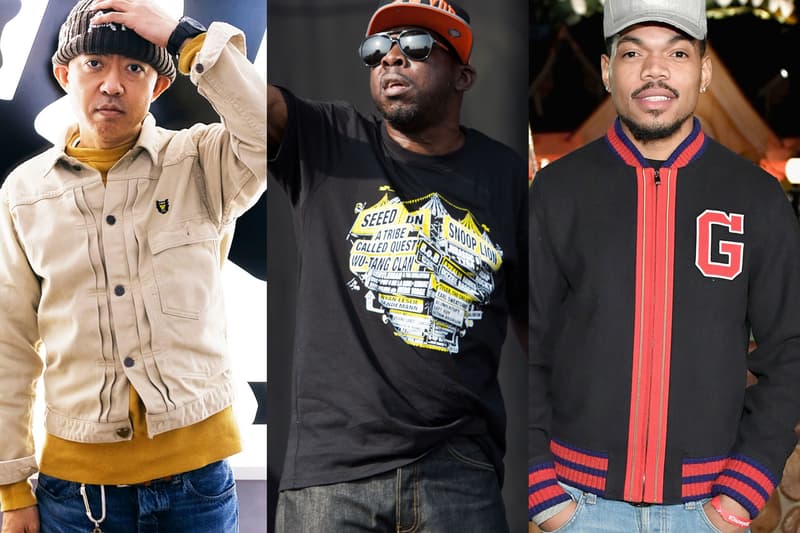 HYPEBEAST has returned with a new installment of Best New Tracks to round off the last weekend of March.
This week's lineup features the highly-anticipated album of HUMAN MADE designer Nigo and the posthumous Forever LP from A Tribe Called Quest rapper Phife Dawg. Also in this lineup are Swedish singer Lykke Li melancholy single "NO HOTEL" and the Bree Runway's 80s pop-infused "Somebody Like You."
Nigo – I Know NIGO!
Following a two-decade hiatus from putting out new music, Nigo has returned with a new album stocked with appearances from hip-hop's leading names. I Know NIGO! features Kid Cudi, Pusha T, Tyler, the Creator, A$AP Rocky and Lil Uzi Vert, among others. Right before the project's debut, the designer shared a music video for his Tyler, the Creator collaboration, entitled "Come On, Let's Go."
Listen: Spotify │ Apple Music
Denzel Curry x T-Pain – "Troubles"
Off of his new album Melt My Eyez See Your Future, Denzel Curry delivered a single called "Troubles" featuring T-Pain and produced by Kenny Beats. "I like traditional hip hop, I like drum and bass, I like trap, I like poetry, so a lot of that is going to be interwoven in this album including jazz and a lot of genres that I came up on as a kid and just being in my parents' house," Curry said about the project's influences in a statement .
Listen: Spotify │ Apple Music
Phife Dawg – Forever
On the lead single of his posthumous album, Phife Dawg samples different hip-hop artists using the word "forever," including Wu-Tang Clan and Outkast. The track is also the recording that the A Tribe Called Quest rapper made before his death in 2016.
Listen: Spotify │ Apple Music
24kGoldn x Travis Barker – "In My Head"
24kGoldn and Travis Barker teamed up for an upbeat pop track called "In My Head." Paired with an official music video, the rapper drives around California preoccupied with the girl he simply can't forget.
Listen: Spotify │ Apple Music
Lykke Li – "NO HOTEL"
"NO HOTEL" marks Swedish pop singer Lykke Li's first new single in over two years. The melancholy song was co-produced by Li with her longtime collaborator Björn Yttling.
Listen: Spotify │ Apple Music
Omar Apollo – "Tamagotchi"
This Pharell-produced track is the latest that Omar Apollo has shared from his forthcoming album Ivory. Out early next month, the project will also include Apollo's "Invincible" collaboration with Daniel Caesar and "Bad Life" featuring Kali Uchis.
Listen: Spotify │ Apple Music
Disclosure x RAYE – "Waterfall"
RAYE describes her new release "Waterfall" as "summer garage vibes." The song synthesizes the English singer's crooning with Disclosure's punchy electric dance beat.
Listen: Spotify │ Apple Music
Red Hot Chili Peppers – "Not The One"
Red Hot Chili Peppers have taken a step back and slowed down with the dreamy "Not the One." For the third song of their upcoming Unlimited Love album, Flea contributes both bass and piano.
Listen: Spotify │ Apple Music
Bree Runway – "Somebody Like You"
Influenced by 80s pop music, Bree Runway's "Somebody Like You" is an emotional ballad with high-reaching vocals. The singer described the single as "an ode to my future lover, in a generation where love and relationships have become so transactional, I'm still preserving myself for the real thing."
Listen: Spotify │ Apple Music
Chance The Rapper – "Child of God"
Chance The Rapper's "Child of God" features Moses Sumney and a music video fronted by the Gabonese painter Naïla Opiangah. "Truth be told, I got the ball on a string," the rapper says in the poetic first verse. "Carried the weight of the world, but it came with some handles."
Listen: Spotify │ Apple Music