J.P. Morgan Opens a Virtual Lounge in Decentraland
Featuring a roaming tiger and a floating portrait of the company's CEO Jamie Dimon.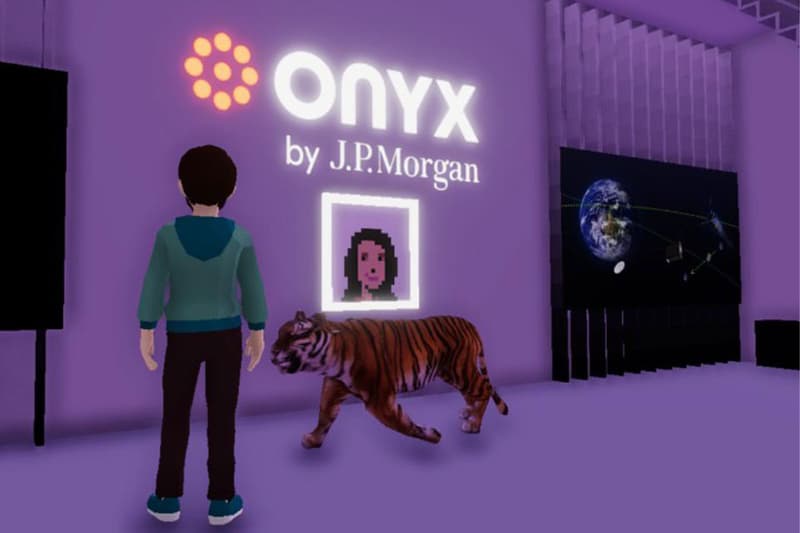 J.P. Morgan has launched its virtual Onyx Lounge in Decentraland's Metajuku mall, becoming the first bank to enter officially enter the metaverse. Upon entry, lounge visitors are greeted by a dynamic roaming tiger, a floating portrait of the bank's CEO Jamie Dimon, and a spiral staircase.
In a report titled "Opportunities in the Metaverse," J.P. Morgan wrote that the metaverse "will likely infiltrate every sector in some way in the coming years, with the market opportunity estimated at over $1 trillion in yearly revenues," citing large companies already in the space including Gap, adidas, Nike, Verizon, and PWC. Following J.P. Morgan's report, Decentraland's LAND token shot up over 8% on the day.
Decentraland is a browser-based 3D virtual world in which users can buy plots of land in the form of NFTs and interact and transact with other users through 3D avatars. First opened to the public in 2020, it's one of the leading metaverse projects alongside The Sandbox and Axie Infinity.
$MANA $SOL $ETH $JPM JPMorgan's new lounge in Metajuku mall in Decentraland. Visitors are greeted by a digital portrait of Jamie Dimon and a roaming tiger. ? pic.twitter.com/cAZgVMFTj5

— Weather (@Weather40813438) February 16, 2022
Elsewhere, John Geiger turns Nike lawsuit documents into NFT series.