Daniel Caesar Embraces a Melting Pot of Musical Influences
The genre-bending artist spoke to HYPEBEAST about the tight-knit Toronto music scene and his GRAMMY-nominated collaborations.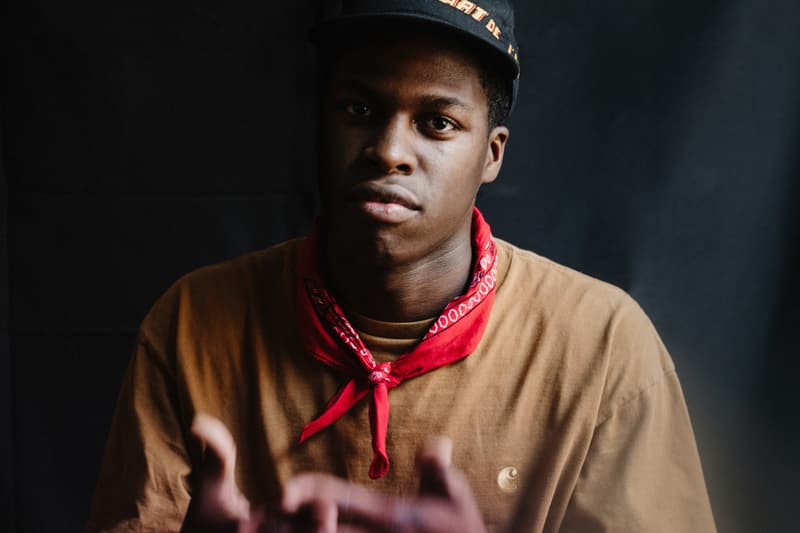 Daniel Caesar has recently achieved global success through his critically acclaimed R&B music releases, though he remains deeply tied to his Canadian roots.
Having released two EPs, two LPs and a chart-topping collaboration with Giveon and Justin Bieber over the last seven years, the singer has since reconnected with his hometown through a partnership with Toronto-based hotel franchise The Annex, where he now serves as Chief Cultural Officer. The new role allows him to engage with and provide a platform for the city's up-and-coming creative minds and bring their work in front of a larger audience.
He describes the job as "mostly curation" of talent with a mix of planning events and parties. "I just want to keep it grassroots and cool and fun," he told HYPEBEAST.
The new title hits close to home for Caesar — whose real name is Ashton Simmonds —having grown up in a nearby suburb of Ontario called Oshawa. At 17, the future GRAMMY winner left home to pursue a musical career in Toronto, where his smooth, genre-defying music style began to take shape.
Though he's been in the industry for less than a decade, critics have commended Caesar for his evolution through various musical projects. They often reference his intertwining of soft melodies and metaphor-heavy lyricism that have followed him from the time of his first EP Praise Break, which was recorded in his early years in Toronto.
He credits the city's tight-knit community with propelling his career forward and supporting him through the initial stages of his career. "Toronto's scene is very centralized," he said. "There's different collectives and pockets, but for the most part, everyone knows each other. It's like two degrees of separation at most."
As an artist with a distinct yet inimitable musical style – converging nineties blues with elements of gospel and pop – there are a few qualities Caesar looks out for while scouting local artists to spotlight. "Authenticity is what I respect most in other people's art," he said. "You might call it pretentious, but I want it to be youthful, cool, interesting, fresh."
This sums up Caesar's approach to his own art as well – he was crowned somewhat of an R&B wunderkind with his second self-released EP, the tragic and soulful Pilgrim's Paradise, in 2015. Two years later, the singer made his full-length debut on Freudian, and followed up with Case Study 01.
"I don't like labels," Caesar noted of his musical evolution.
"When people describe me, they're talking about R&B, which is cool, cause that was very much where I was at the time I made all that music. That was where I was in my life. That's like what I wanted to hear." Caesar has branched out in different genres, teaming up with Bieber – a fellow Canadian – last March on the multi GRAMMY-nominated single "Peaches."
"We've known each other for, for a few years, me and Justin," Caesar said of the collaboration. "Being able to be on a record with some of that caliber from the same country as you, I'm very cognizant of both what it means and how important it is."
More recently, he teamed up with FKA twigs (whom he calls a "certified legend") for the song "careless" off of the English singer's January CARPISONGS mixtape. And this past week, Caesar dropped the song "Invincible" with Mexican-American singer Omar Apollo, who he met "purely coincidentally."
"I was living in L.A. and I was just asleep in my apartment," Caesar recalled, speaking about his encounter with Apollo. "One of my friends had brought over a couple artists and I woke up to beautiful music."
"We became friends that day, and then me and Omar made a few songs together," he added.
"Invincible" hears the two artists sing about feelings of love and vulnerability within a relationship, which are recurring themes throughout Caesar's discography. Freudian charts an entire love story, from its first encounter on "Get You" to finally finding closure on "Blessed," while Case Study 01 explores similar concepts while intertwining Caesar's musings on the ego and religion.
Three years after the release of Case Study 01, Caesar found himself in the throes of writing again and has since began recording his third studio album. He said that since then, "everything's changed," including "the way I dress, the way I think, the way I like my musical style."
"I'm kind of dipping into all the other influences, all of the music that I listened to growing up," he said. "I've always tried to take all my influences and put them in a pot and stir them up and see what happens."
"I think with this album I've accomplished that – at least better than any other album I've ever made," he concluded.