Harmony Korine Explains Why "We're Living Closer to Science Fiction Than Ever Before"
25 years after 'Gummo,' Hypebeast learns where the visionary's mind is at today.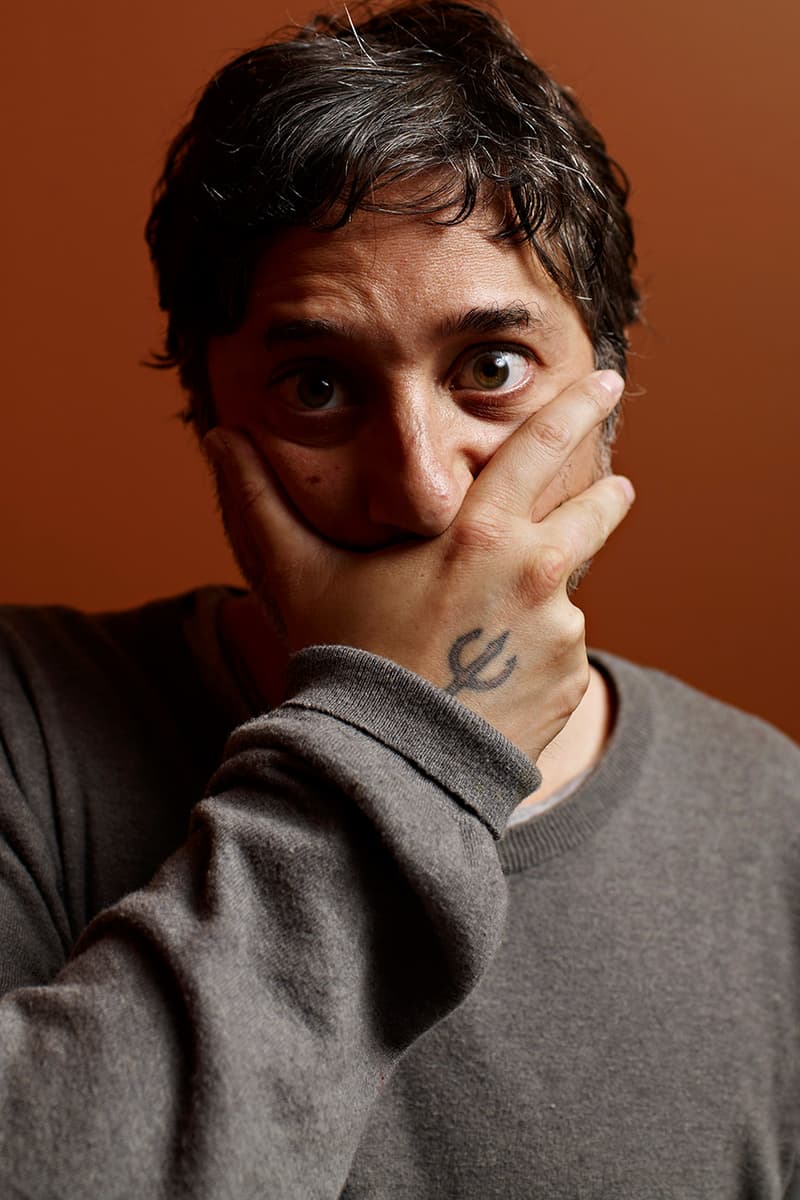 Harmony Korine Explains Why "We're Living Closer to Science Fiction Than Ever Before"
25 years after 'Gummo,' Hypebeast learns where the visionary's mind is at today.
"I'm slow to make movies and I haven't really made that many," says Harmony Korine, the American filmmaker responsible for Gummo, Julien Donkey-Boy, Mister Lonely, Spring Breakers, Trash Humpers, The Beach Bum, and of course, the screenplay for Larry Clark's Kids – a film clouded in controversy thanks to its hedonistic nonchalance and irreverence. Self-deprecating candor and vague mystique appear to be Korine's default when it comes to interviews. In 1995, aged just 19, he joined the Late Show with David Letterman's sofa as part of a Kids media junket. "I guess it's controversial," he said of the film, through an awkward smile. "I just wanted to make a sequel to Caddyshack," he adds. 
Korine doesn't take himself, or anything for that matter, too seriously. What surrounds him is what surrounds us, but he looks deeper. Life is his mood board, and the characters he portrays mirror what he sees in the real world, describing day-to-day life as a "large science fiction fishbowl experiment." By examining the so-called "fishbowl," Korine mixes the romanticization of his observations with his depiction of reality in what he likens to "chemical experimentation." "The idea that you can put different elements into a bottle and shake them up and document an explosion," he says. "That's interesting to me."
Korine's catalog of work has an unparalleled ability to reflect the contemporary zeitgeist. For example, he too can see Julia Fox, who starred in a Supreme campaign he shot, as someone "who you can imagine would have worked back then [in the '90s]." Although his work has often proven somewhat too taboo for the mainstream film industry, it has gone on to provide inspiration for Gucci campaigns, art direction, Supreme T-shirts and films. "That always trips me out, I've gotta say. A lot of the early stuff was rejected at the time, at least by certain mainstream critiques. It felt like provocation for a lot of people. It was easy to dismiss." But while his silver-screen inventory might not be as extensive as his peers, few can match his enviable amount of influence on the culture: Korine wrote the rule book on what it means to capture the mood of an era.
Speaking to Hypebeast from his home in Miami – whose back alleys and beaches a constant inspiration – Korine elaborated on things in life that have made him the person, and artist, he is today. "I don't know if I have an obsession," he says. "I guess there are certain themes that always repeat themselves. The things I enjoy now… laughing is pretty good. Images of the ocean. Guns. Laughter. Marginalized characters. Things that look good." It may not be an obsession in Korine's eyes, but it seems he has the inclination to return to the act of finding joy in the monotonous cycle of life, while somehow turning the gritty underbelly of society into cult films, campaigns, and even numerous exhibitions' worth of paintings.
"In films and art there is an ultimate truth, but there is something deeper that hovers above it. Something closer to strange poetry."
Conversation with Korine floats from specific discussions on his iconic movies to existential scenarios about life and what it all really means. But where does his inspiration begin? "It starts with an image. I could see a woman walking down the street with curlers in her hair and boxing gloves and no shoes on, and it just sparks something," he explains. "I wonder where she lives, how she lives, how did she get there? I come up with backstories; I have a deep inner dialogue with myself as far as conjuring up narratives based on images." Spending his days pondering the minutiae of existence as his source of inspiration, Korine forms his story arcs from everyday life, "[I'm] looking at people and things that are mostly ignored. You can find pathos in certain hidden places and in people's eyes."
While his references are very real, the end result is far from documentary. "In films and art there is an ultimate truth, but there is something deeper that hovers above it. Something closer to strange poetry." With this in mind and at the core of his output, Korine's films provide jarring reflections of youth culture, with young people's lives becoming R-rated video games orchestrated by nihilistic tendencies and fuelled by a yearning to fulfill their boredom. While degrading and eerily uncomfortable, they're also compelling tales of Middle American society.
These days, Korine finds it hard to watch new movies: "the culture is really up for grabs – there is no space anymore between actors, their lives, and the characters that they play," he says. Thanks to the Internet, we know every detail of every celebrity's life, something he's quick to call "sell-out culture." Being real is important to Korine, "In some ways everything is a performance and people become branded. They're almost not people."
This is not to say that he finds today's people uninspiring. Korine just thinks that creative practices such as art and music have "gone through some kind of algorithm." The effect of this is a world that's no longer honest or raw – two factors that have long-been fundamental to his work and vision. "We're living in science fiction," he says. "I'm not saying now is less interesting, it's just a completely different reality. People live on screen as opposed to people who lived life and weren't self-conscious… People are shamed into a unified look and feel."
"Everything is swirling in such a way that it's difficult to really find what the crux of the soul inside it all is."
In sharp contrast to pop culture's current addiction to the algorithm, Korine's ability to cherry-pick the right actor for the role is left by chance, and refreshingly spontaneous. "My relationship with actors is strange, a lot of it is just a kind of vibe," he explains. Korine has always managed to build a cast that perfectly evokes the spirit of the film in question, something that is the result of either working with "non-actors," as he puts it, or by subverting the actors' reputation – "I think it'd be interesting to see this person play this type of character."
"A lot of the characters are the zeitgeist – a lot of them came to life," he says of his own films. In Spring Breakers (2012), he took burgeoning starlets and their squeaky-clean Disney reputations and turned them into college party girls with criminal records – reminiscent of the fall from grace experienced by high-profile celebrities of the 2000s. "I was listening to pop and electronic music and thinking about the culture, the kids at that time that were making it, the Internet, and the meshing of high and low culture and the idea of pop poetry," Korine explains. "It felt like a really interesting casting because they were of the culture but also separate, elevated in some ways. I thought it'd be interesting to see them get grimy."
Today, Korine thinks we've reached a cultural peak – he, like a lot of us, can't label the state of time we're in currently. "I can't even tell what the 'now' is. It's a little bit of this era, a bit of that. Same for streetwear: where can you go from here?", he asks. And he's right, many – including us – have questioned what's next for the industries our lives revolve around. "People have this need for an identification with a brand and personal relationship with it."
Mainstream media continues to evolve and give everyone their 30 seconds of fame on TikTok – "The way people consume things is different to [the '90s], the way people are watching a movie, listening to music and dancing on TikTok [simulatenously]," notes Korine, backed by the fact that collaborations between TikTok and Cannes Internation Film Festival have racked up 8.1 billion hits.
So, instead, he's moving towards traditions via the means of advertisement, "You're showing characters, locations, and clothes. What I like about advertising is that it's fast and it's a language. It's released in popular format. It's a different kind of joy to making a film, but it's still a joy. When you see an image that's beautiful, it's exciting." Working on a new project – not quite a film, but something – Korine feels "that there's a new art form. It's a synthesis of music, animation, live-action and gaming. We'll see where it takes us. But I don't know."
When your driving force is the portrayal of authenticity, it becomes hard to separate the things we're fed from the people we truly are inside. At least, that's how Korine feels: "everything is swirling in such a way that it's difficult to really find what the crux of the soul inside it all is."
So how do you create work founded in the nuances of everyday life, when everyday life is no longer inspiring to you? For Korine, it's necessary to get others inspired to help his own creativity. "There is still room for people to make great things, we're living closer to science fiction than ever before," he adds. "I want to move people, I wanted to mess things up. I always felt that if it wasn't fun for me to make then it wouldn't be fun to watch."