The Best Palace Collaborations of 2022
The best moments from the most packed out year of Palace to date.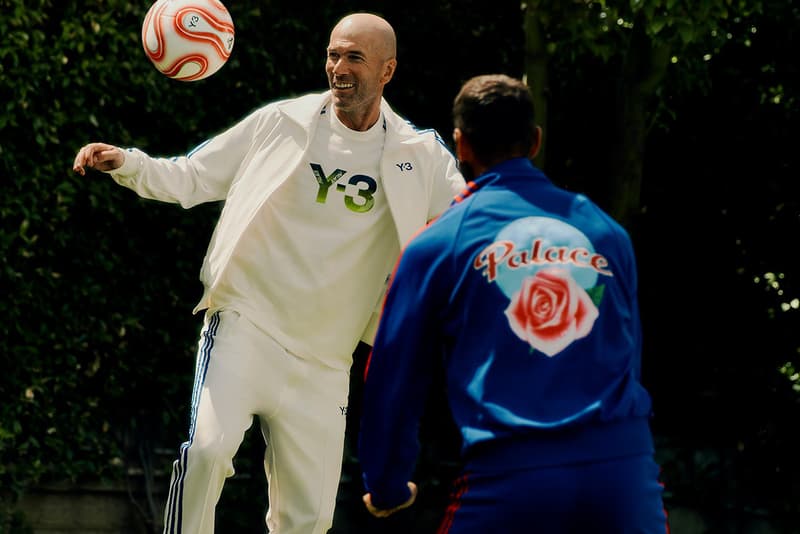 Barely a week went by without a Palace collaboration in 2022.
Despite the London skate brand's total omnipresence on your social feeds throughout the year, nothing ever felt oversaturated or overdone.
Each partnership was full of fresh ideas, with creative direction that took followers to whole new dimensions, visuals that will live long in the memory, and clothing that will stand the test of both time and trend cycles.
From low-key link-ups to million pound luxury roll-outs, here's the best of the best when it came to Palace's collaborations throughout 2022.
Y3
Linking Zinedine Zidane up to skate with Lucas Puig for the collection launch was one thing. Zizou making skating look as effortless as when he played football is another. Then combine that with – in my opinion – the best-looking Palace collaborative pieces of all time. Coupe de Monde-winning levels. — Jacob Davey
Mercedes-AMG
Following their first collaboration from last year, Palace and Mercedes-AMG presented their second link-up mid-way through 2022.
Coming in the form of a car and apparel collection, the duo's inspiration came from the cosmopolitan flair of London, Los Angeles, New York, and Tokyo – with each of the locations being homes to Palace's flagship stores.
Highlighting the mutual understanding the pair have of high-performance cars and street skateboarding, the collection combined adrenaline and suburban coolness. Furthermore, the drop also built on the look of Art Cars and came paired with a 23-piece range that included jackets, gilets, hoodies, T-shirts, caps, and beanies.
Offering various everyday staples, the Mercedes-AMG x Palace collaboration showed that skateboarding can be combined with "motor mechanic" looks – and it was done perfectly. — Jack Lynch
Engineered Garments
Palace's Engineered Garments collaboration was rolled out with limited fuss, but executed with attention to detail in abundance. A much more sophisticated link up than some of their more bombastic partnerships in recent years, the Daiki Suzuki-founded label and London skate brand linked up for a run of reliably slick outerwear and winter-ready pieces. An underdog of a collab that actually packed plenty of punch and panache. — Jacob Davey
C.P. Company
The C.P.(alace) collaboration was a breath of fresh air. The collection brought a host of updated classics and they explored the great outdoors and how it synonymously goes hand-in-hand with military undertones.
Additionally, the capsule also welcomed a revitalized take on C.P. Company's Ba-Tic goggle-hood layered canvas field jacket with the style complemented by Palace's strong affiliation with winter balaclavas.
Footwear was also a highlight for C.P.(alace), with the new hiking boots coming in understated and earthy tones, while a second pair that combines black and purple was available for those looking for something more vibrant. — Jack Lynch
Elton John
Elton John might not be able to land a kickflip, but you best believe Palace's show-stopping collaboration with the UK pop star shoved it right up there among their best link-ups of the year. The surprising partnership between Rocket Man and skate brand celebrated the British music icon's legacy and legendary music career, while also tapping into Palace's signature skate sign-offs.
A retro velour tracksuit, knitted jumpers, short and long-sleeve T-shirts featuring iconic pictures of him from across his career, Elton was a massive fan of the collection, saying: "It really captures the essence of youth and freedom from my time on the road in the '70's. I've never been a skateboarder but that's not going to stop me wearing the lot." — Jacob Davey
Gucci
When Alessandro Michele and Palace connected for their internet-breaking collaboration, it presented a combination of uniquely British elements with the understated sensibility that is synonymous with Gucci as a luxury leader.
Stand-outs from the collaboration came in the form of the finer details, such as the collaboration logo; a badge that represents the essence of community. It was explored through the use of Gucci's Double-G and Palace's Tri-Ferg motifs and was spread across the apparel range, the lightning-fast MOTO GUZZI V7 motorbike and a dual-branded Gucci x Palace safe – a reference to Gucci's "Vault." — Jack Lynch
Vans
Palace's campaign rollouts continued to get better and better as the year went on, and they ended 2022 in fine form with the launch of their Vans Half Cab collab. Rory Milanes once again rose to challenge of being Palace's main protagonist, morphing into prime Steve Jobs to showcase their new GORE-TEX Half Cab with Vans. While the actual release was a stripped-back pair of all-conditions skate shoes, the corresponding marketing really highlighted how Palace are now, arguably, the best creative agency in the world. — Jacob Davey
Calvin Klein
For the streets of the UK, Palace's collaboration with Calvin Klein was one of the most exciting link-ups of the year.
The collection starred various stars across its mini-movies, with Uma Thurman taking the lead role, while the likes of Michael Imperioli, Roddy Ricch, Ethel Vain, and the Palace Skate Crew made cameo appearances across the cities of London, New York, Los Angeles, and Blackpool.
One of the best features, however, came to light when UK drill star, Unknown T was filmed traveling across London in a classic double-decker bus, proving to be one of the stand-out moments for British rap in 2022. — Jack Lynch
Umbro
When it comes to best Palace ever, long-time brand lovers will remember the first time the London label teamed up with Umbro back in 2012 for *that* football shirt collection. Bringing the essence and success of that link up back a decade later ahead of the 2022 World Cup, Palace re-injected the same football-inspired flair into colourful shirts, tracksets and more pub-ready apparel. — Jacob Davey
Rapha
Palace's collaboration with Rapha was the brand's eleventh consecutive Summer 2022 drop and the collection was centered around a limited-edition collection of switch-out kits for riders of the EF Education-TIBCO-SVB and EF Education-EasyPost teams, as well a custom assemblage of Cannondale racing bikes.
The collection highlight came in the form of a pair of Crocs and they were complemented by custom Rapha and Palace Jibbits – all of which included the symbol for the female gender.
Furthermore, the shoes were coated in hues of pink and blue, while the customary Palace Tri-Ferg was printed into the insole. — Jack Lynch