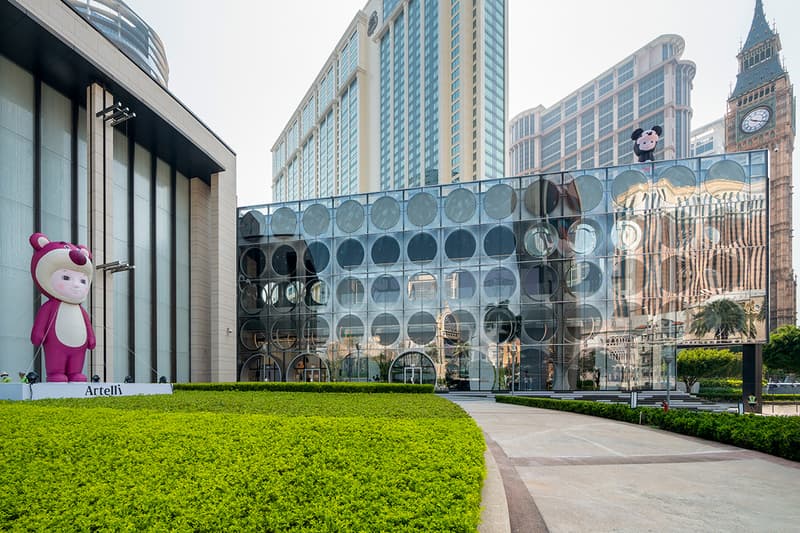 Explore the Infinite Potential of Contemporary Art with Artelli, a Pioneering Immersive Multi-dimensional Art Space
Interview with Mr. Cyrus Fong, Executive Director of Forward Fashion (International) Holdings Company Limited and Founder of Artelli, and Japanese artist Satoru Koizumi.
---
With the emergence of the Internet era, the distribution of contemporary art is constantly overcoming the constraints of the geographical context and becoming more popular via social media and among cultural communities. As a result, the gap between the conventional and contemporary art is gradually vanishing. Meanwhile, breaking away from conventional retail and art exhibition models, brand new forms of art consumption, immersive multi-dimensional art experiences, and a higher degree of artistic atmosphere are morphing into new pursuits for those who enjoy contemporary art.
Artelli, the pioneering immersive multi-dimensional art space presented by Forward Fashion (International) Holdings Company Limited, has opened to public in Macau, China since November 1st. The 600-square-meter, two-and-a-half commercial complex was created by Malherbe Paris, a world-renowned French architecture and interior design group acknowledged for crafting fashion and commercial real estate. The interior design in pure white tone is what you immediately notice when you enter Artelli. The designer drew inspirations from the artwork shipping boxes, and divides each partition into a box-like form, which is exquisite and futuristic. To enhance the visual impact of the space, Artelli has created extra high ceilings that are different from other regular retailers, aiming to better showcase massive artworks. With its delicate layout and well-thought-out circulation, Artelli enables visitors to take a slow and immersive journey in a vibrant and artistic environment.
As a pioneering immersive multi-dimensional art space, Artelli is different from the common perception of art showrooms. Breaking the boundaries of conventional retail and art exhibition formats, it embraces lifestyle and digital art, art community, exclusive brand crossovers and more. Through partnerships with hundreds of prominent artists and brand designers all around the world, Artelli dedicates to provide a comprehensive view of contemporary art for the public. Besides, guests are able to have an in-depth interaction with the AR installation as well as giant video wall displays while admiring artworks. Innovative elements and experience, for example the "Metaverse" concept, will also be integrated in Artelli in the future to help explore the infinite possibilities of contemporary art.
Artelli has teamed up with Japanese artist Satoru Koizumi and American artist Joshua Vides, to present the grand opening exclusive exhibitions — Satoru Koizumi Disney Collection Exhibition Debut in Macau and Joshua Vides Buzz Lightyear Collection Exhibition Debut in Macau. The exhibition features the 4-meter-tall "Mickey", the 1.5-meter-tall "Lotso" sculptures and the hand-carved wood sculptures taking on the staples of eight classic Disney characters with a limited edition of 88 pieces, which are exclusively available at Artelli . The original sketches from Satoru Koizumi are also exhibited. Guests are allowed to follow through on an experiential visionary quest of the story behind each art piece.
The retail price for the full set of eight wood sculptures would be HKD 300,000, including eight characters of Lotso, Alien, Cheshire Cat, Tigger, Piglet, Stitch, Chip and Dale. Each character comes with the artist-signed certificate of authority, and a complete set of hand-carved special edition miniature wood sculptures as an exclusive gift. Meanwhile, the 30cm version of the "Lotso" and "Alien" resin sculptures are available for purchase at HKD 7,800 each. The Disney Collection by Satoru Koizumi also features limited capsule products including aroma diffuser, plush, cushion and puzzle, ranging from HKD 480 to HKD 2,280.
Besides, Joshua Vides' black-and-white pen painting reinterpretation of Disney's classic animated character "Buzz Lightyear" is also an eye-catcher, and this newly launched limited edition of the Black and White Buzz Lightyear 30cm version is also exclusively available at Artelli with HKD 6,800 each.
As the new original brand under the Forward Fashion (International) Holdings Company Limited, Artelli aims to establish a high-end platform to exhibit the works of the world's top artists, while also striving to become the new global landmark of contemporary art and culture for those who favor contemporary art. The grand launch of Artelli also marks a new milestone in the development of high-end art and diversification for the Forward Fashion (International) Holdings Company Limited (FFH Group). We seized this opportunity to have a conversation with Mr. Cyrus Fong, Executive Director of Forward Fashion (International) Holdings Company Limited and Founder of Artelli, on the ideals and prospects of contemporary art that Artelli represents.
As a new brand representing FFH Group's new venture into the art industry, what role does Artelli play in the group's development?
Advancing with the times and striving to achieve diversification are our group's development strategies. By virtue of the resources from the FFH Group along with these intellectual property resources that the Group has accumulated throughout the years, we have been able to thrive in the direction of art and to diversify the playgrounds for implementing our multifaceted creativity and development, making us a pioneer in the field of contemporary art.
Can you tell us more about Artelli's global first store in Macau and the concept behind it?
With a total area of 600 square meters, Artelli's first flagship store project is now the largest high-end multi-dimensional art space in Macau. The project dedicates to embark on a new journey of art and business from the Greater Bay Area. It also intended to expand its presence in Mainland China, Hong Kong S.A.R., Tokyo, Seoul, New York, London, and Paris in the next five years, becoming the new landmark of art and culture.
Through international collaborations between brand and culture, lifestyle and digital art, art community, exclusive brand crossovers and more. Artelli will also solidify its intelligent technology DNA through Metaverse and more, taking the exceptional art experience to the next level.
Artelli will be spearheading high-end art projects like exclusive debut collections with hundreds of world-renowned artists and brand designers, which will allow us to provide each consumer with a unique, immersive, multi-dimensional journey of art.
At the same time, we will establish a brand-new platform for art exchange so that up-and-coming artists can network with cutting-edge cultural and creative forces and establish a central art and culture hub.
We know that in occasion of the grand opening, Artelli has presented a collection of exclusive artworks with various artists, including Satoru Koizumi and Joshua Vides. Can you tell our readers more about these collaborations?
Joshua Vides presents a brand-new artwork inspired by Disney's classic animated character Buzz Lightyear, and it's exclusively available at Artelli. The art piece continues Joshua Vides' iconic creative style, using hand-painted forms with clean and smooth black lines to depict the profile of Buzz Lightyear in a different manner.
The artwork is available in two sizes, and we are proud to debut a 30cm version in resin. For the 100cm version, considering its size, we choose fiberglass as the material for safety reasons, with hand-painted lines covering the entire sculpture.
Satoru Koizumi, on the other hand, created a collection of resin sculptures featuring children figures dressed as classic Disney animation characters. We are also honored to debut them exclusively to the world.
This collection serves as metaphors for how we alter in response to our surroundings. A vacant and indifferent look can be seen on all these toddlers' figures, who are supposed to be carefree. The heart-wrenching work of Satoru Koizumi interprets the universal phenomenon of people in contemporary society — mutable and lonely — in a way that is obvious and visual.
From your perspective, what are the benefits and advantages of the artists' collaborations? What does the birth of Artelli mean to the promotion of contemporary art amongst the young generation?
As an art and commercial space, Artelli focuses on providing each consumer with a multi-dimensional art experience including the display of exclusive art installations, digital art, original manuscripts from artists along with their creation process, as well as the debut of artworks in limited edition and art events launched on a regular basis to foster a community of culture and art, breaking the traditions and creating a brand-new consumption model of art experience.
Artelli aims to turn into a platform for the public to get to know the artists, a venue for artists to show their talents, and a community of contemporary art. We hope that the entire contemporary art ecology will thrive and the concept of "art as experience" will become more widely accepted. We want to create multifaceted connections between art and many industries, to engage a growing number of young audience with artworks coming from different corners of the world, and to strengthen the bonds between artists and audience through tangible interactions.
Could you give us a sneak-peek on Artelli's upcoming plans? For example, are there any new artists collaboration, themed art exhibition or even artists' personal exhibition on the pipeline?
We would like to engage with artists who value the Artelli ethos and produce works of art that reflect the brand characters of Artelli.
What are your expectations on Artelli's future development?
In order to enable art enthusiasts to come up close to the works of art from all over the world and to explore the endless possibilities of art, Artelli intends to create a high-end platform for the world's top-class artists to display their works.
We also invited Japanese artist Satoru Koizumi, who just hosted his first exhibition in Macau at Artelli to share his stories about the art works exhibited in Artelli, and more inclusively, the collaboration with Artelli.
Children and animals frequently serve as the main characters in your artwork, what do they represent respectively? How are they connected to one another?
Children reflect mythology, and animals symbolize the skin of the different environments in which people live. This relationship is more important than many people think.
What do you value the most when working with galleries, curators and art institutions? How does Artelli meet these factors?
It is the most important that I have got a passion for good artworks and a sense of "gratitude". I am also happy to have more opportunities to let people see my works and convey my creative ideas to them, and the collaboration with Artelli will give me different creative inspirations to bring my ideas to more people.
How do you feel about your first time collaborating with Artelli?
It took more than two years from the beginning of the conception to the launch of this exhibition. The difficulties I encountered are countless. However, during the process, I received a lot of help from the people involved, and thanks to them, the exhibition was held smoothly, so I am really grateful to them.
Can you briefly introduce the highlights of the collaborative artwork created with Artelli?
In various anime, there are various characters debuting, and all of them have their own personalities, so I have brought together these characters with personalities, and through my creations, I have made them into a being that can support a certain person. I have chosen some of these characters to be part of this exhibition.
From the production side and technical side, it is important that the look (of the characters) fits the style of one's work. Secondly, as a premise for choosing various characters, since the characters were chosen from various anime, although it would be repetitive with what I just said, I think that as a whole, having various members (characters) with different personalities in them would make the exhibition more exciting.
While Satoru Koizumi's Disney Collection reminds people of the simple touch and joy of life through the wood sculptures of children, Joshua Vides' Buzz Lightyear Collection aims to empower the visitors so that they can explore the vast universe just like Buzz Lightyear. This is the allure of Artelli — artists from all countries with different culture backgrounds gather here, where they are given the opportunities to engage intimately with art enthusiasts, and thus construct a comprehensive and diversified cultural hub for contemporary art.
During the interview with Mr. Cyrus Fong, he also mentioned that the public is increasingly seeking unique, personalized, and attitudinal art works, and therefore more and more collaborative projects on fashion and art have emerged. Artelli will better use its multi-brand resources in the creation of art projects in the future. By further associating art with different sectors of culture, Artelli has its goal to arouse young generations' interests to have a better understanding of the artworks worldwide and strengthen the connections between artists and audience through offline experiences, which will be the Group's main development scopes in the next five to ten years.
With its global grand launch in Macau, Artelli has made its first step in the process of building up a brand-new multi-dimensional, diverse, and cross-disciplinary art space at present. With the mission of "bridging the gap between art and life", it is believed that the pioneering immersive multi-dimensional art space will embrace a promising future.