Nike Server is the Platform Selling Swoosh Models You've Never Seen Before
Hypebeast speaks to the man behind Nike Server on his journey into collecting sneakers and his sustainable approach to sneaker customization.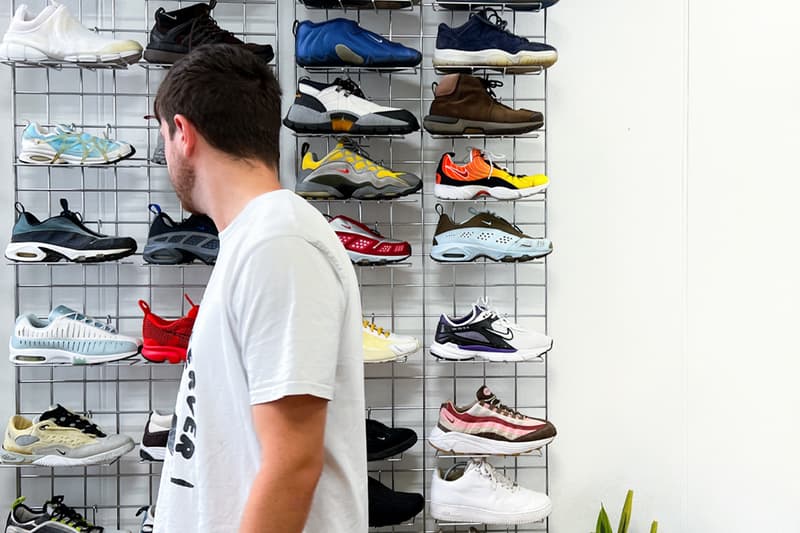 You may not recognize the name Linus Nutland, but his Instagram handle will definitely ring a bell.
Linus is the man behind Nike Server, a platform that the Bristol-born reseller uses as a hub for his encyclopedic array of rare Nike silhouettes scavenged from eBay and other second-hand platforms. The 23-year-old sportswear design student launched Nike Server at the beginning of his university career, developing it into a rapidly-growing side hustle that has caught the attention of sneakerheads far and wide. The collector looks toward sustainable footwear consumption, rebuilding broken-down kicks and giving them a new lease of life through customized reparations.
Linus did not have a traditional sneaker-loving childhood, which developed throughout his teenage years while hitting the ramps skating in his first pair of Nike Air Huaraches. His father was a true bargain hunter, too, and Nutland inherited his practice while searching eBay for great sneaker deals, where he sourced '90s Nike grails to discontinued '00s silhouettes.
Nike's cult following resonated with him, seeing long-lost Swoosh pairs as gold dust that intrigued his collector's mindset. After years spent building up business, the multi-faceted sneakerhead launched the "Zero Waste Approach" – a sustainable initiative in collaboration with VIBRAM that allows him to integrate the brand's plush sole offerings into dated kicks that might need a helping hand.
The VIBRAM partnership in particular was a certified hit, with plenty of other Nike owners trying to duplicate his practice at the VIBRAM store in East London. Nutland's partnership with VIBRAM adds a dash of personality to Nike modes, fusing together mature sneaker uppers with crisp vulcanized rubber bottoms that stray from the traditional. Through immersive workshops and 1-of-1 projects, Nike Server has saved over 500 kicks from hitting storage boxes globally and continues to do so alongside the Italian footwear manufacturer.
Hypebeast visited Nike Server's creative space in Shoreditch, London, to speak to the founder about his love for vintage Nike silhouettes, the development of his Instagram shop into a fully-bloomed business, and what's up next for him in his fledgling career.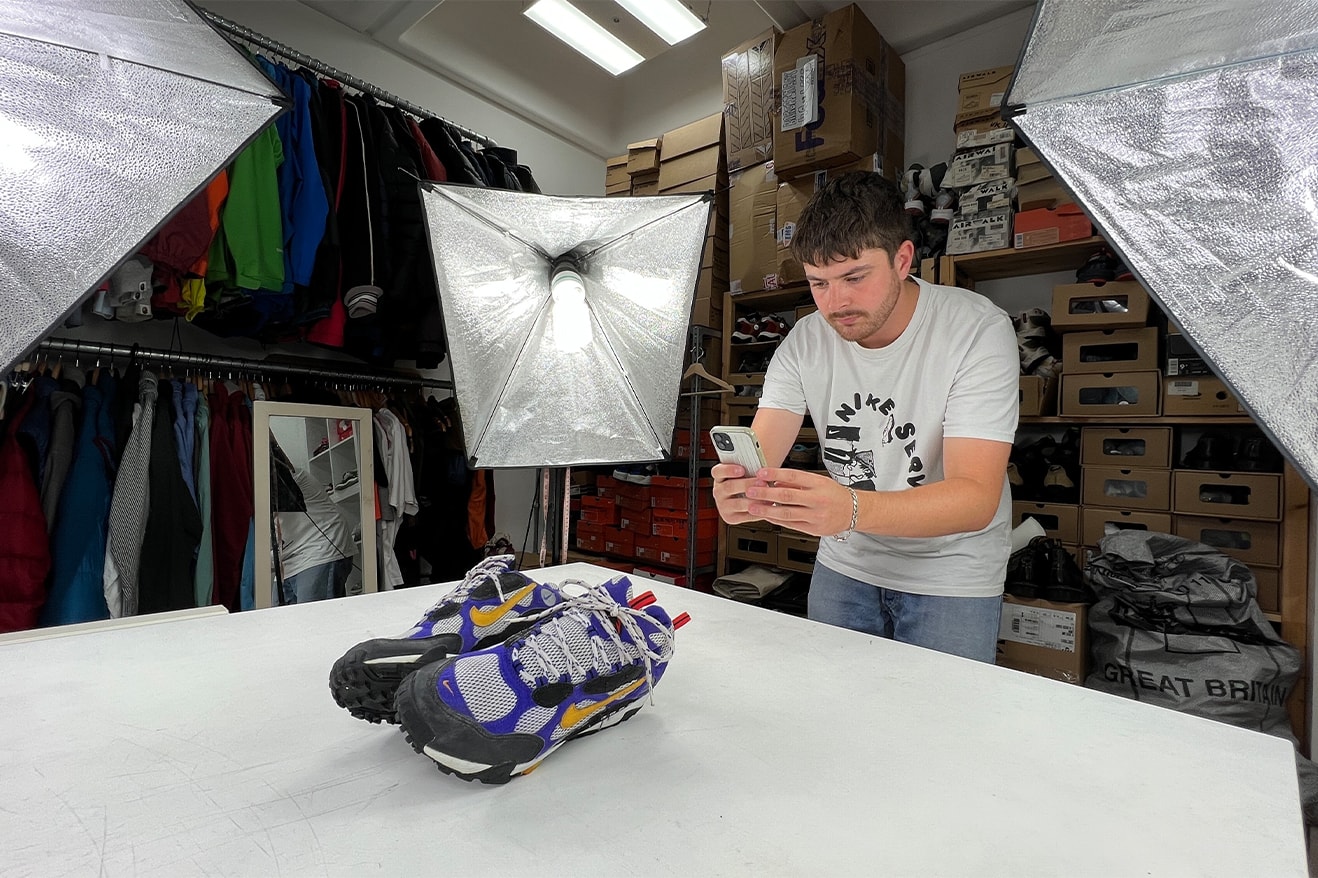 Hypebeast: Tell me about your journey into sneaker collecting, how did it start and how did it get to where it is today?
Linus Nutland: I feel like I'm not your average sneakerhead. My parents never put me in them when I was a kid, I was never interested in them throughout primary school when I was younger or even secondary school. Before I used to skate, so I think I got my first pair of non-skate shoes when I was in year nine. Even still that wasn't some crazy "eureka!" moment for me, I just wanted a pair of comfier shoes.
A lot of people have a crazy story with shoes from their childhood, but it hasn't been like that for me. I feel like I've inherited this kind of collector gene and mindset from my dad because he collects a lot of stuff. He's a real bargain hunter as well, so that's how it started for me – I was going on eBay and going to different sneaker events in Bristol. In the early days of those events in Bristol, it was people selling old JD-exclusive Huaraches, old TNs, and what I think is interesting stuff. I guess that kind of kick-started it for me when I was 15 or 16 years old. After that, it was just a slight eBay addiction.
Why do you prefer Nike silhouettes rather than any other footwear brand?
LN: I think it's because the first pair of non-skate shoes I had was Nike and Nike is a bit more culturally relevant than any of the other brands, in my opinion anyway. There are lots of models on this wall here that have got crazy backstories and crazy cult followings all over the world.
Your archive is mostly vintage Nike shoes that people might not know much about. What makes you gravitate to that as opposed to newer releases?
LN: Don't get me wrong, I still like new releases, there are some shoes up on my studio wall from like 2018. But I think it's the same with all brands, 20 years ago they were doing stuff that they would never do today. They were making pairs and doing projects that just wouldn't work in today's culture and in today's society. When you find a pair of shoes, say from 1998 or something, especially if they've never been done – it feels like you just found gold. You've found something that hasn't been made in 20 years and there's not going to be many of those around.
"When you find a pair of shoes, say from 1998 or something, especially if they've never been done – it feels like you just found gold."
When did you start your Instagram account Nike Server?
LN: I started it in the first year of university just as a way to make extra money, and it allowed me to shop online and buy stuff while making money out of it – which for me was sort of fulfilling in a way. I bought eight pairs for the first upload I did on Instagram, and four of those pairs were things that I had never seen before. Looking back, they were quite sick. Some of them, I've never seen since.
How would you go about pricing them?
LN: One of the reasons why I first started Nike Server was because I didn't see another shoe shop on Instagram that was selling kicks at a reasonable price. I wanted to be a shop that provided people with rare Nike's, but cheap. My slogan for a while was "Rare Nike, Reasonable Prices."
You launched a sustainable practice titled "Zero Waste Approach" a few years ago. What is the backstory behind it?
LN: Old shoes fall apart, separate, and crumble. I started the "Zero Waste Approach" after a year of doing Nike Server. I was getting pairs sent back to me, I had to refund people, and I was also buying shoes that arrived and were unsellable. It got to a point where I had maybe 20 pairs sent back to me that had crumbled, and I didn't want to throw those away because the uppers were still completely fine.
I got in contact with VIBRAM, an Italian sole manufacturer based in Milan, and took 20 pairs to their cobbler shop down the road from me. I went out there and struck a deal with them. The deal was that I would give them about 20 pairs, I choose soles from whatever they've got in stock, and make these hybrid Nike shoes. It caught VIBRAM's attention so they reached out and wanted it to become an official collaboration. They essentially use me to show people the possibilities of repairing their shoes with VIBRAM soles. I think that with the pairs that I've resold with VIBRAM we've saved hundreds of pairs from being thrown away or being kept in a cupboard and never worn again.
Do you see people leaning more toward the sustainable approach?
LN: People who are more tuned into the issues surrounding normal consumption would think more about taking a pair of shoes they've already got, and turning them into essentially a one-off product. That's been appealing to people as well.
What are your top three favorite shoes in your collection?
LN: I would have to say currently my favorite pair in the archive is a pair of 2003 Nike Presto Ridge, one of many strange and obscure Presto models from the early 2000s, in fact probably one of the rarest models out of all of them. They're just so bizarre, such a weird but cool design and the choice of materials is spot on. I managed to secure these from across the globe, I'd been looking for them for ages so it was a nice surprise finding them.
My second favorite shoe in the collection is a pair of Sample Nike Silver Fish, a shoe designed by Kirsten Stevens in the early 2000s, especially for the 200-meter sprint. I'd say this was the shoe that got me infatuated with obscure Nike. When I first saw them I'd never seen anything like them, the shape and choice of materials are really unique. I've got a few pairs, but the sample pair I own features some details that didn't make it to market. Always a nice touch!
Thirdly, I'd have to say the Air Trainer Sky from 1998. This model is really unlike any other from that time. They feature a Lunarlon-like midsole with Tuned Air technology, a crazy colorway, and some amazing shapes. Every time I see a pair I grab them, so when I saw my size with the OG box it was a no-brainer.
What is your craziest sneaker-sourcing story?
I'd have to say it was a scenario that happened a year ago or so. I bought a few pairs of velour Prestos online and messaged the seller asking if they had anything else. Turned out it was a woman based down in Kent, with an absolutely insane collection. I'm talking unreleased samples, the rarest Dunks you can imagine, so many rifts, the list goes on. I ended up getting a few pairs off of her. I think her dad was also a collector with thousands of pairs.
What is your favorite sneaker that you've gotten your hands on throughout leading Nike Server?
Throughout running Nike Server I'd have to say the shoe I was most happy to get my hands on was a pair of wearable Sunder Max from 2001, in one of the best colorways. It's one of my favorite Nike models ever but they've never been retro'd and they're never wearable, so to find a pair that is was great. I still wear them today!
What is your goal for Nike Server in the future?
LN: I'm never going to stop doing this because I love it and it's something that I've built over the past four years now. I've got a good customer base and a decent amount of followers – so while it's not something I'm going to stop, I'm not going to do it full-time. either. I'm a designer at the end of the day and I want to fully focus on that in the future.
Elsewhere, thisisneverthat's latest collaboration celebrates the Grateful Dead.