Meet Arthur Vandergucht, The Belgian Designer Who Welds as Well as he Skates
From metal music to metal furniture – we catch up with Vandergucht about his extracurricular influences, creative processes, and dream collaborators.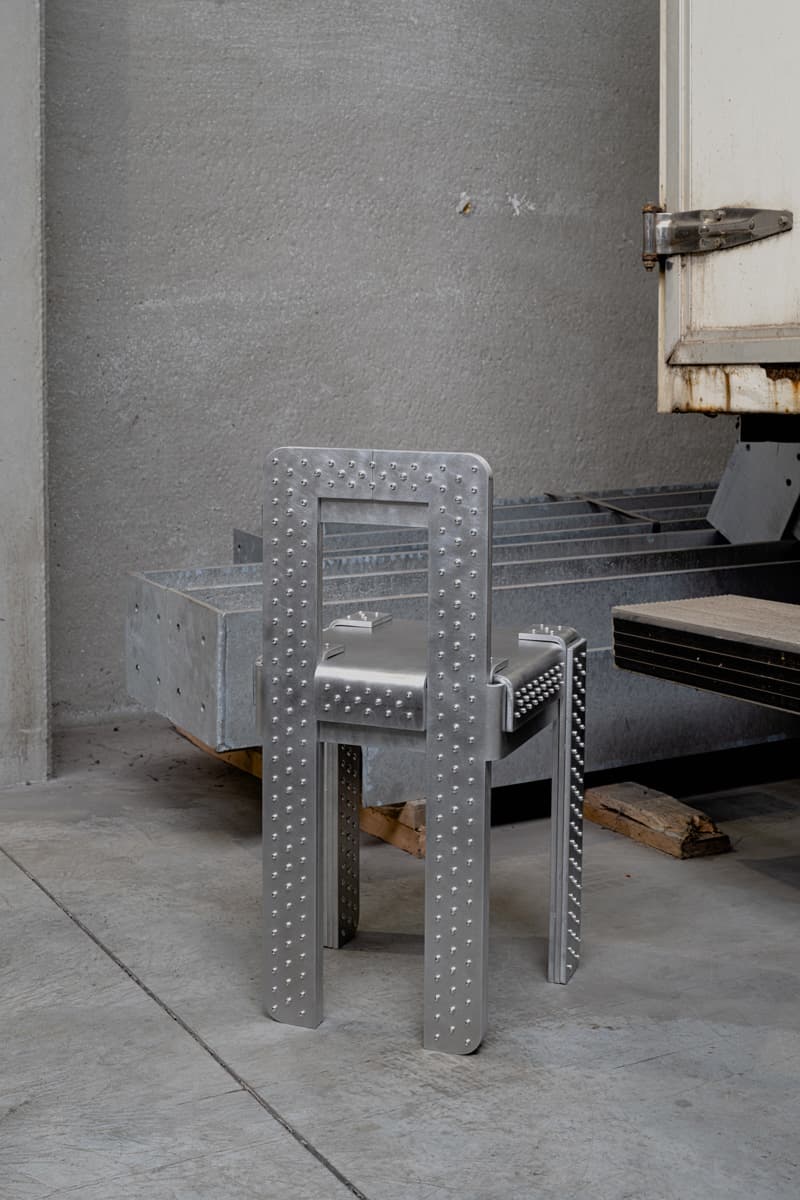 Meet Arthur Vandergucht, The Belgian Designer Who Welds as Well as he Skates
From metal music to metal furniture – we catch up with Vandergucht about his extracurricular influences, creative processes, and dream collaborators.
It's a sunny September day in Paris, and Belgian designer Arthur Vandergucht is setting up his work inside an old factory in the city's 3rd arrondissement. Across the rest of the capital, design enthusiasts have arrived en masse in time for Paris Design Week and in hopes of catching a glimpse of the next best thing. Given that he only graduated in 2020, and is now one of the few designers selected to show at the Espace Commines during the citywide event, Vandergucht has seemingly hit the ground running – and could well be the rising star that the eagle-eyed trend-spotters are searching for.
Hitting things at speed seems to be Vandergucht's modus operandi – be it when he's skating back in his home city of Ghent, or thrashing it out at a hardcore gig (we actually strike up our conversation based on the band T-shirt he was wearing, which he had paired with Supreme jeans). His craft, though, requires a more considered, steadier hand. A welder by trade, Vandergucht creates perfectly executed metal furniture, with folds and curves artfully fastened by intricate trivets. And while he credits much of his creativity to the skate scene – he talks extensively about the things he and his friends would build in order to create ramps from found objects – it's the family garage specifically where his design abilities blossomed. "My love for industrial materials and traditional connections came from an early age," he says. "I grew up in my father's garage where I saw him working with cars and car parts. I remember seeing so many sheet metals being repaired and restored, that I got fascinated by the many possibilities the material offered."
"Skating influences my work by teaching me to look at things in a different way"
Inspired, he went on to study metalworking at high school, before heading to the Luca School of Arts to obtain his degree in interior design. Now – the designer is practicing on a more micro level and putting his emphasis on the objects that fill the space rather than the space itself. Recently, his work has been acquired by Copenhagen design label Tableau, which is selling his pieces via its webshop. Here, he talks exclusively to Hypebeast about how skating turned him into a designer, his dream collaborators, and his enduring admiration for British design icon Max Lamb.
Hypebeast: What are the things that inspire you, and in particular the designers, craftspeople, or architects you look to?
Arthur Vandergucht: It's fascinating to see great designers with their own distinctly unique style. That's something I look up to and it is what inspires me the most. For example, Max Lamb. He's a designer that has this style where every design speaks for itself – they don't need much explanation.
We spoke a lot about music and skating. How did you get into both of these scenes, and how do they influence your work?
AV: I started skating when I was 15 because of some friends – simply because skating was something that looked super cool and I wanted to be able to do it. Skating has taught me to never give up and to keep going – it is a textbook example of trial and error. This is something I use in my design career; I'm not easily satisfied with something I make, it has to meet the requirements I set. I always try to push myself further and deeper to get a better design.
The best thing about skating is that you are free; the city is yours and nobody will stop you. From a young age, I discovered myself by skating. It influences my work by looking at things in a different way. As a skater, you also have to be creative with everything you find around you to manage to make the scene yours.
Are you able to tell me about your relationship with the hardcore music scene?
AV: I got into punk and hardcore through skating and the people I met doing it. One of my best friends is a singer or a punk band "Barno Koevoet" – he's a great musician. I listen to 80's punk a lot. It brings me back to a time that I never knew myself. The bands that I came to greatly appreciate are Black Flag, The Cramps, Siouxsie and the Banshees, and – of course, my favorite – The Damned. The singer is just so sick.
What kind of things do you aspire to do via your work?
AV: Selling is not necessarily my main goal. I just want to reach a much wider audience, and show the world who I am and what I can do. At the moment I am mainly working on building a name and giving myself the space to grow. I would like to show my pieces to the wider public so that people can be triggered by the designs I create and the materials I use.
What's the dream collaboration?
AV: I would love to do something for a fashion brand in time, such as the design of a shop or a custom assignment. Designing the interior for a coffee bar seems like a cool job too. A collaboration with Supreme would be a dream. But I strongly believe that everything in life comes at the right moment and when it does you should seize that opportunity with both hands.