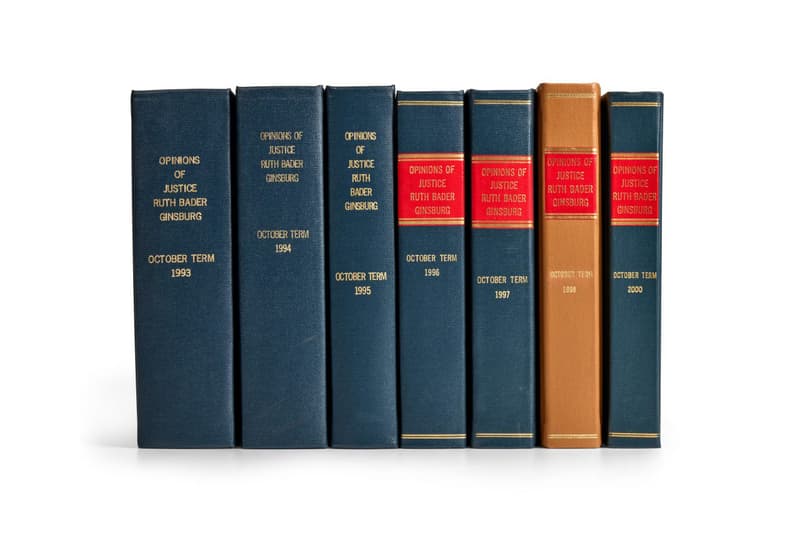 Ruth Bader Ginsburg's Library Sold at Auction for $2.4 Million USD
Shattering pre-sale estimates.
---
The library of the late-Supreme Court Justice Ruth Bader Ginsburg just sold at Bonhams for $2.4m USD — nearly 4,000 times its pre-auction estimate of $60,000 USD.
Spanning eight days, the sale featured over 1,000 of Ginsburg's books, including a copy of Women with an inscription by Annie Leibovitz herself. The auction started last week and ended yesterday, coincidentally the same day that sitting Justice Stephen Breyer announced that he plans to step down. In an interview with Artnet News, Catherine Williamson, the director of Bonhams's fine books and manuscripts department, said that she was "very surprised at results."
Amongst the biggest sales was Ginsburg's copy of the 1957–58 Harvard Law Review, which sold for $100,000, despite its initial estimate of $2-3,000 USD. In fact, all 166 lots were sold during the event — a rare occurrence that is known in auction terms as a "White Glove Sale."
As the first female tenured professor at Columbia University and the second woman to serve as a U.S. Supreme Court Justice, Ginsburg was a true trailblazer — dedicating her life to advancing gender equality.