Best New Tracks: The Weeknd, Gunna, Earl Sweatshirt and More
Closing out 2022's first week in music.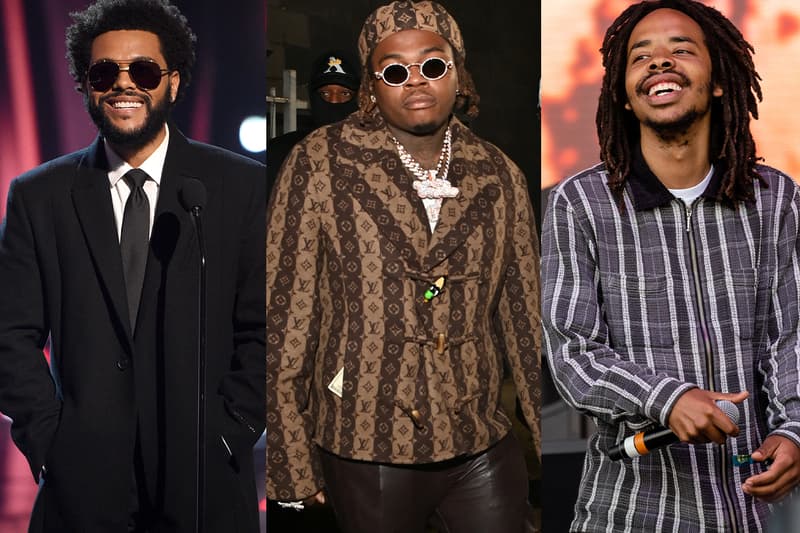 As 2022's first week in music comes to a close, HYPEBEAST has rounded up the best projects for the latest installment of Best New Tracks.
This week's list is led by The Weeknd and Gunna, who both released their latest records Dawn FM and Drip Season 4 respectively, alongside Earl Sweatshirt with his new single "Titanic." Also joining this selection is a new music video from Lance Skiiiwalker and SiR and collaborative works from Azizi Gibson x Freddie Gibbs, Mach-Hommy x Big Cheeko, 2 Chainz x 42 Dugg and Bonobo x Joji.
The Weeknd - Dawn FM
The Weeknd is basking in the light with his newest album, Dawn FM. The After Hours followup features exciting guest appearances from Tyler, the Creator on "Here We Go… Again", Lil Wayne on "I Heard You Were Married", Quincy Jones, Oneohtrix Point Never and Jim Carrey on the outro "Phantom Regret," and marks a new era for the XO Records head.
Listen: Spotify | Apple Music
Gunna - DS4EVER
Gunna is officially declaring the start of Drip Season with his fourth installment in the series. The lengthy, 20-track record boasts a star-studded lineup of features ranging from the likes of Future, Young Thug, 21 Savage, Drake, Kodak Black, Chlöe Bailey, Lil Baby, G Herbo, Roddy Ricch and much more.
Listen: Spotify | Apple Music
Earl Sweatshirt – "Titanic"
Earl Sweatshirt is kicking off his year with the newest SICK! single "Titanic," produced by the legendary Black Noi$e. "SICK! is my humble offering of 10 songs recorded in the wake of the worldwide coronavirus pandemic and its subsequent lockdowns. Before the virus I had been working on an album I named after a book I used to read with my mother ('The People Could Fly'). Once the lockdowns hit, people couldn't fly anymore. A wise man said art imitates life," Sweatshirt shared in a statement. "People were sick. The People were angry and isolated and restless. I leaned into the chaos cause it was apparent that it wasn't going anywhere. these songs are what happened when I would come up for air. Peace and love to Zelooperz the enigma, The Armand Hammer, and my good friends Alchemist and Black Noi$e. Peace and love to u."
Listen: Spotify | Apple Music
Azizi Gibson x Freddie Gibbs – "Hate To Say It"
Azizi Gibson enlists Freddie Gibbs for his latest single "Hate To Say It," produced by Millz Douglas and YG! Beats. The Frankfurt-born rapper called the track "the most lit collab" he's ever done, however fans will have to wait to catch him perform it live as he was forced to reschedule some tour dates due to the pandemic.
Listen: Spotify | Apple Music
Big Cheeko x Mach-Hommy – "Spin Off"
Big Cheeko and Mach-Hommy reunite for their newest collab, "Spin Off." Marking the pair's first release of the year, the cut follows Big Cheeko's sole 2021 offering "Mountain Top" and Mach-Hommy's album Balens Cho (Hot Candles).
Listen: Spotify | Apple Music
2 Chainz x 42 Dugg – "Million Dollars Worth of Game"
2 Chainz and 42 Dugg join forces the new collab "Million Dollars Worth of Game." The cut is set to appear on 2 Chainz's upcoming album DOPE DON'T SELL ITSELF, which he previously claimed will be his last trap album. "Hey you how you been!? It's been a minute I know, but im back with something new and exotic," the rapper wrote on Instagram. "You know I ain't been around this long with out being a thinker and a constant student & teacher of the game my album DOPE DONT SELL ITSELF drops this month and single drops this week."
Listen: Spotify | Apple Music
Bonobo x Joji – "From You"
Simon Green, better known as Bonobo, and 88rising staple Joji team up for the melodic track "From You." The record will appear on the producer's upcoming album Fragments, which drops January 14 and will be supported by a lengthy North American, European and UK tour from February to May this year.
Listen: Spotify | Apple Music
Lance Skiiiwalker x SiR – "Peso"
TDE staples Lance Skiiiwalker and SiR deliver an accompanying music video for their Tales From The Telescope Chapter 2: Internal collab, "Peso." Directed by Matthew Freiheit, the animated visual features the two artists as talking heads on falling Mexican dollars — an appropriate image that supports the song's message of how dangerous it can be when one chases materialism over happiness.
Listen: YouTube