Here's a Study on America's Love for Hot Sauce
Apparently, about 8% drench their ice cream in hot sauce.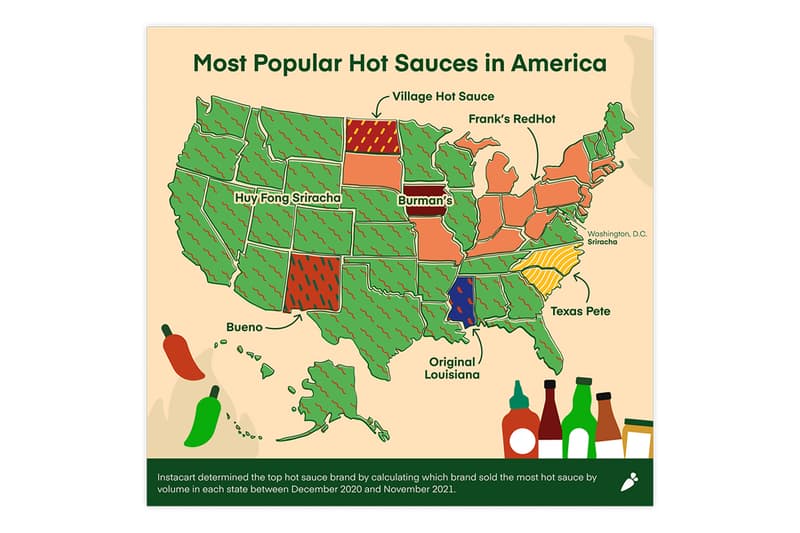 1 of 3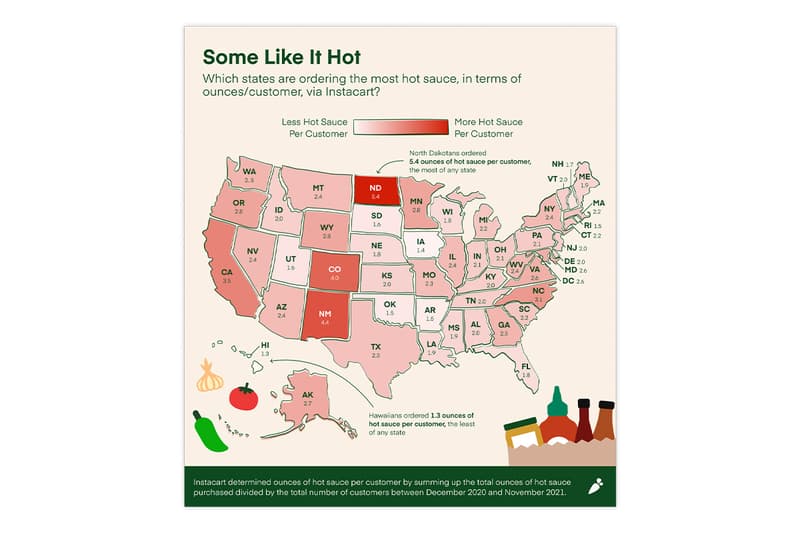 2 of 3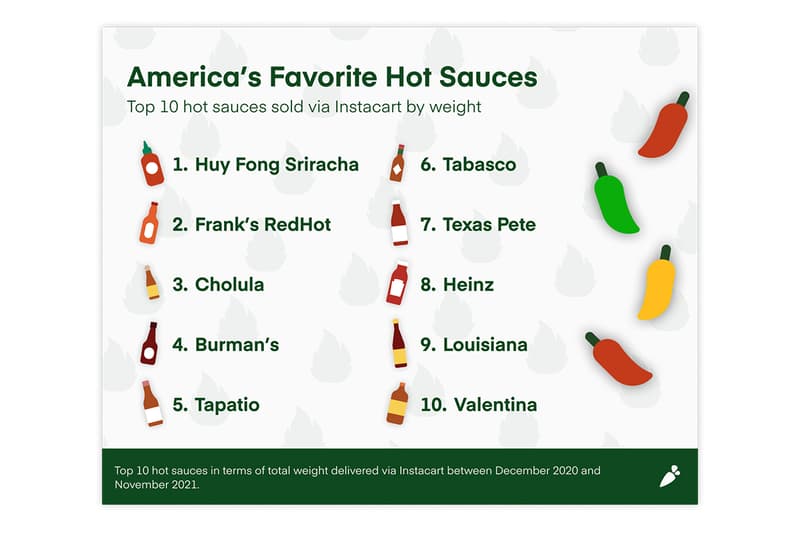 3 of 3
In celebration of National Hot Sauce Day on the 22nd of January, Instacart conducted a study with Harris Poll on what America's top hot sauce preferences are. By combining data from sales and surveys, the companies discovered the current top hot sauces across the stateside, which states purchase and consume the most and other relevant hot sauce consumption insights.
About 74% of Americans dab their food in hot sauce and 67% of those are particularly passionate about their favorite spicy brands while 68% of hot sauce enthusiasts have two or more varieties in their pantry. 59% of hot sauce devotees prefer their sauce to be relatively hot while 46% prefer "regular hot" sauce and merely 14% would like their sauce to be as hot as possible.
Coming in at the top of the list of hot sauce brands is Huy Fong's Sriracha which is the top preference in 31 states, while Frank's RedHot garners second place in 14 states. Over in Carolina, Texas Pete takes the number one spot while Mississippi stays true to Louisiana hot sauce and North Dakota opts for its homegrown Village hot sauce from Grand Forks. Burman's hot sauce reigns supreme in Iowa as down in New Mexico, the family-owned Bueno brand is prized for its green and red chili mix. Though most hot sauce consumers are passionate about certain brands, there has been a rise in demand for new brands and flavors recently.
"Over the past year, we've noticed that hot sauce enthusiasts are reaching for newer brands like Maya Kaimal and TRUFF, which top the list for Instacart's fastest-growing hot sauce brands," said Laurentia Romaniuk, Instacart's Trends Expert. "These newer brands are likely gaining traction among hot sauce enthusiasts because they offer up unique flavor profiles that also pack a punch, incorporating everything from truffles to traditional Indian spices. With many hot sauce lovers willing to go to Scoville extremes, it's no surprise they're also branching out and becoming more adventurous when it comes to discovering new flavor options."
According to Instacart's sales from 2021, North Dakota residents purchased the most hot sauce amongst every other state with 5.4 ounces per customer. New Mexico and Carolina follow in line respectively with about 4 ounces. States that don't quite seem to prefer the spicy condiment with every meal are Hawaii, Iowa and Arkansas.
While tacos, burritos and meat are food items highly popular to pair with hot sauce, around 17% of spice lovers season their popcorn with sauce and 8% like it with their ice cream.
When it comes to a seasonal approach, hot sauce sales tend to skyrocket by 45% during the NFL Super Bowl held on a Sunday at the beginning of the year.
For more studies on food and beverages, here's how your body distinguishes between Coca-Cola Original and Zero Sugar.