Microsoft Unveiled an Impressive New Surface Lineup at Its Fall 2021 Event
With a focus on hybrid features and portability.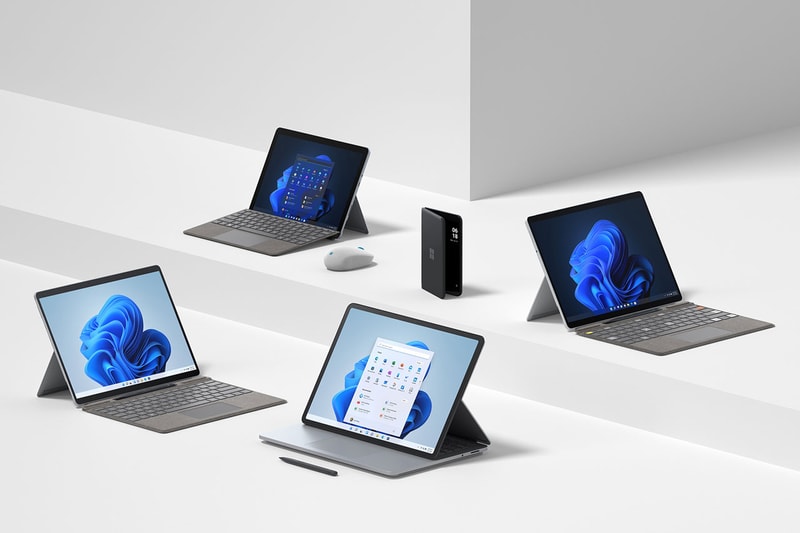 Microsoft held its Fall 2021 event on Wednesday, unveiling a major revamp of its entire Surface lineup optimized for its upcoming Windows 11 operating system update.
Its new collection showcases a new variety of products tailored to the unique needs of its users. Here are the biggest announcements from the event:
View this post on Instagram
Ahead of its October 5 release date, Microsoft highlighted the features of its Windows 11 operating system and demonstrated how the update will work across its new lineup of devices.
While much of the information regarding Windows 11 was made previously available, seeing the system in action offered a firsthand look at its impressive capabilities. Specifically, users will now be able to customize their windows with Snap layouts and better multitasking tools, Chat from Microsoft Teams has been integrated into the taskbar, new personalized Widgets powered by AI have been introduced, the Microsoft Store has been redesigned and the system is now better optimized for speed, efficiency and improved experiences with touch, digital pen and voice input.
Microsoft said the free "phased" rollout of Windows 11 will begin October 5, with all eligible devices expected to be offered an upgrade by mid-2022.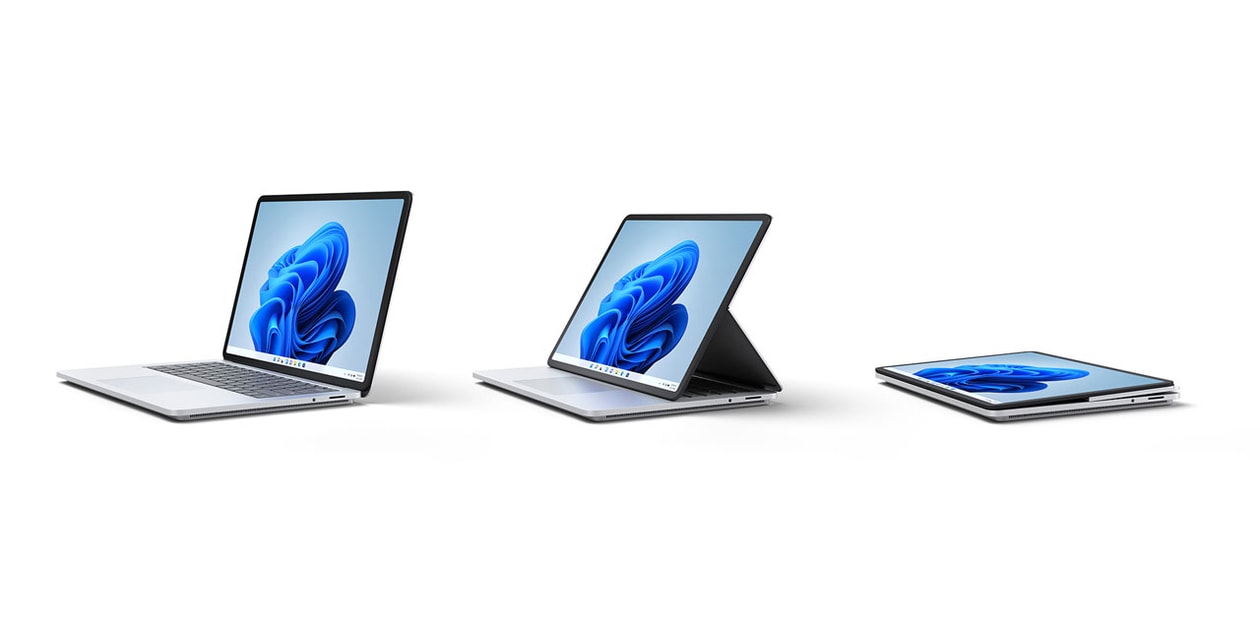 The Surface Laptop Studio is the company's take on a powerhouse laptop, with a distinct hinge behind the middle of the screen that allows users to angle the sleek 14.4-inch touchscreen and easily switch between laptop and portable canvas functionalities. It is powered by the quad-core 11th Gen Intel Core H Series processors and the NVIDIA GeForce RTX 3050 Ti laptop GPU, and offers a refresh rate of up to 120Hz. There's a 1080p HD video camera and dual Studio Mics, alongside redesigned Dolby Atmos speakers. It also offers up to 19 hours of battery life.
It is available for preorder online and starts at $1,599.99 USD.
The Surface Pro 8 has been redesigned to best combine the power of a laptop with the flexibility of a tablet, with a larger edge-to-edge 13-inch touchscreen, thunderbolt 4 ports, higher sustained CPU performance and faster graphics, Studio Mics and optimized speakers, and an HD rear-facing camera with support for 4K video.  It is available for preorder online and starts at $1,099.99 USD.
The Surface Pro X will soon be available in a Wi-Fi-only option and has a new entry price point of $899 USD. It features a high-resolution 13-inch PixelSense touchscreen, a built-in kickstand and a 5MP front-facing camera with 1080p HD video.
The all-new Surface Go 3 is the most portable Surface option, optimized for digital pen and touch. It features a high-resolution 10.5 PixelSense touchscreen and adjustable Kickstand, a choice of an Intel Pentium or Intel Core i3 processor, 1080p HD front- and rear-facing cameras and magnetic attach for keyboard fold stability. It starts at $399.99 USD.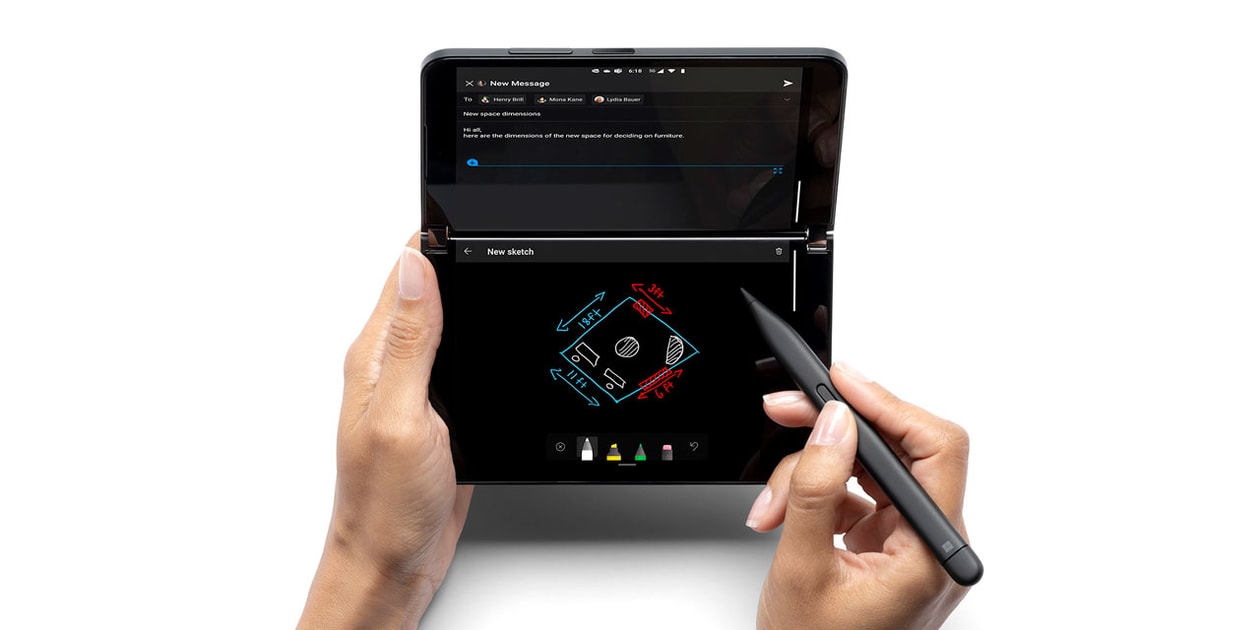 The dual-screen, 8.3-inch combined display of the Surface Duo 2 can run two apps side-by-side for enhanced multitasking capability while also allowing for dragging and dropping between screens. It also now offers 5G connectivity and a dynamic triple-lens camera — a 12MP Wide, a 12MP Telephoto and 16MP Ultra-Wide — alongside a 12MP front-facing camera. It is available for preorder now and starts at $1,499.99 USD.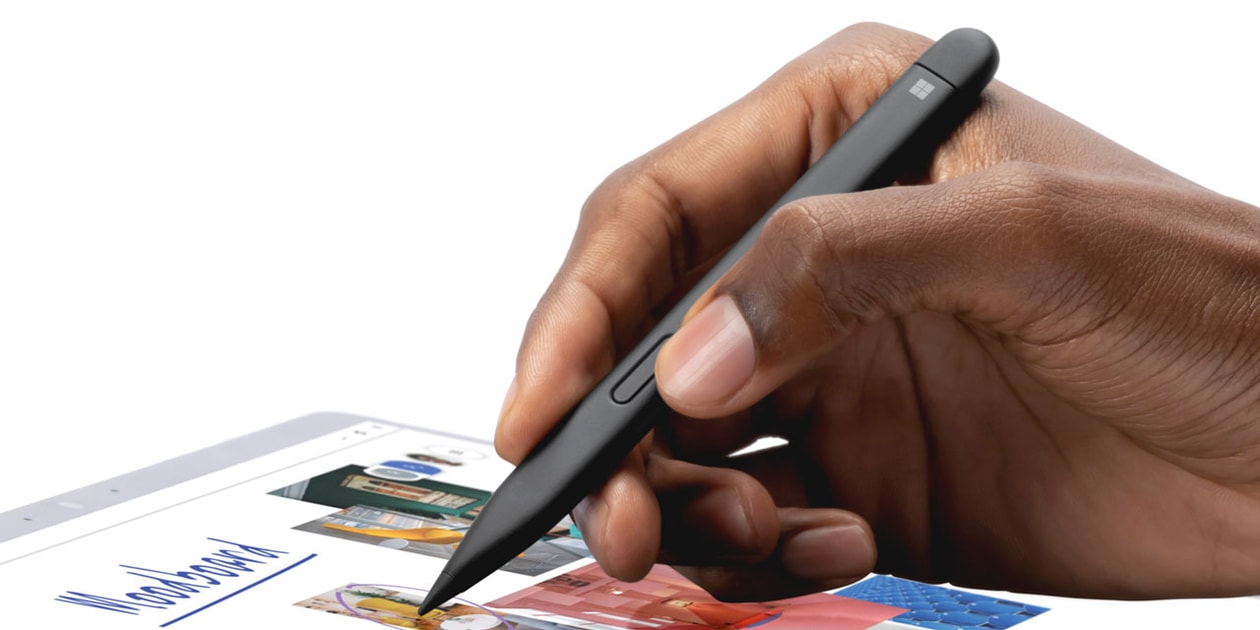 The Surface Slim Pen 2 is the company's best-performing pen yet, with a built-in haptic motor, sharper pen tip, and a more ergonomic design. It features superior pressure sensitivity for enhanced accuracy and stores securely and charges within the new Surface lineup. It is available for $129.99 USD and is available for preorder now.
Additionally, Microsoft enhanced its accessibility with a Surface Adaptive Kit loaded with a range of accessories designed in partnership with people with disabilities. There are tactile labels, port indicators and openers for easier handling of devices.