Apple Rolls Out 3D Maps in London, Los Angeles, New York City and San Francisco
Part of the iOS 15 update.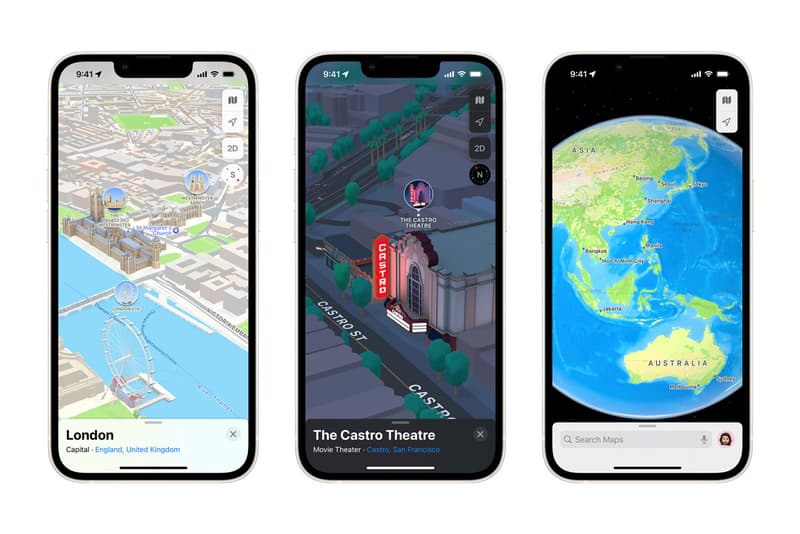 Apple on Monday rolled out its 3D Maps feature to iPhone users in London, Los Angeles, New York City and San Francisco.
The feature is part of Apple's latest iOS 15 software update released last week and offers a major update to the company's Maps app.
The new 3D Maps transforms neighborhoods, commercial districts, buildings and more rendered in a three-dimensional experience, and includes landmarks like Coit Tower in San Francisco, Dodger Stadium in LA, the Statue of Liberty in NYC and Royal Albert Hall in London. In addition, a special nighttime mode now lights up these points of interest in a moonlit glow that activates as dusk, displaying them in even more grandeur on Maps.
The route planning and driving experience on the new Apple Maps has also been enhanced, providing more road details to help drivers navigate. Nearby transit stations and lines are now prominently displayed at the top of the screen, and Maps will notify users of when it's time to disembark. Walking directions have been updated to include augmented reality, where users can simply raise their iPhone to scan buildings in the area and deliver more detailed walking directions.
In addition, users can check out an interactive three-dimensional globe that shows vibrant details of Earth's mountain ranges, deserts, rainforests and oceans, and Maps now features expertly-curated guides showing users what to do around the world.
The feature will soon roll out to more cities, including Washington DC, Philadelphia and San Diego, later this year. In Canada, 3D Maps will arrive in Montreal, Toronto and Vancouver next year.
In other news, check out our review of the all-new iPhone 13 lineup.