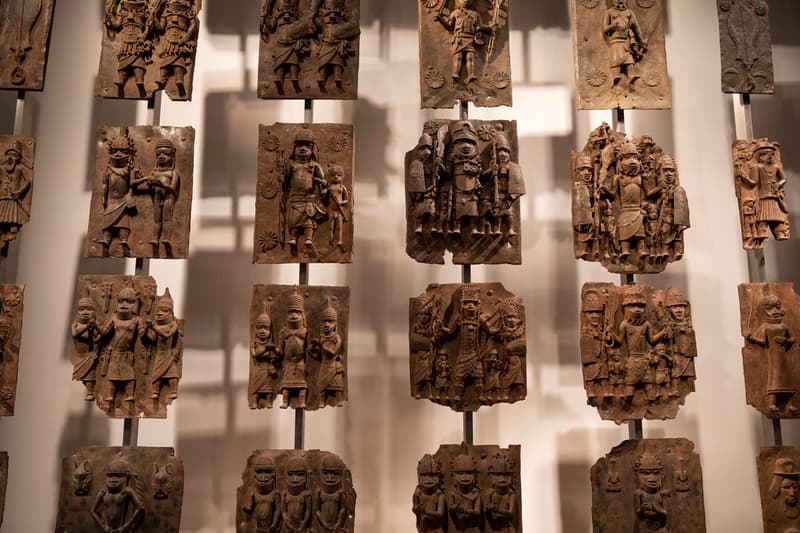 Nigerian Artists Propose New Art to the British Museum in Exchange for the Benin Bronzes
The latest development in a decades-long repatriation effort.
---
A group of Nigerian artists, known as the Ahiamwen Guild, has offered to exchange contemporary artwork to the British Museum in exchange for the restitution of Benin Bronzes that were looted in the late 19th Century.
First reported by Reuters, Osarobo Zeickner-Okoro, a spokesman and fellow artist of the guild told the new outlet, "We never stopped making the bronzes even after those ones were stolen." In fact, he thinks they make them "even better now." Despite never ditching the practice altogether, Zeickner-Okoro believes this lapse in his nation's cultural identity carries a colonial narrative that portrays his nation as a "dead civilization," such as "ancient Egypt," he said.
For those unfamiliar, the Benin Bronzes are a collection of thousands of historical artifacts from the former Kingdom of Benin, which is located in the southern region of modern-day Nigeria. The collection of art ranges from figurines and sculptures, masks and ivory tusks, to jewelry and plates depicting historical events. In the 1890s, the British army plundered Benin artwork and in the years since, would sell a number of them to private dealers and institutions across the world, such as the Metropolitan Museum of Art, Los Angeles County Museum of Art and the British Museum, which currently holds the biggest collection in the world. When asked by Artnet News on where the institution stands on restitution, the British Museum responded:
"We believe the strength of the British Museum collection resides in its breadth and depth, allowing millions of visitors an understanding of the cultures of the world and how they interconnect over time—whether through trade, migration, conquest, or peaceful exchange."
For Zeickner-Okoro, who grew up between Benin City and London, he understands the potential exposure that is brought by the artwork residing in Western institutions, however, many of the descendants of the original bronze casters can't afford to make the voyage to see them at the British Museum and should now rightfully be returned to its country of origin.
Also in the news, one of Basquiat's Warrior paintings is expected to garner around $19m USD at auction.