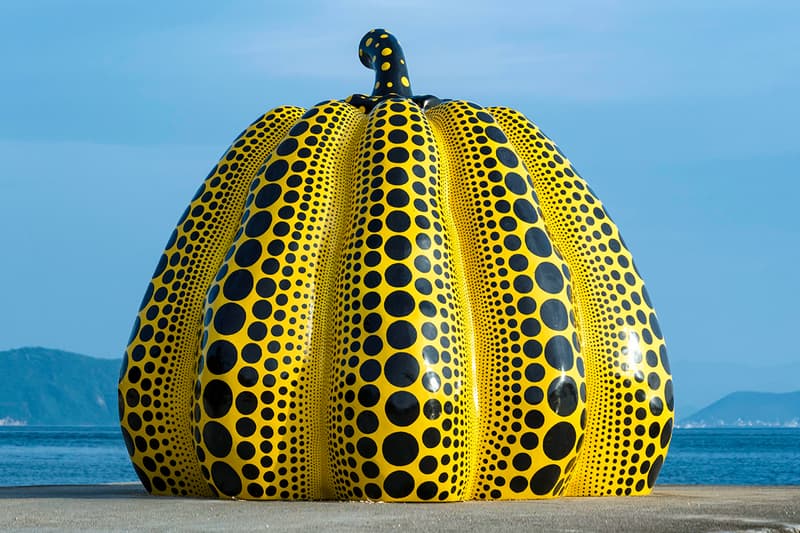 Yayoi Kusama's "Yellow Pumpkin" Wrecked by Typhoon in Naoshima, Japan
Originally constructed in 1994.
---
Constructed in 1994 by Japanese artist Yayoi Kusama, the iconic "Yellow Pumpkin" sculpture originally seated on a pier overlooking the Seto Inland Sea in Naoshima, Japan took a hard hit by Typhoon Lupit a few nights ago. Naoshima is a small island located in Kagawa prefecture which also known as "Art Island" for the many galleries and art installations found across the land.
A landfall caused by the typhoon swept the island of Kyushu and impacted the Seto Inland Sea with aggressive winds and downpours across the region for a whole day. The small island of Naoshima experienced the worst of the disaster as it lost one of its major installations which was continuously pummelled by waves. The pumpkin that stands two meters tall and 2.5 meters wide was dislodged from the platform and fell onto the shoreline as it rolled around battling the climate.
As the weather began to calm, the Benesse Art Site Naoshima staff were able to retrieve the pumpkin and reported the severe damage during the extreme conditions. Locals are questioning why the pumpkin was not immediately removed before the tropical storm hit.
This is Japan's ninth typhoon this year, with more to come as most occur during the months of May to October.
In case you missed it, visitors can mend broken pottery in this new London exhibition by Yoko Ono.