What Makes Steel Watches Worth Their Weight in Gold?
Watch collectors often take a different view on precious metals.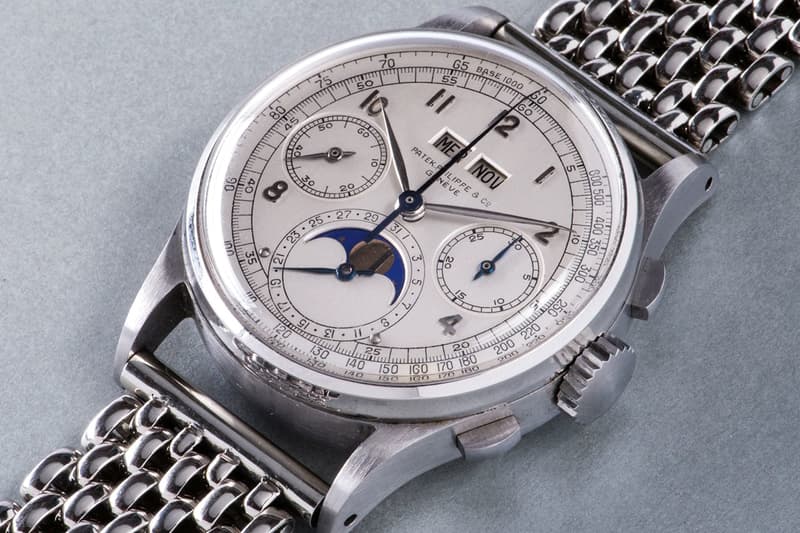 The most expensive watch ever sold was not cased in gold or platinum and was not set with flawless diamonds or gems of any kind. The $31m USD watch in question is a one-off Patek Philippe Ref. 6300A-010 Grandmaster Chime, the Swiss brand's dual-dialed, 20-complication flagship, which sold at the biennial charity auction, Only Watch, in 2019.
The "A" in the reference number stands for Acier and signifies that the watch in question is made from stainless steel, a metal used in everything from construction to cutlery.
View this post on Instagram
Logic would suggest that the most expensive watches would be made of the most expensive materials, but there are many examples of steel watches commanding the very highest prices in horology. From movie legend Paul Newman's own Rolex Daytona (the one that started the eponymous craze) hammering for $17m USD to an incredibly rare steel Patek Philippe Ref. 1518 selling for $12m USD in 2016.
If more evidence were needed that steel is punching above its weight, then the recent debacle surrounding the steel Patek Philippe Nautilus 5711 is a case in point. In this case, supply has been deliberately restricted by Patek's own admission, but the point still stands. Prices on the secondary market reached astronomical levels following the brand's decision to retire the reference, with the average listing on the grey market for a steel model around twice that of the $54,000 USD retail price of the full 18kt gold 5711/1R model.
The near half-million dollar price eventually paid at auction for a rare, sealed green-dialed example would have paid for nine of the gold models, although it is probably worth mentioning that the hype surrounding all time-only Nautilus models at the moment means that the 1R itself is reselling for three-and-a-half times its own retail.
So why is steel so prized by watch collectors?
As with the value of any tradable commodity the answer comes down to scarcity, essentially a case of supply and demand, but in this case it's the watches themselves that are rare, rather than the materials used to make them.
For the majority of the 20th Century the opposite held true. Precious metals and gemstones were the most highly valued materials in watchmaking, to the point where it would be almost unthinkable to case a highly complicated wristwatch in anything other than gold or platinum. 
As such, any steel perpetual calendars, split-second chronographs, minute repeaters or grand complications (which feature a combination of such complications) would have been special customer requests and produced to order, resulting in incredibly limited numbers. The motives for ordering such high-end watches in an everyday material remain a mystery, although it is more likely to have been down to personal preference rather than some kind of mid-century flex.
View this post on Instagram
For example, the previously mentioned Patek Philippe 1518, the first serially produced perpetual calendar chronograph, was available for 13 years from 1941 until 1954. Of the 281 examples made during that time (Patek keeps detailed archives of every watch sold dating back to its foundation in 1839) most were yellow gold, with fewer than 60 made in pink gold. Just four are thought to have been made in stainless steel.
These kind of single-figure, unicorn watches are so rare and sought after that they have left a lasting impression on the market ever since, a residual halo effect around steel watches that still influences tastes and prices despite the fact that production numbers of complicated watches are exponentially higher today than they would have been in the first half of the 20th Century.
But it would take decades for this kind of information to be mined from brand archives and for the real rarity of these watches to be revealed, as until the early-to-mid 1980s vintage wristwatch collecting wasn't really a thing, with collectors more interested in pocket watches.
Determined pioneers in the field did manage to carve out a market though, with people like Osvaldo Patrizzi, the founder of auction house Antiquorum, and Patek's own Alan Banbery, who helped establish Patek Philippe's museum collection, weaponising the kind of historical facts and figures that are now the cornerstone of modern watch industry marketing.
With the historical precedent set, intentionally creating extremely limited or unique pieces in steel makes for a far more intriguing and predictable commercial proposition today than it would have in the 20th Century, as witnessed by the sale of the record-breaking Grandmaster Chime.
Even before becoming the most expensive watch ever sold during five minutes of Only Watch auction bidding, the "regular" Grandmaster Chime didn't come cheap. The Ref 5175R was first released as a seven-piece 18kt rose gold limited edition in 2014 with a price tag of $2.5m USD to mark Patek Philippe's 175th anniversary. This was followed two years later by the white gold Ref. 6300G, which ditched the engraving that covered the case of its predecessor and came in at $2.2m USD.
But someone clearly saw the value in spending $31m USD on a unique steel version of Patek Philippe's most complicated collection piece, potentially as a long-term investment prospect.
So while boutiques and retailers may still push the familiar premium associated with gold and gems, for serious collectors precious metals can rarely compete with the allure of steel.