Bruno Mars and Anderson .Paak To Release Silk Sonic's Debut Album in Early 2022
Mars says he doesn't want to be 'binge-watched.'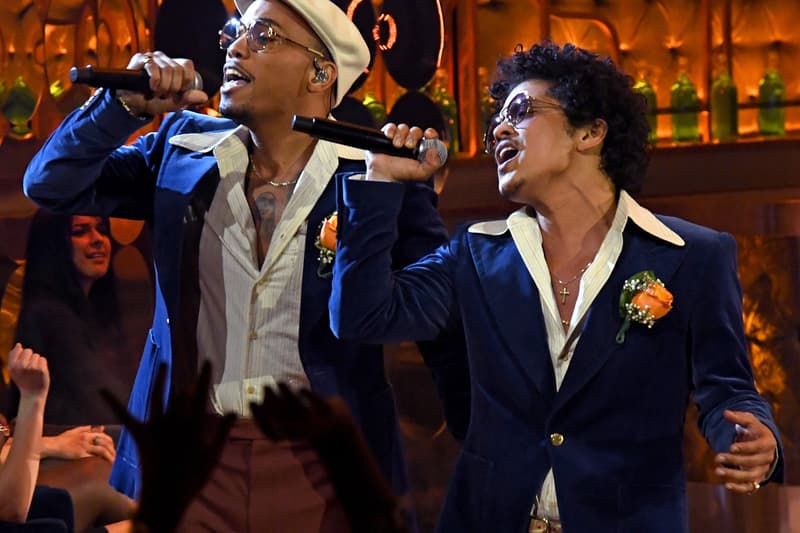 Bruno Mars and Anderson .Paak's R&B superduo Silk Sonic won't be dropping their debut album until January 2022, the artists revealed in an interview with Rolling Stone.
An Evening With Silk Sonic is nearly finished and while the LP was initially slated to premiere in the fall, Mars and .Paak told the publication that they wanted to spread out the song releases so that each one is given greater consideration by listeners.
"I don't want to be binge-watched," Mars said.
Silk Sonic has already shared two singles: the Billboard chart-topper "Leave the Door Open" and last month's follow-up, "Skate." Both tracks are heavily inspired by '70s funk, offering a look into the forthcoming album and the influence of leading names in the genre, such as Bootsy Collins, on the project.
The duo has reportedly been in the works for a number of years since the artists met on Mars' 24k Magic tour, and made their live debut at the 63rd Annual GRAMMY Awards, performing their first single as well as a tribute to the late musician Little Richard, who passed away last year.
Mars provided a bit more insight into Silk Sonic's progress on the LP, telling the publication that .Paak and himself are in "touch-up mode" and that they've "got the bones of most of the album."
In other music news, Kanye West announced a Chicago DONDA listening party.