Jake Paul Takes a Jab at Conor McGregor With $100,000 USD "NyQuil McGregor" Chain
Recalling Conor's knockout loss hours before the trilogy fight.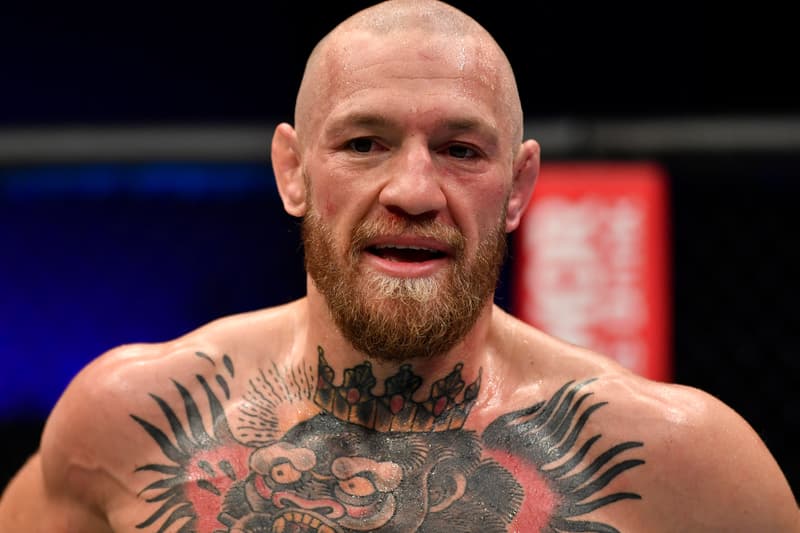 Hours before the big trilogy fight between Dustin Poirier and Conor McGregor, Jake Paul is attempting to get in on the mental warfare by bringing back Dustin Poirier's knockout win against McGregor in the form of a $100,000 USD chain.
Perhaps lining up another money fight after his upcoming bout with Tyron Woodley, Paul has been taking shots at The Notorious for quite some time with even Conor commenting that he wouldn't rule out the possibility in fighting the Paul brothers.
This expensive jab at Conor was made by Benny The Jeweler where a hand-painted pendant of what Jake Paul calls "NyQuil McGregor" depicts Conor in the viral knocked out (or sleeping) pose and holding a bottle of NyQuil. Benny goes on to explain that the chain was crafted with 500 grams in white gold, has diamond shorts, and an accompanying diamond tennis necklace made from 1 ct stones. The total cost was said to be $100,000 USD. Jake Paul ends his video clip by stating that if McGregor loses his fight, his $50 million USD bet he made with him is off.
Check out the video and the images of Jake Paul's new chain.
New $100k Sleepy Mcgregor Chain pic.twitter.com/Aqcsk6feZk

— Paul Paul (@jakepaul) July 10, 2021
In other jewelry news, the Patek Philippe CEO reveals that even his son can't get a green Nautilus.