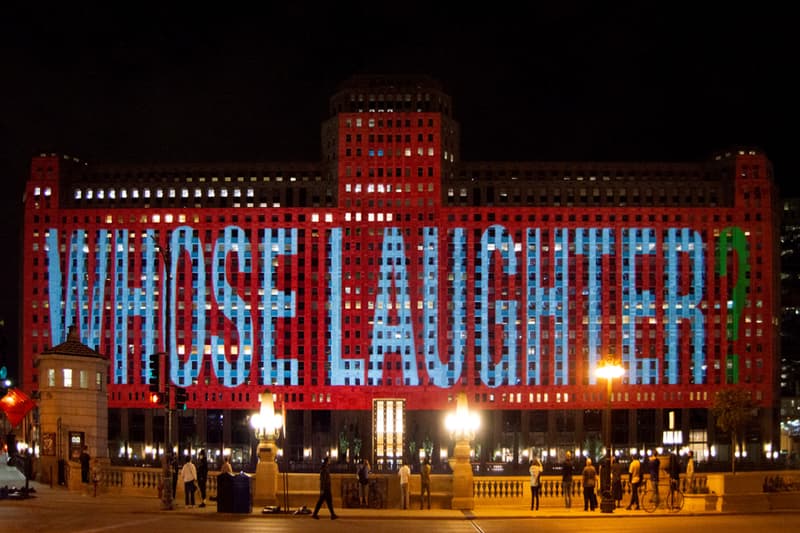 Barbara Kruger Goes Big for Bold Messaging In Chicago's Urban Environment
In partnership with Art on theMART.
---
Barbara Kruger will be debuting work with Art on theMART, as she is partnering with the Chicago Department of Cultural Affairs and Special Events on a new fall program that will free the artists work from the confines of the museum wall and into the accessibility of the urban environment. The project will run twice a night — at 7:30 and 8:00 pm — from September 17 to November 25.
Kruger needs no introduction, as the conceptual artist has built a career that disrupts the power cycle of society, on topics that span sex, identity, race and mass consumerism — all laid out along her typeface of choice — Futura Bold Oblique. Kruger's work unapologetically challenges the viewer in the hopes to better our relationships with one another. Her work is timeless, as it has evolved along the same aesthetic since she first started making works, such as Untitled (Your body is a battleground) in 1989. The latter artwork recently resurfaced in Poland to combat the government's ban on abortions.
"For more than four decades, the artist has been a consistent, critical observer of the ways in which images and words circulate through culture and more recently, the accelerated modes in which they inhabit our daily lives," stated Robyn Farrell, an associate curator at the Art Institute of Chicago. "At a time when dispersion has replaced distribution and memes rules the realm of visual information, her momentous installation will invite us to pay attention and carefully consider how we relate to one another."
Art on theMART is the largest permanent digital projection group of contemporary art. The program is currently viewing beautiful displays of Frida Kahlo and the Obama Portraits. Witness Untitled, Barbara Kruger, twice a night from September 17 to November 25.
Further West and the de Young Museum will be honoring Judy Chicago in a new retrospective exhibition.
Art on theMART
222 W Merchandise Mart Plaza
Suite 470
Chicago, IL
60654